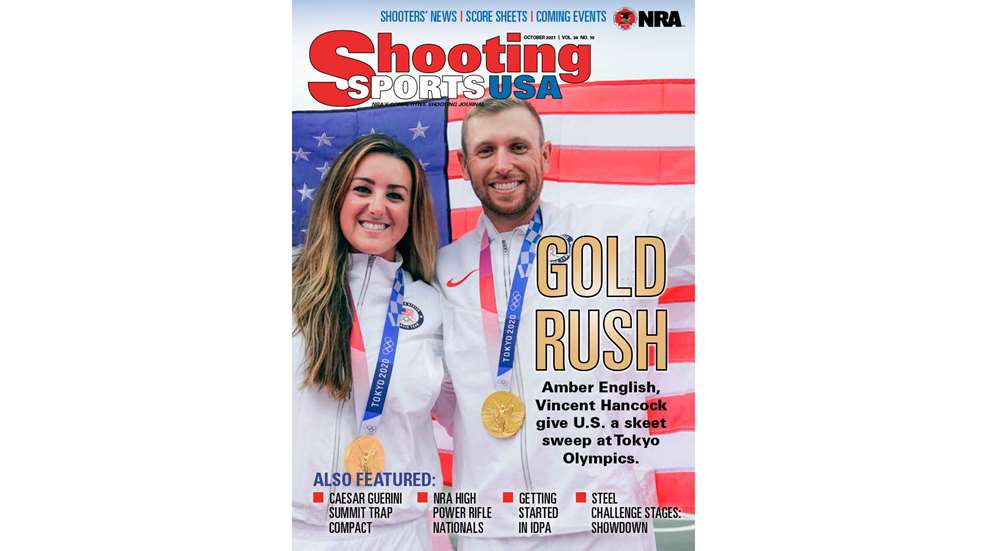 At the Tokyo 2020 Olympic Games, U.S. athletes represented our country in 15 shooting events. While training and competitions in the weeks and months leading up to the Games were disrupted by the COVID-19 pandemic, U.S. shooters traveled to Japan prepared to compete and win. And win they did. In one of its best performances ever, six medals were awarded to USA Shooting—three gold, two silver and one bronze. The three golds equal Team USA's gold medal counts for shooting events at the Los Angeles 1984 and London 2012 Olympics. Check out our coverage (page 20) for details about the Tokyo 2020 Olympics.
Dedicated trapshooters require dedicated trap guns, and if you're on the smaller side, it can sometimes take additional effort to find a model for your needs. Caesar Guerini's Summit Trap Compact 12-gauge competition model retains all the bells and whistles of the standard Summit Trap, but with reduced length of pull and other dimensions for smaller shooters. Plus, an unsingle barrel option with an adjustable top rib can shift the point of impact from 60/40 to 120 percent. See it in this month's Product Focus (page 12).
During the month of August, the High Power Rifle National Championships closed out the 2021 NRA National Matches at Camp Atterbury. Running for six straight weeks and including events for Across the Course, Mid-Range, Long-Range, F-Class and International Fullbore, the 2021 NRA High Power Nationals did not disappoint. Check out my match report (page 26) to see all the winners. In addition, be on the lookout for a new digital publication covering the inaugural NRA National Matches at Camp Atterbury in their entirety. More details on that to come.
Around since 1996, the International Defensive Pistol Association's (IDPA) action shooting discipline is a fast-paced one that incorporates personal defense aspects into the competition. In IDPA competition, the emphasis is on accurate shooting, rather than speed. This month, Field Editor Chris Christian shares his tips for getting started in IDPA (page 32), and also explains how concealed carriers can use the sport as practice.
Finally, the latest installment in our Steel Challenge breakdown series covers the Showdown stage (page 36). What makes Showdown different from other Steel Challenge stages is it's not shot from a center box, instead the shooter has two boxes spaced six feet to choose from to start. Since the visual appearance of the target numbering order (as shown in the rules) will change depending on the box, knowing which side you're better at will help you shave time from your scores.
John Parker
Executive Editor, Shooting Sports USA
Are you a subscriber?
Not receiving the monthly digital magazine announcement in your inbox? Become a subscriber. Not only is it completely free, it only takes a minute to sign up and it guarantees you'll never miss a single issue of the NRA's competitive shooting journal. Subscribe here.
---
Read more: 
Competitors' Corner: September 2021