This issue kicks off with the second installment of our 2023 NRA National Matches at Camp Atterbury coverage. At the National Smallbore Championships, the Lones Wigger Iron Man Trophy went to Cameron Zwart of Comstock Park, Mich. A true measure of smallbore shooting skill, the Lones Wigger Iron Man Trophy is awarded each year at the NRA National Matches to the high scoring shooter in the combined NRA Smallbore Rifle 3-Position and Prone aggregates. This year, that meant nearly two weeks of competition. You can see Zwart on the cover, pictured with Smallbore 3-Position Champion Kristen Yeaton and Lones Wigger Iron Man Trophy runner-up Joe Graf. Read all about this summer's matches in my match report (page 18), including the NRA Smallbore Rifle 3-Position, Prone, Conventional, Metric and F-Class results.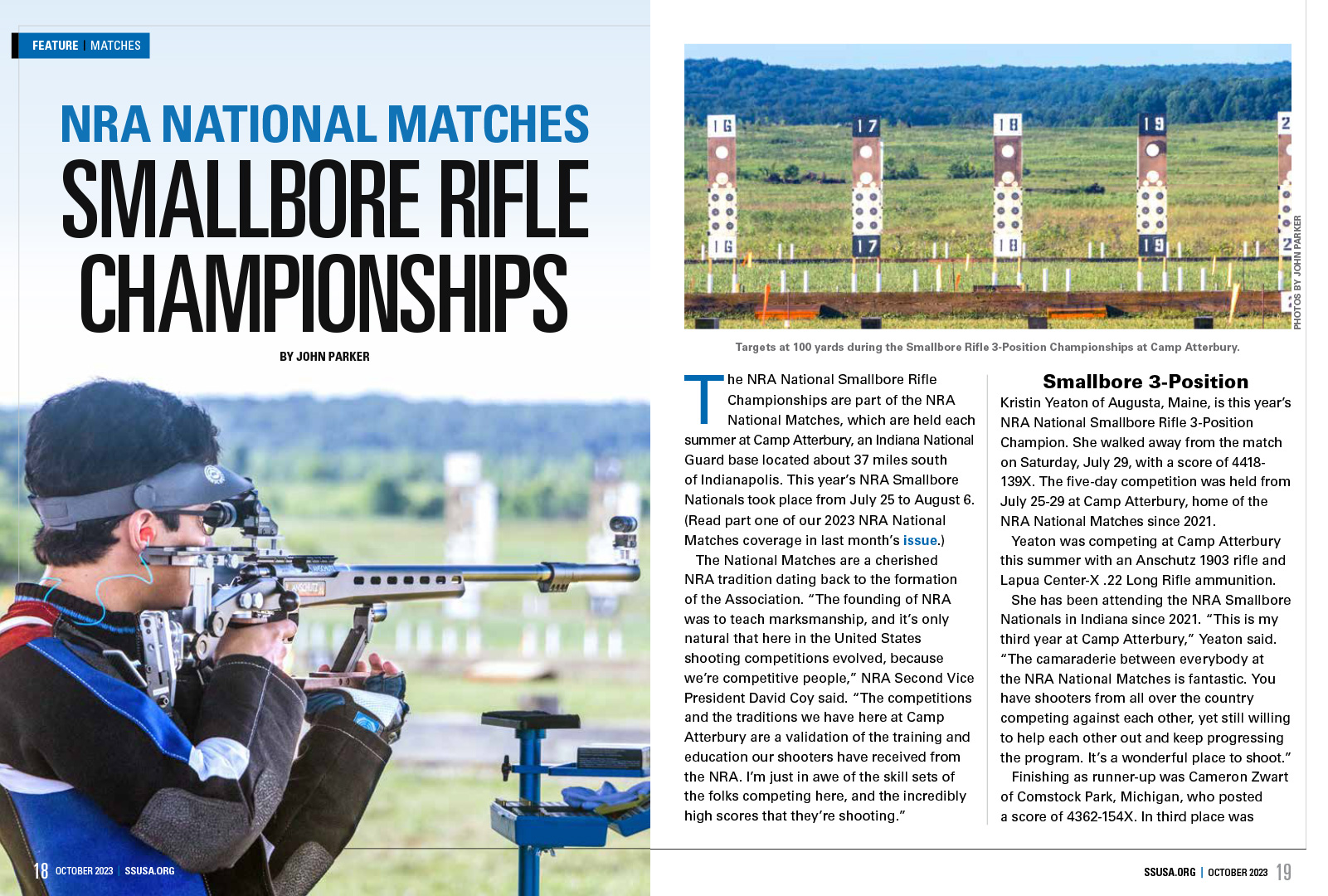 New author Maggie Kelch brings us her match report from the 2023 Scholastic Clay Target Program and Scholastic Action Shooting Program National Championships (page 26). Both matches, held this past July at the Cardinal Shooting Center in Marengo, Ohio, attracted a whopping 3,130 elementary school through college-aged student-athletes. Kelch noted the massive enthusiasm for competitive shooting from young people means "the future of shooting sports is in good hands."
Field Editor Art Merrill discusses the history of another classic gun in his article about the Lee Straight-Pull Rifle of 1895 (page 34). Designed by James Paris Lee (of Lee-Enfield fame) to satisfy United States Navy requirements for a new small arm, Winchester manufactured only a few Model 1895 rifles for the civilian market, and even fewer Sporting Rifles for hunters, the latter being the subject of the article. Notably, the new-at-the-time, high-velocity 6 mm cartridge used by the Model 1895 Straight-Pull Rifle was the smallest diameter bullet used in any nation's general issue military rifle—until the 5.56 mm NATO round arrived nearly 70 years later.
In August, National Rifle Association of America President Charles Cotton visited the Grand American Trapshooting Tournament at the World Shooting and Recreational Complex in Sparta, Ill. Joining President Cotton at this year's Grand American were NRA Second Vice President David Coy and NRA Board Member Dr. Thomas Arvas. The trio visited with competitors, met with match officials and also made a stop at the Trapshooting Hall of Fame. The NRA, a longtime supporter of the Amateur Trapshooting Association, has maintained a large presence at the Grand American for many years, including an area for NRA to serve current and prospective members. Every summer during the Grand, the NRA and Winchester hand out two free boxes of Winchester's AA shotshells to new or renewing NRA members. Learn more about the NRA's visit to the largest trapshooting event of its kind in the country (page 38).
In next month's issue, be on the lookout for our coverage of the 2023 NRA National Silhouette Rifle Championships, as well as a feature from Field Editor Art Merrill discussing accuracy versus precision.
John Parker
Editor-in-Chief, Shooting Sports USA
Are you a subscriber?
Not receiving the monthly digital magazine announcement in your inbox? Become a subscriber. Not only is it completely free, it only takes a minute to sign up and it guarantees you'll never miss a single issue of the NRA's competitive shooting journal. Subscribe here.