The United States F-Open Rifle Team rocketed from third place to the top of the leaderboard and a gold medal finish at the 2023 F-Class World Championships, held March 26 to April 1 at the Genl De Wet Classification Shooting Range in Bloemfontein, South Africa.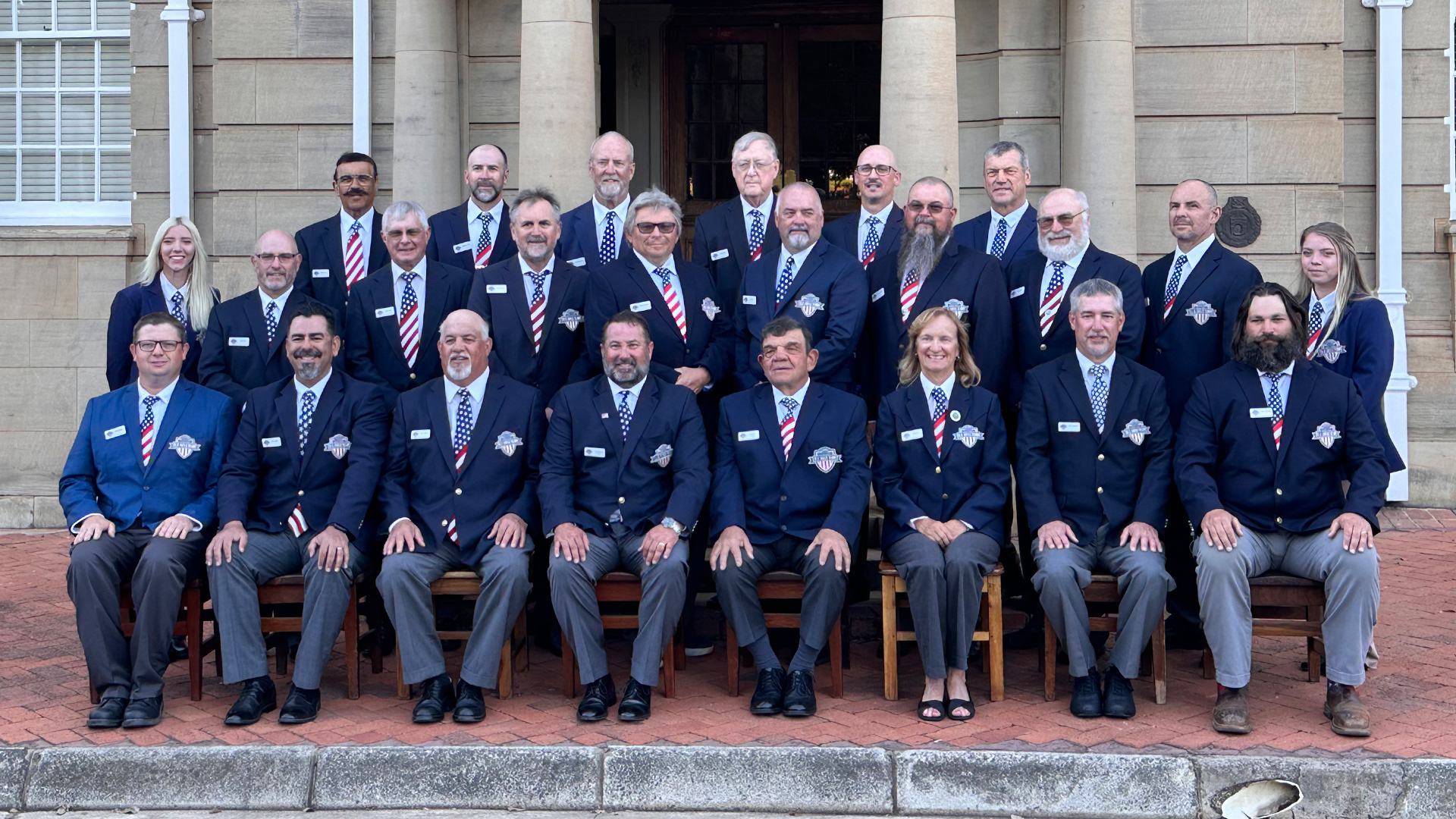 With a winning score of 3540-366V, the U.S. F-Open Team's victory made history as the first time the United States has defeated South Africa on its home range in F-Open in more than 20 years. F-Open shooters won the first F-Class World Championships in Canada in 2002, but have yet to land at the top of the leaderboard since then, falling victim to both the South Africans and the Australians, who had previously beaten the Americans here in the United States in 2013 and in Canada in 2017.
On the other side of the house, the U.S. F-T/R team finished as runner-up and silver medalist in the F-T/R competition with a score of 3462-284V, 56 points behind the winning South African team. But don't let that fool you—both teams put up excellent scores this year. From the U.S. Rifle Team 2023 Facebook page, "the South African F-T/R team set a new standard, with a score of 3518-307V, a full 106 points ahead of the prior record to win gold! Simply phenomenal." For Team Captain Phil Kelly, after the U.S. F-T/R Team's 2017 gold medal performance in Canada, and here at home back in 2013 at the World Championships held at the NRA Whittington Center—the pressure was on to defend the title on a difficult foreign range. Kelly and the entire F-T/R team should be commended for representing the U.S. well this year in South Africa.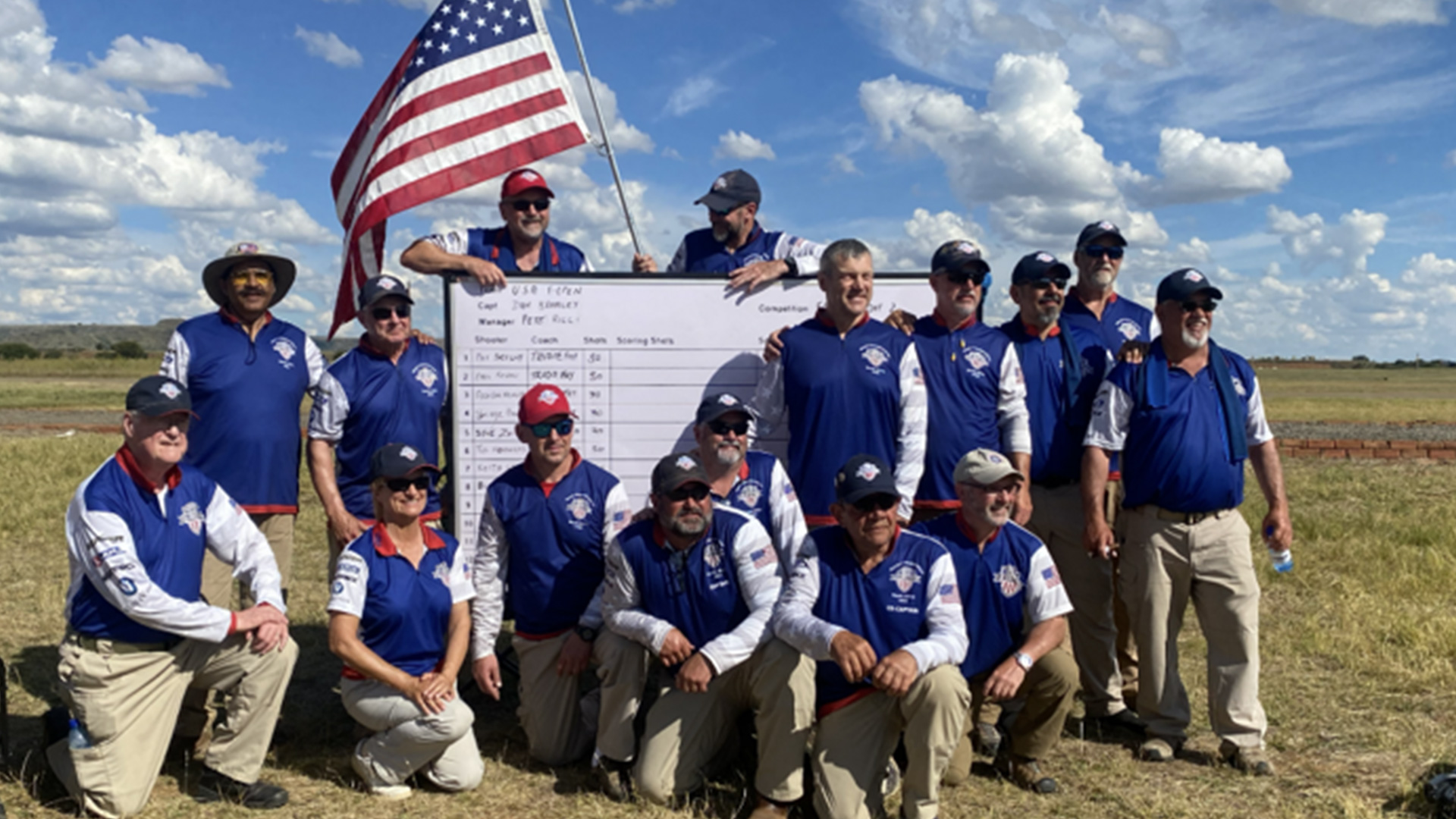 In addition, the South African Bisley Union held its own Nationals prior to the start of the 2023 F-Class World Championships. American shooter Erik Cortina won the overall South African F-Open National Championship with a score of 687-65V, two points ahead of runnerup J. H. Du Plessis. After his victory, Cortina was "Chaired" from the range, carried by a cadre of his American teammates, which is the custom in international rifle competition.
Cortina was shooting two rifles in South Africa. The first was a .284 Shehane with Borden BRMXD action, 32-inch Brux barrel and Shurley Brothers low rider stock, and he was feeding it Lapua .284 Win. brass paired with Berger Bullets 180-grain hybrids. Cortina's second rifle (see him with it on this month's cover) is similar, but chambered in 7 mm PRCW and with a 32-inch Bartlein barrel. The load for this gun consists of Lapua 6.5 PRC brass necked up to 7 mm, Berger 180-grain hybrid bullets and Vihtavuori N555 powder. Common to both rifles are Kahles K1050 10-50x 56 mm optics, Flavio Fare trigger, SEB NEO X front rest and EC Tuner V2.
ABOUT INTERNATIONAL F-CLASS
F-Class World Championship firing is conducted at 700 meters, 800 meters and 900 meters, usually firing "three-to-a-mound," meaning three competitors per target alternating and scoring for each other. The international target has a "V" instead of an "X" for a "Bull," and is scored five, four, three, two and one, as opposed to the standard American target, which is scored 10, nine, eight, seven, etc.
The standard course of fire is two convertible sighters and 15 rounds for record, meaning that a possible score is 75 with 15 Vs (a convertible sighter is one which may be "converted" to a record round for score).
TEAM VICTORY
Although shooters from 14 countries had participated in the South African Nationals that preceded it, the F-Class World Championship had a narrower field of nine countries. The 2023 F-Class World Championship team competition took place over two days, and there were teams from Australia, Canada, Germany, Great Britain, New Zealand and more. After the first day, the U.S. F-T/R 16-man World Team stood in second place behind the South Africans, while the American F-Open Team was eight points back in third place behind the South Africans and the Australians.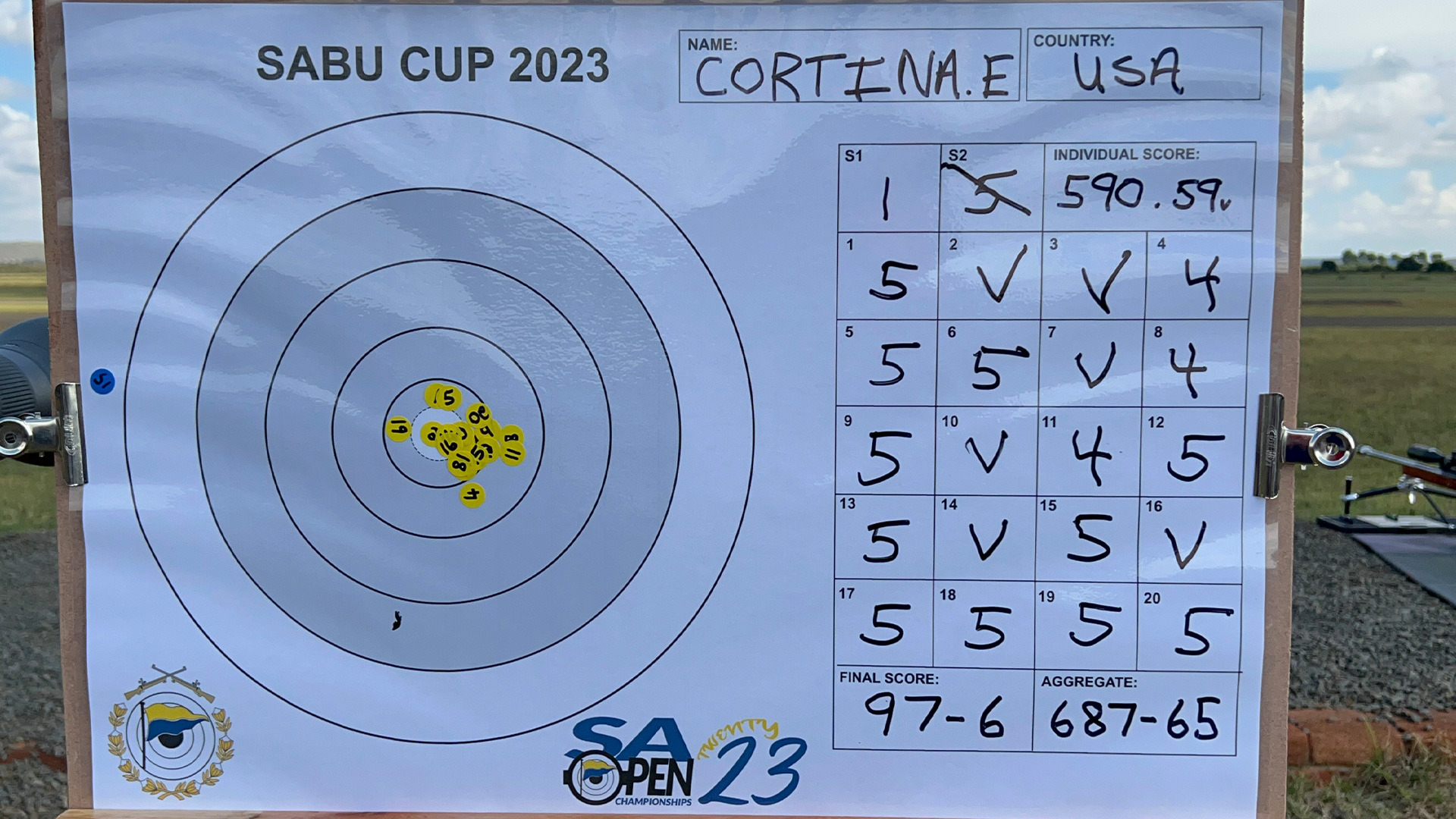 Day two of the 2023 F-Class World Championships showed a much different result, with the American F-T/R World Team holding its own to earn second place and a silver medal. But the excitement came from the U.S. F-Open Team coming from behind with an impressive performance to win gold for the United States, defeating the South Africans for the first time on their home range, and showing the Australians that there was no quit in the American team.
The gold-medal winning 16-man U.S. F-Open Rifle Team members were Captain Dan Bramley, Co-Captain Pete Ricci, Coaches Bob Sebold, Erik Cortina, Trudie Fay and Dale Carpenter, and the 10 shooters—Emil Kovan, Addison Mohler, Tod Hendricks, Pat Scully, John Sigler, Shiraz Balolia, Keith Weil, Steve Zock and Bill Kolodiej.
For the U.S. F-Open Rifle Team's high score honor this year, it went to Bill Kolodziej, who posted a grand total of 448-50V. As for the U.S. F-T/R Rifle team, the top shot was Tracy Hogg with a score of 438-40V.
"Despite a grueling six-year cycle filled with many logistical hurdles, we took a total of 23 shooters to Bloemfontein to compete. I am immensely proud of each and every one of them for making great sacrifices and being true team players in every way," U.S. F-Open Team Captain Dan Bramley said.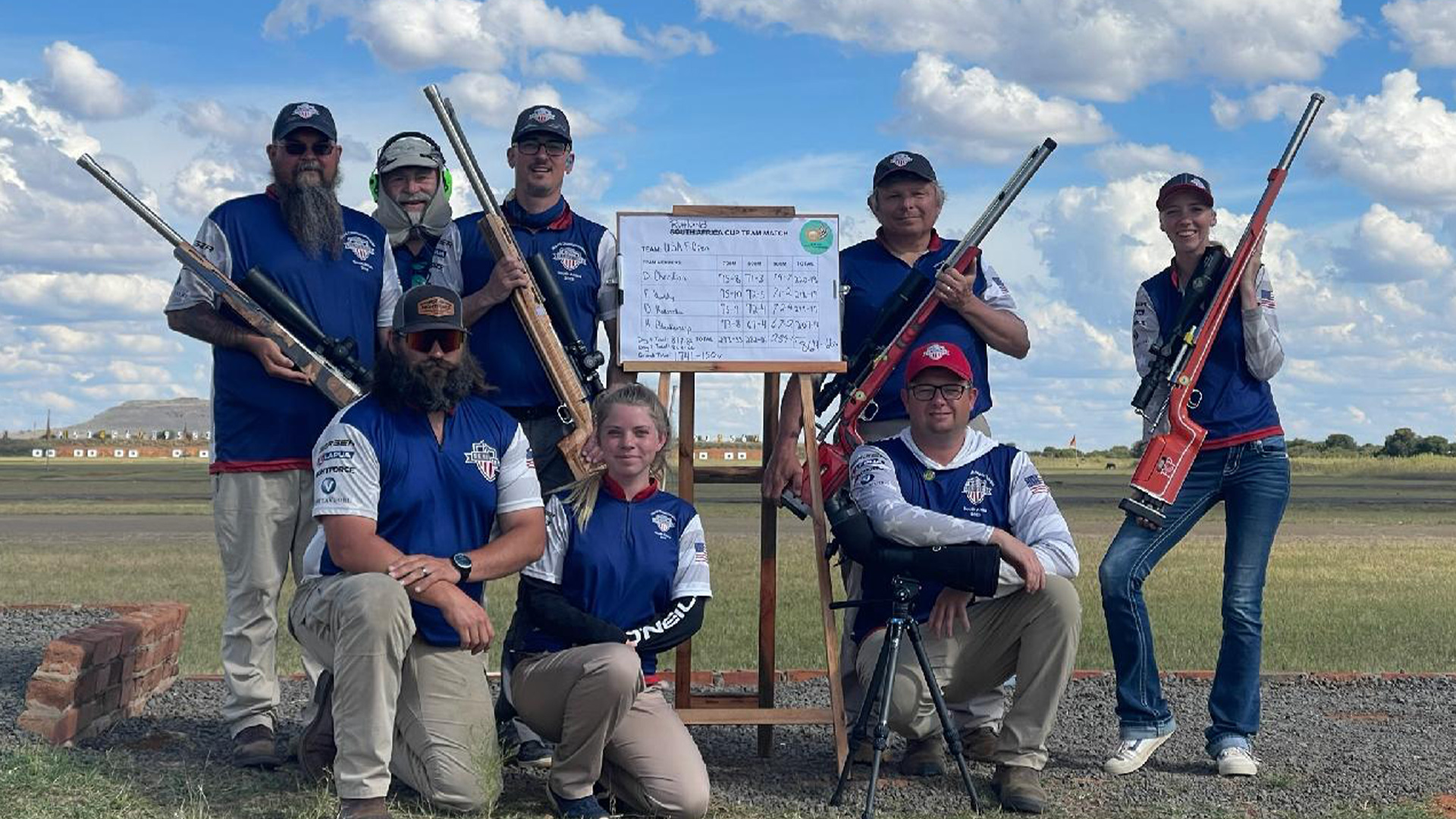 The American Rutland F-Open Team (eight-man) also showed its grit and determination by earning a silver medal to go with the gold they had won during the South African National Championships, posting a score of 1741-150V. The Rutland Team included Captain and Coach Brian Blake, Coach Brian Bowing, and shooters David Christian, Walter Lange, Franklin VanWhy, David Kokoszka, Katie Blankenship and Kaycie Blankenship.
Notably, the eight-man Rutland Team was the only one to clean the 700-meter course on day one, converting every sighter. "While the 16-man team dropped some points at 700 meters on the first day, the next day brought them a monumental victory," Bramley said. "It was a truly heroic effort by the coaches and shooters."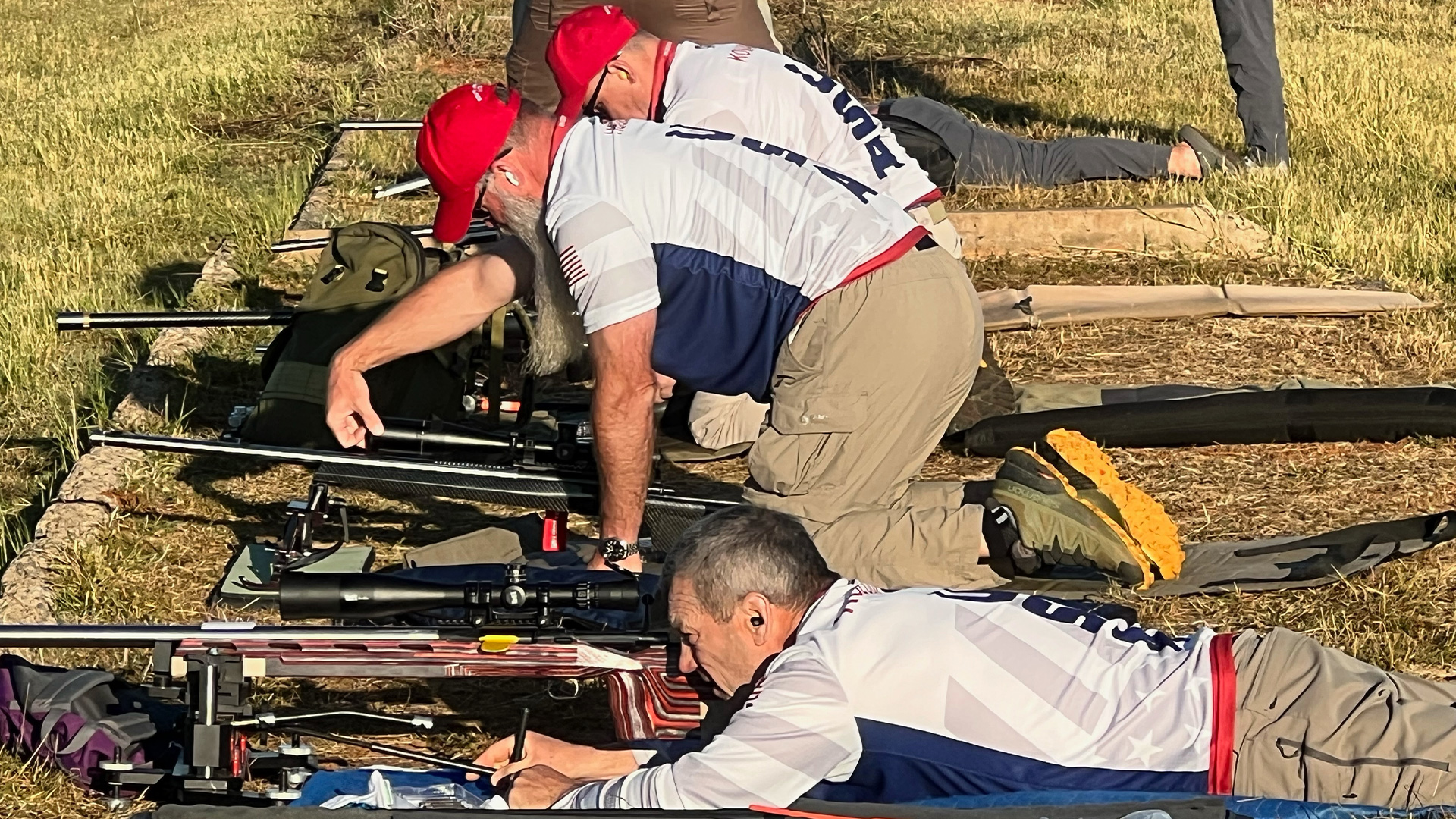 INDIVIDUAL F-CLASS
As one might expect, with 126 F-Open shooters representing nine countries competing on the world stage, the scores were quite high, despite an incredibly challenging range with winds as difficult and unpredictable as anywhere in the world.
American F-Open shooters Kaycie Blankenship and Walter Lange led the way in the special categories, with Blankenship winning gold in the Under 25 category, and the same for Lange in the Super Veteran category.
The American F-Open shooters claimed a total of seven silver medals and eight bronze medals in individual competition, while the American individual F-T/R shooters won two gold, one silver and one bronze medal. The South African shooters, with the advantage of competing on their home range, dominated the individual competition.
As important as the individual competitions might be, the American teams viewed the individual matches as practice for the all-important team matches. "In the final analysis, it is the team competition that serves as the overall reason why we were there," past NRA President and 2023 U.S. F-Open Rifle Team member John Sigler said. "And the American teams did what they came for—win medals.
The next stop for Team USA will be Bisley, England, in 2026 for the next F-Class World Championship, followed by a trip to Australia in 2030. Subscribe to the free Insider newsletter for the latest U.S. F-Class Team updates.
See the full results of the 2023 F-Class World Championships at the South African Bisley Union website.
F-OPEN AND F-T/R?
As most readers already know, F-Class rifles, and hence the U.S. Rifle Team, come in two "flavors," i.e., F-Open rifles and F-T/R rifles. In the past they were considered separate teams, but with the selection of Dan Bramley to lead the F-Open Team, and Phil Kelley to lead the F-T/R shooters, a new era dawned with the concept of a single, fully integrated United States F-Class Rifle Team with two parts— each led by its own captain—working together in support of each other in the pursuit of medals on the international stage. Bramley and Kelley adopted a philosophy of creating a "championship team" versus a "team of champions," with an emphasis on T.E.A.M.—Together Each Accomplishes the Mission. The plan seems to have worked.
2023 F-Class World Championships Leaderboard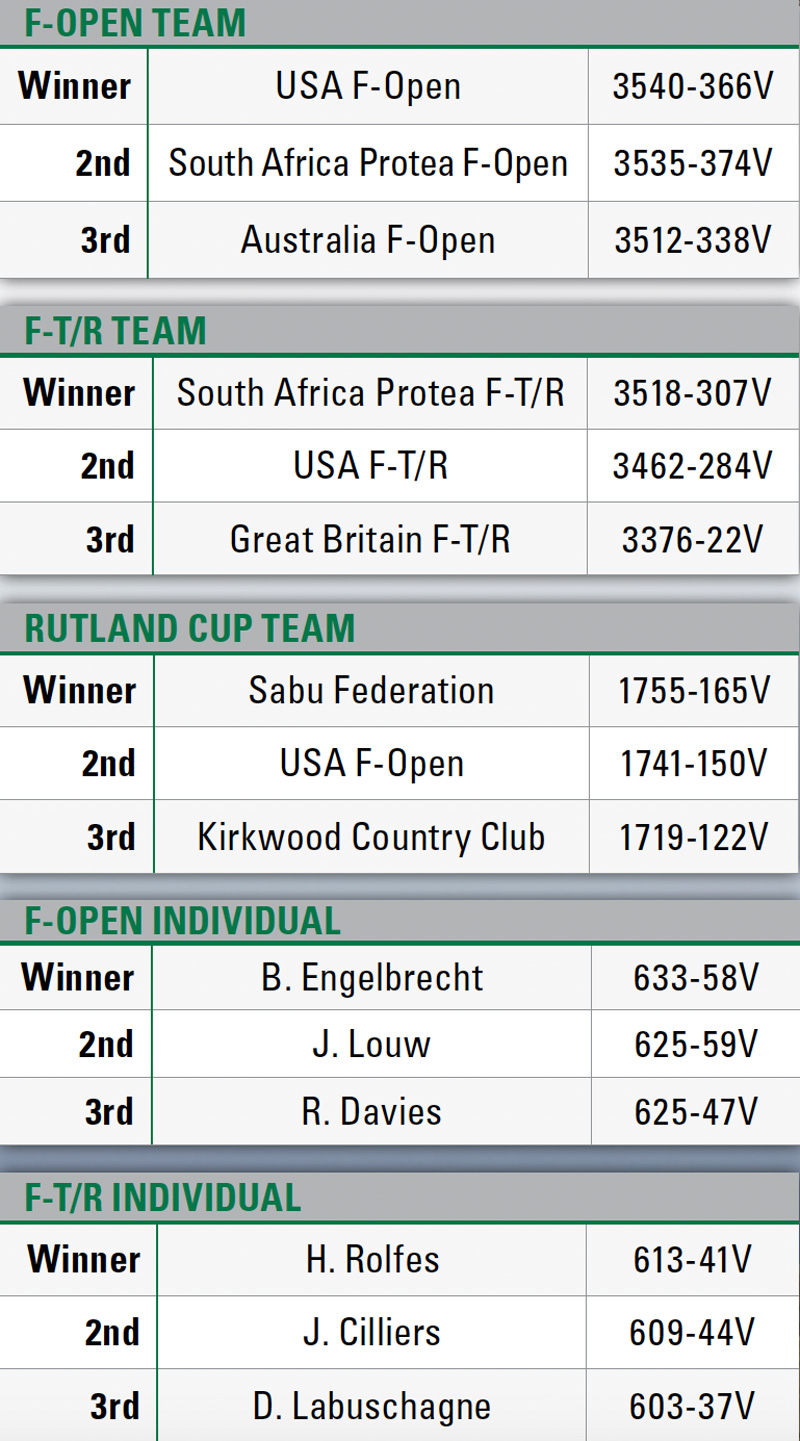 Special thanks to past NRA President and United States F-Open Rifle Team member John C. Sigler for his assistance with this article.