by
posted on December 19, 2016
Support NRA Shooting Sports USA
DONATE
The 54th annual NRA National Police Shooting Championships were held in Albuquerque, NM, this past September. Known by many competitors as NPSC or the Police Nationals, this three-day international shooting championship attracts law enforcement officers and armed security professionals representing local, state, and federal agencies from across the country and around the world. The championship tests officers' accuracy and handling skills in handgun and shotgun. Two-hundred competitors made the trip to New Mexico for the match this year.

Vadasz wins number eight

U.S. Senior Border Patrol Agent Robert Vadasz repeated as NPSC National Champion this year with a score of 2976-221X. This is the eighth NPSC championship in total for Vadasz, who is also the eleventh NPSC champion from the U.S. Border Patrol pistol team. Vadasz also won the Open Revolver Championship.

Rounding out the fellow overall winners was Vadasz's Border Patrol teammate Tony Simmons, who finished in second place scoring 2974-198X. In third place with a score of 2974-187X was Doug Peoble of the Pinal County Sheriff's Department, in addition to winning the Open Semi-Auto Championship. Stefanie Diaz of the Los Angeles Police Department won High Woman with a score of 2967-163X, also winning the title in Open Semi-Auto and Revolver.

In Shotgun, it was another Border Patrol agent, Andrew Signell, at the top with a score of 549-3X. In second place was Louis Guenther of the Albuquerque Police Department, finishing with a score of 547-4X.

Sean Vasquez of Homeland Security Investigations won the President's Match with a score of 1184-68X.

Change in format

This year, there was a change to the NPSC format that allowed shooters to compete in both the Open Class Semi-Automatic Pistol and Open Class Revolver Championships. Additionally, the Open Class 3000 Championship Aggregate was reinstated—which combined the Open Class Semi-Automatic Pistol and Open Class Revolver scores—making Rob Vadasz, the winner of the NPSC Open Class 3000 Championship this year's NPSC National Champion.

NPSC history

Since 1960, the NRA has offered a complete police shooting program to law enforcement agencies. The first NPSC was in 1962, known then as National Police Revolver Championships. Held in Bloomington, IN, the inaugural championship was won by Columbus, OH, police officer Larry Mead. [Note: Larry Mead is the current Bianchi Cup and National Pistol Championship Deputy Match Director.] In 1989, the Championships were re-titled the National Police Shooting Championships and moved to Jackson, MI. In 2006, the Championships were relocated to Albuquerque, NM.

NPSC was designed to encourage officers to practice and enhance their firearm skills via competition. By using NRA-standardized law enforcement courses of fire, officers can assess their skill levels while departments evaluate the effectiveness of their training programs in practice. NPSC is open to public and private law enforcement members, and also the U.S. military.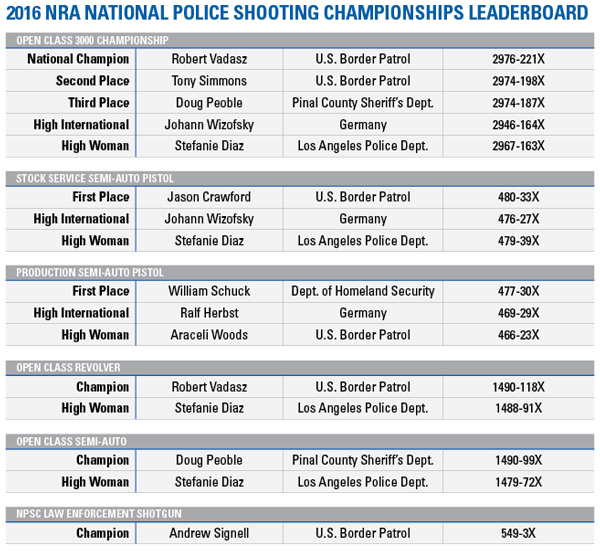 You can learn more about NPSC at this link: lecompetitions.nra.org/national-police-shooting-championship.