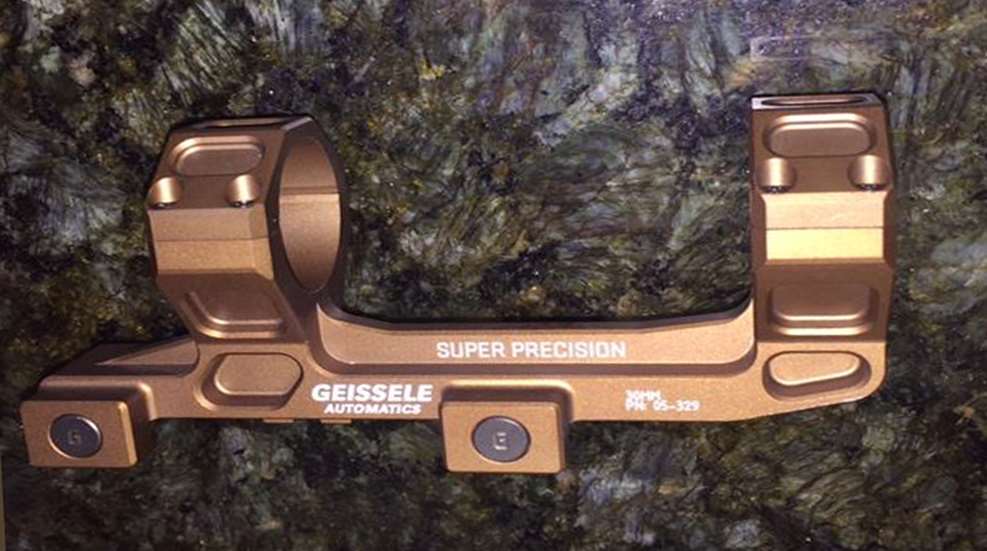 Recently, I met with Bill Geissele because I have been anxious to get a look at his highly anticipated new scope mount. After having a fairly detailed tour of the production and an understanding of the monumental research and development that went into this project all I can say is WOW! This will be the new high water mark of Picatinny scope mount systems.

Geissele showed me the first official production model of the "Super Precision" scope mount and it is a real beauty. As I was examining it, I explained to Geissele how I have been completely disappointed in every other Picatinny scope mount I have tried, including most of the higher end models on the market. I found they never returned to zero well, they never fit the rail cleanly and they always required lots of torque on the screws to keep them from moving.

Geissele explained that his customers, both civilian and military have all shared the same disappointment with the current offering of scope mounts available commercially. For civilians a bad scope mount is a nuisance, but for the LEO/MIL end user it can be a far more serious problem. Geissele also explained to me the challenges of producing a real precision scope mount.

Geissele and his engineering team have spent over a year designing and testing materials and production techniques to build a more precise system. Many of the problems with other mounts can be traced back to the machining and production. Geissele said that when machining parts that require tight tolerances every cut you make into metal will displace material in another area. Most manufacturers try to maximize margins while keeping prices down and to do that, something has to give. The end result is quicker production and machining, with sloppier tolerances and a final product that does not fit well, does not return to zero well, and requires more torque to hold due to inconsistent mating surfaces.

Geissele said they spent hundreds of hours programming and reprogramming their machine process so that every cut not only performed a precision operation but complimented the overall tolerance rather than compromise it. The result is a finished product that fits like it was born on your rifle.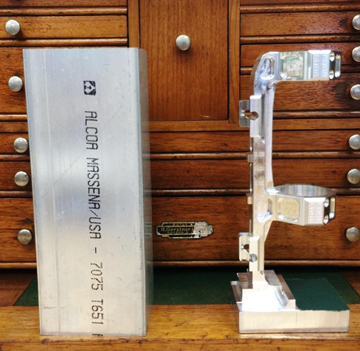 This 5.1 oz. scope mount starts life as a 4.6 lb. solid rectangular block of billet 7075-T6 aluminum. Everything is machined from that block, including the integral scope rings. The scope ring ID is bored and the rings are precision cut. Each ring is individually serialized so that the end user knows to reassemble the top ring halves back on to the lower rings with the same orientation. Every detail down to the clamping system has been painfully analyzed, tested, modified and improved until Geissele was satisfied that final product was simply the best, and it really is. The fit, finish and attention to detail is exactly what we have come to expect from Geissele.

This great general-purpose mount will have many applications. I cannot tell you how much these will cost, or when you will be able to get your hands on one since they are literally just starting to make production models. However, Geissele also said they are currently working on some other designs as well as talking about a mount that would be purpose built for NRA and CMP High Power Rifle competition.

Keep an eye on Geissele Automatics for updates and info on new products.