Team CCI Ammunition shooter Grant Kunkel dominated the competition at the 2021 CCI Area 4 Steel Challenge Championship after winning five divisions outright: Rimfire Rifle Open (53.83), Rimfire Rifle Irons (61.0), Pistol Caliber Carbine Open (61.87), Rimfire Pistol (68.03) and Open Centerfire Pistol (89.81). The match was held at the Brazosland Pistoleros Practical Shooting Club in Navasota, Texas, from July 23-25.
Many of the 301 shooters in attendance, similar to Kunkel, were shooting multiple firearms in different divisions.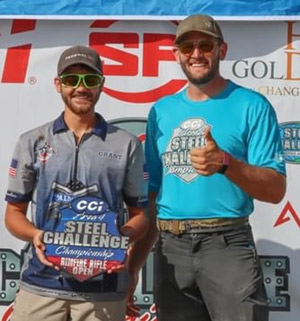 As for his best division score, Kunkel's time of 53.83 in Rimfire Rifle Open was the best of any shooter and placed him at the top of the combined leaderboard. His next two highest scores, 61 flat for Rimfire Rifle Irons and 61.87 for Pistol Caliber Carbine Open, also gave him the second and third spots in the combined leaderboard.
Kunkel gave high praise to his CCI ammo for aiding him in taking multiple division wins at the match.
"I was fortunate enough to put down some good times and earn some new hardware. At this level, my equipment has to perform flawlessly. I was glad my magazines were loaded with CCI Mini-Mags and CCI Blazer 9 mm ammo. I never have to worry about my ammo performing like I need it to."
In addition, Kunkel's CCI teammate, Cory Klemashevich, secured the runner-up spot in the Carry Optics division (108.35), along with fifth place in Pistol Caliber Carbine Optics (74.23). He did all this while simultaneously serving as the match director.
"Cory and his team did an amazing job running the match," said Kunkel. "This event was one of the most fun matches I can remember."
You can view the full results of the 2021 CCI Area 4 Steel Challenge Championship at the Practiscore website. Learn more about CCI at cci-ammunition.com. Follow Steel Challenge here.
---
Read more:
Everything You Should Know About Barrels In Action Shooting