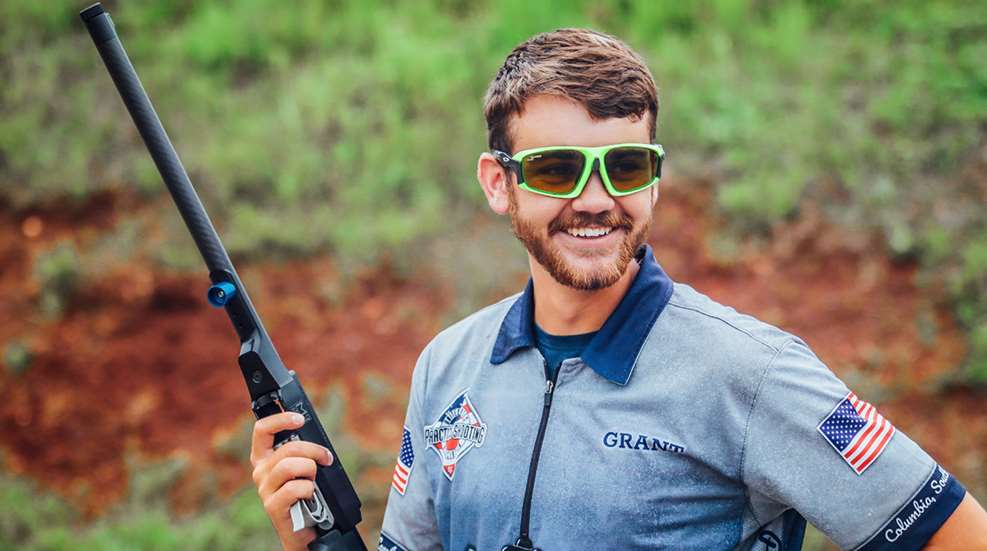 The fastest time ever shot in Steel Challenge was logged at the 2021 World Speed Shooting Championship: 53.97 seconds in the Rimfire Rifle Iron Sights division.
Over the past few years, the limits of Steel Challenge have been stretched further than many have thought possible. Two years ago, we saw the first sub-60-second match and then multiple competitors earned times in the 50s at the 2020 match. Grant Kunkel was crowned the new World Champion in 2021 at the CMP Talladega Marksmanship Park. I sat down with Grant to get to learn more about his vision to be a World Champion.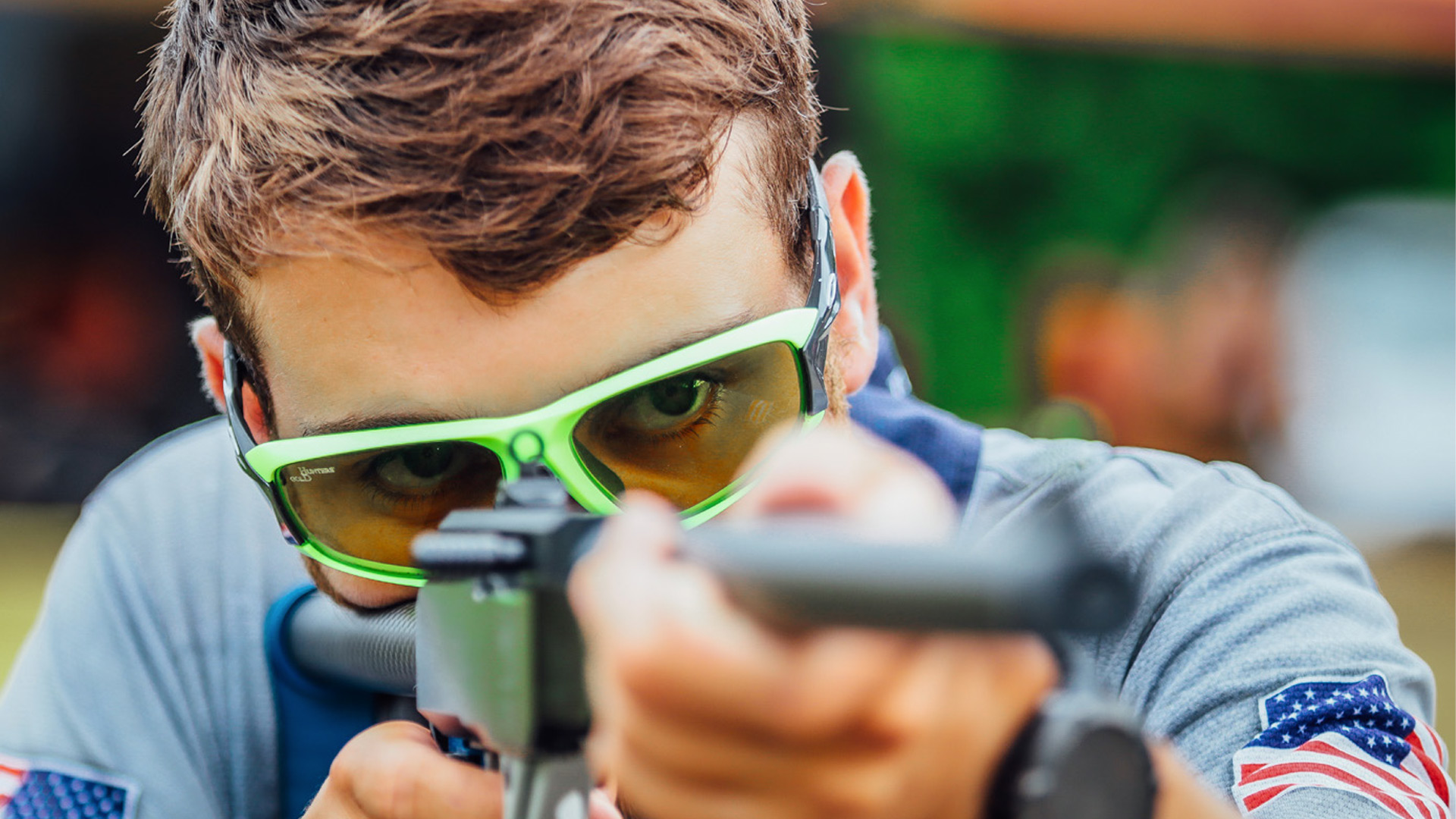 Tell us a little bit about how you grew up.
My two older sisters and I were homeschooled on a 60-acre farm in rural Arkansas. Our farm consisted of 60 cows, six horses, approximately 300 chickens, a goat and one really big hog. Being homeschooled enabled me make my own schedule. On most days, I would get up at 5:30 in the morning. I would be done with school by 10 o'clock and have the rest of the day to do whatever I wanted. While growing up on a 60-acre farm, there is a lot you can do; you are only limited by your imagination. My best friend lived a mile away from my house. We spent a lot of time climbing trees, running across the field with a machete and hatchet cutting whatever we could find. We would also go fishing, shoot snakes, ride the four-wheeler, play airsoft and build forts—just being kids. One of my fondest memories of my childhood resulted in a tree that fell across the creek. We would have sword fights on it with our "lightsabers" made out of PVC pipe with insulation duct taped around it to make them not hurt as much.
When was your first taste of competition?
When I was 15, I was watching videos of Jerry Miculek shooting and thought it looked really fun. I started looking around on the internet and found the Arkansas National Sport Shooting Foundation—now called Rimfire Challenge Shooting Association—State Championship. This is a two-gun match where some stages are shot with pistols, some are shot with rifles and the aggregate time determines the placement of the participants. The match was just over three months away, it gave me time to try to convince my father to bring me. He finally said maybe, so I started working to get enough money to buy a Ruger 10/22 rifle and a Ruger Mark IV Pistol. Fortunately, I earned enough money to buy the 10/22 and borrowed the rest of the equipment from my dad. As the match approached, I did not know much about the rules of the sport and ended up emailing the match director many times with questions. I really appreciated his patience with me. I showed up, and from the first stage I shot, I knew that this was for me. The hook was set. By the end of the match, I knew I wanted to be the World Champion and was going to work until I was. That was four short years ago.
When did you first shoot a firearm?
I shot my first gun when I was four. Living out in the country, I was around firearms my entire life.
How did you get into competitive shooting? Which discipline?
As I mentioned, I participated in my first RCSA match in May 2017. I shot my first Steel Challenge match in the beginning of 2018. Similar to RCSA, I started off in the Rimfire division of Steel Challenge. They are the same eight stages, but I really enjoy benchmarking my performance with others across the country. The benefit of Steel Challenge being the same course of fire, you can practice just this to be fast.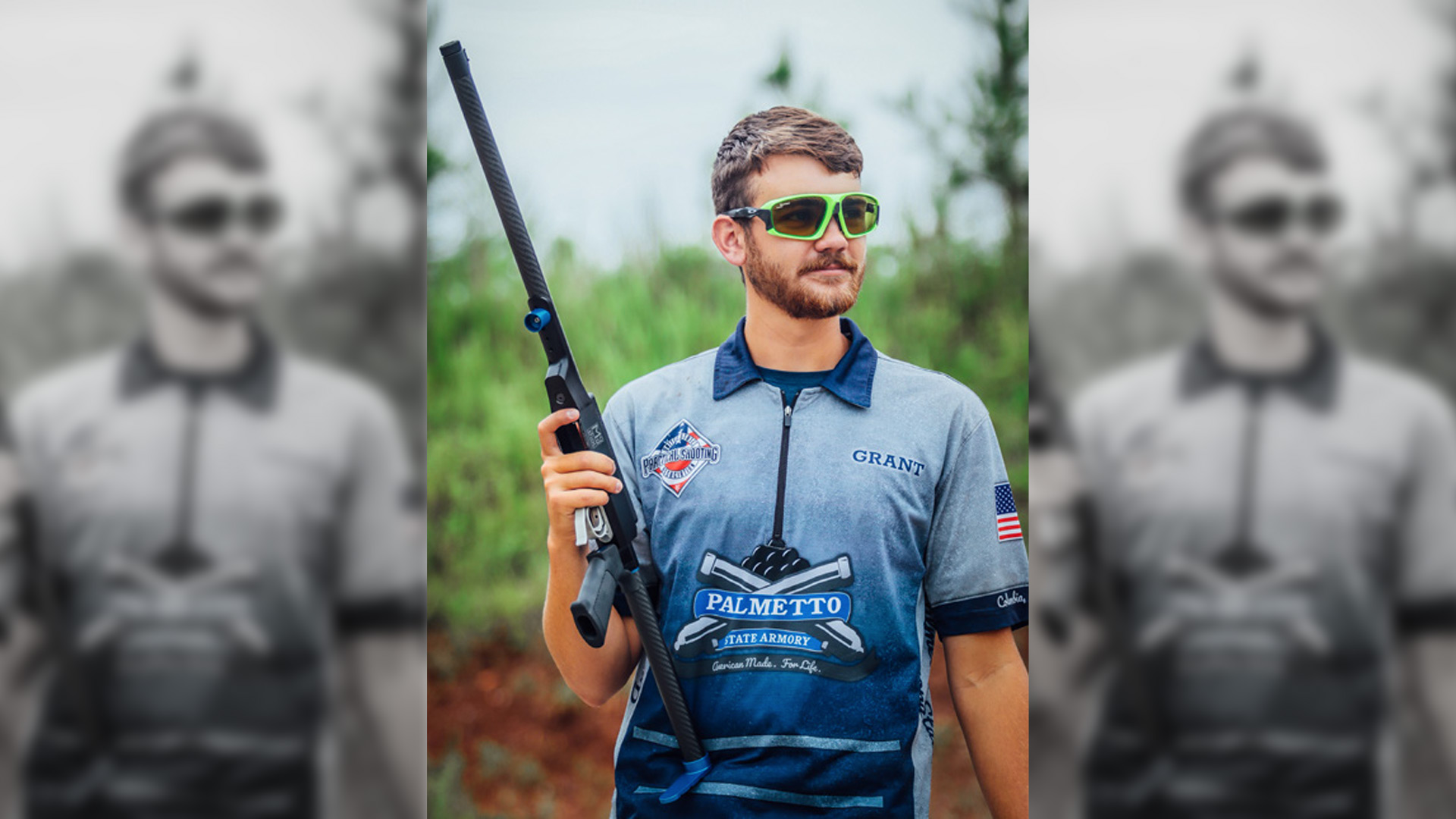 What is your favorite discipline to shoot and why?
I like shooting USPSA matches that are designed like 3-gun with my PCC. I like the longer more physical stages with longer shots. As an athlete, I appreciate the mixture of shooting and being in shape to run courses of fire. These types of stages really test your balance of speed versus accuracy. We all like to go fast, but it takes discipline to shoot accurately when you need to.
Take us through your shooting regiment. What do you do on a daily and weekly basis?
For the past three years, I have shot about 300 rounds almost every day. This is rain or shine. As a major match approaches, I ramp this up to twice a day sessions, shooting up to 1,000 rounds. When I am training for Steel Challenge, I practice on smaller than regulation plates I have from Shoot Steel. In other words, instead of 12-inch plates, I use 10-inch or eight-inch. I am confident if I can shoot smaller plates faster, the larger plates look the size of trashcan lids. I change stages about every week and a half. It is important to really drive improvement on each stage. On the first five strings, I write down my times to keep track of how I am doing. While training, it is important to understand where I am to begin with and I push the pace in practice. This is how I have seen so much improvement in my times in the last three years.
What clicked in your mind that got you to the level you are at today?
The most important thing was mental. I try to stay humble and not come across as arrogant or cocky, but to be the best; you have to believe you are the best. You shouldn't go around telling everybody you are, but you have to believe you have put in the work to be the best. You can only do what you believe you can do. I got where I not only believed that I could shoot a sub-54, but I knew I would. When I got to that point, I stopped trying to shoot faster than I could and started shooting what I could see. I became confident that was good enough. You can only shoot as fast as you can see. It's all about vision.
Let's talk about vision and your ability to process information—I am sure our readers would appreciate any insights you can offer.
You can only shoot as fast as you can see. The majority of the people shooting can pull the trigger fast enough. When I am shooting, a lot of the time I can see my bullets, I see my sights on every target, and I can tell you where they are at on the target. It's nothing you can really work specifically on, it just comes after hundreds of thousands of rounds of practicing. You can only do one or two conscious things at once, whereas you can do thousands of subconscious things at any given time. You have to practice to the point where everything becomes instinctive, not conscious.
Let's discuss the 2021 World Speed Shooting Championship. Congratulations!
I was able to win both of the Rimfire Rifle divisions; Rimfire Rifle Open and Rimfire Rifle Iron. I shot a 53.97 (seconds) with my Rimfire Rifle Iron, which was the fastest time of the match out of 637 guns.
What are your current shooting goals?
It may be a generic answer, but my goal is to continue to be better. I want to find out if it is possible to shoot a sub-50-second match in Steel Challenge. I am also going to start focusing on USPSA and 2-gun as well. I have shot a few USPSA matches, and they are a lot of fun. You still have the fundamentals of marksmanship, but you have the movement aspect which adds another layer of complexity.
Where do you see yourself both professionally and shooting in the next five to 10 years?
I will definitely still be competing, but beyond that, time will tell.
Tell us one thing no one would ever guess about you.
I'm an extreme procrastinator.
Who are your sponsors?
I have some great sponsors who have made it all possible. I wouldn't be able to shoot the times I do without my awesome Hunters HD Gold glasses. I have a custom pair with large lenses, my vision is never obstructed. I love Palmetto State Armory PCCs. It would not be possible to shoot as much as I do without Federal Premium's support. They make reliable, high quality ammunition. Nighthawk Custom Firearms makes the nicest 2011 I have ever shot. I use Shoot Steel targets for all of my training. CWA Custom Rimfire Pistols for the most reliable .22 LR pistol I have ever shot. AAA Concealment for the magazine pouches. Most of all, thank you to Arego's for not only being the best gun shop in Arkansas, but for their support, gear, job and friendship.
Congratulations to Grant for not only winning one, but two World Championships this year. He is a testament to what it means to put in hard work to achieve your goals. During his impressive match he also set 11 World Records, bringing his total to 13 for all years combined. The world of Steel Challenge is a great sport for all ages and abilities. Visit SCSA.org to find a match near you.
Article from the July/August 2021 issue of USPSA's magazine.
---
Read more:
Review: Shooters Connection Ultimate Competition Belt