Black Powder shooters often make their own equipment, including powder horns. Not one to blow her own horn, the author showcases the work of Ginny Van Meter, an accomplished artisan in this unique trade.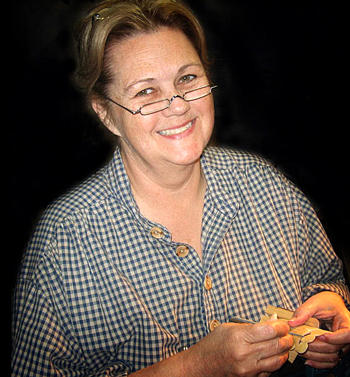 Perhaps some background is needed here to fully appreciate the story of Ginny's transition from novice to talented hornmaker. Ginny is a graphic artist by training and ran a small custom appliqué shop for college students. Although her interests have now expanded into muzzleloading, what first attracted her was not powder horns, but a request from her husband approximately 15 years ago to make him a long rifle. They had attended a few
Contemporary Longrifle Association
(CLA) shows and even purchased a rifle kit. Eventually, Van Meter took notice of all the different types of powder horns.
"I thought I could start with something small to make before I did the long rifle and, although I didn't know the first thing about working with horn, I bought a few and started trying to make them into something that would hold powder. I proudly showed one to a friend and re-enactor. He studied the horn, looked at me and said, 'It's a nice horn for a French Dandy!'"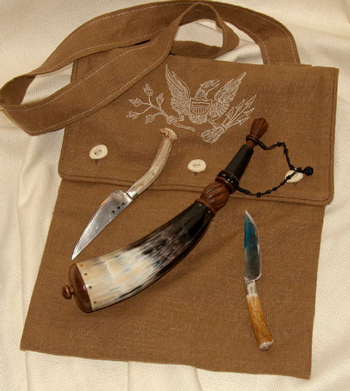 For those of you who don't know Ginny, "quit" is a totally foreign term to her. This one observation did not make her consider giving up on hornwork, but just the opposite—it inspired her. She began reading and studying about horns of the 18th century and, in 2007, took Art DeCamp's class on Tansel horns. In 2008, Ginny attended the Honourable Company of Horners (HCH) Annual Conference, which made quite an impression on her. Since then she has taken another of Art's classes on screw-tip horns and, as you can see in the accompanying photos, her work is excellent!
Her favorite style of powder horn is the Tansel. Living in Scott County, KY, not too far from the Francis Tansel homestead, is the main motivation for the interest and desire to work in this "style." In addition to being a member of the HCH, she is also a member of the National Muzzleloading Rifle Association, the CLA and the NRA. For more information on the HCH, see
www.hornguild.org
.