by
Chris Christian, Field Editor
posted on October 31, 2019
Support NRA Shooting Sports USA
DONATE
A stable, rock-steady stance is fundamental to accurate handgun shooting. Unfortunately, action pistol competitors aren't always allowed that luxury.

Shooting while moving is one of the required skill sets in IDPA and actually a part of their classification course. If the feet aren't moving when the shot breaks a procedural penalty is awarded. It's not required in USPSA or ICORE, but there are situations where it can be an advantageous tactic that will improve your score.

Delivering accurate hits on the move requires a significant shift from a fully-upright shooting stance and a simple test will demonstrate that. With an unloaded gun, assume your normal stance, align the sights on a distinct point on a far wall, and then walk towards it. You'll see those sights bounce wildly every time a foot leaves or hits the ground. Now, drop your hips into a crouch, flex the knees, lean slightly into the target, and slide the feet across the floor instead of lifting them. Those sights will stay a lot steadier on the target.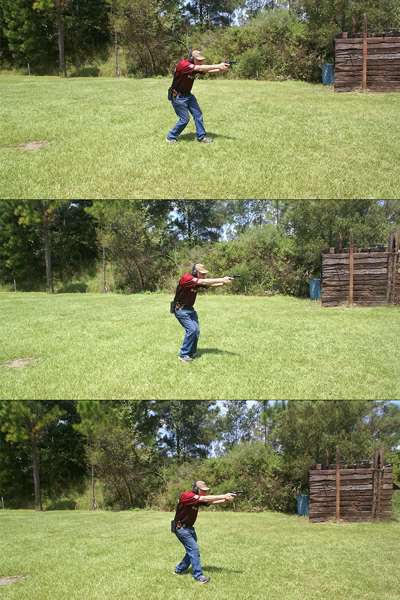 The key to shooting accurately on the move is to lower your center of gravity, smooth out your stride, and lock the gun arms onto the target for recoil control. However, the most effective stance can vary among shooters due to body type. The degree of crouch and knee flex will be different for a tall, slender shooter than for a shorter, stouter shooter.

Find yours by setting up three targets, spaced 6 feet apart. Face the middle target at 10 yards. At the buzzer, draw and double tap each target as you move forward. At 5 yards, repeat as you move backwards. At 10 yards, start on the outside of a far target, and double tap each as you move laterally across the targets. Do this left to right and right to left. The time is not quite as important as the target score. This is one case where accuracy takes a slight precedence over speed.

The "Crouch and Slide" covers ground more slowly than a walk, jog, or sprint. But it's only needed when you're actually pulling the trigger. Savvy USPSA shooters have learned how to enter and leave the stance quickly as they move through a course-of-fire. Practice this by starting at 15 yards, sprinting to 10, and then assuming the stance and engaging the targets while moving forward.

It takes some work and practice, but your score sheet will thank you.
---
See more: