by
Chris Christian, Field Editor
posted on November 4, 2019
Support NRA Shooting Sports USA
DONATE
Any shooter who wants to significantly improve their gun handling and marksmanship skills will find action pistol competition an excellent way to achieve that goal. For a modest ($10-$20) match entry fee shooters will be able to draw from a holster, engage multiple targets with rapid fire, shoot while moving, master quick reloading, and perfect many other advanced skill sets that would get them quickly ejected from most commercial indoor ranges.
It's also not hard to get into, whether your chosen gun is a semi-automatic or double-action revolver.
While major matches garner the publicity, local gun clubs are the heart and soul of the action pistol games. And in many parts of the country you can find one within a one-and-a-half hour drive from home.
The most popular matches hosted by the local clubs are those from the United States Practical Shooting Association (USPSA) and the International Defensive Pistol Association (IDPA). Both of these have gun divisions for revolvers and semi-automatics. For those only interested in revolvers, the International Confederation of Revolver Enthusiasts (ICORE) is less common, but available in some areas. These three require movement on multiple target arrays. And for those who would rather shoot more and run less, the Steel Challenge is an option. Shooters stand in one spot and engage five metal plates of various sizes and distances, as fast as they can hit them with semi-automatics or revolvers.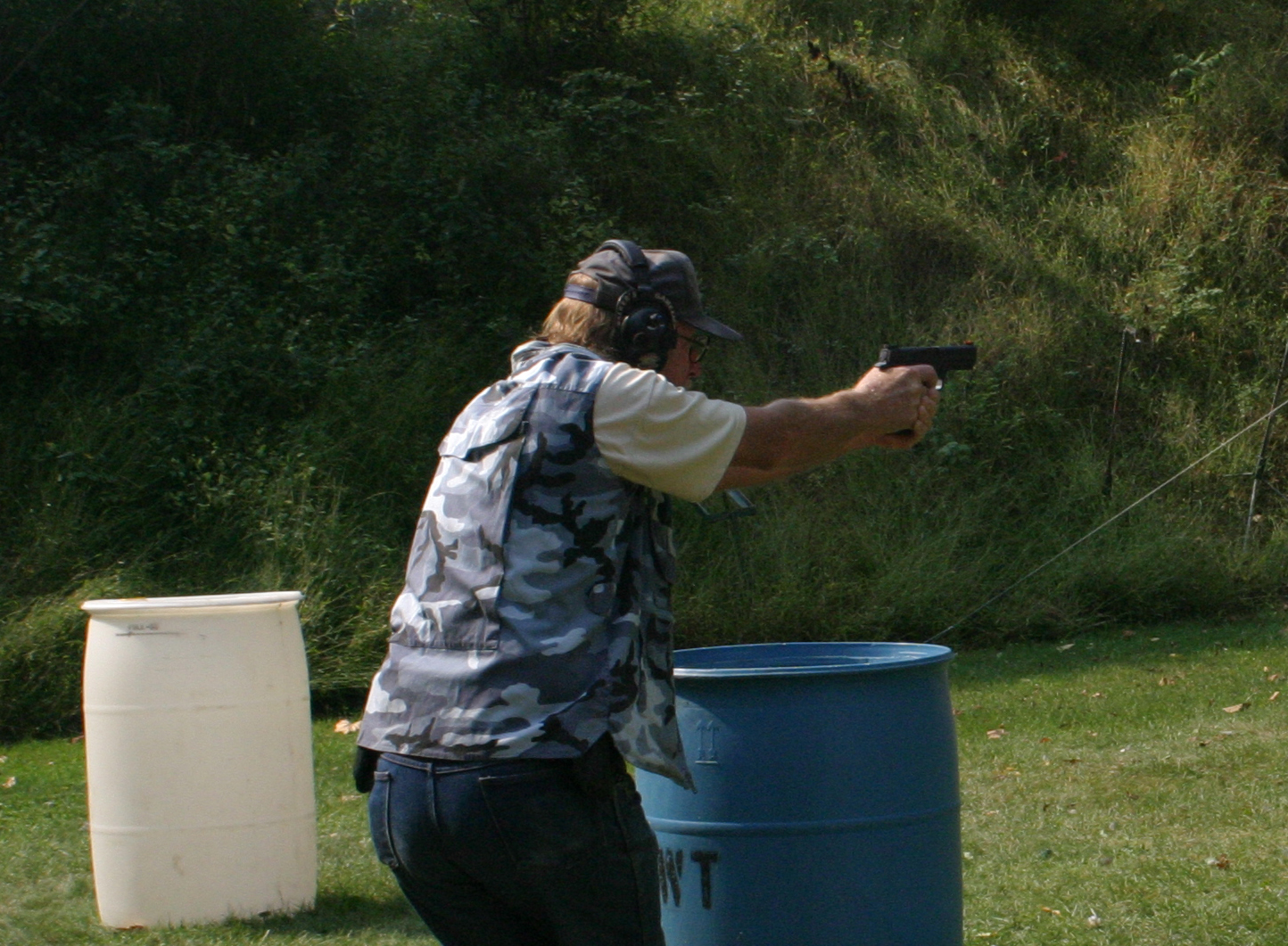 A visit to any of the organizations' web sites will help you locate a nearby club and provide contact information for the club officials. You will also be able to review their rules on guns and equipment requirements. But you don't need custom equipment to get started. Gun types are segregated into different divisions, and there's a division for just about any semi-automatic or double-action revolver; from the basic to the exotic.
A strong side (dominant hand) holster is required. Cross draw, appendix carry, pocket carry, ankle holsters and shoulder holsters are not allowed for safety reasons. You'll need at least three magazines or revolver speedloaders, and (depending upon the match) anywhere from 100 to 200 rounds of ammunition. This will normally be explained on the club match website. Eye and ear protection is mandatory, and simple foam plugs are accepted. If you're shooting an IDPA match you'll also need to wear a garment that will conceal the gun at the start signal. Add a small bag to carry your gear, some bottled water, a snack or two and you're ready to go.
The action arena is simple to enter, and for those who feel they might be treated with disdain as the "new guy"—forget it! In fact, be sure to tell the sign-in staff that this is your first match. You may be surprised at how eager they are to assist you. After three decades in the sport, I have yet to see a local club that did not only welcome new shooters, but had procedures to smoothly integrate them into the match. Sometimes that means placing new shooters on a separate squad led by their most experienced Range Safety Officers (RSOs). Some clubs even use a mentor program, where upper level shooters will partner with the new shooter to answer all their questions and guide them through the match. Being the new guy isn't a bad deal. The club wants you to have a good time and wants to see you back, and the RSOs are there to help you.
One area where leniency is not extended is safety. The rules are rigidly enforced, which is why action shooting is one of the safest participant sports around. Most clubs operate as a cold range. Guns may be worn in holsters or carried in a case, but they must be unloaded and without a magazine inserted. The only times guns are allowed out is when the Range Officer calls you to shoot, or in a designated Safe Handling area where live ammunition is prohibited. Also, there are additional rules that will be explained at the mandatory shooter's briefing prior to the match.
None of the shooters will look down upon you for a lack of skill. They all know they started the same way. But, you will quickly be ostracized and disqualified from the match for flagrant safety rule violations.
As for shooting skills, watching the upper level shooters blaze through a course of fire can be a bit intimidating. Some new shooters may wonder "What the heck am I doing here!?" The best answer I ever heard to that question occurred at a recent USPSA match.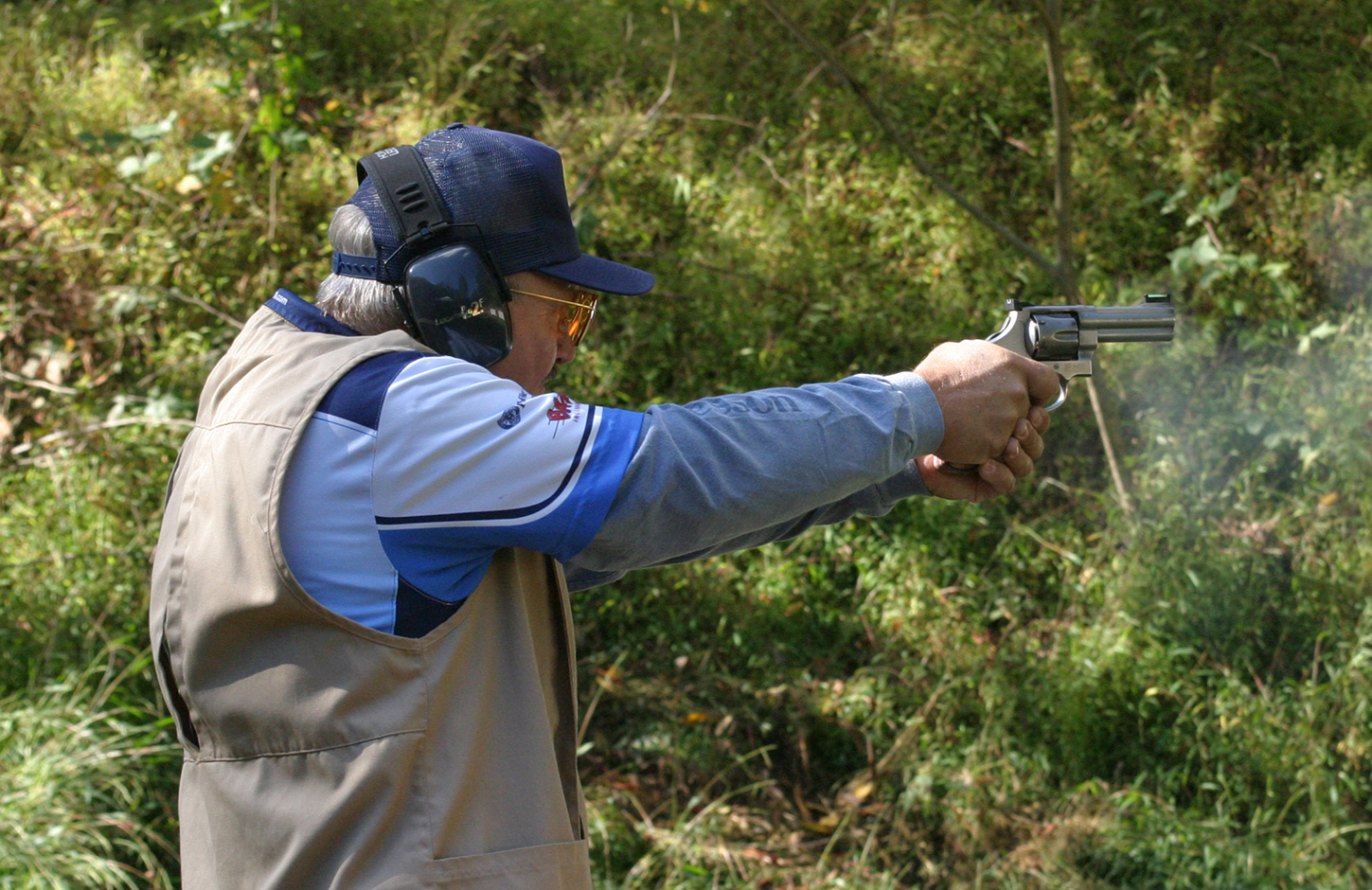 I was reloading magazines after an excellent run through stage when a gentleman in his mid-40s and his 20-something son approached, introduced themselves, and asked a few questions on why I had done this and that on the stage. Like most target shooters, I was happy to answer their questions. They thanked me and the father remarked how helpful all the shooters had been. He then noted that this was only his third match, but he felt he had already learned more about shooting then he did at an expensive three-day shooting school.
That didn't surprise me. There is a lot to be learned for the modest match fees, and a solid reason to enter the action arena.
---
Read more articles by Chris Christian: