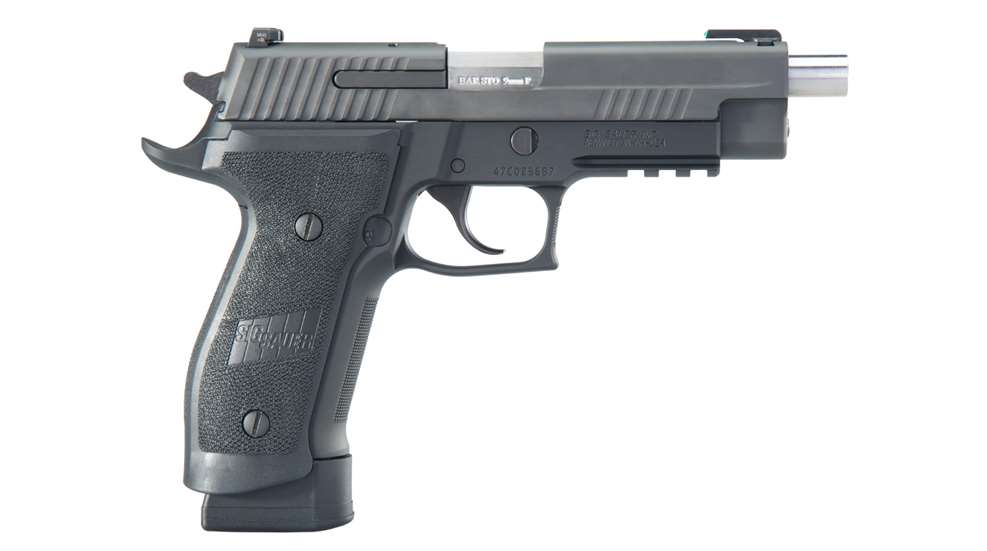 While looking for a back-up gun for Action Pistol matches, I learned from SIG Sauer that there are no immediate plans for the return of the SIG X-Five Allround―my current 9mm gun. The only SIG single/double action pistol in inventory that complies with Action Pistol rules and my preference for a 5-inch barrel is the P226 TACOPS. Although SIG staff explained that the TACOPS is a feature-rich, reliable duty gun and not intended for match performance, the flared grip, superior trigger ergonomics and balance are so desirable that I enlisted the help of experts to make it match worthy. And did they ever.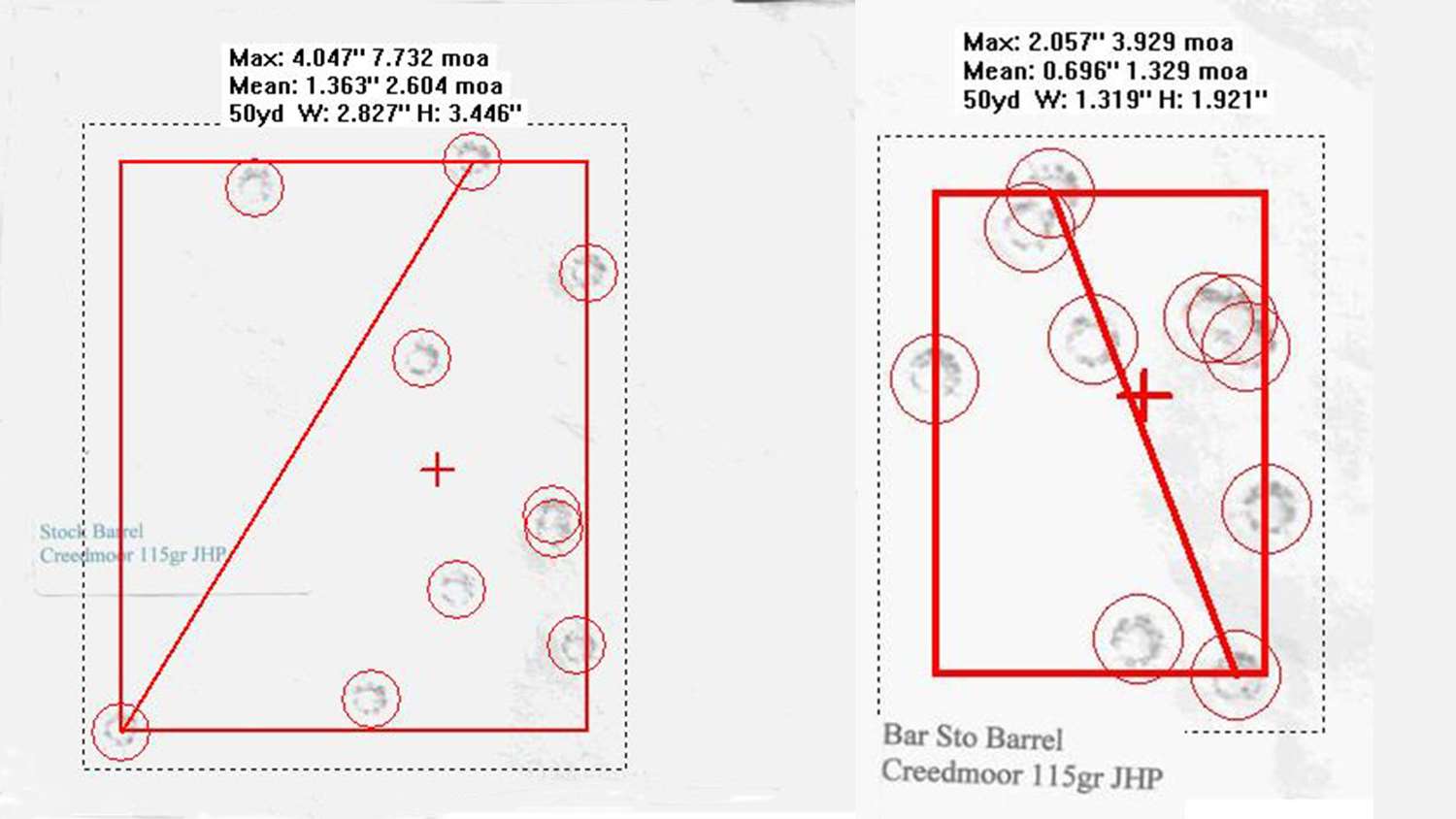 The first step in preparing the TACOPS for competition was the professional installation of a Grayguns P-Series Perfection Action Gen2 trigger kit. The Competition kit variant that I purchased initially didn't make the NRA-required trigger weight. The Grayguns team quickly provided a sear and mainspring from the Perfection Action Gen2 Personal Protection kit, which easily lifted a 3.5-pound weight. Sharp-eyed readers will note that both Grayguns and SIG list a Short Trigger Reset (STR) feature in their product descriptions. The difference between the two is that the Grayguns version offers an optimized sear angle and springs that are unique to their kits.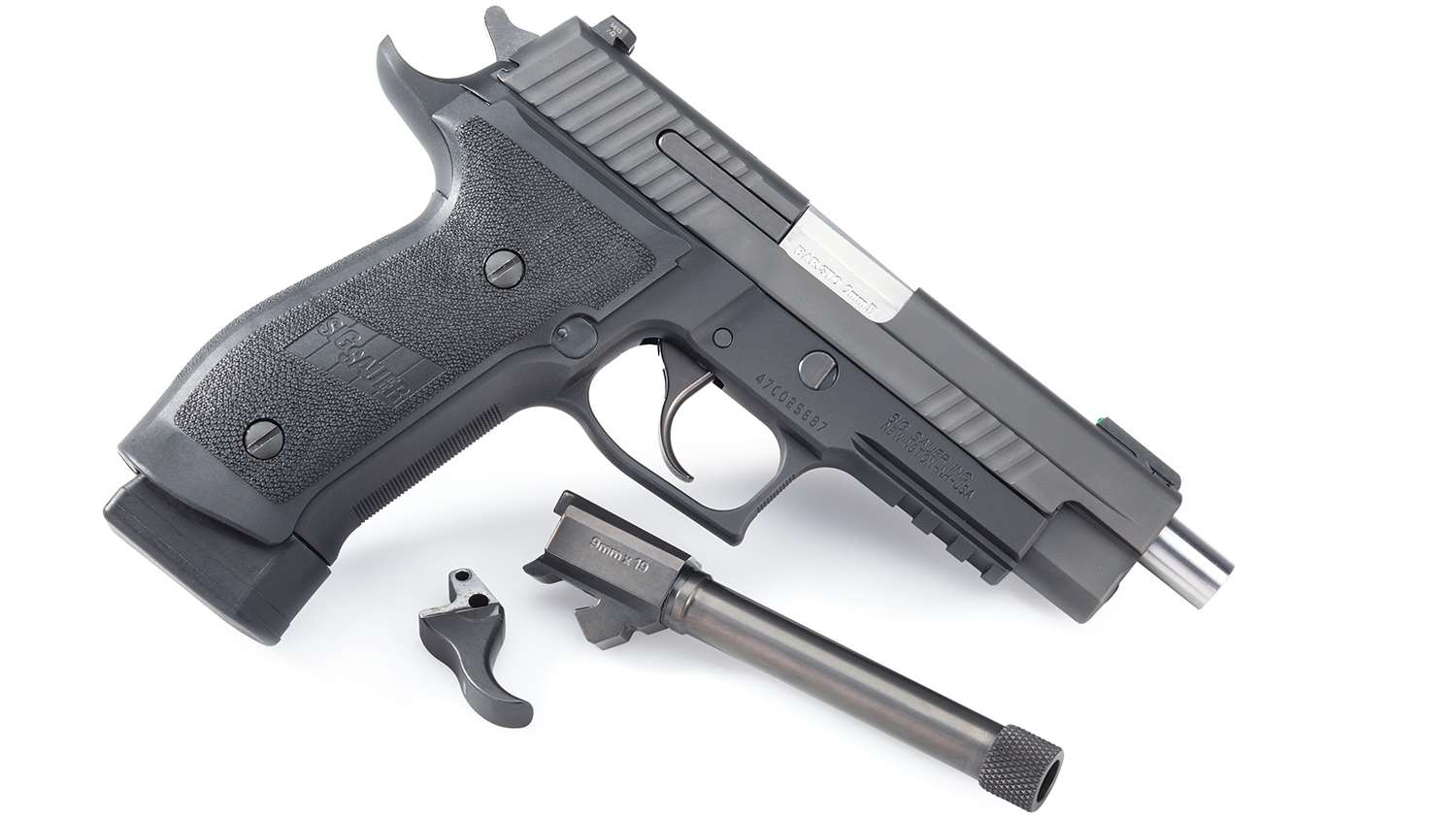 Next—the barrel. If you're David Sams of Sams Custom Guns, accurizing a semi-auto pistol begins with firing from a custom barrel-only fixture. Says Sams, "If the barrel's no good, what's the point in going any further?" Jess Clark of Clark Brothers suggests that barrel fitting is equally, if not more, effective in improving accuracy. And "aligning all the circles within the circles," as David Tubb puts it, describes the art of making match-grade barrels.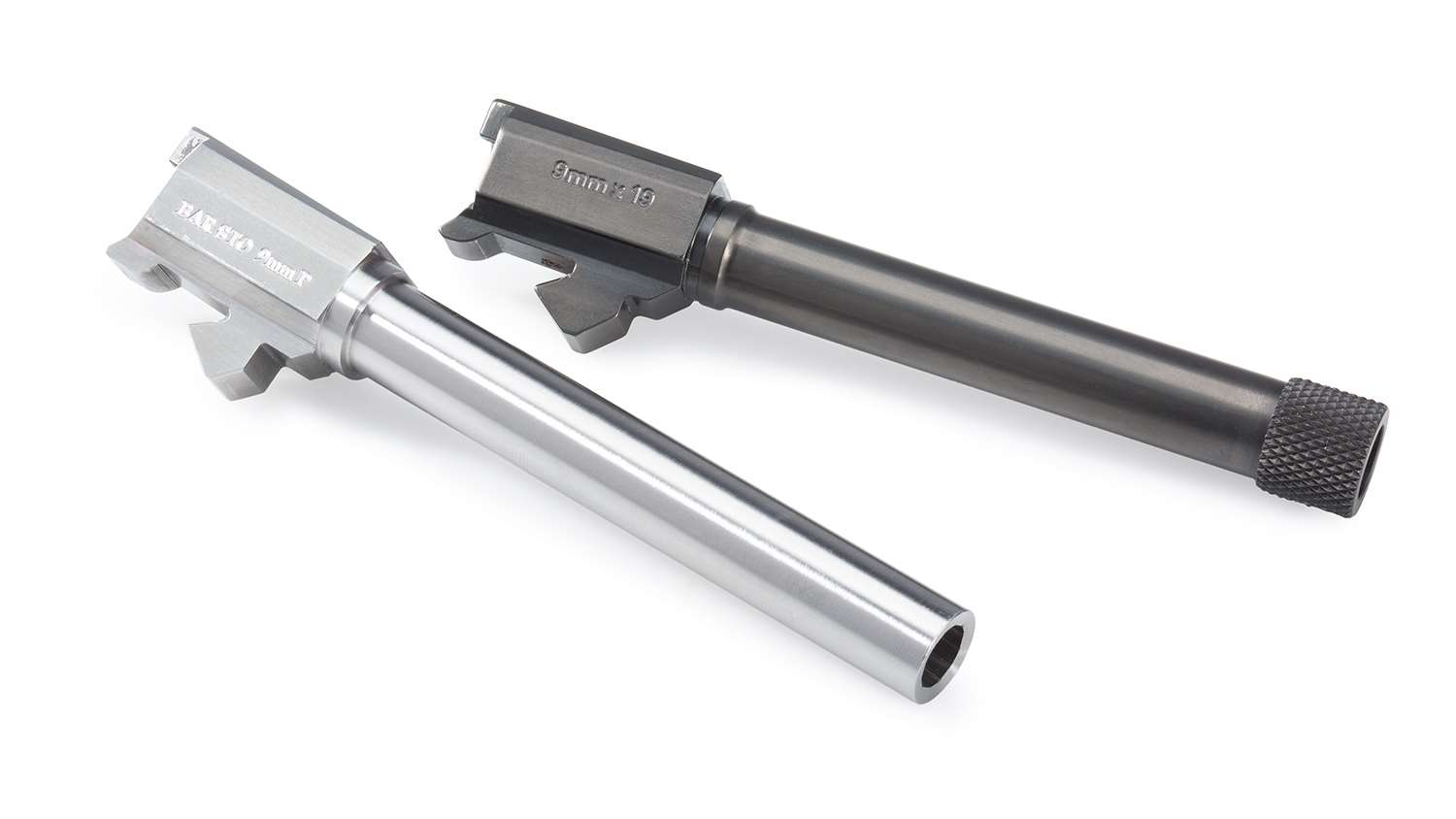 For both an optimized match barrel and custom fitting, I reached out to Irv Stone of Bar-Sto Precision gunsmithing. The Bar-Sto team has been helping winners reach the podium since 1966. Their barrels have been used by the Marine Corps Shooting Team since 1977, the U.S. Army Marksmanship Unit, the National Guard and Air Force teams; and have helped win major pistol tournament including Camp Perry, USPSA Nationals, Steel Challenge and the Masters—to name just a few.

This animation illustrates how a tilt barrel locks-up when in battery. Without a barrel bushing, tilt-locking barrels such as used on the TACOPS are enhanced by improving the fit at the barrel's shoulder and the under lug as shown below.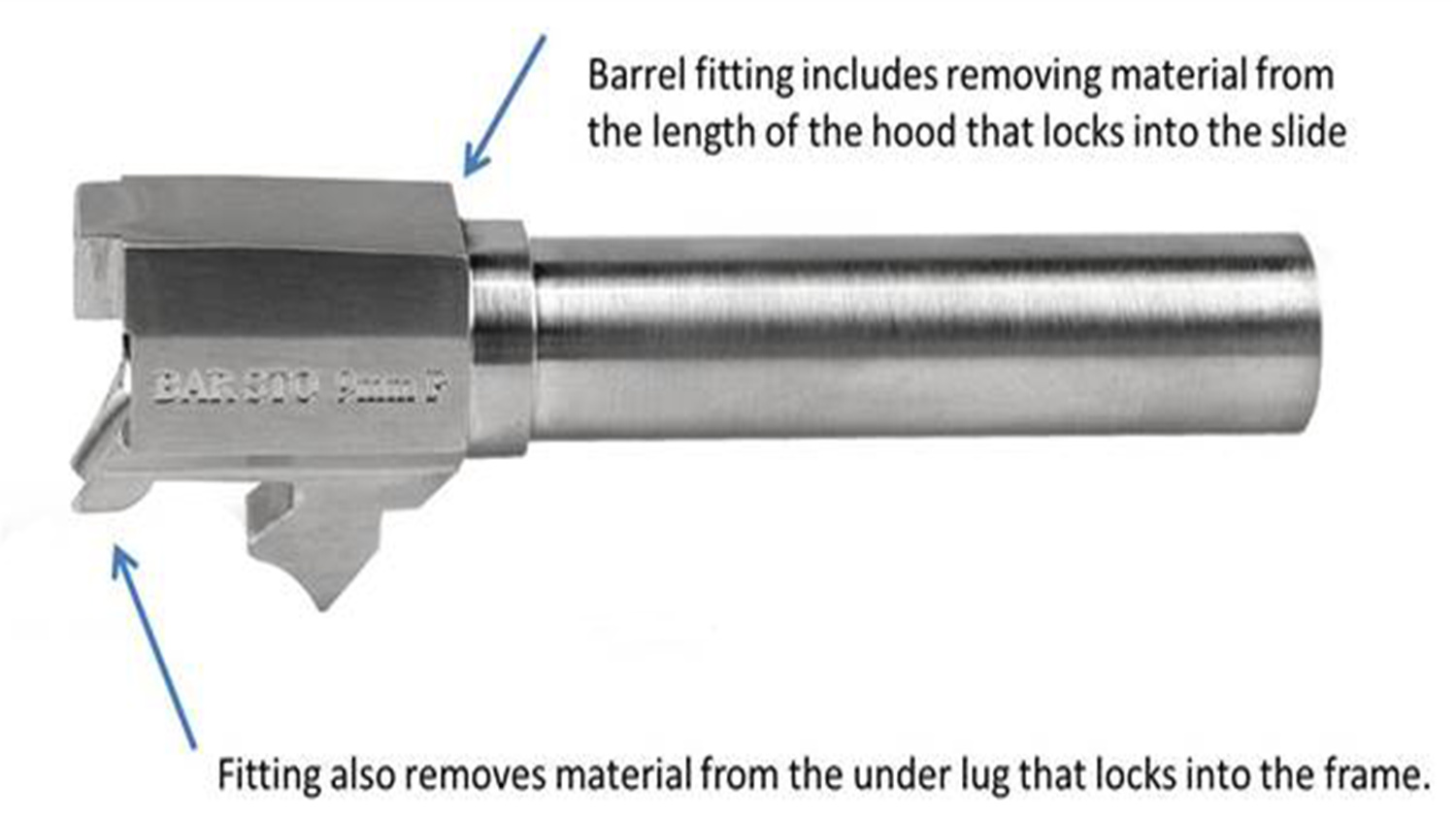 Bar-Sto semi drop-in barrels are shipped with an additional 1-2 thousandths-inches of metal that may need to be stoned from the areas shown above for improved lock-up. A Bar-Sto match target barrel will need to have more material removed and will benefit from the skills of a gunsmith. In Bar-Sto's experience, the biggest difference between the two fitting options will be seen at the 50-yard line, so that's were our tests were conducted. Shooters using Bar-Sto's match target barrel should see a further reduction in group size over the semi drop-in barrel, which is estimated to be 3-inches or better at 50 yards with good ammo and fitting.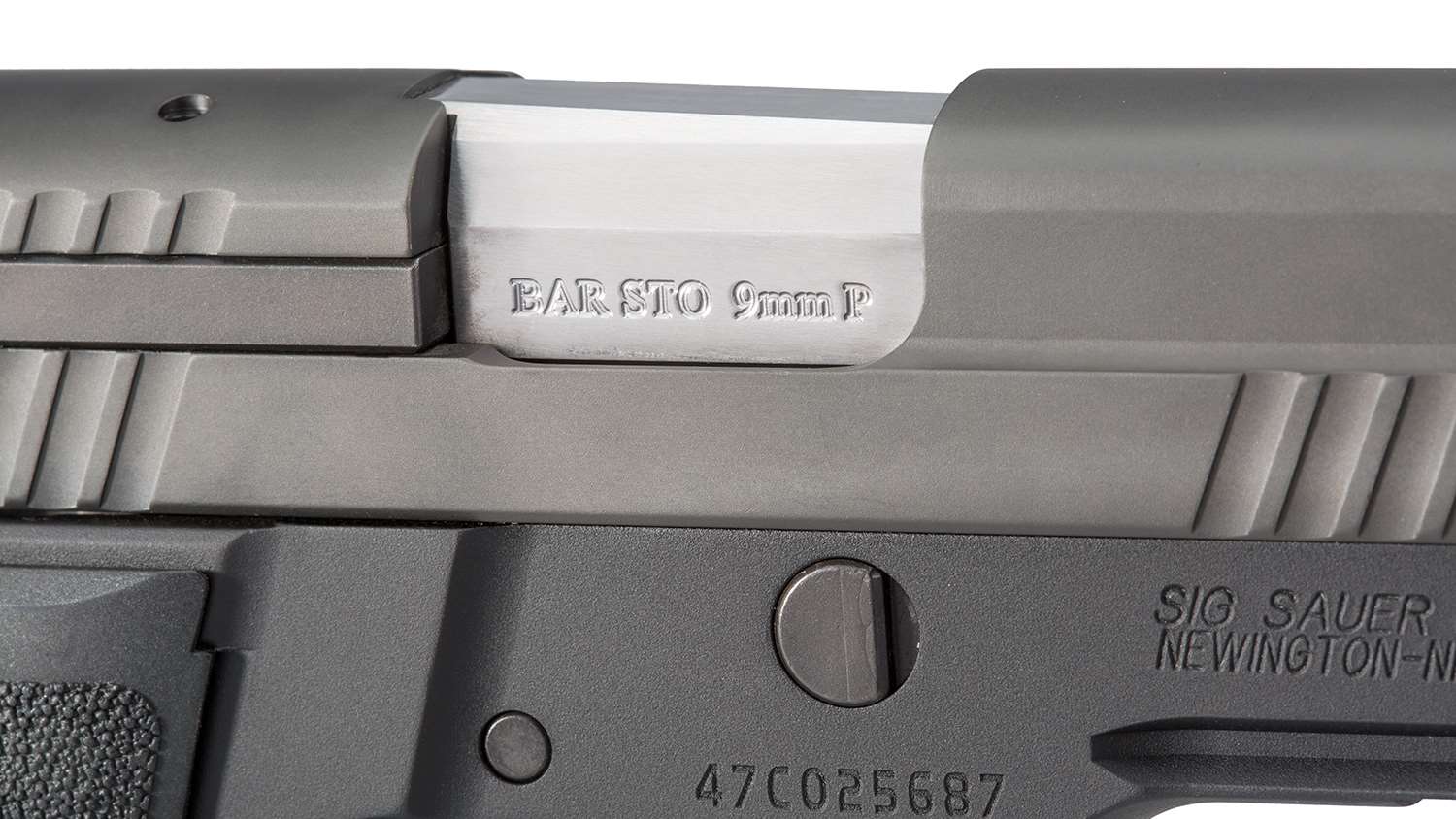 Once the new stainless steel barrel was built and professionally fitted by Bar-Sto, I tested it alongside the production barrel with the same ammunition brands, shot from a Ransom Rest and confirmed the 50-yard point-of-aim with a Streamlight TLR-2 laser. Each 10-round string of fire was chronographed for additional comparison. And, as recommended by SIG, I removed the cap on the stock, threaded barrel to eliminate any potential slack that might affect accuracy.

Finally, groups were machine-measured with Jeffrey Block's OnTarget software, as used by SIG Sauer and FN. The new TDS version now offers optional virtual grouping of multiple targets for precise measurement of larger group counts.

Final Results
We know that each gun has its own sweet spot for a particular ammo recipe and here is what the TACOPS preferred:

1 Ransom Rest with aiming point confirmation by laser.
2 Per OnTarget software.



---
The Experts
Many thanks to Jeffrey Brock of OnTarget software for his ideas and input—and for his genius at making target measurement so precise and so easy; the team at SIG Sauer for a very fine piece of ergonomic engineering; Tyrell Humphries of Grayguns for trigger support (and other surprises around the corner); and of course, Irv Stone of Bar-Sto for the heart of the gun—the fitted match barrel.