Six-time Olympic medalist and NRA Board Member
Kim Rhode
has done it again, winning the gold in skeet at the ISSF World Cup earlier this month in Al Ain, United Arab Emirates.
With a qualification score of 118/125, Rhode earned her a skeet final spot after the shoot-off, where she qualified for the final position. USA Shooting teammates
Caitlin Connor
, who is the reigning world champion and Amber English joined her in the final.
Rhode and Francisca Corvetto Chadid (Chile) battled to the bitter end of the final. Rhode was perfect through her first 22 targets, then missed two consecutively.
Ending the final over Chadid by a single target (53/60 to 52/60), Rhode secured the gold and left Chadid to settle for second place and the silver medal. Winning the bronze medal was 
Andri Eleftheriou (Cyprus) with a score of 41/50.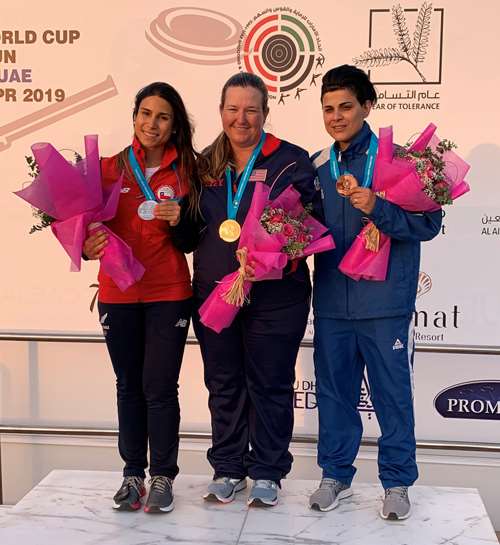 The conditions were difficult, but certainly not impossible for Rhode to overcome.


"The final was tough due to the combination of shadows and windy conditions which I think contributed to slightly lower scores," Rhode said to USA Shooting in a press release. "But in the final, there was a lot of talent which definitely didn't help to calm the nerves between the athletes. I never gave up, [drawing] on my experience over the last 20-plus years, and that definitely helped me as I battled from sixth to first."
The victory marks Rhode's second World Cup gold medal thus far this season, after
winning last month
at the ISSF World Cup in Acapulco, Mexico.
Rhode added, "I've had an amazing couple of years after the last Olympic Games and hope to continue making finals and winning leading up to [Tokyo] 2020!"
Although Caitlin Connor had a strong qualification score of 120/125, she ended up in fourth place in the final with 32/40 before elimination. Amber English finished sixth with 16/20 prior to elimination.

Learn how Kim Rhode became the first-ever recipient of the Winchester Legend award.

Photos courtesy of USA Shooting