Jessie Harrison is the first woman shooter to win 23 USPSA Ladies national championships after successfully defending her High Lady title at the 2022 USPSA MasterPiece Arms Racegun Nationals. The match was held October 12-16 at the CMP Talladega Marksmanship Park in Talladega, Alabama.
Harrison, who shoots with Team Bushnell and Team Taurus, finished this year's USPSA Racegun Nationals with 75.61 percent of the available points to earn the High Lady title. Nipping on her heels was the Lady category runner-up, Justine Williams of Team Colt with 75.10 percent.
As for her best stage, Harrison had a top 20 finish at Stage 4 "Take the Money and Run," with a raw time of 3.75 seconds.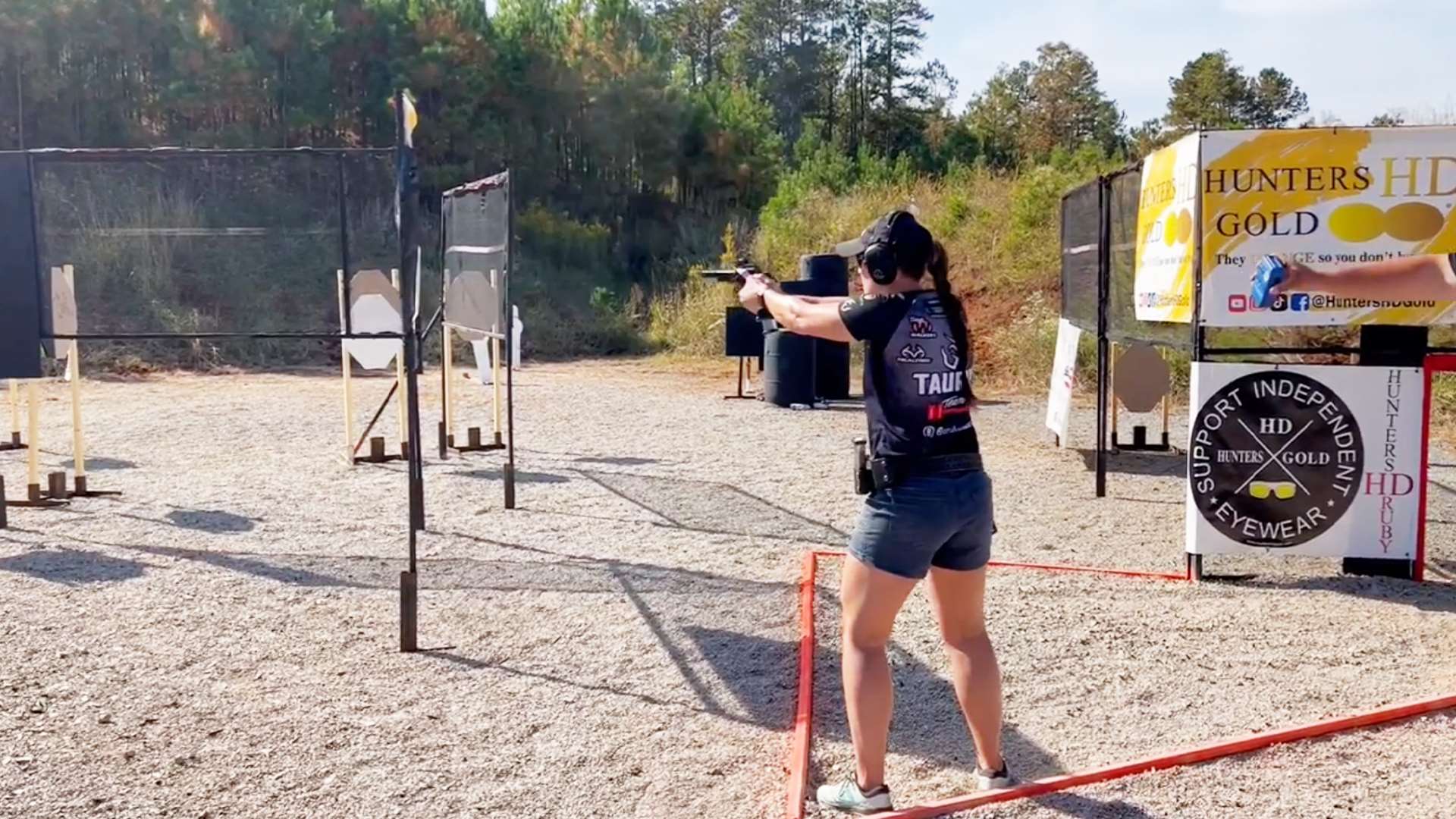 "This year was a battle to the final stage and made for a very tense last day," Harrison said. "Justine Williams closed the gap to 10 points on the last day, and I'm so grateful to have her back in Open to race against, along with all the other ladies who continue to push the bar of excellence. I'm so thankful to still be competing at this level."
From the Taurus USA website: "Entering day three, the competition for the Ladies Division Championship could have gone either way. Jessie held a slight lead over Justine [Williams], and both women have been in close matches before. However, Jessie's experience prevailed. She shot a collected, controlled match avoiding mistakes. This put the pressure on Justine, who wasn't up to the task this year. A disastrous meltdown on Stage 20 put the trophy out of reach for the Colt shooter. Jessie's strategy proved correct, and she won yet another National Championship."
Harrison's win not only marks her 23rd USPSA Ladies National title, but also reinforces her status as one of the top woman handgun shooters in competition today. Earlier this year, she topped the leaderboard at the World Speed Shooting Championships, also garnering a victory at the IPSC Pan-American Championship.
At the at the 2022 USPSA Racegun Nationals, she was shooting her custom Taurus pistol with Bushnell First Strike 2.0 reflex sight. Regarding the latter, Harrison favors the large objective lens and rugged design for use in fast-paced USPSA competition.
See the full results of the match at the Practiscore website. Learn more about Jessie Harrison on social media: Facebook and Instagram.
For more information about Bushnell red-dot optics, visit bushnell.com.