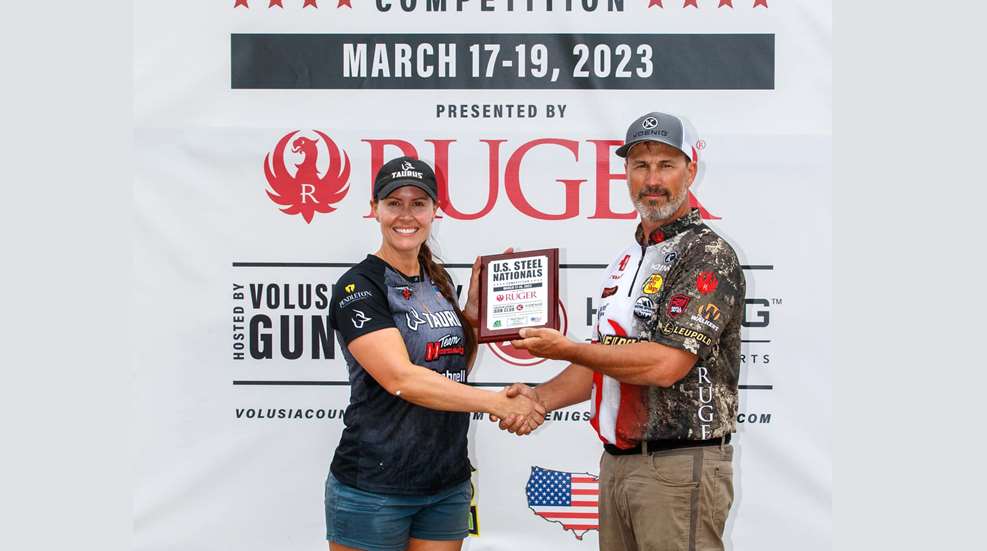 Pro shooter Jessie Harrison captured her 11th consecutive Ladies title at the 2023 U.S. Steel Nationals, which were held March 17-19 in New Smyrna Beach, Florida.
Her final time was 83.29 seconds. As for Harrison's best stage, that was No. 8 Roundabout, which she completed in 7.78 seconds. (Read our guide to mastering the Steel Challenge Roundabout stage.)
Harrison not only claimed the High Lady title, but also finished in eighth place in the overall field of Rimfire Pistol Open division shooters.
One of the most distinguished female handgunners on the competitive shooting circuit, Harrison is now the sole winner of the Ladies title since 2013.
"Steel Nationals kicked off the shooting season for 2023 and I'm excited to capture a national title to start the year," Harrison said. "Steel Challenge World Championships are coming up at the end of April, so I'm continuing to train to push for even better results."
At the 2023 U.S. Steel Nationals in Florida last month, Harrison ran her Bushnell First Strike 2.0 reflex sight, along with Hoppe's Gun Medic.
"I love the field of view with the FS2," Harrison said. "It allows me to see as much of the target as possible and to acquire targets at speed, especially for Steel Challenge."
See the full results of the 2023 U.S. Steel Nationals at the Practiscore website.