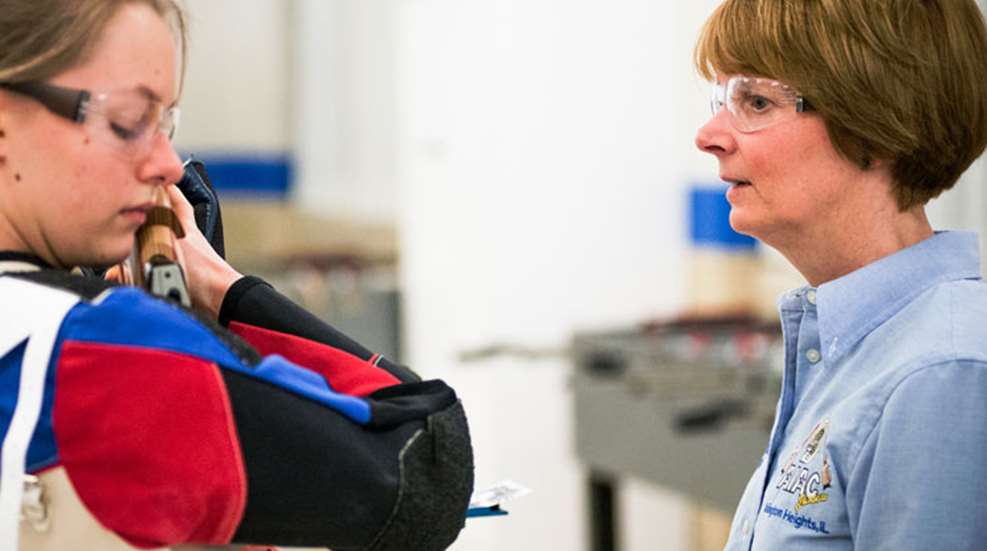 Article courtesy of USA Shooting.
Shooting has the stigma of being a predominantly male-oriented sport. However that isn't the case, and Karen Nowicki proves that gender has nothing to do with being a competitive shooter. Nowicki's father introduced her to shooting through "plinking" during their camping trips. However, she didn't plink for long. Nowicki started to shoot competitively as a member of the Arlington High School Rifle Team, competing at major championships like
Camp Perry
, shooting her .22 Anschutz. After high school, she was granted a scholarship to Eastern Kentucky University thanks to her shooting prowess, and she continued to rack up the wins throughout her college years.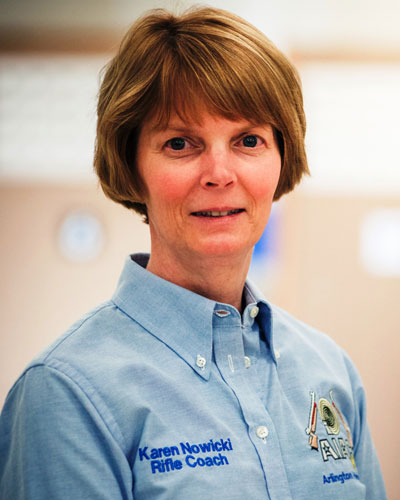 For Nowicki, shooting goes far beyond simply sending lead down range. "I enjoy the challenge [of shooting]. You're never perfect. Each shot is a new opportunity." Nowicki commented. However, life, as it always does, gets in the way. Karen and Jeff Nowicki had a son, and so she stopped shooting. But, that is not where her story ends.
When her son came of age, he started shooting at the
Arlington International Air Gun Club
(AIAC) in Arlington Heights, Illinois. With her son shooting, Nowicki decided to get back into the shooting sports, and began coaching. For the past seven years, Nowicki has been a member of the AIAC mentoring kids to become the best shooters that they can be.
Jumping back in didn't come easily for her though, for she hadn't been deeply involved in the sport. Yet, Nowicki takes it all in stride and has since become a staple at club practices and tournaments. She is the only women coach at the AIAC but she doesn't see that as a hindrance; it's an opportunity for her.
Karen Nowicki had this to say about being a woman coach: "Women coaches bring a different perspective to training. High performance athletes need more than one perspective to reach their potential." She did admit that mentoring women was different than mentoring men. "Women tend to listen a little better. They don't assume they know. A lot of guys come in feeling like they're supposed to know [how to shoot a gun], so you have to work through that." However, the one constant she mentioned was that all athletes, regardless of gender, were eager to excel quickly.
Nowicki offers up some tips for dealing with younger women shooters, and coaching in general. She found that one-on-one coaching was crucial, but coaching in a group can have its benefits. Nowicki also found that men felt like they belonged in the shooting sports, whereas some younger female shooters needed to reach a goal before they felt accepted. However, no matter the gender, a shooter is a shooter and hard work and dedication, from both the coach and the athletes, are the keys to success.
Nowicki has a bit of advice for women coaches and athletes alike. She believes shooting is very rewarding and that if women, or anyone for that matter, was involved in a sport as a kid roughly the same principles carry over. In short, "If they were involved in any sports when they were younger that experience translates into the ability to coach, and all they have to do is learn the mechanics of the shooting sports."
In closing she had this to say, "I enjoy being an ambassador. Since shooting is viewed by people as being a male-dominated sport, it is nice to surprise people with my hobby. People tend to be more open to learn about the sport and listen to what I do."
As a coach, Nowicki sees the importance of raising up a new generation of shooters to keep the sport alive, and she is not alone. Shooting is not simply about shooting well, but rather striving for excellence. For some young shooters, shooting allows them to truly see what they are made of so they can grow up to be not only successful shooters, but well-rounded individuals. It is important to realize that shooting is not gender biased and results speak for themselves.
Michael Nowicki is a sophomore studying journalism at the University of Missouri. He learned competitive air rifle as a member of the Arlington International Air Gun Club and he continues to be an avid enthusiast of the shooting sports.