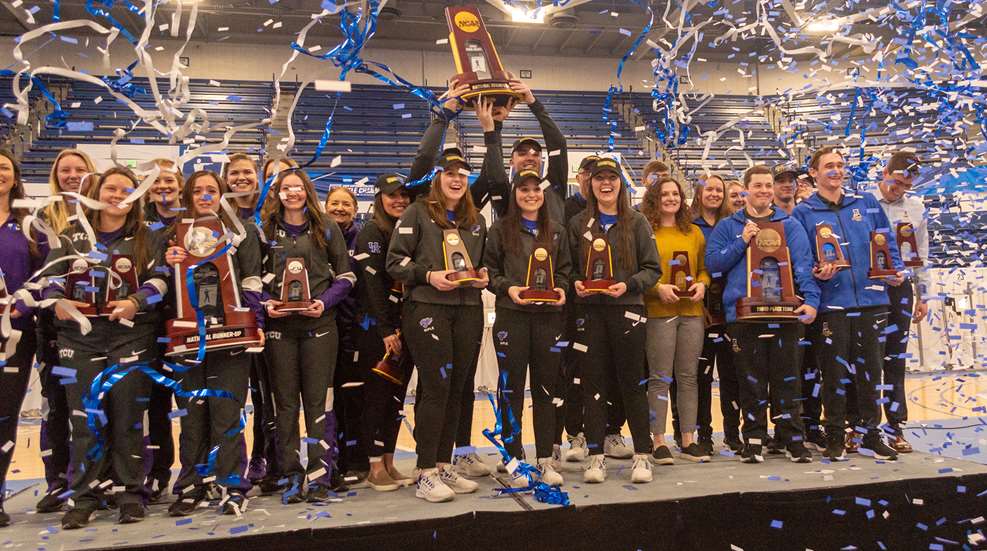 With an impressive team aggregate score of 4739-329X, the Kentucky Wildcats secured the 2022 NCAA rifle national championship for the second year in a row, thanks to top performances from Tokyo Olympic medalists Will Shaner and Mary Tucker. Held March 11-12 at the U.S. Air Force Academy in Colorado Springs, Colorado, this year's contest did not disappoint, with fine shooting on display from the top collegiate competitors in the country.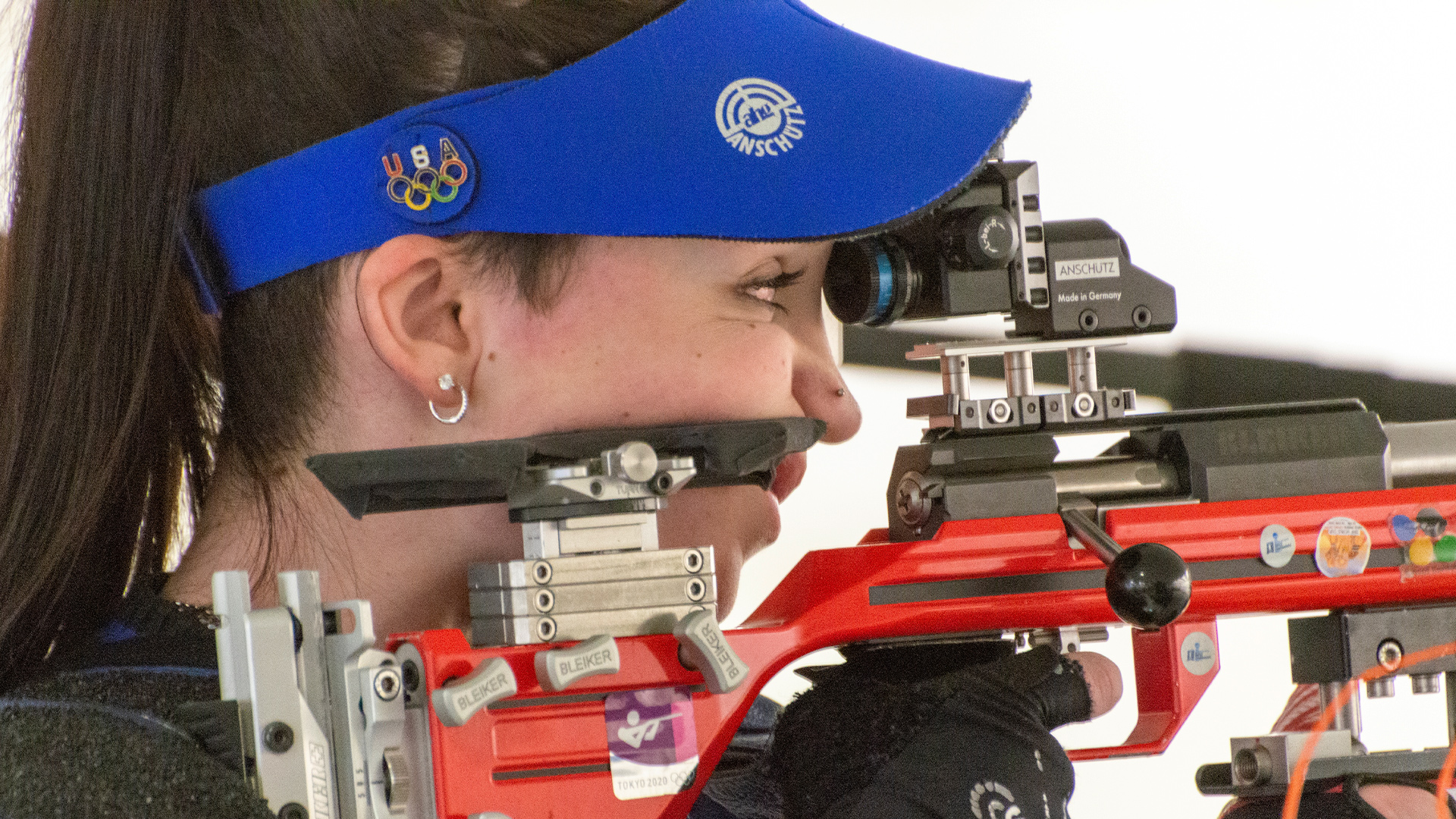 Now with back-to-back NCAA rifle titles, Kentucky is the proud owner of four championships under Head Coach Harry Mullins. Improving over its 2021 aggregate by eight points, the team's 4739 score this year is the highest fired at the NCAA rifle championship since 2005. At the 2021 NCAA rifle championship, hosted by Ohio State in Columbus, Ohio, Kentucky finished with a score of 4731.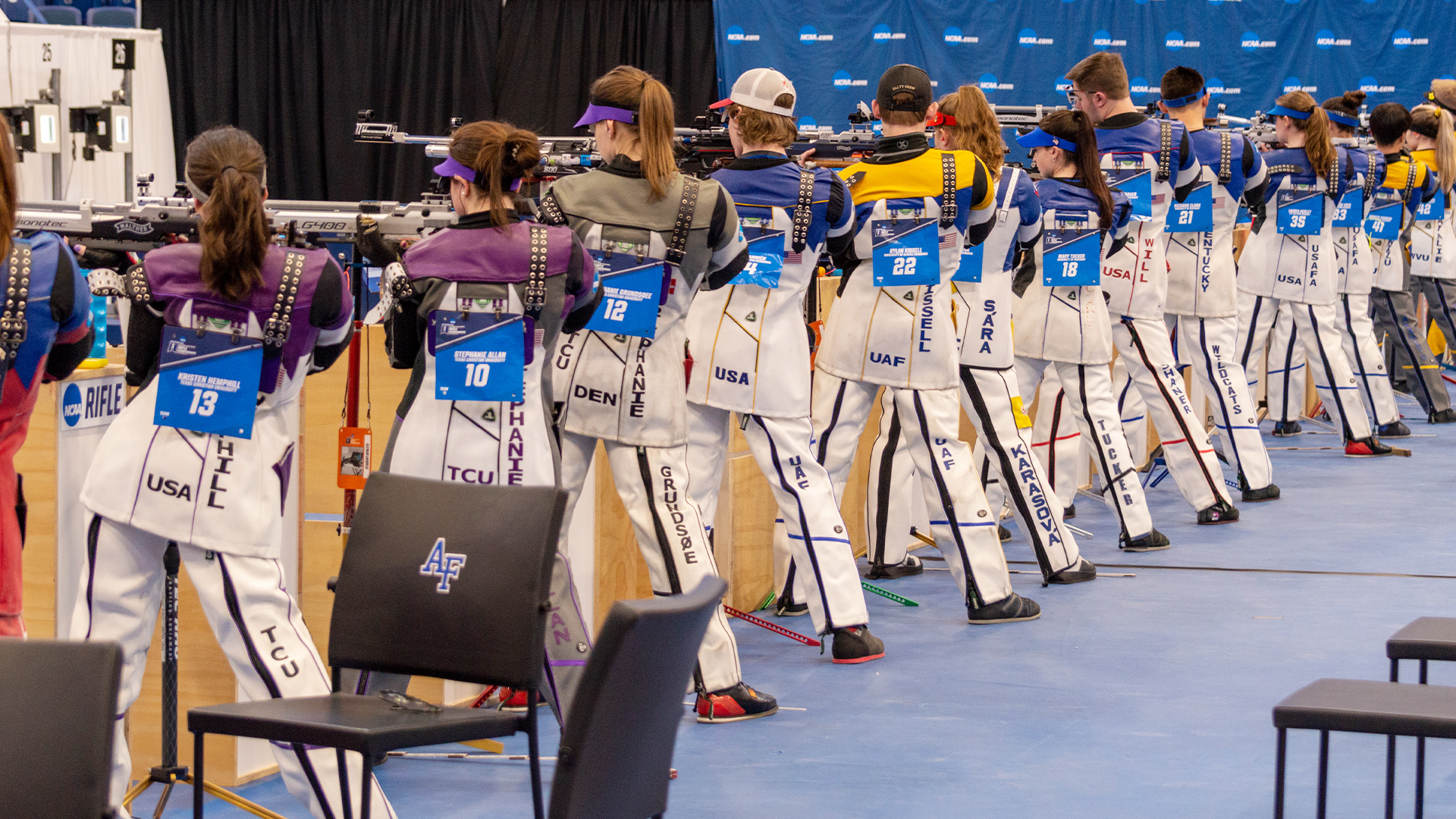 A co-ed tournament, each year the top eight collegiate rifle teams compete at the NCAA championship. The next highest scoring individuals that are not part of the competing teams are also invited to the tournament. Additionally, this year marked the third time that the U.S. Air Force Academy served as the match host after previously doing so in 1996 and 2006.
Smallbore Rifle
Smallbore rifle opened the 2022 NCAA rifle championship on Friday, March 11, and defending champion Kentucky enjoyed a comfortable lead by the close of the third relay with a score of 2360-144X. Kentucky senior Will Shaner won his title on the first day of the championship at the U.S. Air Force Academy's Cadet Gym Rifle Range. Qualifying for the final with a score of 592-41X, Shaner joined Kentucky teammate Mary Tucker, a junior who boasted the highest smallbore qualification score with 593-36X, along with fellow Wildcat, senior Richard Clark with 589-32X. The final was a thriller that had spectators on the edge of their seats as competitors rapidly traded positions. Shaner's victory came after an incredible comeback, rocketing from fifth place to first to win with a score of 459.7.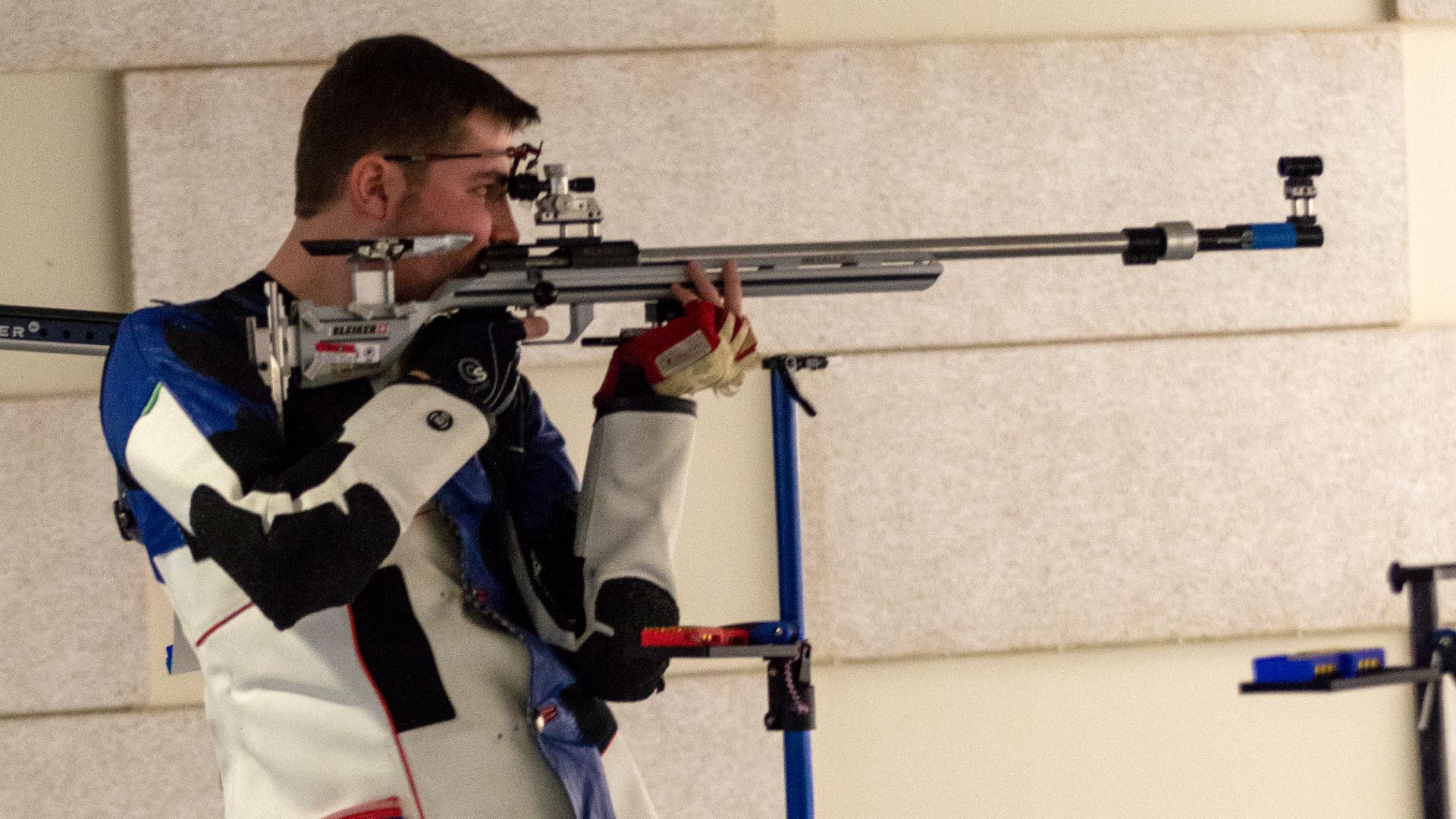 After a perfect prone string, it was Alaska-Fairbanks freshman Rylan Kissell that seemed most likely to take it all, maintaining his lead through the majority of the smallbore final, or at least until standing began. Hot on the heels of Kissell was Tucker, while Shaner waited until it was near the end of the final to bring the heat.
The first to fall in the smallbore final was Kentucky's Richard Clark, with Ole Miss junior Kristen Derting not too far behind him. Next to go down was Alaska-Fairbanks senior Daniel Enger, followed by two Texas Christian University seniors, Abby Gordon and Kristen Hemphill. The smallbore rifle final came down to the standing position, with Tucker and Shaner the final two shooters after Kissell was eliminated. Facing his Team USA and Kentucky rifle teammate, Shaner ultimately pulled away to claim a hard-fought victory.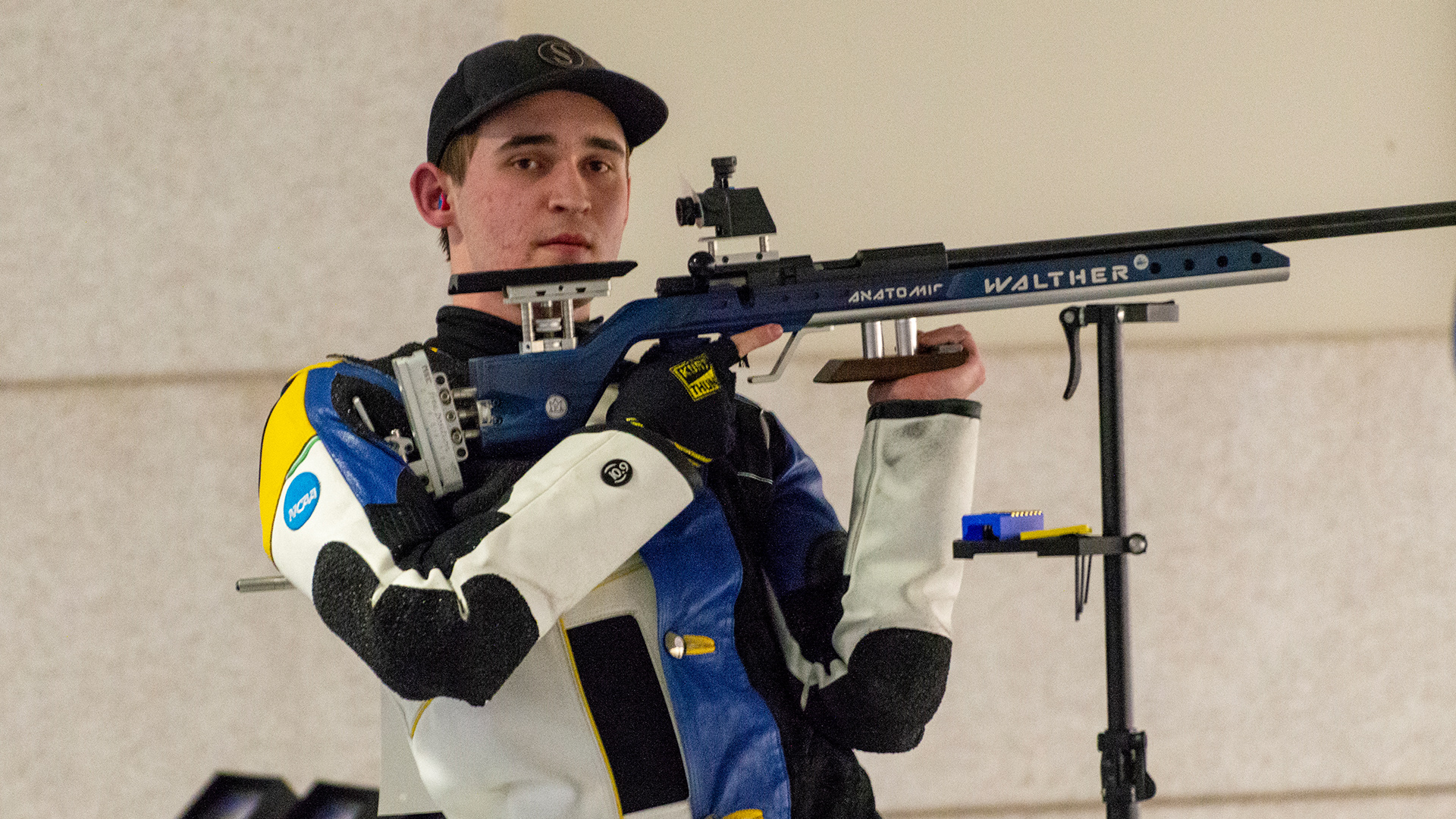 Although she had to settle for runner-up after the smallbore rifle final (as well as after the air rifle final), Kentucky's Mary Tucker was no slouch at the match. She had two perfect prone strings in smallbore qualification, along with four perfect air rifle standing strings. And with the highest individual aggregate score, 1191-86X (air rifle 598-50X, smallbore 593-36X), Tucker's performance earned her the 2022 NCAA Most Outstanding Performer award.
Another key shooter for Kentucky was Richard Clark, who regular Shooting Sports USA readers will remember shattered a national record last summer at Camp Atterbury during the 2021 NRA National Matches. This year at NCAA, Clark finished eighth in smallbore rifle qualification, earning his spot in the final with a score of 589-32X. His performance, along with that of his teammates, helped the Kentucky Wildcats land the smallbore team championship with a score of 2360-144X.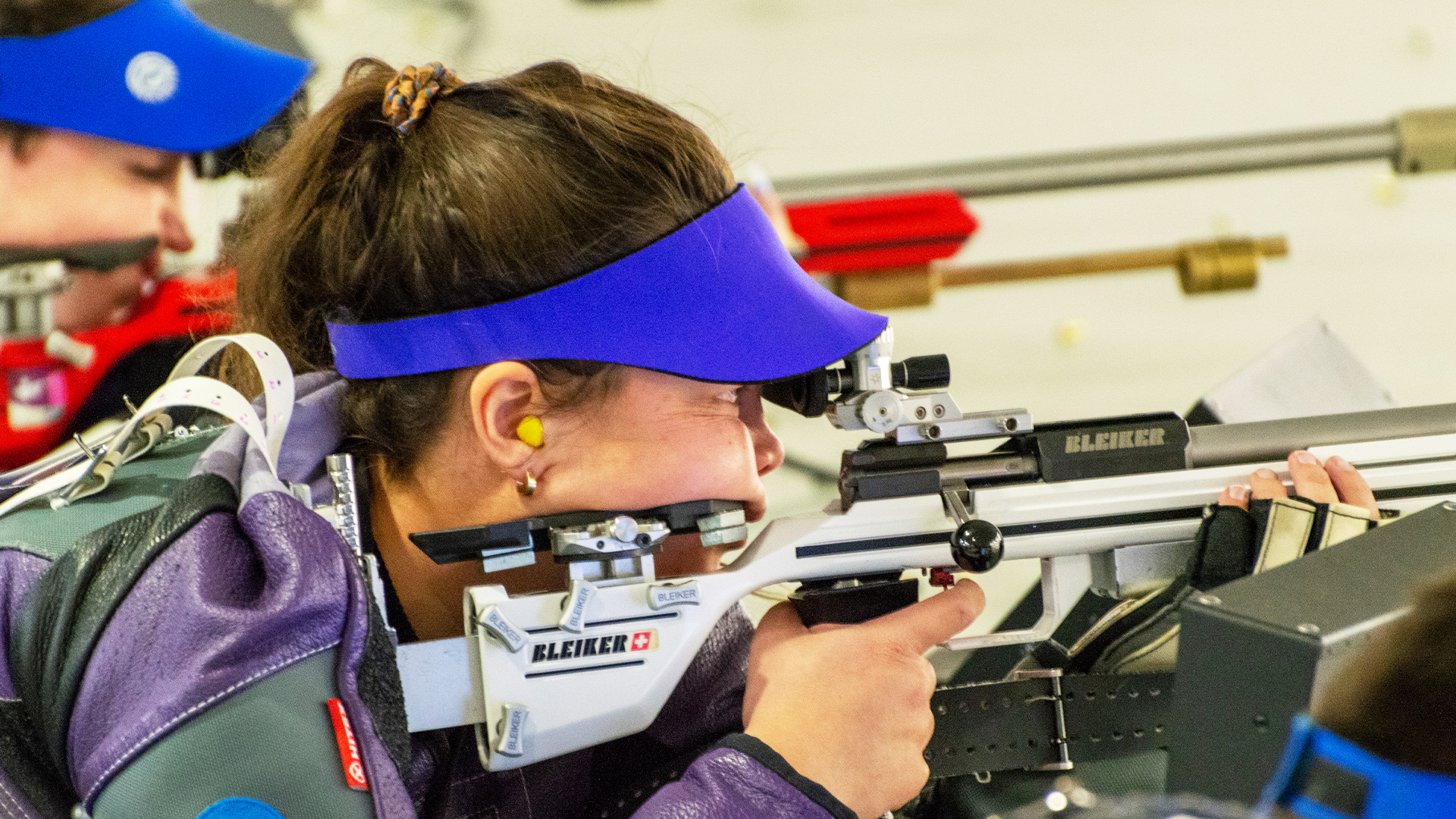 Air Rifle
For those inside the Clune Arena, it was all cheering and hollering as the host school's Scott Rockett, a freshman, won the 2022 NCAA air rifle individual title. The win, Rockett's first NCAA national title, is also the first NCAA air rifle title for the U.S. Air Force Academy team.
After air rifle qualification, Rockett finished with 598, only one point in the X-count behind top Kentucky rifle shooter Mary Tucker, 49X to 50X. Rockett had dropped two points in the sixth string, while Tucker lost points during her first and third strings.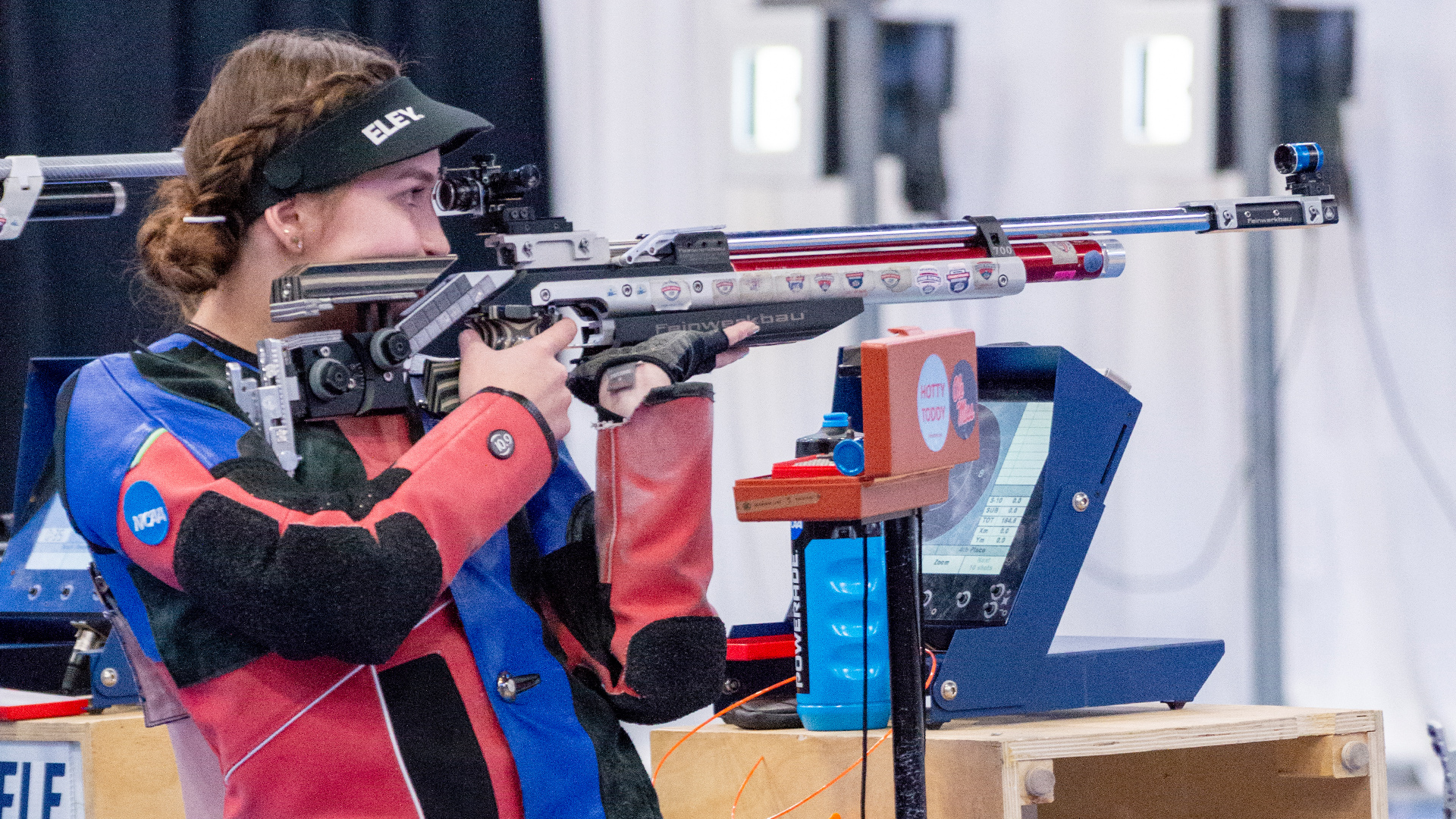 In the air rifle final, Rockett claimed an early lead. West Virginia University freshman Natalie Perrin was the first shooter eliminated, followed by Alaska-Fairbanks senior Daniel Enger. The top shooter entering the final with a score of 598-53X was Texas Christian University junior Stephanie Grundsøe. She was the third shooter to be eliminated. Alaska-Fairbanks junior Kellen McAferty was next, followed by Ole Miss shooter Kristen Derting, a junior. By this point it was down to TCU senior Kristen Hemphill, Kentucky's Tucker and Air Force's Rockett. Hemphill was eliminated with Tucker neck and neck with Rockett. By the end, Rockett edged out Tucker with a score of 250.2 for the air rifle win. He also took fifth place in the individual aggregate with a final score of 1185-81X.
"I had a great time out there today," Rockett said to me moments after his air rifle victory. "It was a struggle, but I fought through it and came out on top." He also gave shoutouts to his team and his family, especially his sister, who Rockett said is "my number-one supporter." He was shooting a Walther LG400 air rifle.
By the end of air rifle qualification, Kentucky had added to its considerable nine-point lead (2360-144X) from smallbore, finishing the match with a team aggregate score of 4739-329X and landing a fourth NCAA rifle title. As for the air rifle team championship, the win went to Texas Christian University with a score of 2386-203X, followed by Alaska-Fairbanks with 2382-190X and West Virginia University with 2380-200X. View the official results of the 2022 NCAA rifle championship here.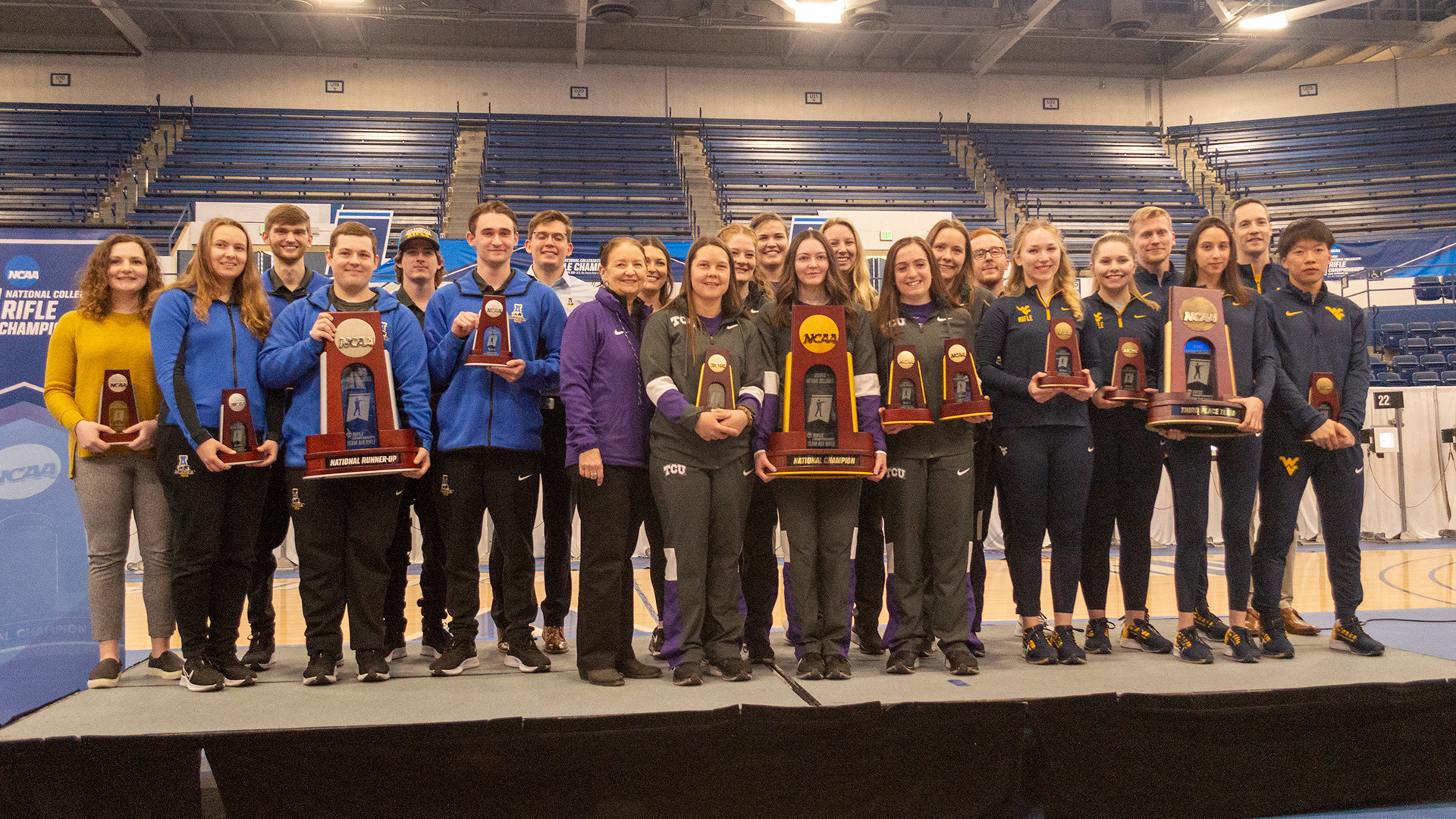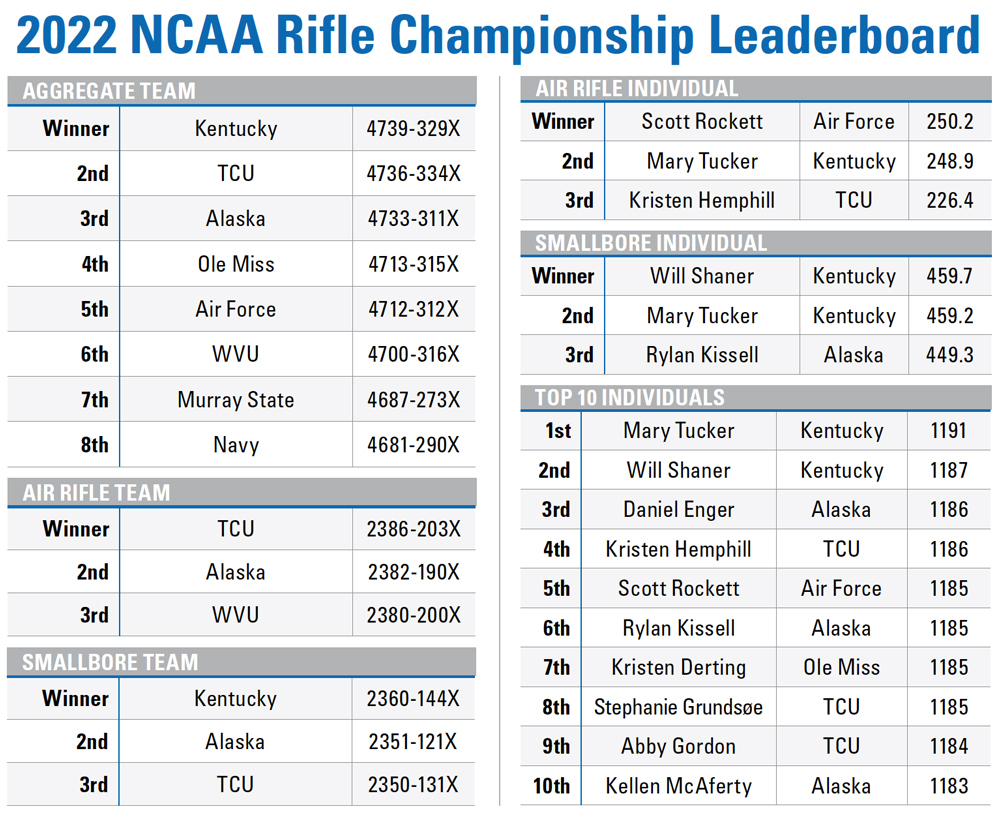 Top Five Post-Match Takeaways
It's tough to single out one shooter as the most significant factor in the match outcome, but the Kentucky duo of Will Shaner and Mary Tucker had the two highest aggregate scores between them, along with the former winning the individual air rifle championship. And although Tucker recently announced she will not be returning next year, Will Shaner and Richard Clark are coming back to lead a strong roster for Kentucky rifle, who should remain a force in collegiate competition in the near future.
With 4739-329X, Kentucky rifle fired the highest team aggregate score at the NCAA rifle championship since the competition made the switch to a 60-shot format in 2005. No stranger to breaking records, back in 2011 Kentucky became the first team to break the 4700-point barrier at the NCAA rifle championship.
Competition was fierce this year. With 4736-334X, Texas Christian University was the runner-up in the team aggregate, about three points behind Kentucky. And three points behind TCU with 4733-311X was the third-place squad, the University of Alaska-Fairbanks. Additionally, the fourth- and fifth-place teams, Ole Miss and the U.S. Air Force Academy, were separated by less than a point. Next season, pay close attention to all of them.
Air rifle relays at the match on the hardwood inside the U.S. Air Force Academy's Clune Arena were fired on Kongsberg electronic targets. Manufactured in Norway, these are among the finest shooting target systems available today. Similar to when West Virginia University was the host in 2019, individual scores and rankings were broadcast on high-definition displays throughout the arena and also on the center scoreboard.
If gauging from how this year went, the 2023 NCAA rifle championship at the University of Akron should prove to be another marquee event. Newt Engle, Akron rifle's head coach, is a longtime NRA member and also serves as the rules interpreter on the NCAA rifle committee. He is thrilled his school is slated to host again for the first time since 2016. "I'm looking forward to having the match back at Akron in 2023," Engle told me. "The NCAA rifle championship improves each year, and Akron is already preparing for its hosting duties." He can count me in.