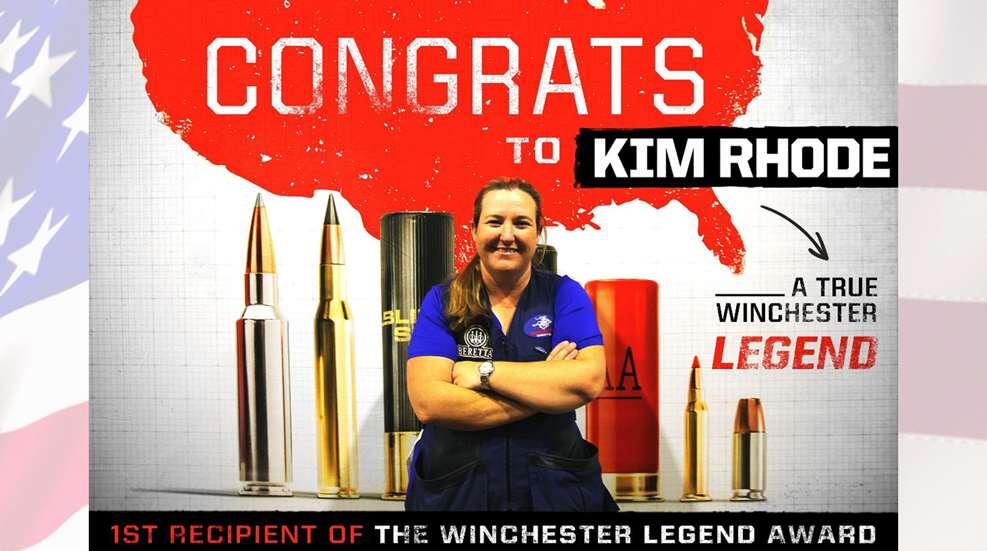 Hot off the heels of receiving the 2018 USA Shooting Female Athlete of the year award (for the sixth time), six-time Olympic medalist and NRA Board Member
Kim Rhode
 has chalked up another career milestone: She's the first-ever recipient of the new "Winchester Legend Award."
Rhode and Winchester Ammunition have forged a partnership that has lasted
nearly 30 years
. The company has supported her since her first World Championship at the tender age of 13. First qualifying for the
USA Shooting
National Team in 1995, Rhode is the first U.S. athlete to win six consecutive medals in an individual Olympic sport. Additionally, she is the only person ever to shoot International Double Trap, Bunker Trap and International Skeet at the Olympics.
She uses Winchester AA shotgun shells exclusively. Rhode has been
honored
by the company before by including her picture in AA shotshell box art.
"I've been shooting competitively for most of my life, and Winchester Ammunition has been there supporting me from the very beginning," says Rhode. "Whether in a duck blind or in an Olympic shoot off, I know I can depend on my Winchester ammunition and I'm proud to represent such a great company."
Winchester echoed her sentiments, stating they are honored to be aligned with a legendary athlete and person like Rhode. In a press release, Winchester Ammunition's Vice President of Sales and Marketing, Matt Campbell remarked:
"The Kim Rhode list of accolades and achievements in the shooting sports is unprecedented. This recognition certainly captures her achievements in the shooting sports, but more importantly, she is a tremendous ambassador for the shooting sports and hunting industry."
At the moment, Rhode is deep in preparation for the 2020 Tokyo Olympics. Team USA as a whole is in the process of
obtaining quota slots
for the upcoming Olympics, which are quickly approaching.
Learn more about Winchester Ammo by visiting
Winchester.com
.