by
posted on July 16, 2020
Support NRA Shooting Sports USA
DONATE
From the vault: This article covers the debut of the NRA National Smallbore Metric Championships in 2010. As published in the October 2010 issue of Shooting Sports USA.
---
Inaugural NRA National Metric Championship
By Hap Rocketto
Some history: Metric shooting in the United States became popular in 1976 when the NRA established a course of fire to introduce conventional shooters to the international style of shooting—with its specific equipment requirements and smaller target rings. In an effort to get more shooters firing the international target, a course of fire was started that allowed NRA equipment but used the metric target, called NRA 3-Position. Over the years, NRA 3-Position grew to where about half of the smallbore shooters shot metric position and the remaining shot conventional. In the 1970s, the National Smallbore Rifle Position Championships also moved to metric targets. The weather conditions at Camp Perry are not designed for the international style of shooting. So in 2008, the NRA moved back to the conventional target and, in an effort to meet the needs of the metric shooter, a new metric championship was planned. The first NRA National Metric Championship took place in July 2010.
Indiana's Saint Joseph Valley Rifle and Pistol Club hosted the first-of-its-kind tournament. The competitors at this Bristol range commented favorably on the excellent 100-point facility, emphasizing its covered firing line, excellent target frames and modern amenities.
Position
Good things come in small packages as far as the 2010 Inaugural National Metric Position Championships are concerned. Abigail Fong, a petite New Yorker, opened the match with a solid 394 score in the metallic sight prone event, four points ahead of her nearest competitor. All-American Sarah Beard made a strong run in standing but Fong's 372 was a point better and that was as close as the race would get. Jeff Doerschler, a former national three-position championship, made the race a tad interesting in kneeling when he denied Fong a clean sweep of the metallic matches by winning that match with a 382 to Fong's 380.
In the end, Fong hammered the opposition and won the metallic championship with an 1146-37X. A pair of young Hoosiers, defending their state's honor on home territory, came in second and third. Nehemiah Gillman, the 2009 Indiana Junior position champ, fired an 1120-34X for silver while Beard posted an 1119-32X for bronze.
Team competition was a paper match in which Fong and Doerschler of the Corporal Digby Hand Schützenverein team won the match with a combined score of 2263-62X. The Indian State Rifle and Pistol Association sponsored the silver medal team of Gillman and Beard who shot a 2239-66X, while the third place team of Louma and Ellis, firing as the Last Minute Pair, combined for 2192-40X.
The second day of competition was the Any Sight match and opened with a photo finish in the prone stage as Wes Robinson, Black Hawk Rifle Club, J. Michael O'Conner, Jackson, MI, and Sarah Beard all shot 395s. O'Conner's 24 Xs earned him the laurels. Beard won the standing match with a 372-11X, followed by Greg Drown, the defending National Any Sight Conventional 3-Position Champion, at 370-8X, and Doerschler with a 368-13X.
Doerschler broke into the winner's column with a 377-12X kneeling which, supported by his consistently high placement in the earlier stages, and gave him the Any Sight championship with a score of 1138-48X. The second place score of 1133-32X belonged to Beard while Drown took third with an 1128-35X.
Fong emerged on top in the grand aggregate with a 2271-76X. Doerschler and Beard followed with a 2255-73X and 2252-64X, respectively. Gillman took junior and Expert class honors with a 2220-66X and Bill Beard was high senior with a 2185-62X. Master class winner was Robinson with a 2225-66X and Ellis' roll continued with his Sharpshooter/Marksman class win with a 2213-54X.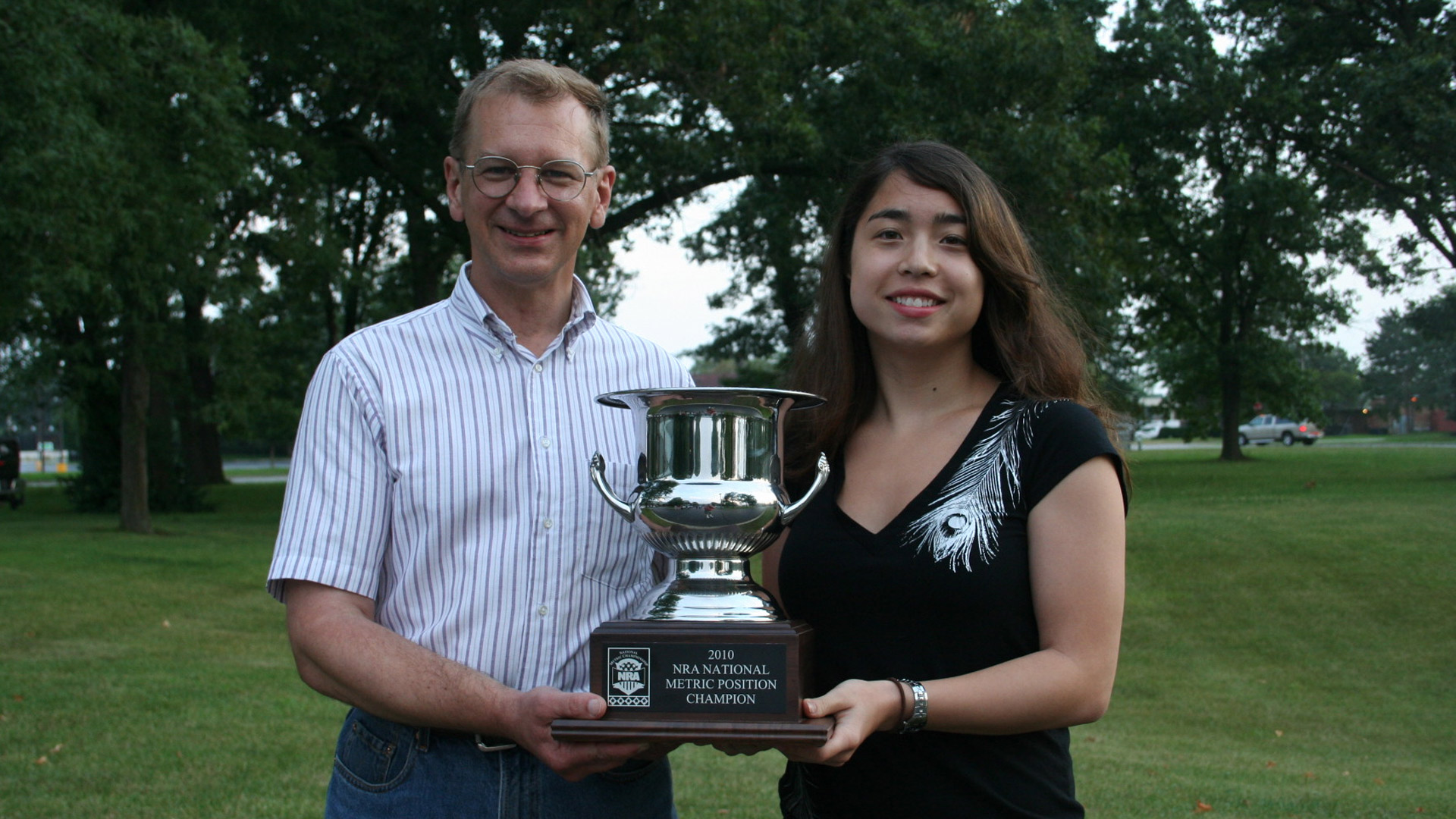 Prone
The first NRA National Metric Prone Championship opened under skies which threatened rain, but failed to deliver. The Chief Wa'Ka'-De Rifle Range, home of the host Saint Joseph Valley Rifle and Pistol Club, was in tip top condition as 41 competitors from as California to New England took to the line to contest for the first national title of its type.
Metallic sight competition began with Eitan Barazani setting a fast pace by opening the tournament with a 50-meter score of 398-24X, two points ahead of second and third place finishers Mike Seery (Air Force Academy Rifle team) and Ron Wigger (West Point Rifle coach) who were separated by one X.
Former National prone champion Kevin Nevius took the Dewar match (20 shots at 50 and 100 meters) with a 396-23X, a point ahead of Eitan Barazani's 395-21X and third place shooter Sharon Barazani's 393-12X.
The day closed with 40 shots at 100 yards and Nevius posted a pair of 197s totaling a 394-16X for the win. A 391-19X by Jim Cronin was good for second and Ginger McLemore, a Roberts Team veteran, took third with a 391-17X.
The metallic sight champion was Nevuis with an 1181-56X. Eitan Barazani, who had been nip and tuck with Nevius all day, came in second with an 1178-58X and third place went to Mark Delcotto, a skilled long-range high power rifleman who has made a near seamless transition to smallbore, who shot an 1176-60X.
Nancy Tompkins-Gallagher's 1167-51X was first in the Master class as McLemore took the Expert class with an 1174-55X as well as the intermediate senior award. Senior Charlie Kemp took that category with an 1170-57X, just as Seery earned junior honors with his 1168-59X. First woman and high Sharpshooter was Sharon Barazani, 1172-63, while an 1139-30X by Whitney Everest was the best Marksman score.
The any sight phase of the championship was bathed in sunlight and hats were pulled down tight to block of the bright light. Eighty-one-year-old Joe Farmer, the only person to have shot a perfect 400 on the metric targets, took the early lead with a pair of 199-13Xs. Rick Curtis, an Arizona rifleman, was second with his 396-26X and veteran Charlie Kemp posted a 395-29X for third.
McLemore came on hard with a 394-26X in the Dewar match by a thin three X margin over Framer. Seery was third with an identical 394, but with only 19Xs. Curtis closed the day with a victor at 100 yards on the back of his 391-16X. Nevius made a last lunge at the any sight title with a 390-22X just three Xs ahead of another hard holding senior, Cal Cooper, who fired a 390-19X.
Tompkins-Gallagher lead the women with her 1166-59X. Drew Cup veteran Elijah Ellis's 1158-50X was junior champ while Sharon Barazani, a fellow Sharpshooter, posted an 1165-48X to win the class. William Wilkerson bested all Marksmen with his 1159-55X.
Following in Farmer's footsteps, two seniors, Kemp and Dave Cramer, paired up as the Black Hawk Winchester 52Ds to take the team title.
When all the scores were tallied Nevius, 2357-124X, notched a historical footnote as the first NRA Metric Prone Champion, as well as the first person to double up Metric and Conventional titles. McLemore, 2351-130X, and Farmer, 2346-122X, finished second and third respectively.
The match was heavily contested, well run, and blessed with good weather; in other words a great tournament. The prize table was impressive, so much so that each competitor had to file an IRS W-9 form to cover any winnings. Although it started smaller than wished, it is anticipated that once word get out, the 2011 National Metric Prone Championship participation will grow by leaps and bounds.
---
See more:
Looking Back At The 2007 NRA National Police Shooting Championships