The SIG P320 modular pistol has been a huge success, with several variants as well as a large accessories and supporting parts aftermarket. Reflecting its popularity, here are several major players offering tricked-out P320s like Wilson Combat, ZEV Technologies and, of course, Gray Guns.
I have been messing with the SIG P320 for reviews, and shooting some in competition in both Production and Carry Optics divisions. I ran a stock X5 Legion with Romeo3MAX at Carry Optics Nationals last year, then the P320MAX version at the Florida Open earlier this year. That gun was also in stock configuration other than the Henning Group base pads. I wanted to get some upgrades after checking out others' P320s and what they had done to theirs—so I made a list of what I wanted to do. Trigger work and grip stippling were the two biggest upgrades, but I also had an idea of a minor Open gun for the 2-Gun Nationals, so that meant threaded barrel and comp.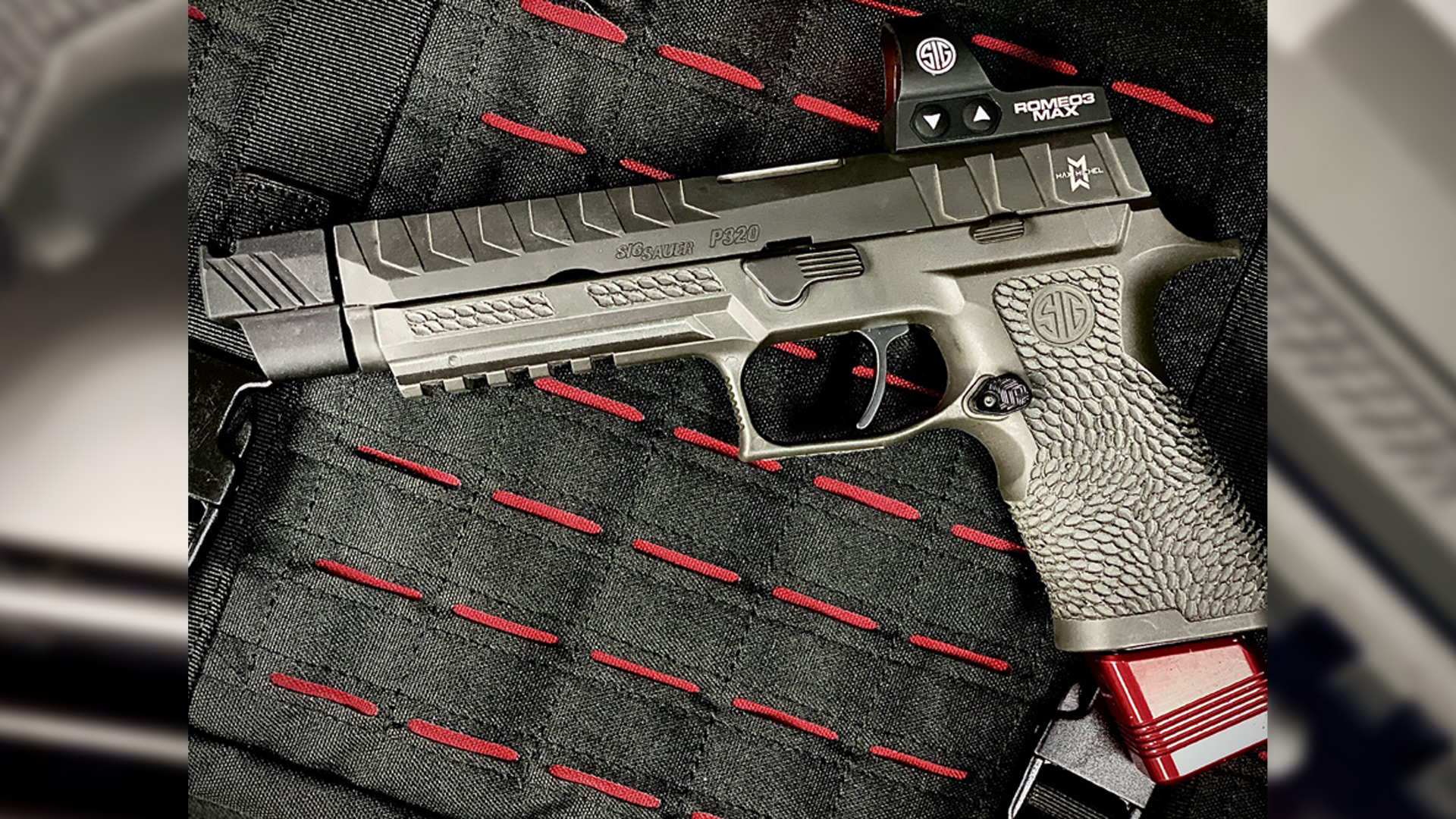 Trigger Work
Ask a competitive shooter, "Who did your trigger?" and the usual answer is, "I did it and it was easy." Or, they will tell you who they sent it to. Well, I figured that if there was anyone who knew the P320 inside and out, it would be Bruce Gray. Bruce and Grayguns have been in the product development of the P320 since early on, and I have had the opportunity to speak with him a few times about doing some projects. At the 2020 SHOT Show, he showed me a new trigger design that he was working on; I tried to keep it, but he politely asked for it back and told me to get in contact when I was ready to get the triggers set up.
Unable to meet back up at the 2021 SHOW Shot due to its cancellation, I reached out to Bruce, who got me in contact with Keith Hosey, director of gunsmithing at Grayguns, to get started on upgrading the P320s. Keith was great to work with throughout the process. He offered to send me the springs and parts to upgrade the fire control unit. I had to inform him that while this may be a simple process for anyone with two hands and at least nine fingers, I may be able to eventually complete the task, but that I didn't have the days it would take me to spare. I also shared with him the story of placing a fire control unit in a new grip module and when putting the slide, on forgetting to put the take down lever back in. This resulted in jamming the FCU into the slide, and that while trying to "gently" tap it out with a rubber mallet, many parts fell off. Keith thought it would be best if I just shipped the FCUs to him.
The Adjustable Hybrid Trigger System Competition kit is what I wanted to go with. I liked the trigger profile of the Hybrid system over the factory and the other competition offering from Grayguns, which is the Straight Trigger System. The system is specifically designed for the all current SIG fire control unit components and for those who have gone through the SIGs Voluntary Upgrade Program, and is listed as a drop-in kit. The website lists this for competition or range use only. The trigger comes in either a black oxide or TiN gold finish and is heat treated.
The kit is designed to reduce trigger pull weight with adjustable overtravel stops at the optimum trigger face angle, has smoothed out the takeup on the trigger pull and gives a clean reset. The Grayguns kit keeps the factory sear face engagement height and the mechanical safety values intact. Sending in the fire control unit is also an option that Grayguns offers. This is what I did, which includes detailed polishing and tuning of critical surfaces. When sending it in this way you can also opt in for additional services they offer like sight installation, other finishing options or installation of other accessories and components offered by Grayguns.
I had the Custom Fat Stainless Steel Guide Rod and their Laser Sculpted Grip work also done. The Custom Fat Stainless Steel Guide Rod is a unique step-tapered design, that is hardened and stress relieved. Designed to work optimally to support SIG and Grayguns custom multi-strand springs, it is made to maximum nominal diameter to fit each firearm, to eliminate the possibility of coil jumping and causing damage. They come either polished or finished in their ultra-durable Super Black.
The Graygun Laser Sculpted Grip Module uses an etched "Grayscale" pattern which is 50 percent deeper, but still retains enough smoothness to allow the grip to not be harsh on clothing and skin. Their stippled area is 40 percent more than the factory by adding more in the front and behind the grip areas. They can do this on your supplied grip or offer several modules in different sizes and colors. This can also be done on the TXG module.
Barrels
The accuracy with the factory SIG Barrels isn't bad and I have had no issues shooting 135-graing SNS Coated handloads, 150-grain and 130-grain Federal Syntech Action Pistol ammunition and some other 115-grain, 124-grain and 147-grain. I had picked up a KKM Precision barrel from the prize table last year and no longer had that gun, so I reached out to Luke McIntire at KKM about swapping it out for something I could use. I told him that I had been shooting the 320s and was working on a review for Grayguns triggers. Luke got me set up with some barrels and some special project work for one of them.
KKM Precision was founded in the 1990s, developing highly accurate pistol barrels specifically for competition use. They use a unique button rifling process along with a passion for detail to produce some really nice barrels. All of the KKM Precision Barrels are made in the U.S. at their facility in Carson, Nv., using state-of-the-art robotics and advanced multi-axis CNC machines. When searching the website the SIG barrels are not on the list with the 1911, Glock, Beretta, Springfield and Smith & Wesson, so you will need to contact them directly about availability.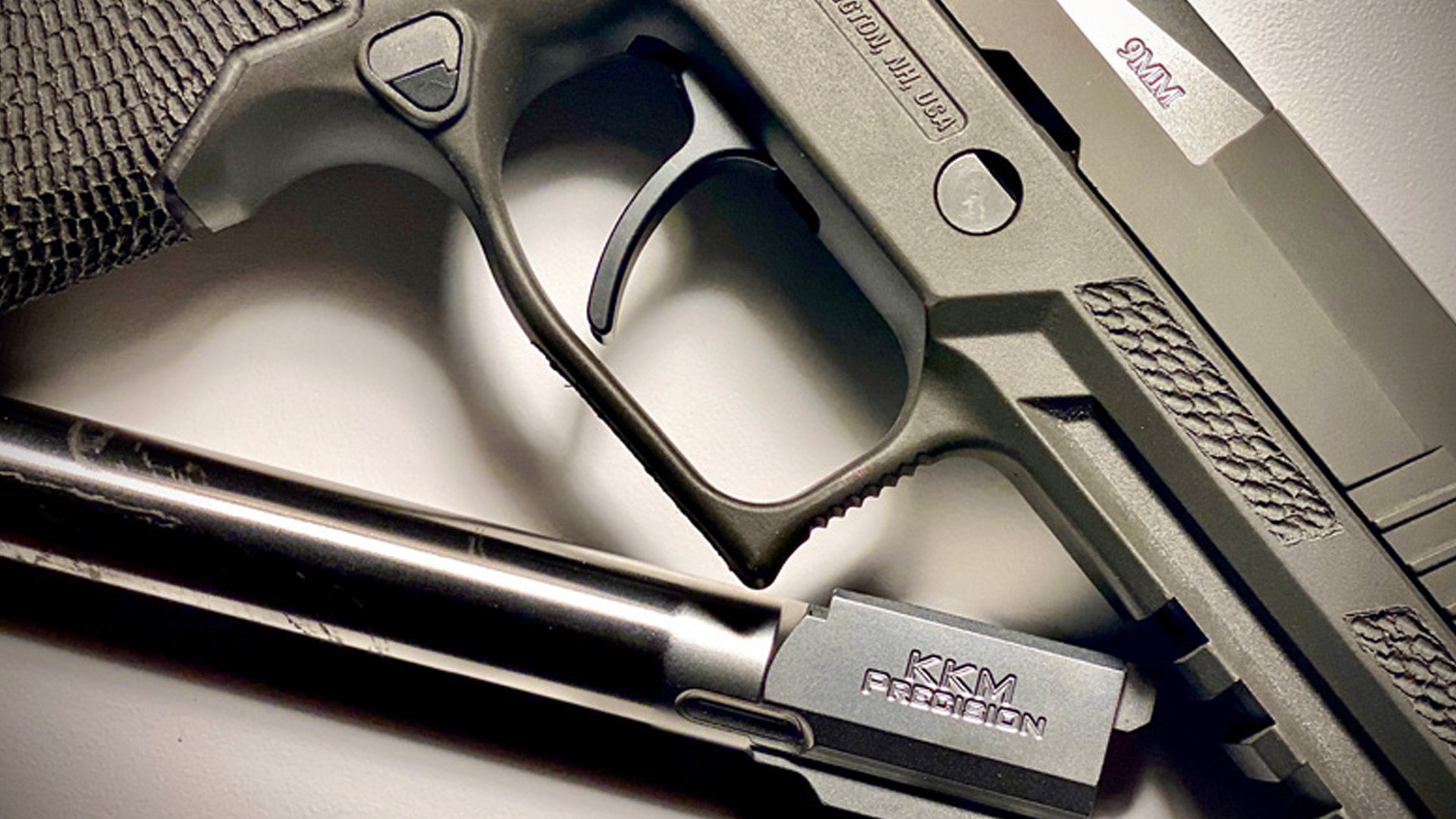 Many barrel manufacturers will use the more modern method of cut rifling (broach rifling), as it is faster and well-suited to mass production. While there are many advantages like little to no stress on the barrel, the twist is consistent from one to the other and the barrel can be contoured after rifling, broach barrels need to be lapped afterwards, and match-grade barrels are not compatible barrels for military use. However, it was replaced with button rifling and now is mostly used in handgun barrels that are mass produced but not considered match grade with this method. This was the most common method for high-volume rifle barrels for military use. Later, it was replaced with button rifling and now is mostly used in handgun barrels that are mass produced but not considered match grade.
As mentioned, KKM Precision uses button rifling, which pulls or pushes a bullet-shaped super hard button of tungsten carbide displacing the metal through the bore. The button leaves a smooth, bright finish inside the barrel and it doesn't need to be lapped, but it does require to be stressrelieved after the process. The buttons are expensive and difficult to make; however, the bore and groove dimensions are consistent and accurate.
Luke was also excited about my other project, a minor Open gun with the 320. I reached out the folks at Parker Mountain Machine about getting a compensator, and got the PMM Gen 1 JTTC. These are 7075 aluminum finished in a type three class two-black hardcoat anodize. The PMM comp doesn't use set screws but mounts like a muzzle device on a rifle. They use a proprietary mounting system that utilizes shims and proper timing of the compensator in relation to the slide. The JTTC is a single-port design at the 12 o'clock position, keeping the muzzle down and allowing the slide to track faster. I wanted to see how this would also affect red-dot tracking.
Grip Work
The final piece of the puzzle was grip work. The factory TXG grip modules are okay, but I wanted something a little more aggressive for competition work. I wanted the gun to not slide around when shooting, and since these were not going to be for carry guns I wasn't concerned about it being too aggressive on clothing.
As the social media guy for USPSA, I get to see all the post that USPSA gets tagged in. I saw a few P320s with grip work that was also tagged Frank Castle Customs, so I did a little digging to find his website. The images that popped up were of some pretty cool stippling work. There were many patterns to choose from but the process is pretty simple. As a matter of fact, he lays it out for you.
Contact for availability
Complete the order form
Ship your frame Fed Ex or UPS

He offers very reasonable pricing, first for LEO and Military, then Civilian. Turnaround times are listed as up to four weeks, but to contact them first. They also offer slide cuts, sight installation, and multiple accessories like triggers, barrels, sights, magazines and more. Stippling options are from Starburst, Dragon, Gator Skin, Static, Diamond Plate and Sunburst. It was hard to pick because they all looked good, but I settled on Sunburst and Dragon. I had the guns boxed up and shipped, and they were back ahead of the four-week time frame.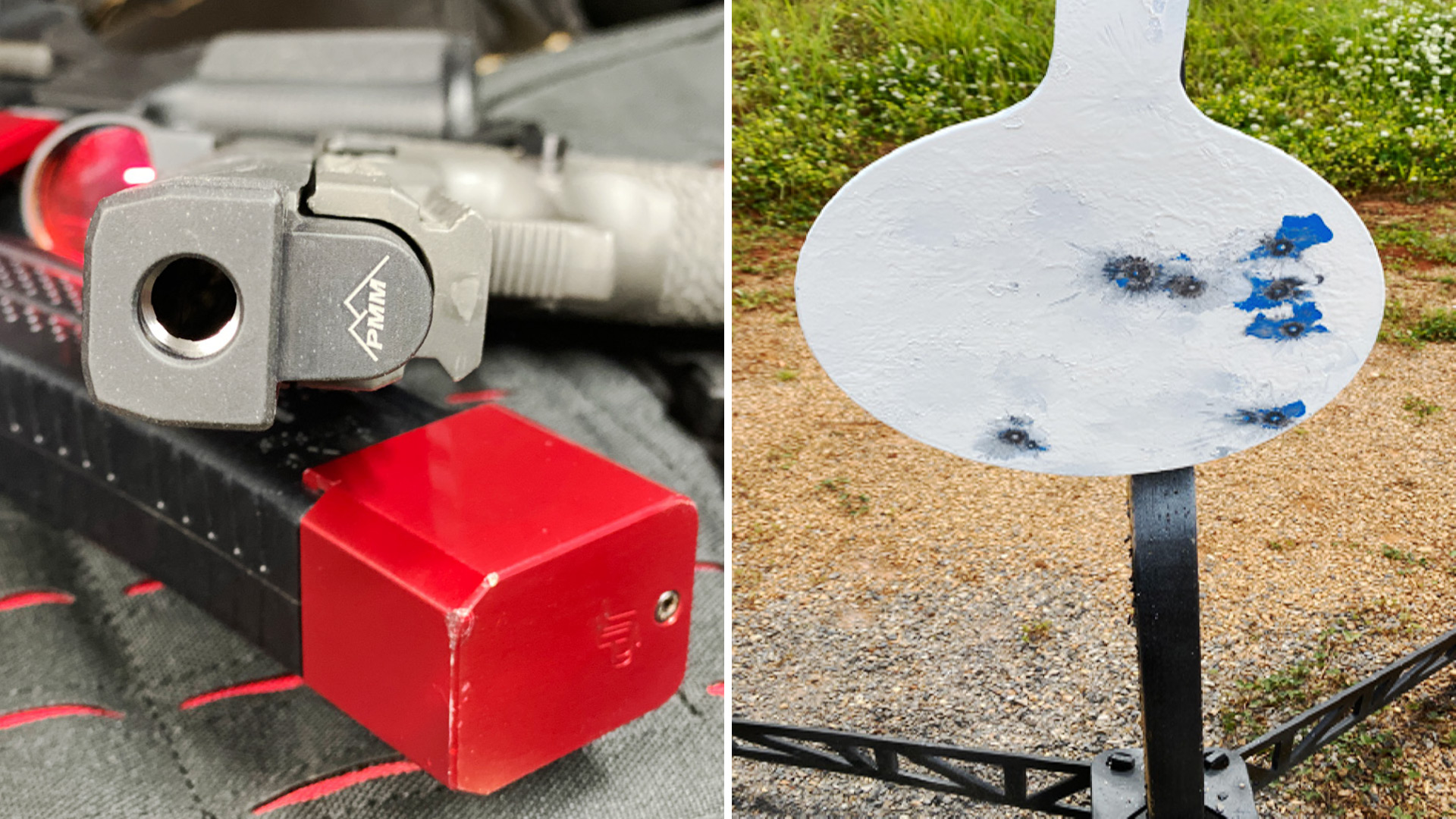 The Whole Package
As soon as I got the FCUs back and the grips, I was heading out to the World Speed Shooting Championship followed by LOCAP Nationals. I decided to set the guns up first for Production division to shoot at WSSC and LOCAP. I added Springer Precision mag releases, and Henning Group pads—but first we needed to check them out. A few days into the setup for WSSC, we laser-measured off 50 yards and hung the eight-inch Legion Targets steel plate up on the Alpha 5 bay at the CMP Marksmanship Park. With 10 rounds of 147-grain SIG Match Elite from a standing two-hand grip, I put eight rounds on the plate. Five of the eight were in a 2½-inch group. I impressed myself with that. The better trigger that measured out at right under four pounds, the KKM Match Grade barrel and solid grip with the stippling all made it much easier to do this shooting.
Next up was setting the gun up for Open minor for the 2-Gun Match. The 2-Gun Nationals was under USPSA Multigun rules, and your division was based on whether you had optics or iron sights on your gun. The scoring was Time-Plus, so no major or minor ammunition. I set the Parker Mountain Machine single port comp up on the KKM barrel that Luke threaded for me. I tested out a few loads and settled on the 150-grain Syntech again to shoot. I ran the P320MAX with Romeo3MAX optics, and with the ammunition and comp it was very soft shooting, with little dot movement. This is going to be my Steel Challenge Open division setup moving forward.
The SIG P320 by design is a modular firearm. With a few accessories and parts the gun can perform in USPSA and Steel Challenge in Production, Limited and Open divisions, and can be accurate enough for Bullseye-type competitions and even a go-to gun for Multigun matches.
Here are the companies that helped put these guns and gear together.
Grayguns
KKM Precision
Henning Group
Springer Precision
Frank Castle Customs
SIG Sauer
Federal
GX Products Holster
DAA Magazine pouches
Shooters Connection Belt

Article from the July/August 2021 issue of USPSA's magazine. Photos by Isabel Martens.
---
Read more:
Grant Kunkel: The Vision, Gear And Training To Be The Fastest