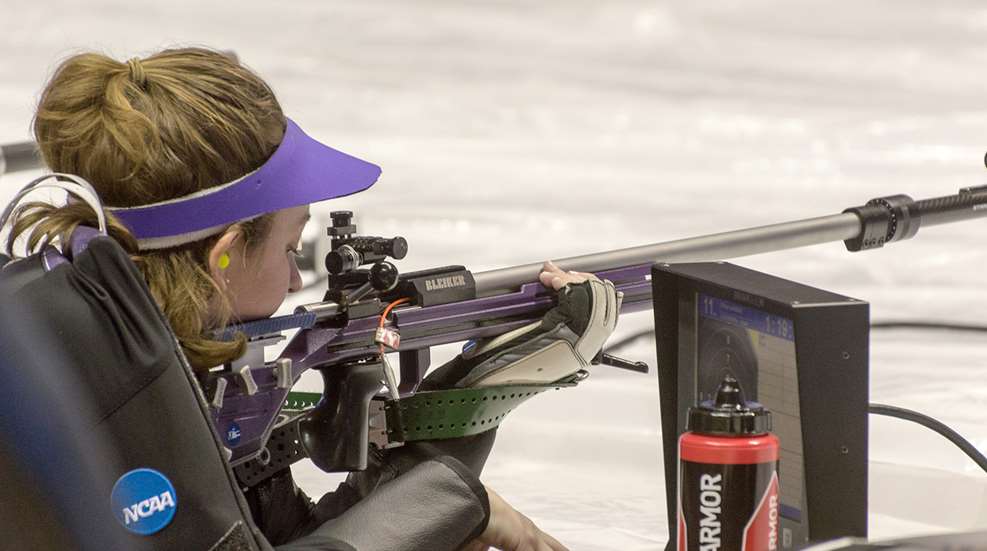 Propelled by star shooter
Elizabeth Marsh
, the Texas Christian University (TCU) rifle team won the 2019 NCAA smallbore rifle team championship in a match that came down to the final shot. This year's
NCAA rifle championship
is being held at the WVU Coliseum on the campus of West Virginia University in Morgantown, WV.
TCU and WVU set the pace for the smallbore team championship, with both teams shooting
2331 scores by the end of the second relay on Friday, March 8. Match officials went to the X-count to break the tie. TCU, by nature of its 15-point advantage in the X-count won the 2019 NCAA smallbore rifle championship with a score of 2331-127X over WVU's 2331-112X.
Sophomore TCU shooter Marsh (pictured at the top of this article) went on to win the
individual smallbore title
in a nail-biting final. TCU 
Freshman 
Kristen Hemphill
 

also competed in the smallbore finals, placing fourth overall.
As for the rest of the smallbore team leaderboard, the 2018 NCAA rifle champion
 Kentucky team placed third with a score of 2322, and Murray State finished in fourth with a score of 2320. Air Force is in fifth place with a 2319 total score followed by Navy with 2298, Army with 2295 and Alaska-Fairbanks scoring 2287.
The 2019 NCAA Rifle Championships will end with the air rifle competition on Saturday, March 9. Up for grabs are the overall individual and team championships, as well as air rifle honors. WVU will be in hot pursuit of a record-setting 20th national championship, but face a red-hot TCU squad bolstered by their terrific performance on Friday. TCU is in the hunt for a third overall NCAA rifle team championship.


See the full results and the NCAA air rifle livestream at this link:
www.ncaa.com/news/rifle/2019-03-06/2019-ncaa-rifle-championship-schedule-live-stream-results-and-highlights
.
Check back with
SSUSA
for match updates. A full match report will be in a future issue of the
digital magazine
.