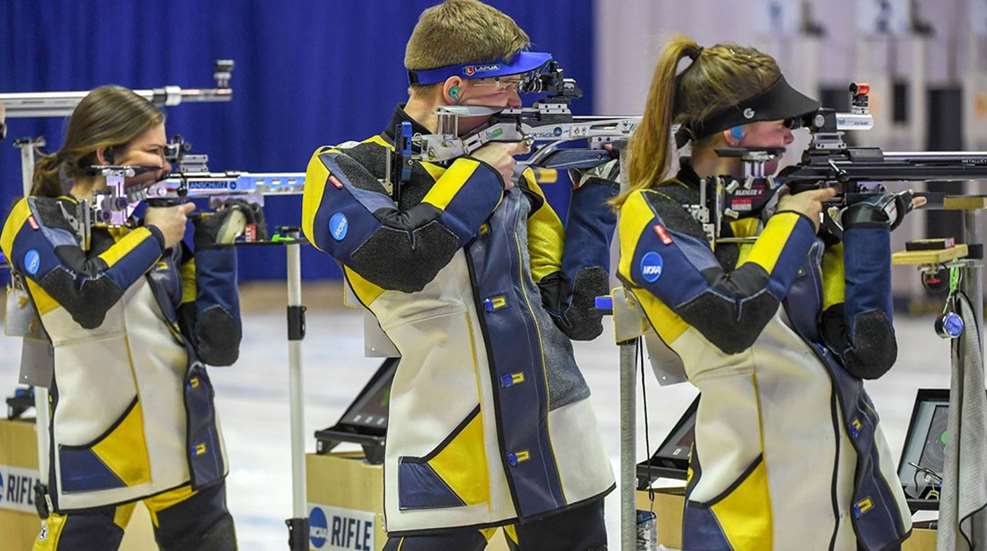 For the No. 1-ranked West Virginia University (WVU) rifle team, it came down to the X-count in the highly anticipated showdown with the No. 2-ranked Texas Christian University (TCU) squad in Morgantown, WV, on Saturday, October 26. The reigning NCAA rifle champion, TCU tied WVU at 4708, but the victory went to the Mountaineers with the X-count at 311-293.
With the win, WVU improves to 7-2 all time against TCU.
Although WVU was the winner for the day, it wasn't a blowout by any means. TCU had the edge in smallbore rifle, 2334-2326. The top individual smallbore shooter was WVU senior Morgan Phillips with 589. The rest of the top five individuals were TCU shooters: Stephanie Grundsøe (585), Kristen Hemphill (585), Liz Marsh (585) and Catherine Miller (583).
In air rifle, WVU had the advantage 2382-2374. And, it was WVU senior Milica Babic at the top of the individual leaderboard with 599. TCU's Stephanie Grundsøe and Kristen Hemphill placed second and third, respectively, both recording 596 scores. Two WVU shooters, Akihito Shimizu and Sarah Osborn, with 595 scores, rounded out the top five in the individual air rifle standings.
"We had a really tough match competing against the defending National Champions," WVU Rifle Coach Jon Hammond said to WVU Sports. "After 4800 shots, we ended up tied. That's incredible. It shows they are a tough team. We are really going to have to push ourselves to get better throughout the year. It was an exciting match, and I was pleased to see everyone respond the way they did. Hopefully, we can use today's match as motivation to keep improving and keep getting better throughout the year."
Lead photo courtesy of WVU Athletic Communications.
---
More collegiate rifle coverage: