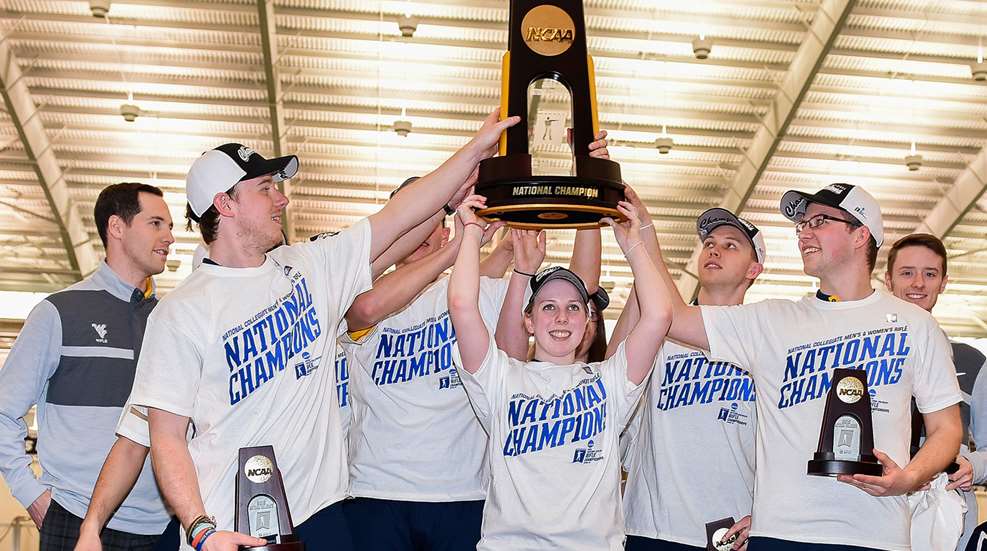 The legacy of outstanding rifle marksmanship continues undiminished at West Virginia University (WVU) in 2016. The team won an unprecedented 18th NCAA rifle championship, which is also the team's fourth straight win. The Mountaineers earned 20 total All-American honors this year. Seven team members earned a combined 13 NRA All-American awards, while seven more were named to the Collegiate Rifle Coaches Association (CRCA) All-American Teams. Needless to say, WVU is on a roll—raising the bar in collegiate rifle shooting. The WVU rifle team is the seven-time reigning Great American Rifle Conference (GARC) champions, finishing the 2016 season with a perfect 12-0 (8-0 in conference) record. How are they so good? Let's find out …

How They Did It
On day one at the NCAA rifle championship, senior Michael Bamsey shot a score of 587 in smallbore to place first in the open relay. Freshman Ginny Thrasher tied for second with a score of 586, while senior Meelis Kiisk shot a 584 to tie for fifth place. The trio went on to represent WVU in the individual final, with the Mountaineers claiming three of the four top spots. The NCAA smallbore title came down to the last shot between Thrasher and Kiisk, with Thrasher shooting 461.5 for the win. Kiisk's score of 455.3 and Bamsey's score of 435.3 placed them in second and fourth place, respectively, in the individual final. Ginny Thrasher also captured the NCAA air rifle title.

Ginny Thrasher
"This is the year I want to make changes. I want to learn, and give myself the best foundation for success the rest of my career."At NCAA rifle this year, Ginny Thrasher clinched the individual smallbore championship the first day of the match with a record score of 586. Thrasher is only the second WVU athlete to win both individual honors at NCAA since Petra Zublasing in 2013. Additionally, Thrasher was honored with the NCAA Championships' Top Performer Award, 2016 GARC Rookie of the Year and the conference smallbore title. As if all this isn't enough, Thrasher qualified for the U.S. Olympic Team competing in Rio this August.

Thrasher said: "The NCAA Championships were such a great experience for me. It was kind of a weird situation, because we took four seniors and myself to the championship. I was very thankful to have all the seniors there to guide me—especially after the first day when I won smallbore and needed to refocus. The seniors were monumental in helping me turn off social media and make sure I was prepared the next day to go and shoot a match the way I know I can."

When asked about her first year on the WVU team, she said, "I wanted to make my freshman year on the team one of learning for myself. At the beginning of the season, I sat down with Coach Jon Hammond and told him, 'This is the year I want to make changes. I want to learn, and give myself the best foundation for success the rest of my career.'"

Will Anti
Will Anti started shooting when he was 10, with competition in his blood. His father, a U.S. Army Marksmanship (AMU) vet, was also a member of the WVU rifle team. At age 13 Will began competing in USA Shooting matches and NRA National Championships. The freshman did not feel he had to work harder after joining the WVU team, just differently. Anti told me, "It's a smarter team; I had to adapt to new ways of shooting and thinking."

The talented upperclassmen on the team provided guidance both on and off the line. "It was a really great environment, Ginny and I could not have asked for better support from our seniors," mused Anti about the team. Anti shoots a Feinwerkbau 800 for air rifle, and a Bleiker for Smallbore 3-P. His plans for after college include joining the AMU for at least one Olympic cycle.

Michael Bamsey
Michael Bamsey was active in competitive shooting as a youth in his hometown of Cardiff, Wales. Beginning in the Boy Scout rifle program with break-barrel air rifles at six yards with knock-down targets, Bamsey progressed through the ranks to sporter air rifle, then precision air rifle, and eventually to smallbore. In addition to his dad and his little sister, Megan, he credits Jean Jenkins, a local "500-year-old" scoutmaster and rifle instructor with helping him with his junior shooting career. "Jean would stay with the people who wanted to shoot a little bit longer at practice or come a little bit early. She was very special."

Bamsey, a senior, has been on the WVU rifle team for two years since transferring from the University of Wales. His favorite memory of the team is the contrast of his two NCAA finals experiences. "In 2015 I was not on the final relay at NCAA. So I knew how it all ended immediately. This year it was the complete opposite, and I was shooting the final relay. I did not shoot my best, and when Coach Hammond came and let me know we had won, I was so relieved."

This year, Bamsey earned NRA All-American Smallbore First Team recognition, as well as the CRCA All-American Second Team list for the second straight year. Bamsey shoots a Walther LG400 air rifle and a Grunig for smallbore.

Elizabeth Gratz
Sophomore Elizabeth Gratz appreciates being on a team where everyone is an elite competitive shooter. Gratz said, "Everyone is so good and we push each other to get better. I've been lucky to have upperclassmen that I can count on for support," a feeling echoed by other younger shooters on the team.

Gratz got her start in air gun with her county 4-H, eventually progressing to smallbore rifle. With the support of friends and family, Gratz has shot the NRA National Metric Championship the past few years, and was even at the last NRA Smallbore Championship at Camp Perry. She enjoys the NRA championships in Bristol, IN, and looks forward to traveling there this summer. "I liked the opportunity to shoot at [Camp] Perry, but I like Bristol. People should embrace the change."

When asked about her favorite memory from her time so far on the WVU rifle team she said, "Last year's NCAA finals stand out to me, because it was more of a comeback." WVU was behind on day one in 2015. "I was watching the results on a computer monitor." Gratz added, "This year in Akron at NCAA was even better because I was there to watch in person." Gratz's performance this season earned her NRA All-American Rifle First Team honors. She would like to continue competing after college.

J.P. Lucas
J.P. Lucas was influenced to become a competitive shooter by his father, an avid action shooter. The Spears, PA, native got his first gun on his very first birthday—a present from dad. "I have been shooting since I was a little kid," he said when asked how he got his start in competitions. Lucas began smallbore 3-P and air rifle competition his senior year of high school, and by the time he made it to WVU he was active on the club rifle team. He would redshirt his freshman year—his dedication to the sport paying off.

Now a junior, Lucas earned a spot on the 2016 NRA All-American Air Rifle Honorable Mention squad for the second straight year, as well as NRA All-American Smallbore First Team. For smallbore Lucas shoots a Bleiker, and recently switched to a Pardini from an Anschutz for air rifle.

Meelis Kiisk
"It has been very interesting to see how team dynamics work up close, and to see how the team progressed over the years."
Meelis Kiisk hails from Paide, Estonia, a small town of 9000 people. When he was 11, he checked out the local shooting club in the basement of his school. In 2006, he graduated and progressed onto the Estonian Junior Championships. He was lucky to have a shooting club with an outdoor range close to where he lived. "I had an outdoor range where I could shoot 50 meters a few miles from my house. That helped a lot," he said when asked how he was able to practice.

A redshirt senior, Kiisk has been at WVU for five years—mostly because he is a computer science and electrical engineering double major. One of his favorite memories is from this year's NCAA championship. "I enjoyed a team exercise we did the night before air rifle at NCAA. It summarized for me the support of our team, the bonding of our smaller tighter knit group made this last year great."

Since Kiisk is the only one that has been on the team for five years now, he has seen a lot. "My first year we had eight new team members; we were a very young team. It has been very interesting to see how team dynamics work up close, and to see how the team progressed over the years."

Kiisk feels the skills shooting has taught him will help off the range as well. "A lot of what I have learned about sports psychology has made me a better test-taker and pay better attention in lectures. I am already using these skills in other areas of life as well. I'm sure I'll utilize these skills in the future."

A WVU rifle team co-captain, Kiisk earned NRA All-American Air Rifle Second Team and also Smallbore First Team recognition for his efforts in 2016. Married with two children, he plans to find a job and would like to keep on competing as long as he can after college.

Garrett Spurgeon
Senior Garrett Spurgeon has been on the WVU rifle team all four years of his collegiate career. He began his shooting career with 4-H in Canton, MO, eventually moving on to NRA regionals. In high school he competed at Camp Perry, where he was coached by his father. "Dad read a lot about shooting, and was my coach until I came to WVU." Although he did not shoot on a formal team before coming to WVU, it was a pleasant transition for him. "It was easy for me to walk on to the team because they accepted me with open arms."

When asked what stood out to him during his four-year career at WVU, Spurgeon said, "Coming off the line and talking to the Coach after winning each of our four NCAA finals is what stood out the most."

Garrett Spurgeon was named to the NRA All-American Air Rifle and Smallbore First Teams, as well as the CRCA All-American First Team. Spurgeon concludes his shooting career at WVU with 11 total All-American honors. Spurgeon shoots an Anschutz 9003 for air rifle, and an Anschutz Precise for smallbore.

Patrick Sunderman
Senior Patrick Sunderman first began shooting in the basement of an American Legion club in Farmington, MN, shooting 3-P air gun. He progressed to precision air gun and eventually smallbore rifle, shooting quite a few NRA matches along the way. His parents and his sister were very supportive of his shooting career. "They always did whatever they could to support me."

Sunderman said this year's NCAA championship win was his favorite memory of his four years on the WVU rifle team. "It was very rewarding to work hard for that, and to be there knowing that I contributed to the win."

Sunderman earned NRA All-American Air Rifle First Team this year for the first time. For air rifle and smallbore Sunderman shoots a Feinwerkbau. He is in the process of transferring from the Army National Guard to active-duty, as he has recently accepted an offer to shoot for the AMU. He looks forward to his future at Ft. Benning, "I can't wait for the school year to finish so I can get started with the AMU."

Coach Jon Hammond
"Even if they are All-Americans or international competitors, they are still looking to improve and get better consistency-wise. I try to produce an atmosphere that is conducive to their goals and those of the team."The Aberdeen, Scotland, native has been at the helm of the WVU rifle team for 10 years. The results of Coach Hammond's style speak for themselves: This was WVU's fifth NCAA rifle championship under his leadership. Since 1980, only two NCAA programs have won four or more straight titles. WVU had a six year championship run from 1988-93, and four straight in 1995-98.

When told that each team member interviewed mentioned their teammates and coach, along with family and friends, as part of their support system, Coach Hammond said, "That is something we try to impress on them. I think it's more of a challenge for us than others because it is an individual sport and a team sport. I enjoy working with such high level athletes, because you can get more involved in details and technique with them."

Regarding the recent accomplishments of his team, Coach Hammond said, "I think they all still have lots to learn. Even if they are All-Americans or international competitors, they are still looking to improve and get better consistency-wise. I try to produce an atmosphere that is conducive to their goals and those of the team."

Coach Hammond shared an anecdote about a moment he will never forget. "It was during my first NCAA rifle championship as coach of the team. We were in sixth place after the first day, then we had a pretty huge comeback the second day. We weren't the favorites going into that championship, so there was a lot of emotion after we won."

Learn more about the WVU rifle team at wvurifle.com.