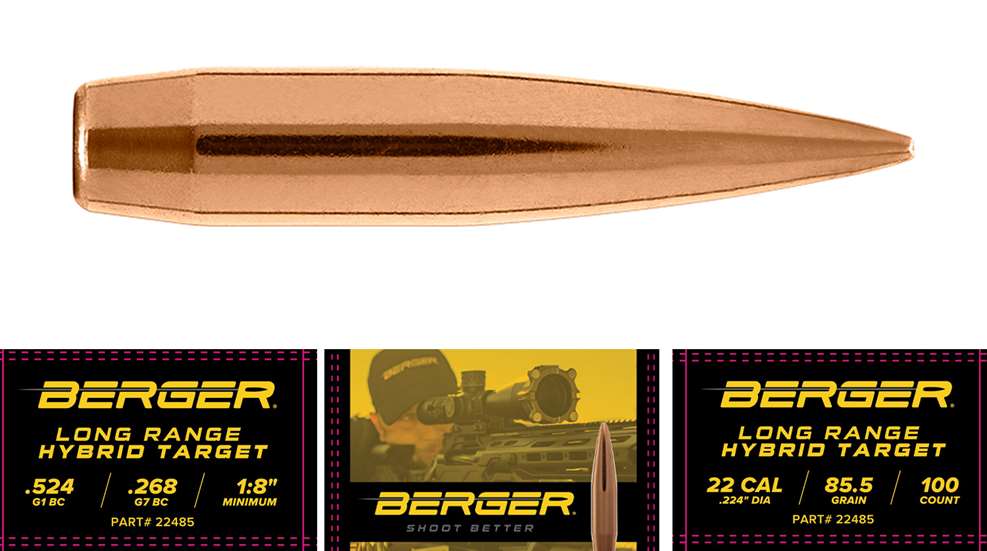 Berger Bullets announced the release today of its newest offering for long-range shooters, the .22 caliber 85.5-grain Long Range Hybrid Target bullet.
"The new 85.5s provide a 'real' 1,000-yard long-range .22 caliber option," Berger spokesman Geoff Esterline said in a press release, adding, "A claim often made by others, where we'll provide supporting data to prove its viability." As a quick comparison, with a G7 of .268 and started at 2,800 fps, Berger says the new 85.5-grain .22 caliber bullet suffers 15 percent less wind drift at 1,000 yards than does a 155-grain .308 bullet.


The new Berger 85.85 grainer opens up some windows in cross-discipline competition with a single rifle. The 155-grain .308 has been a standard of Palma Match competition for decades. Palma, fired at 800, 900 and 1,000 yards, is open only to rifles chambered in 5.56 NATO/.223 Rem. and 7.62 NATO/.308 Win. Fullbore competition, which is also limited to 7.62/.308 and 5.56/.223 rifles and fired from 300 to 1,000 yards, is another obvious application for Berger's new 85.5 grain bullet. So are the comparatively shorter range Mid-Range and NRA's new Mid-Range Tactical competitions, fired at 300, 500 and 600 yards. In each of these, the new Berger bullet offers an opportunity for the 5.56/.223 to better compete against the larger 7.62/.308 cartridge, with less recoil and using the same AR-15 one would use in High Power competition.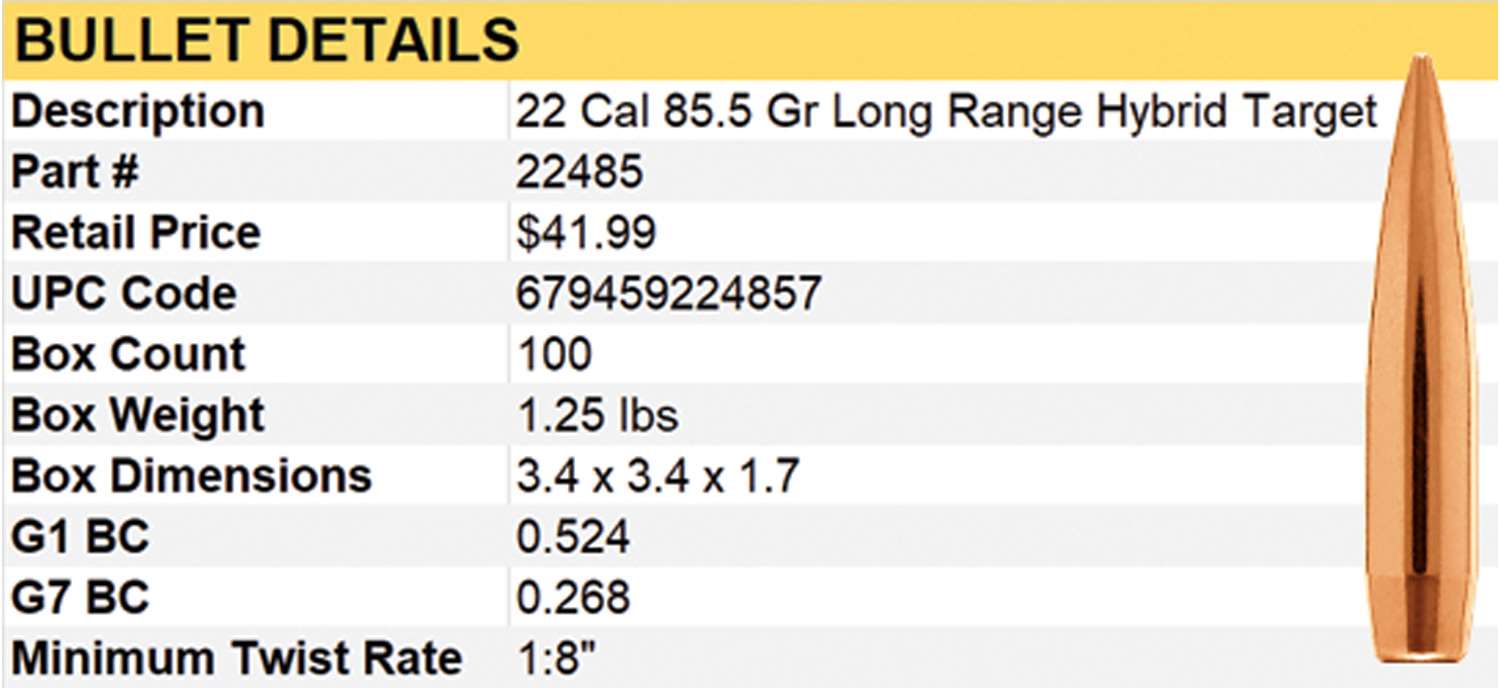 Beyond that, the bullet promises to perform well in cases of greater powder capacity, such as the .244 Valkyrie and 22 Creedmoor. And if you've loaded Bergers before, you know that the bullet's long boat tail eases starting bullets in cases for straight seating, and the hybrid ogive design makes the bullet less finicky about how far it must "jump" to the rifling for optimum precision. Do note, however, that overall cartridge length with the 85.5-grain bullet will not permit feeding through magazines for High Power rapid-fire stages, so it's a slow-fire, single-load proposition only.
More essential specs:
G1 BC: 0.524
G7 BC: 0.268
G7 form factor: 0.907
Diameter: 0.224
OAL: 1.167
Base to ogive: 0.585
Nose length: 0.623
Bearing surface: 0.362
Boat tail length: 0.166
J4 target jacket

Berger's new bullet is available from dealers starting today, priced at $41.99 per box of 100. It should appeal to long-range shooters who prefer the advantages of the .223 but who feel it is too outclassed by the .308. Visit BergerBullets.com.
---
See more:
Berger Introduces Long-Range Hybrid 6.5mm Hunter Bullet