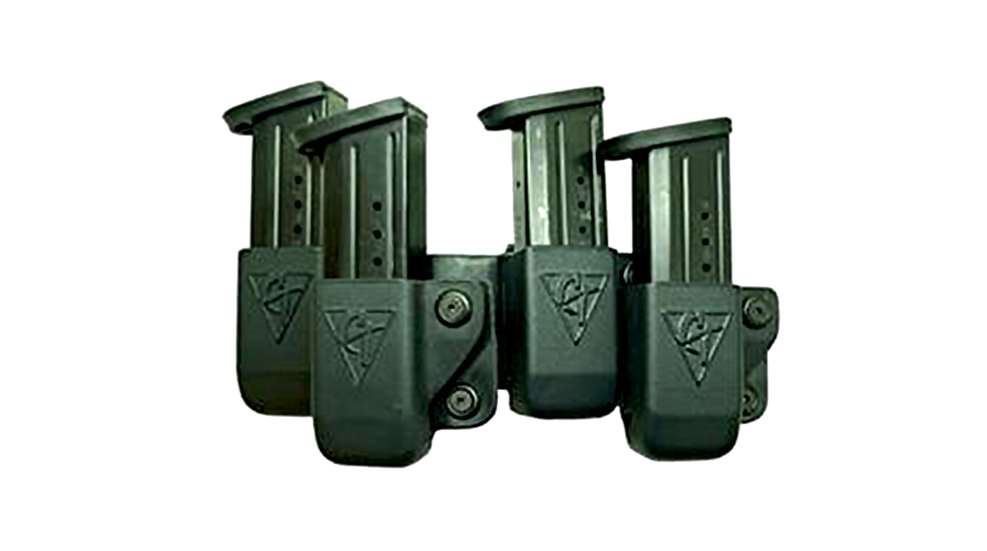 Comp-Tac's new Beltfeed high-capacity magazine pouches give shooters the choice to carry their magazines with the cartridges facing either to the rear or the front―all while keeping the fully adjustable pull speed and magazine retention aspects.

Each Beltfeed unit is comprised of four magazine pouches. The Beltfeed system staggers pouch position on the wearer's belt―the result is more magazines can be carried in the same amount of space. The Beltfeed pouch staggering might also be useful for those with smaller waist measurements, such as junior shooters and slighter built people.

More ammunition in less space is especially important on equipment packed belts. The staggering also allows for much faster access to the magazines for fast reloading on the move.

Each pouch can be individually adjusted for precise removal tension. The Beltfeed can service either right-hand or left-hand shooter's belt position.

More magazines is especially important for those using single stack firearms in longer competition scenarios that usually require additional ammunition. Additionally, it's always good to have a spare for when accidents happen―such as a dropped magazine during a reload.

MSRP: $100. The new Comp-Tac Beltfeed Magazine Pouches are available for over 150 pistols, and in these colors: black, red, blue, purple and pink.