Comp-Tac Victory Gear recently introduced a new line of modular holsters called the Q Line. These easy-to-use holsters maintain the high-quality construction and materials expected from Comp-Tac's products. Q Line models offer both inside the waistband and outside the waistband holsters for concealed carry and competitive shooting, all with multiple clip options.

Q Line holsters are designed for simplicity and value. Each holster allows for a variety of gun models, with no interchangeable shells or clips required. Additionally, each of the models in the Q Line provide retention adjustment for a secure fit, and are molded with Kydex bodies. The durable mounting options are built to be strong enough to withstand heavy wear and tear.

"Development of the Q Line has been one of the most exciting projects I have had the chance to work on here at Comp-Tac. From initial concept stages, R&D, fit, finish and function almost every Comp-Tac employee had a hand in the design. In addition, we were even able to involve customers in some beta testing which gave us valuable feedback," explained Comp-Tac's President and Owner, Gregg Garrett.

The QB (Outside the Waistband Belt) Holster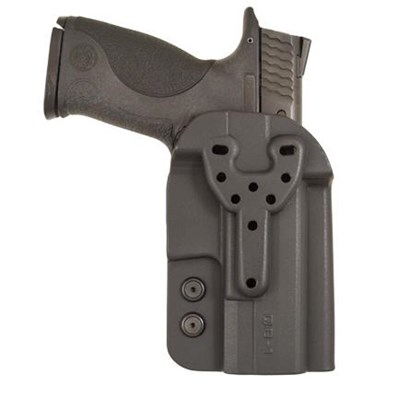 The QB is made with an open-ended shell for a perfect fit for firearms of varying lengths, and the funneled design allows for easy draw and re-holster. It offers Comp-Tac's all Kydex construction and molding for the smoothest, fastest draw, and a retention adjustment screw for the perfect hold regardless of which firearm used.

Unique to the QB are mount holes that are compatible with all industry mounting options for belt, molle, or thigh holsters. The QB comes with the popular push-button mount that is designed to be added quickly and easily to the belt while offering the security of a sliding lock to hold securely when needed. The multiple holes allow for 180 degrees of cant adjustment. The QB is ideal for competitive shooting, and provides a convenient and easy-to-use concealed carry option. The QB has an MSRP of $50.

The QH (Hybrid) Holster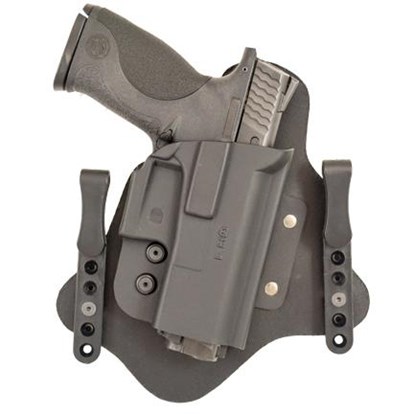 For the shooter who is looking for the ultimate option in comfort and sturdy easy to draw from holster, Comp-Tac has created a hybrid option in the Q Line: The QH. Combining experience and innovation into a price point that will allow concealed carry customers both novice and veteran to stay on budget, and still get all the best holster features.

The open-ended shell makes for a perfect fit for firearms of varying lengths, and the funneled design allows for easy draw and re-holster. The Kydex shell permits a smooth, no-stick draw, maintains it shape for easy re-holster and is designed to withstand a fall test.

The QH has leather backing for maximum comfort and easy concealment. A tension adjustment screw allows users to adjust the tension to each different firearm that they carry in the modular shell. The patented Comp-Tac Clips allows users to set the holster up for their own personal comfort requirements. The QH has an MSRP of $48.

The QI (Inside the Waistband) Holster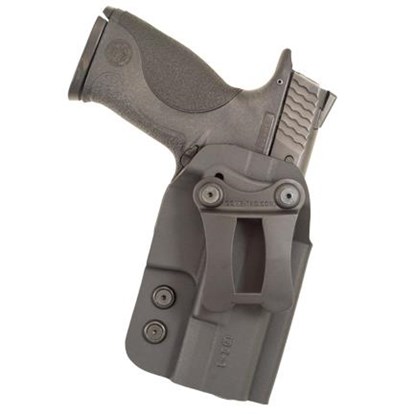 The QI is made with an open-ended shell for a perfect fit for forearms of varying lengths, and the funneled design allows for easy draw and re-holster. It offers Comp-Tac's Kydex construction and molding for a smooth draw, and a retention adjustment screw for the perfect hold for multiple firearms in each modular size.

Taking into account ambidextrous shooters, the holster has a dual-sided multi-option mounting block, which also allows for the adjustment of cant at 30 degrees for multiple position wear. The sight-enabled design accommodates night sights up to 1/2 inch high, suppressor sights and rear sight mounted optics.

The QI is designed with smooth edges throughout, along with a polymer clip that allows for fast and easy wear. Its minimalist size is perfect to quickly put on, easy carry on the body and effortless storage when not in use. The QI has an MSRP of $45.

The full Q Line of holsters are available for purchase through Comp-Tac's website.