Offering a full 360 degrees of rifle movement, the Elite Iron Revolution Bipod Panning Model (MSRP: $590 to $768) is an innovative alternative to traditional bipods.
Designed for rifles up to .338 cal., the bipod and mount combination weigh only 24 ounces. The legs and tube stems are made of 7075 aluminum, leg locks from 17-4 heat-treated material and the hidden springs from 316 stainless steel. Additionally, there are no exposed springs or stamped parts.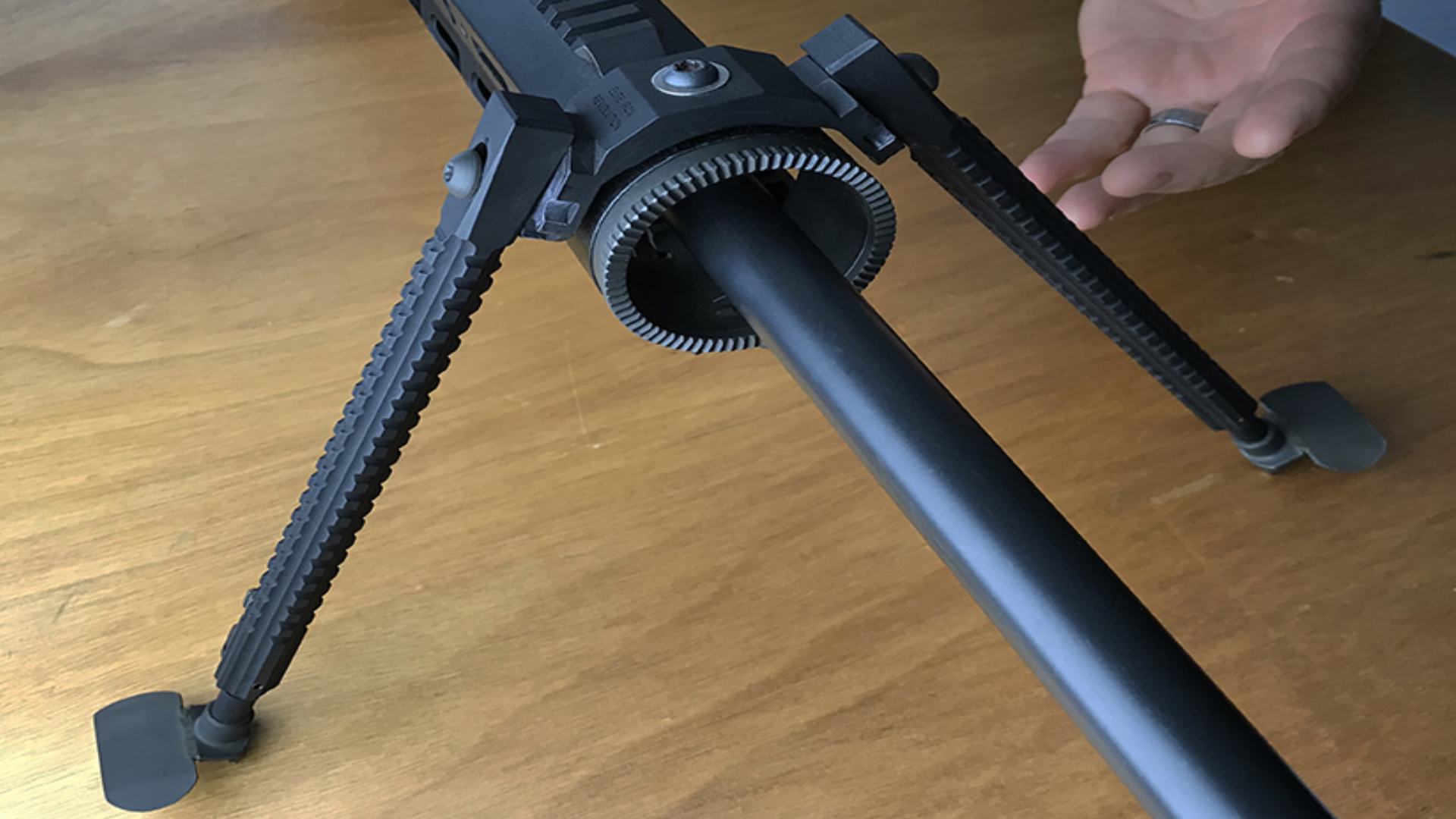 The Revolution Bipod Panning Model offers stability while allowing the rifle to revolve 360 degrees. The bipod maintains control of two axes of motion—side to side and up and down. Any position can be locked in place by tightening the tri-nut. Ease of movement decreases by tightening the torsion nut slightly until the final position is found and locked. The clever design of the Revolution bipod places the rifle under the apex of the legs and not on top.
Equipped with the Revolution bipod, rifles have horizontal 10 o'clock through 2 o'clock movement. Leg length can be adjusted individually and at different lengths. Legs can be positioned or rotated forward, straight or back and in parallel or separately. The center line of the ring is 7.25 inches with legs retracted and 12.25 inches extended on the Standard Leg Bipod. As for the optional Short Leg Bipod, the center line of the ring is 6 inches with legs retracted and 1 inch extended. Users can also attach different kinds of feet to match the environment.
Every Revolution bipod comes with a choice of one free mount. Buyers must choose the correct mount for rifles, as well as the interface (at an additional charge) to matches that particular mount. However, if the rifle has a rail (such as a Picatinny rail), the interface may not be necessary.
The Elite Iron Revolution Bipod Panning Model includes a two-year warranty. In addition, all parts are replaceable. Learn more at eliteiron.com.
---
Read more:
Berger's Twist Rate Calculator: Putting The Right Twist On Bullets