by
Chris Christian, Field Editor
posted on March 6, 2017
Support NRA Shooting Sports USA
DONATE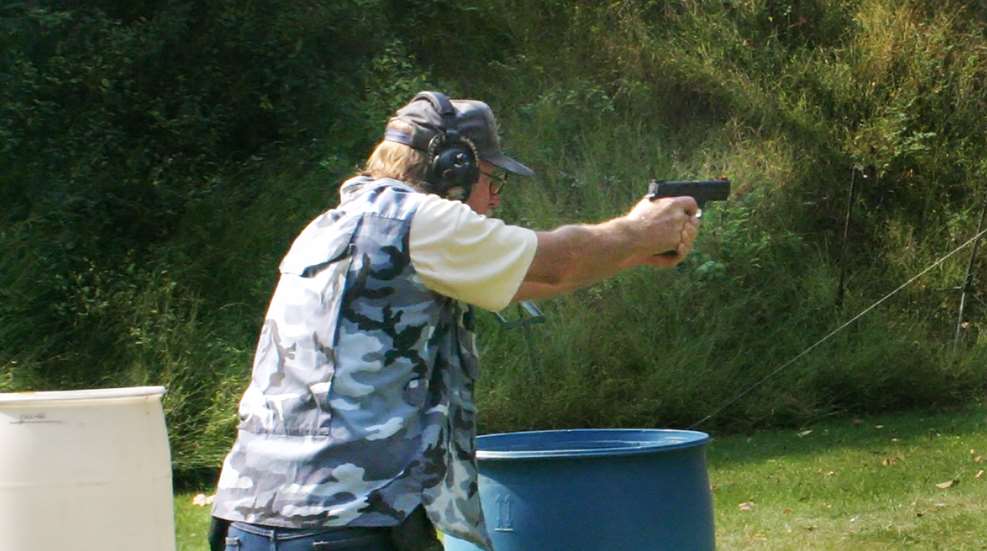 Above: The author engages multiple targets on the move at a previous IDPA National Championship.

As one of the more popular action shooting competitions, the International Defensive Pistol Association (IDPA) continues to evolve. The IDPA rules for 2017 make for some significant changes that may alter the way shooters approach the game.

Scoring: IDPA targets are divided into Down Point scoring zones (D-0, D-1, D-3, with a D-5 for a target miss). Previous rules assessed a .5-second time penalty that was added to the shooter's score for each Down Point. In 2017 that increases to a full second for each Down Point, making a target miss a five-second penalty.

Additionally, the target itself has changed. The entire six-inch square 'head box' is no longer a D-0 zone. A four-inch circle is placed in the center and becomes D-0, while any hits outside are D-1. The new targets are required for all Sanctioned Matches in 2017. Club matches may upgrade their existing targets by drawing the four-inch circle in, or use their existing targets this year. The new targets are, reportedly, scheduled to become mandatory in 2018.

The Failure To Neutralize (FTN) rule was a five-second penalty for a target without at least one D-0 or D-1 hit. It's gone. Targets will now be scored as they are.

Shooting From Cover: As a self-defense based game shooters are required to engage targets from behind cover when it is available. A three-second Procedural penalty is assessed by the Safety Officer (SO) to those who do not. This has been one of the biggest complaints among competitors, since the Cover penalty could be viewed as a 'subjective' call. That changes with the 2017 addition of marked fault lines, like those used in USPSA.

Every shooting position requiring the use of cover must now have fault lines in place. Shooters may step over the line when settling into the position, but their foot must not touch the ground beyond the fault line when engaging (shooting) targets. Additionally, the SO will no longer give warnings (cover calls).

Reloading: There are three approved reloading techniques in IDPA—Tactical Reload, Reload With Retention (RWR) and the Emergency Reload (empty gun—slide lock with semi-auto or empty cylinder with a revolver). Previous years have seen restrictions regarding where shooters may reload, including a penalty for leaving a shooting position with an empty gun.

Those are now gone. Shooters can now make any IDPA approved reload at any time, or place, on the COF as long as they are not exposed to unengaged targets during the reload.

In addition, shooters who start the COF in the open … engaging targets as they move to cover … may now reload in the open and continue engaging the targets, instead of having to initiate the reload in the open and then move to cover to continue engaging those targets.

Target Engagement: Shooters may now re-engage any target on the COF, from any position, as long as doing so does not break the 180 Rule or violate marked Muzzle Safe Points. The Tactical Sequence method of target engagement is also gone. All targets will now be engaged using IDPA Priority rules.

Lastly, the Classification Course and classification system has changed. The new Universal Classification means that a shooter who, for example, classifies as an Expert is SSP Division will now be assigned the Expert classification in all other semi-auto divisions; to include ESP, CDP, CCP, but excluding BUG.

Wow! I was previously classified as a Master in SSP and BUG, and Expert in all other divisions. I wonder if that now means I'm a Master in all semi-auto divisions? If so, I'd better hit the practice range. The new rules will definitely change the the way I, and many others, shoot IDPA.