Lyman has introduced some innovative new products this year that will help make case preparation, reloading and firearms maintenance much easier.
Cyclone Rotary Tumbler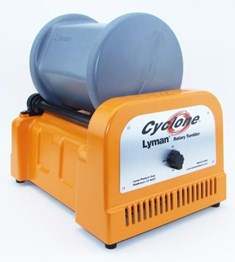 Lyman's new Cyclone Rotary Tumbler is designed to polish brass better than vibratory tumbler designs and restore even the most tarnished cases to a mirror-like shine, inside and out. This comprehensive kit includes Lyman's unique dual sifting system, which individual separates cases and pins at the same time. Five lbs. of stainless steel media pins and a sample packet of cleaning solution are also included.

The Cyclone Rotary Tumbler has a generous capacity, up to 1000 .223 cases. The tumbler's belt driven operation and lined bowl allows for smooth, quiet tumbling. Stay tuned for an in-depth review in the future.
"Bleacher" Blocks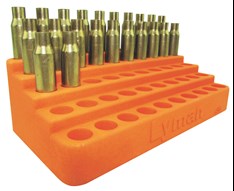 Lyman's innovative new "Bleacher" Blocks feature a stepped design, allowing you to easily grip a single case without jamming your fingers down into a group of cases. The stepped design also allows for a smaller footprint on your bench with a 50 round capacity. Made of tough, durable polymer, the blocks are molded in three sizes to closely fit a variety of rifle cases. One size fits .223 size case heads, another fits .308 size case heads and the third fits belted magnum size cases. The blocks are made of a tough and durable polymer.
Essential Rifle Maintenance Mat



Lyman received a number of requests for a high quality mat designed for use with long guns, and they listened. The new 10" x 36" Rifle Maintenance Mat is the perfect accessory for shooters working on rifles. It can also be used for shotguns. The cushioned surface is perfect for assembling or disassembling firearms. Molded-in compartments keep small parts and screws handy, but out of the way. In addition, the mat is chemical resistant and cleans up easily.

For more information or to request Lyman's newest full line catalog visit www.lymanproducts.com.