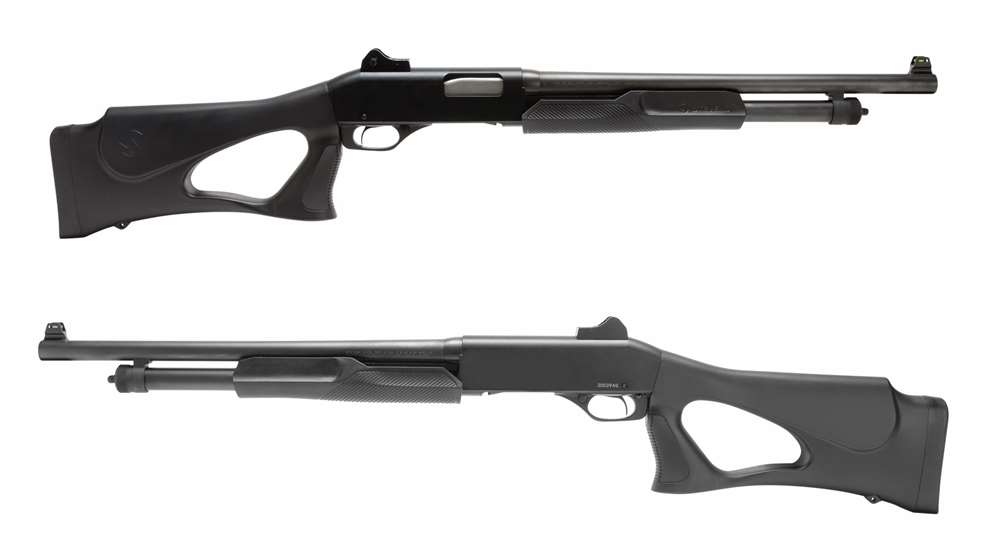 New from Savage Arms are thumbhole stock models in the Stevens 320 shotgun lineup. These new thumbhole stock pump-action scatterguns offer new options for fans of the classic Stevens design. The new offerings in the 320 line include two defensive shotgun options, as well as a turkey gun in 12- and 20-gauge versions.
The new 320 Thumbhole Security model combines a 18.5-inch barrel, 3-inch chambers, a matte black fore-end and aggressive stock texturing. Available with either ghost-ring sights (MSRP: $305) or a traditional front-bead sight (MSRP: $275), both options are available in 12-gauge and 20-gauge chamberings. Additionally, a bottom-loading tube magazine provides 5+1 ammunition capacity.


As for the 320 Turkey (MSRP: $323), it sports an ambidextrous cheek riser, plus an olive drab stock and fore-end with built-in grip textures, a chrome-alloy steel 22-inch matte black, ventilated rib barrel and the receiver is drilled and tapped. In addition, the 320 Turkey comes with an extended extra full turkey choke and adjustable fiber-optic sights. With its proven rotary bolt and dual slide bars, the new 320 Turkey Thumbhole, whether 12- or 20-gauge, is ready to hunt.


All of these new thumbhole stock pump-action shotguns are available now. Learn more at savagearms.com.
---
Read more: 
New: Savage Arms Rascal Minimalist