SIG Sauer has been a roll with great product introductions as of late, and its newest rifle is one that will certainly turn heads. The Cross precision bolt-action rifle was designed, manufactured and machined right here in the USA at the company's facility in New Hampshire. At under 6.5 pounds with a folding precision-adjustable stock, one-piece aluminum receiver and two-stage match trigger, it's obvious the Cross is intended to please the precision long-range shooting crowd, as well as backcountry hunters that appreciate compact, lightweight equipment.


Beginning with the SIG precision folding stock, it's operated with a push button. Aided by springs, the stock can be adjusted with one hand for length of pull and comb height with no tools, which is handy for shooters in the field.
The short action is built on a one-piece receiver which accepts AI magazines. With a 60-degree throw, the bolt handle is interchangeable and the bolt itself sports a three-lug design. As for the barrel, it's made from stainless-steel and has a free-floating M-Lok handguard. Additionally, the rifle has a full-length Picatinny rail that's replaceable, and allows for direct optics mounts, 20 MOA or 0 MOA. An ambidextrous safety and aforementioned two-stage match trigger (externally adjustable from 2.5 to 4 pounds) completes the package.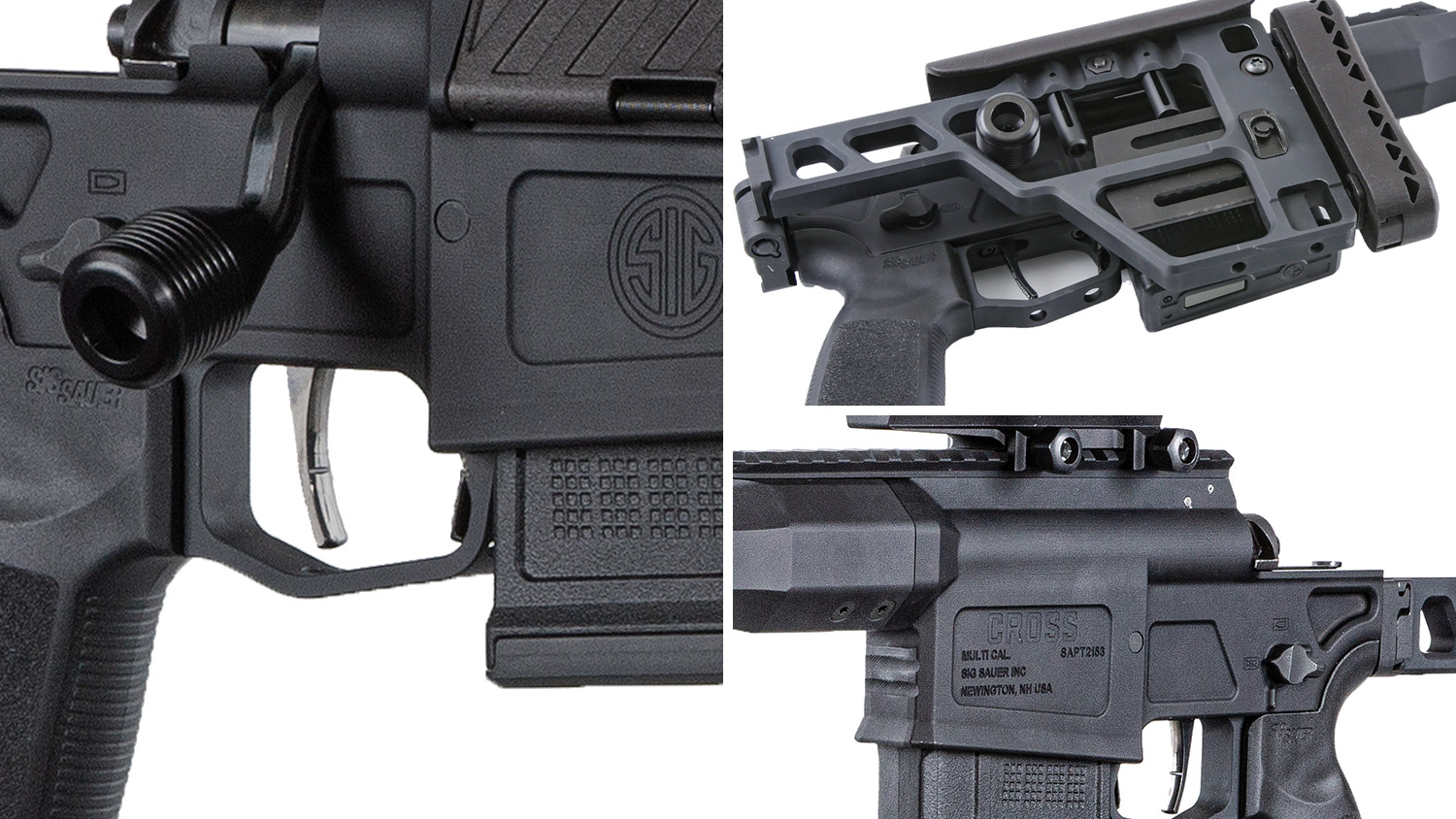 Not only is the new SIG Cross precision bolt-action rifle innovative, it's also quite affordable with a MSRP at $1,779. We expect that the street price should be closer to $1,600. Three versions will be available at launch: .308 Win. 6.5 Creedmoor and one chambered for the soon-to-be-released .277 SIG Fury hybrid ammunition. Black anodized or First Lite camouflage finishes are available.
Overall length for the 6.5 Creedmoor is 35.5 inches (27 inches folded). Barrel length is 18 inches with 1:8-inch twist. Weight sans magazine is 6.4 pounds.
The .308 Win. and .277 Fury Cross rifle models are slightly longer at 36.5 inches (25 inches folded). Also, the barrel is shorter at 16 inches with 1:10-inch twist (1:8.5-inch for .277 Fury) and the weight slightly drops to 6.2 pounds.
For more information, visit SIGSauer.com.
---
See more:
SIG's New Red Dots