When it comes to pistol-caliber carbines, for years the best competition options have been direct blowback and gas-operated 9 mm AR-15 models. One company, JP Enterprises, has risen to the top of the segment with feature-rich PCCs, such as the direct blowback AR-based GMR-15, a perennial favorite at the USPSA Multi-Gun Nationals. Last year, JP Enterprises unleashed its latest innovation, the JP-5. An engineering marvel with all the bells and whistles, the JP-5 is a lightweight competition PCC with a roller-delayed blowback operating system that reduces recoil and can also be quickly reconfigured to better cycle different loads.
Key to the JP-5's roller-delayed blowback operating system is the bolt carrier group, which includes the bolt carrier itself, bolt assembly, lock piece, firing pin and firing pin spring. It's all in the name—during operation, two rollers in the bolt assembly engage with notches in the trunnion, momentarily delaying rearward motion. As the bolt moves back, the rollers go back in the bolt while bearing on the angled surfaces of the lock piece. The angle of the lock piece determines how much force is necessary to open the bolt, and JP offers lock pieces with different angles for customizing.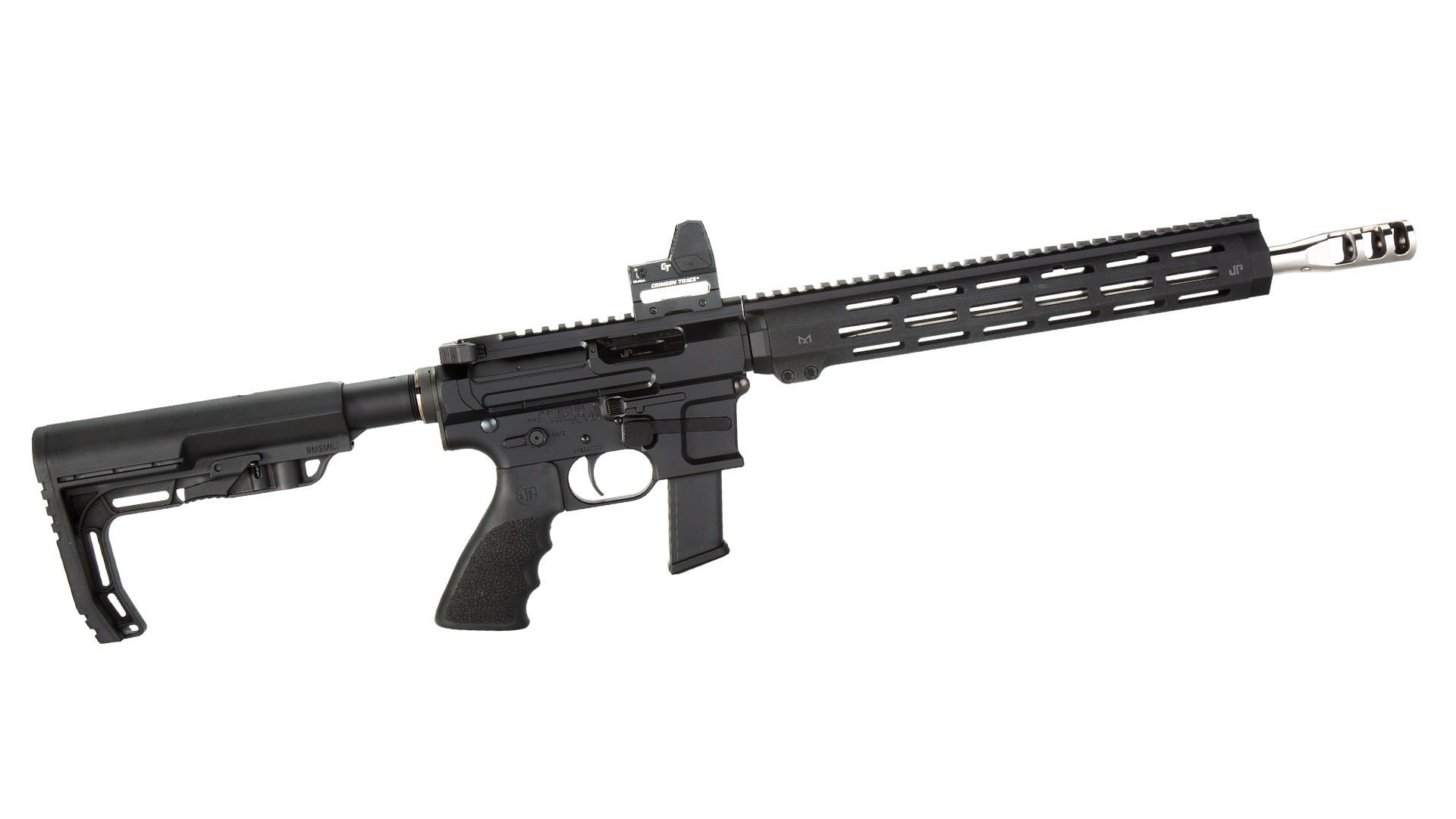 Similar to the adjustable gas block in your AR-15, by using a lock piece with a different angle in the bolt, you can fine-tune the delay of JP-5's operating system to achieve balance between function and reliability with different loads. With a higher angle on the locker, less pressure is required to open the bolt, and vice versa for lower angles. Shooters can tweak the JP-5 to run best with their specific combination of ammunition, barrel length and suppressor. If delaying the close of the bolt isn't enough to fine-tune, another way to refine JP-5 operation is adjusting the 9 mm Silent Captured Spring. With the desired lock piece in the bolt, you can change between steel or tungsten weights and different operating springs to adjust the cycle rate.
The genesis of the JP-5 goes back to 2015. After the release of the groundbreaking JP GMR-15 PCC, the company didn't want to follow it up with an incremental upgrade and experimented with different options for a PCC operating system. One stood out from the pack. "The roller-delayed blowback system has a pedigree that no other system has in the pistol-caliber cartridge firearm category. It's reliable and also offers great versatility with the ability to change lock pieces and change out rollers," said Matt Gangl, JP Enterprises engineering manager. "With a toggle lock or other systems, everything is more set in stone. Also, unlike a single-roller system, the symmetry obtained with two rollers enhances accuracy and reliability."
The JP-5 made its official debut last May at the 2021 World Speed Shooting Championship in Talladega, Alabama. To get there, the JP-5 development team surmounted multiple technical hurdles to get the roller-delayed system to function dependably in the PCC platform. "You would think you can port the system over and have it just work, but that wasn't the case at all," said Gangl. "It took a lot of finesse to get the system to feed, extract and eject reliably."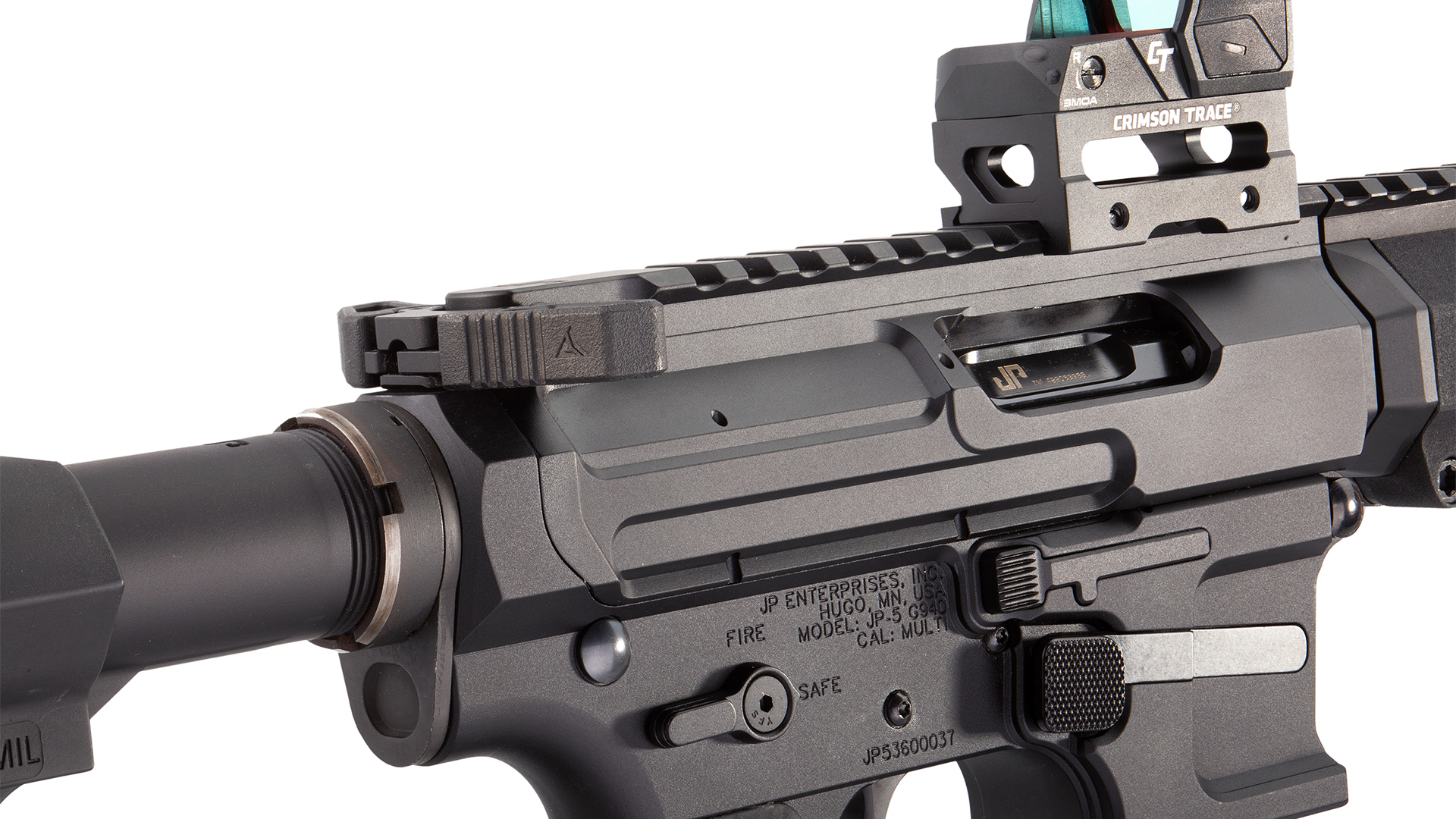 Cheap and plentiful, Glock magazine compatibility with the JP-5 is great from a user perspective, but pistol mag feed geometry is not well suited for a carbine. "There was a lot of tricky stuff we had to design around to get the Glock mag to work reliably in this platform," said Gangl. "Carbine mags such as for the MP5 will work better, but aren't nearly as available or cheap."
JP Enterprises also had an ace up its sleeve to help iron out any wrinkles—competitor feedback. Josh Froelich, a multiple USPSA PCC champion and Team JP competitor, shoots many thousands of rounds every year in training. He was one of a few PCC competitors that provided real-use feedback during the JP-5 development process. "The JP-5 shoots like a .223 Rem., not a 9 mm carbine," said "It's totally different than any 9 mm carbine I've ever shot before."
By October 2021, Max Leograndis had used his JP-5 to cruise to victory at the USPSA PCC Nationals.
JP-5 STEEL CHALLENGE CARBINE
Three JP-5 models are available with different barrel finishes, compensators, handguards and stocks. Common to all three are the machined billet JP-5 G940 receiver set, JP Supermatch barrel, Radian Raptor top-charge handle and Hogue grip. For evaluation, I opted for the Steel Challenge Carbine.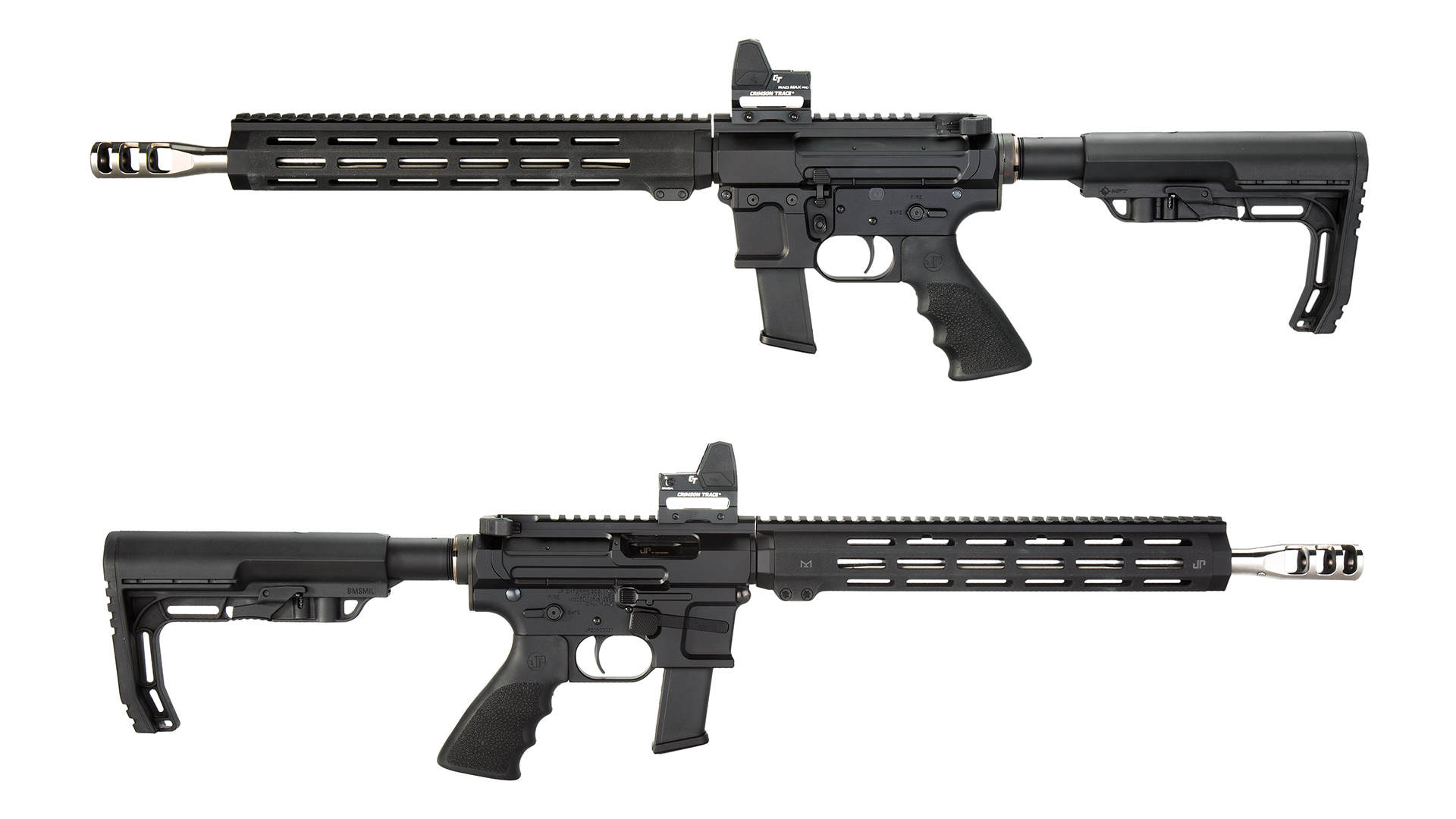 Upon first view of the JP-5 Steel Challenge, it's hard to believe that this pistol-caliber carbine weighs less than six pounds. Shedding weight everywhere possible to produce a speed demon, the Steel Challenge variant includes a Mission First Tactical buttstock and featherweight JP Competition Series polished titanium compensator.
The light contoured, 1:10-inch twist barrel is 14.5-inches long and made of polished stainless steel. On the end of the barrel is the aforementioned compensator, permanently affixed by pin and weld to bump the length up to 16 inches. Having the three-port compensator made of titanium reduces the weight at the end of the barrel, which helps with quick transitions in Steel Challenge.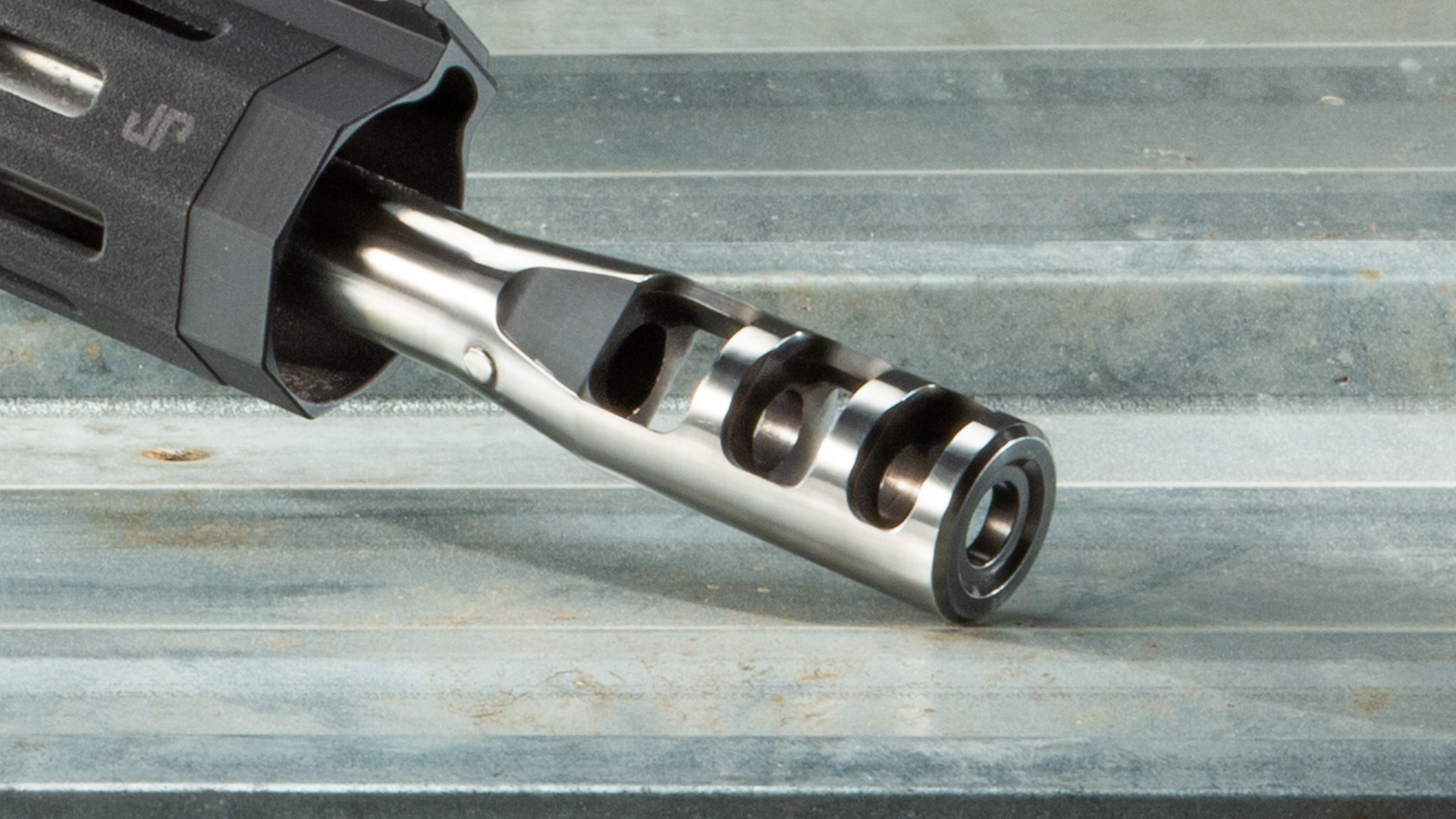 The JP-5 Steel Challenge also sports a 12.5-inch M-LOK handguard and top rail with plenty of real estate for optics, but the upper receiver can accept standard AR-15 handguards. Additionally, standard AR-15 fire-control components, grips and stocks are compatible with the JP-5.
The JP-5 Steel Challenge is equipped with a single-stage curved trigger set from the factory between three and three-and-a-half pounds. It's crisp with no creep or over travel.
All JP-5s accept standard Glock 9 mm magazines, with one 17-rounder included with purchase. For my evaluation I used 17-round mags, but to get the most out of the JP-5 in competition you really need larger 33-round magazines; alternatively, you can upgrade standard capacity ones with base plates. No matter the mag size, the generously sized, flared magwell will aid with reloading on the move in action shooting.
Although the operating system is the star of the show, the JP-5's controls are second-to-none. The bolt release, magazine release and safety lever are ambidextrous, along with the Radian Raptor SIG MPX-pattern top-charge handle. I especially liked the oversize mag release button on the right-hand side.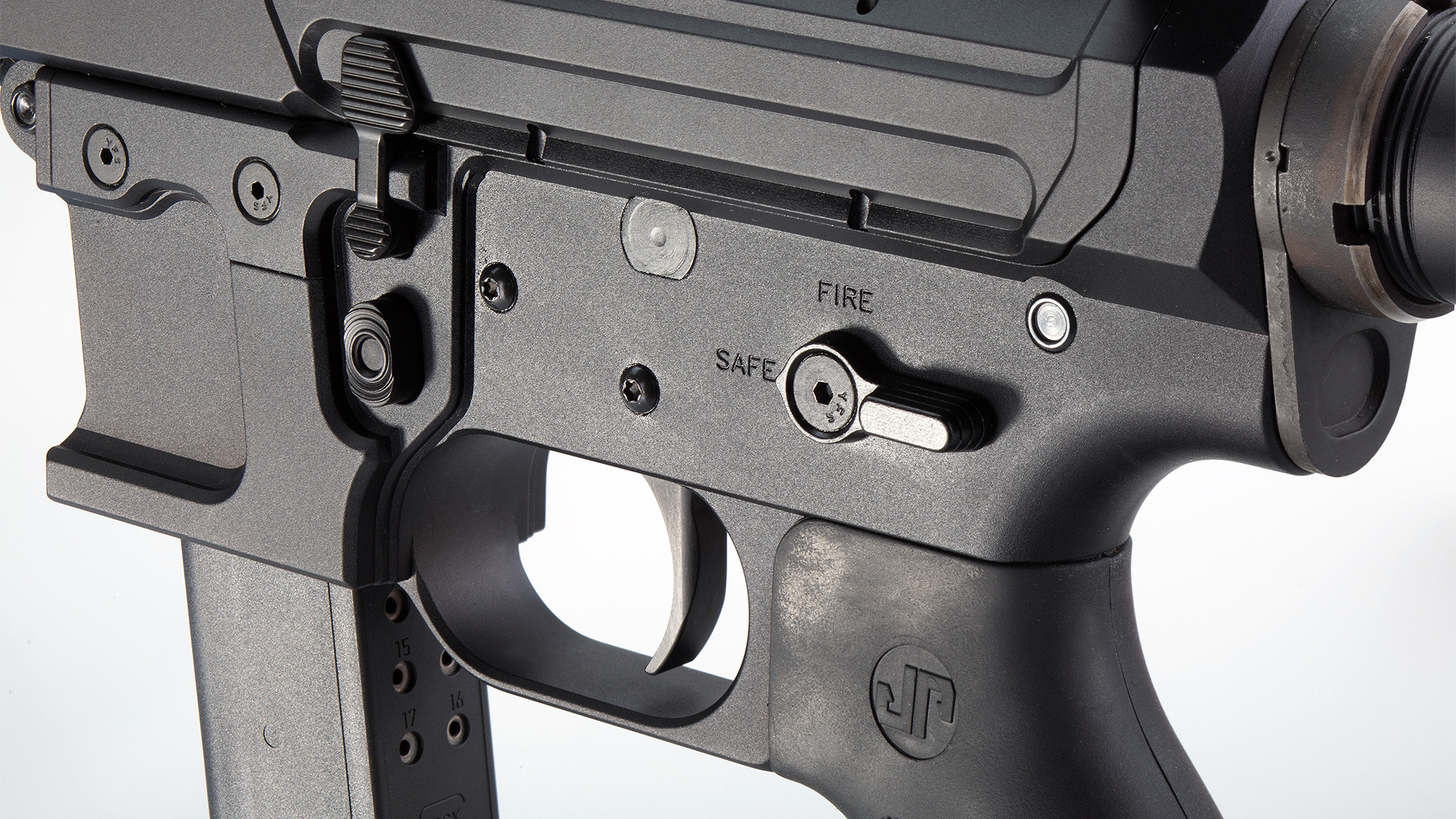 As mentioned, the JP-5 Steel Challenge Carbine is configured for maximum speed, and the furniture reflects this. Simple to adjust, the Mission First Tactical Battlelink Minimalist buttstock has the familiar button click interface. The Hogue grip with finger grooves isn't my favorite, but does the job and would be an easy aftermarket upgrade.
RANGE TIME
Although it initially shipped with 90-degree lock pieces, my JP-5 Steel Challenge Carbine's bolt arrived with an 80-degree locker, a good compromise between performance and reliability with a variety of loads. While I plan to get more lock pieces in the future for fine-tuning, the JP-5 Steel Challenge is pretty much dialed in straight out of the box.
On top of the JP-5, I opted to use Crimson Trace's CT Rad Max Pro, a red-dot optic I've long wanted to try on a PCC. With a large view window and three-MOA dot, the Max Rad Pro is a bargain at $449.99.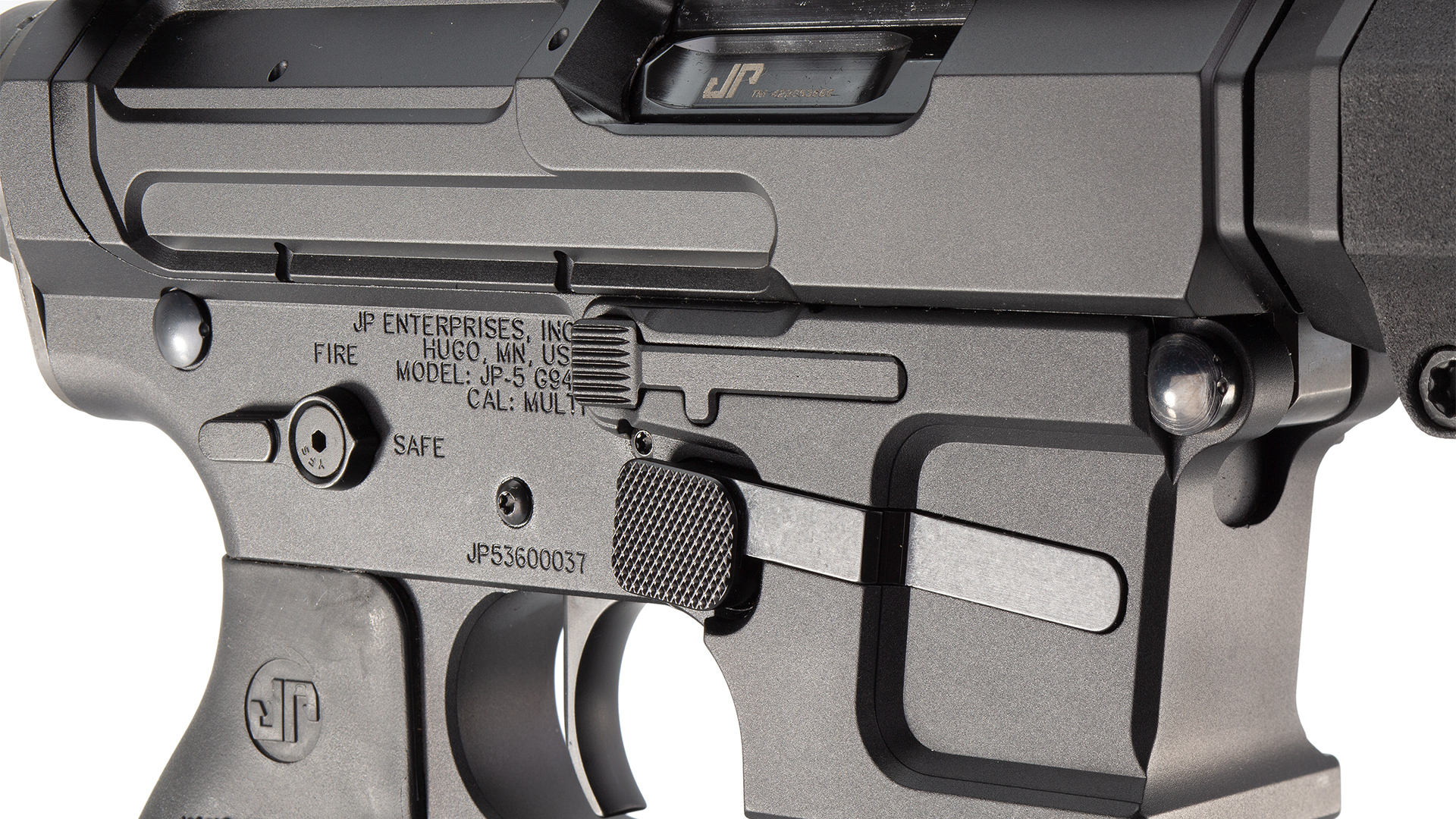 The zeroing process was simple, mostly due to the fact that the JP-5 is incredibly accurate. For my first outing with the JP-5 I grabbed a few different 9 mm ammo types, including two Federal Syntech loads, PCC 130-grain and Range 115-grain, along with American Eagle 125-grain and Speer Gold Dot 147-grain. From seated position at 25 yards using a rest, the Federal Syntech PCC 130-grain and American Eagle 125-grain both shot 1.1-inch groups.
With the JP-5's reduced operating system mass and beefy compensator, it shoots flat and the dot hardly moves. Starting with paper and moving on to steel, the JP-5 didn't miss a beat while shooting targets from 25 to 120 yards. One series that put a big smile on my face was nailing five consecutive swingers at 100 yards. Another was a clay target I busted at 120 yards on the first try. The JP-5 is ridiculously accurate and reliable, performing without malfunction for more than 600 rounds.
BOTTOM LINE
It's hard not to like the JP-5, especially as a competition PCC. With its versatile roller-delayed blowback system and massive compensator, the JP-5 is a blisteringly fast rifle that's also really accurate with gentle recoil. The included 80-degree lock piece is a great catch-all that works well with many 9 mm loads, and the option to change the lock piece angle is a PCC game-changer. There's not much out there right now that can shred faster than the JP-5.
As for the super-lightweight JP-5 Steel Challenge Carbine model, it's a real showstopper. The smooth operation of the JP-5 makes steel shooting more addictive than it already is. Plus, JP Enterprises' expertise in building pistol-caliber carbines manifests in the JP-5's outstanding ergonomics and attention to detail.
Such a solid competition PCC that will give any shooter an edge does not come cheap. MSRP for the JP-5 starts at $3,199, and the JP-5 Steel Challenge Carbine profiled here is $3,349, sans optic. For competitors sending 20,000 rounds downrange a year, the price is a bargain.
JP-5 STEEL CHALLENGE CARBINE SPECIFICATIONS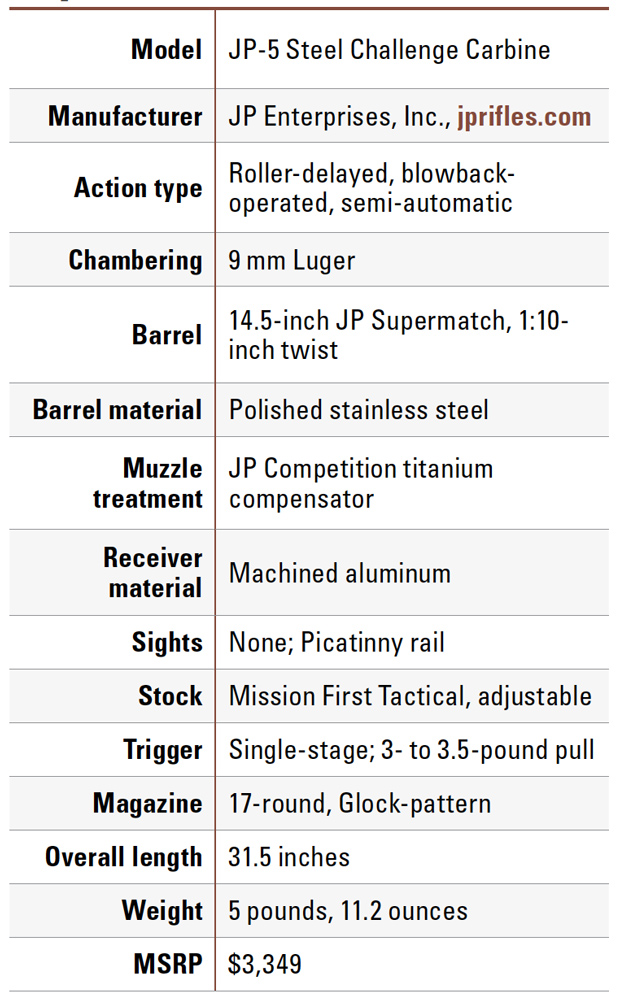 All three configurations of the JP-5 PCC started shipping in July and can be found now at the JP Enterprises website.
All photos by Peter Fountain.