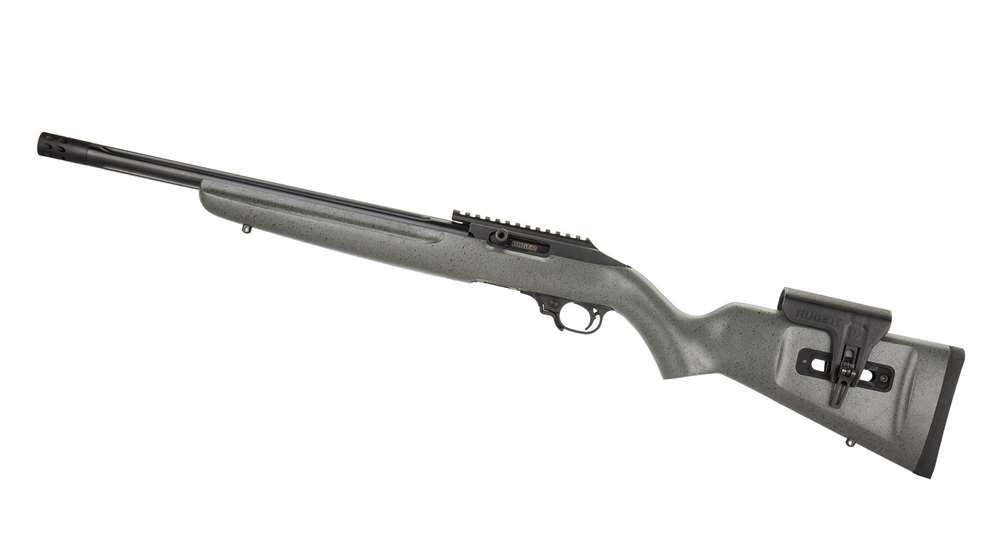 New from Ruger is a left-handed configuration of the Ruger Custom Shop 10/22 Competition rifle ($899). As the name implies, this new model includes left-side ejection and left-handed charging handle, plus a push-button cross-bolt manual safety, all fed from a detachable 10-round rotary magazine specially designed for this rifle.


As for the receiver, it is secured in a painted and textured laminated stock that provides a slip-free grip. The stock also features a fully adjustable cheek rest, which can be repositioned horizontally and vertically to allow for a custom-adjusted feel that is stable, comfortable and repeatable.
The 16-1/8-inch bull barrel is fluted to reduce weight and dissipate heat. It's also threaded with a 1/2"-28 pattern to accommodate the included muzzle brake or other barrel accessories. The barrel also features a proprietary, enhanced semi-automatic chamber which has proven to increase accuracy and precision, yet still retaining the reliable feeding and extraction the 10/22 series is known for.
The 10/22 Competition Rifle receiver is made from hard-coat anodized, CNC-machined, heat-treated and stress relieved 6061-T6511 aluminum with an integral, optics-ready, 30-MOA Picatinny rail. The dual-bedding system incorporates a second lug, ensuring the receiver is securely fixed to the stock. This rifle also sports an innovative second barrel locator to provide a free-floating barrel for superior accuracy. Additionally, the receiver incorporates a rear cleaning port, providing access to the barrel from the rear of the receiver for easy maintenance.
Feature-packed, the new Ruger Custom Shop 10/22 Left-Hand Competition rifle also comes equipped with Ruger's BX-Trigger, an oversized bolt handle for ease of charging, a match bolt release (allows the bolt to be released forward with a quick pull to the rear and release), and an extended, ambidextrous magazine release.
MSRP is $899. The rifle ships in a hard case and includes a detachable, 10-round left-handed rotary magazine, plus the Ruger Custom Shop Certificate of Authenticity, challenge coin, cleaning cloth and collectible decal.
The September 2021 issue of Shooting Sports USA will include a review of the new Ruger Custom Shop Left-Handed 10/22 Competition rifle. Subscribe for free.
---
Read more:
Review: Ruger Custom Shop SR1911 Koenig