Last October, during the three days of competition for the 2021 USPSA Carry Optics and PCC Nationals at the CMP Talladega Marksmanship Park in Talladega, Ala., Match Director Shannon Smith was taking notes and reviewing plans for the changeover of the stages in preparation for the next event—the 2021 USPSA Infinity Racegun Nationals. Working with Walt Paegel, Mike Howell, John Serafin, Troy McManus and Rob Cresswell, we wanted to have a plan in place while hitting the range the off day between both matches.
At the end of the day, 17 of the 18 stages were reset or completely changed. In Zone A, Paegel completely rebuilt Stage 1 and reconfigured Stages 2 through 4 with wall, fault line and target moves, while Stage 5 stayed the same, since it was going to be a new classifier.
Mike Howell's Zone B had Stage 6 with some wall and target moves, while Stages 7 and 8 were completely rebuilt. Stage 9 had several target changes and added activated targets. Stage 10 added two poppers and went to IPSC targets, and Stages 11 and 12 were rebuilt.
Zone C had several targets moved, as well as some changing from USPSA to IPSC-style targets or vice-versa. Stage 15 was moved and changed up, Stage 17 had several targets moved and Stage 18 removed the stomp pad and prop and moved targets and steel around.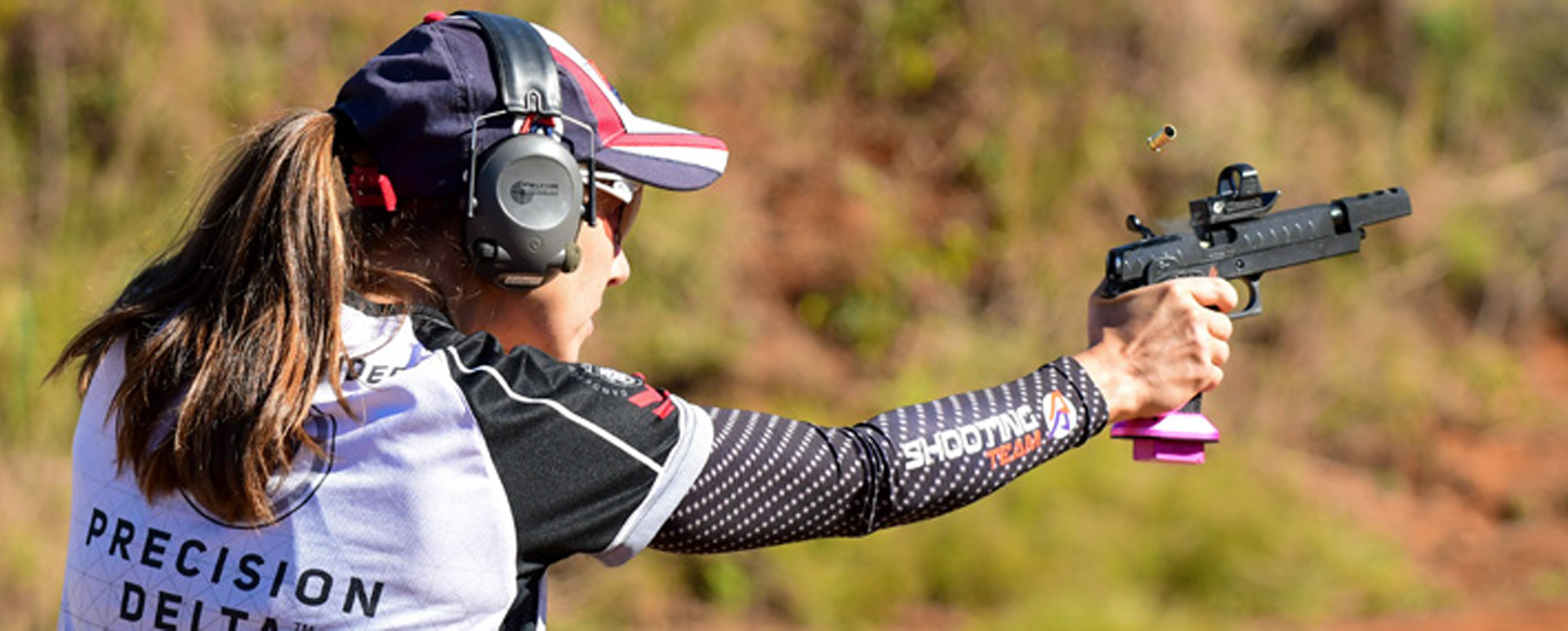 Open and Limited
The 2021 Infinity Racegun Nationals included the two original USPSA divisions—Open and Limited. At the top of the podium in Open was Christian Sailer winning two back-to-back Nationals. This year he was going for his third. Mason Lane took the Limited National title in 2020 and was back again to see if he could repeat. But these two shooters were going to have to beat the competition, top shots such as KC Eusebio, Chris Tilly and JJ Racaza in Open. Shane Coley, John Browning and Blake Miguez were going to be there in Limited to make it hard on Mason Lane. Let's not forget Nils Jonasson, who came in fourth in 2020 shooting Minor; he was back to try to upset the field as well. Further, the Ladies had Jessie Harrison and Jalise Williams trying to win consecutive titles as well.
The 442 competitors, with 152 in Limited division and 290 in Open, were ready to take on the reconfigured 18 stages. The staff would have the first two days followed by three days of competition broken up into A.M. and P.M. squads. With the stage changes, the available points also changed: Zone A was now 141 rounds for 705 points; Zone B, 130 rounds for 650 points; and Zone C, 132 rounds for 660 points.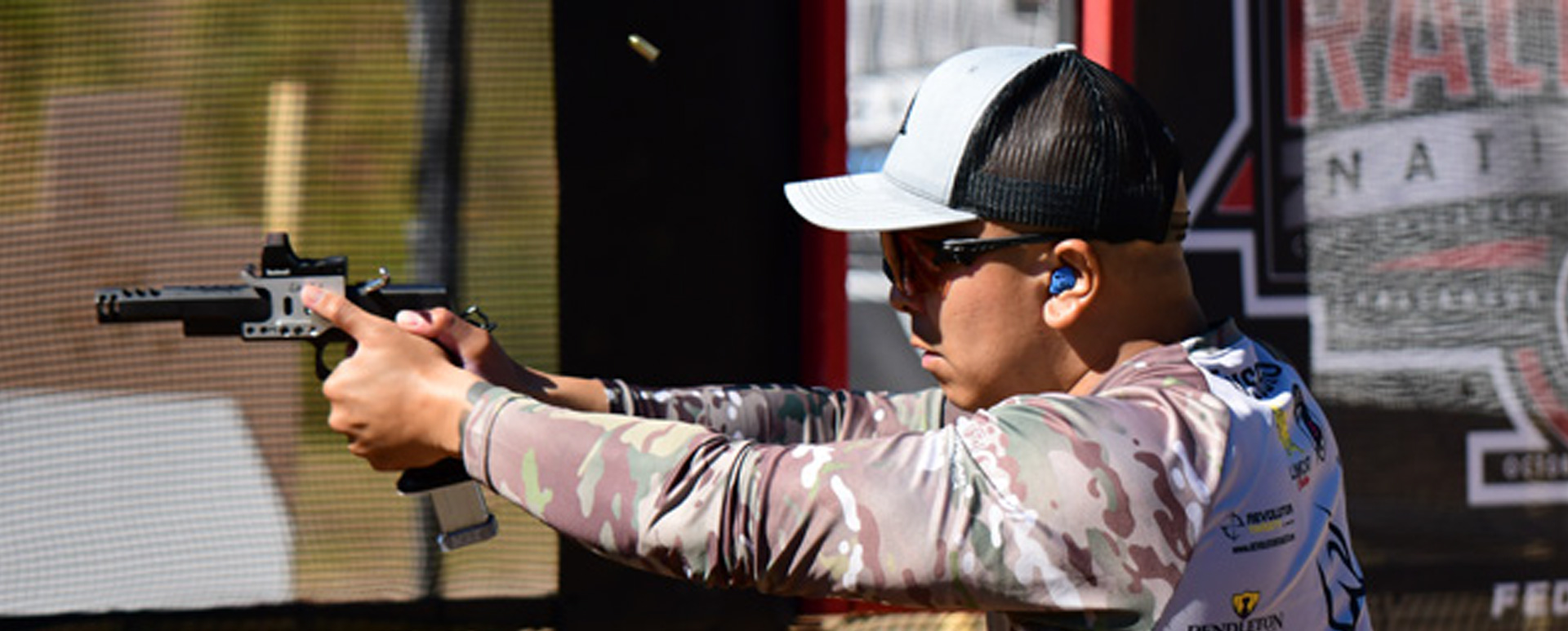 Not only did the start position change to an uprange position for Stage 1 "See What Happens," but several walls were moved, and the seven poppers, along with most of the targets, also changed positions. There were 29 rounds worth 145 points at stake here when the Open Super Squad arrived, while the Limited Squad would start on Stage 2 for their first day of competition. This stage was won by Cory Laurenson in Open and Blake Miguez in Limited, barely edging out Nils Jonasson on this one. Nils, shooting minor, ran this stage in 19.85 compared to Miguez' 18.08 with a miss. Nils gave up only three C hits.
Stage 2 "Tell the Others" also had several targets moved, which created several options on how to attack this stage. With 14 USPSA targets and two poppers, one that activated the max trap, and hand on the marks start position, most competitors took the far right targets and then headed left, but how they worked through the far back left arrays and the port were different. Shane Coley won the available 150 points here in Limited with a 19.41-second run. KC Eusebio ran this in 17.19 seconds in Open for the stage win.
Most of the downrange targets on Stage 3 "Well Now You've Got It" were moved, as was the start position. The three poppers were also changed on this stage, but the long shots were still here. With 155 points available, Racaza took his first stage win over Eusebio. The current Limited Junior Champion and Team Infinity member Gianni Giordano had his first stage win with a 17.09-second run, shooting 146 of the points.
A downrange and unloaded start would face the shooters now on Stage 4 "Take My Oath On It." Still a 20-round stage but with 10 USPSA targets now, competitors would have to work back uprange, stopping at the port in the wall before rounding the corner to finish on the far left. Competitors coming out of the port and going hard to the left had them on their toes being cautious of their muzzles. Phil Strader won this stage in Limited with a 13.86-second run. John Vlieger was back behind his Raffety Custom Open gun taking his first stage win with a 10.93-second run with only two Cs.
The only thing that changed on Stage 5 was the name, "Let's Finish It." Mason Lane took a stage win here in Limited with a 7.27-second round, and Christian Sailer finally grabbed a win on the last stage of day one's competition. Racaza was one point up on Sailer after the first day in Open, but the one that surprised everyone was Nils Jonasson leading Limited, shooting Minor with his Canik. Jonasson was running the new METE frame and the slide from his Production gun in this match. The Ladies in Open were being led by Sloan Sanders, and Jessie Harrison and Stacey Frezzolini were only two points apart right in second and third. In addition, Justine Williams jumped out to a 40-plus point lead in Limited, with her sister in second and Candice Juliano in third.
Walls and targets were moved on Stage 6 "No Arguin' That" but there was still a lot of ground that needed to be covered on this 28-round stage worth 140 points. Hardcover and no-shoots mixed in with some long shots on mini-poppers added to the challenge. Lane took another stage win here with an 18.47-second run over Jonasson's 18.54. In Open, Eusebio's 15.30-second. run earned him a stage win over Sailer.
Stage 7 "Heard You the First Time" was completely rebuilt into a new stage with five USPSA targets and two poppers. Two outside targets, one on either side of the walls, needed to be engaged before moving forward and taking the remaining eight shots through the port. All A hits in 6.50 seconds gave Sailer a stage win, and in Limited, Charlie Perez's 8.14-second time with one C gave him the stage win.
Stage 8 "I have Nothing Left" was also a completely new stage in this shared bay, with five USPSA targets and two poppers, both of which activated max traps that were visible at rest. Casey Reed had a stage win here in Limited and Lesgar "Speedy" Murdock lived up to his nickname with a 5.94-second run, winning the stage in Open.
The fault lines were left in place, but targets were moved and a bobber and swinger were added to Stage 9 "You Gonna Do Something." Shooters were going to have to work all sides of the Y-shaped shooting area, and timing was going to be crucial on the activated targets—especially the swinger. After activating the swinger, competitors found double targets on it, stacked with hard cover. It was not easy. Chris Tilley ran this in 16.01 seconds with his Open gun for a stage win, while Coley grabbed another stage win in Limited.
The speed shoot, Stage 10 "The Misery of It" changed to three IPSC targets, still with right and left tip-outs and the bobber in the middle. The two poppers activated the tip-outs, but this time just the right popper activated the bobber in the center array. The timing was changed up on the tip-outs as well, with added weight to make them snap back faster. Blake Miguez was not fazed; his 3.88-second run gave him a Limited stage win. Eusebio won this stage in Open with a 4.37-second run. Eusebio would also take the win on Stage 11 "You Don't Ever Want to Know." This was another stage that was changed up with target and wall moves. Paul Kerr's blazing scoop draw was in effect for a Limited Division stage win with a 7.27 second time with only four Cs.
The last stage in this zone, Stage 12 "They Got a Sign There or What" was completely rebuilt, no longer having a low port. Fault lines, walls and targets were all rebuilt into a 20-round stage with 10 USPSA targets. Hard cover and no-shoots were set just right to make you change up speed on this one, but not so much for Jonasson's 10.91-second time for a stage win. Eusebio was on a roll on day two, taking this stage in Open.
At the end of day two, Miguez was able to take the lead in Limited with Jonasson only 14 points behind in second place. Mason Lane was back in third. Sailer had jumped back up and had taken the lead in Open, but KC Eusebio was only eight points behind after a solid performance on day two. Racaza was in third place. The ladies in Open were in a virtual three-way tie with only four points separating Sanders, Harrison and Frezzolini. Justine Williams was still leading in Limited by nearly 40 poiints.
Only six stages were left to determine the 2021 National Champions in Limited and Open Divisions. The last day of competition is always exciting, especially after all of the shooting that had taken place up to this point. This was also the last day of all the National events for 2021.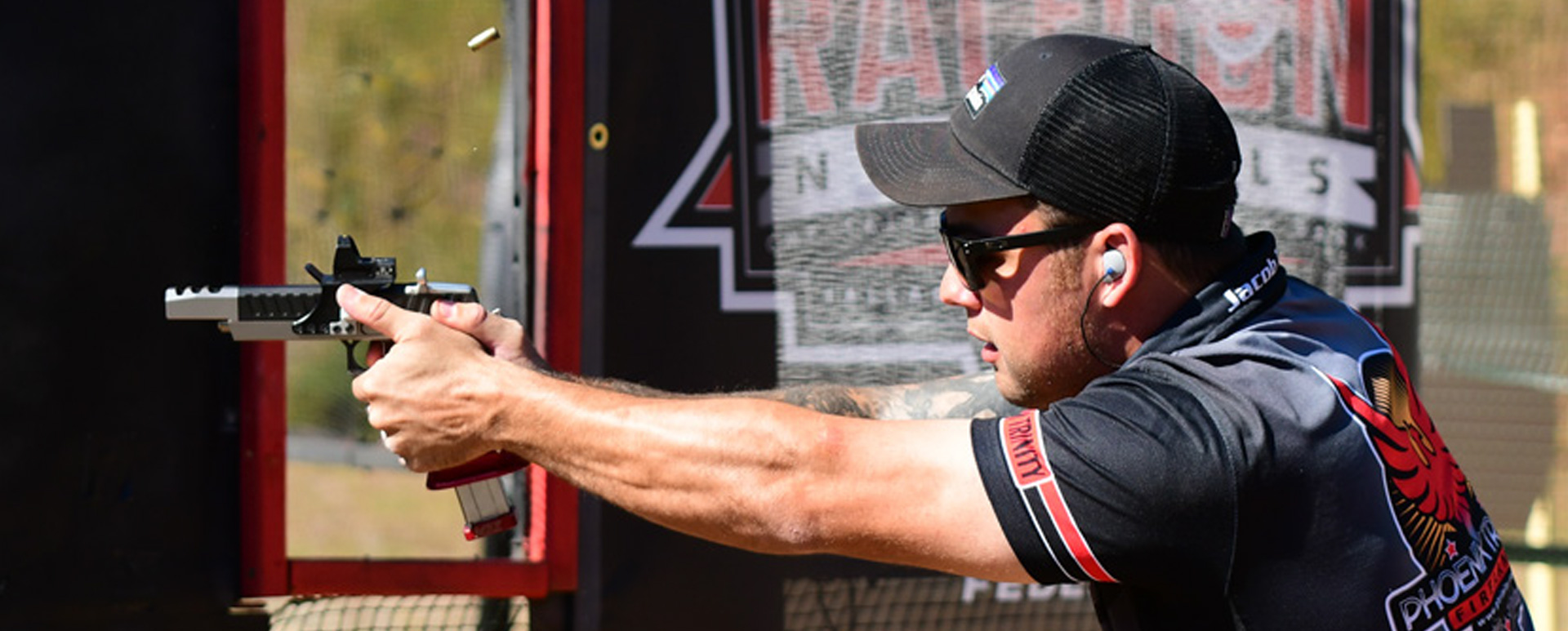 Targets were swapped from IPSC to USPSA on Stage 13 "For What?" and now the last three targets had to be engaged strong-hand only. The start position also changed as well as some of the targets which had been moved, with a mix of hard cover and no-shoots added in. Chris Tilley started the third day off with an Open division stage win, running this in 10.86 seconds with 86 of the available 90 points shot. Jonasson was making his move, taking the stage win here with an 11.61-second time and only three Cs.
The start position changed to hands on marks on the forward downrange wall for Stage 14 "Don't Know How." There were 140 points up for grabs here and as close as some of these battles were, every one of them was needed. You could still take the longer shots on the six poppers and eliminate a position and go to the left first, working your way to back far left and then right corners. Coley moved through this with a time of 18.88 seconds for a stage win, and Sailer's time of 16.44 seconds with only five Cs earned him an Open stage win.
Stage 15 "You Just Sound Like One" was reconfigured, removing the stomp pad, and the max traps were now activated off the poppers and remained visible at rest. This was all about timing. Could you get all four poppers down and then the max traps? Or would you take the less risky plan and take two poppers, the max trap and then the other two and max trap. The top four times in Open were 3.24, 3.27, 3.29 and 3.30 seconds, all with all A hits. Sailer was the fastest, taking the win here. Coley had another win here with all A hits in 3.50 seconds.
Stage 16 had no changes other than the name to "A Tub Like You." It was still two strings, strong- and weak-hand only. And yes, there were still people asking about the weak-hand reload. Mason Lane was a little quicker with his iron sights here with a time of 19.23 seconds, repeating a stage win. Open had Lesgar take another stage win with a 19.03-second time and six Cs.
The start position was changed for Stage 17 "Thanks for Always Being There." IPSC targets were swapped for USPSA ones and several were moved around, changing up options on how to run this. What didn't change were the two difficult swingers. Tilley's 17.73-second time with 143 points secured another stage win for him. Sailer ran it in 16.68 seconds, but faltered with his second miss of the match. Pereira Filho took the stage win here in Limited. Both Coley and Browning were pushing hard but dropped too many points, and Coley picked up a miss.
Going into Stage 18, Sailer was leading Open by over 60 points, but Racaza and Eusebio were only one point apart for second place. Miguez was leading Limited division after Stage 16, but his two misses on Stage 17 put him back to fourth. Lane was only seven points up on John Browning and Nils was seven points behind Browning in third place. As I said earlier, the last day of competition is always exciting.
The ammo can was gone and so was the stomp pad on Stage 18 "Already Have a Guilty Conscience." No tricks, just straight-up shooting as the competitors worked their way down the 35 yard shooting area, transitioning from left to right and ending with an array of poppers that activated the two fast-moving swingers. Jonasson was not letting up here, taking his final stage win with only two C hits in 19.17 seconds. Nils came up 10 points short for the runner-up spot, with Mason Lane going back-to-back with his second USPSA Limited division title. Additionally, Shane Coley finished third.
Both Racaza and Eusebio knew how close they were, pushing hard at this last stage. Racaza took the victory with a time of 15.67 seconds. Eusebio was a bit faster with a 15.09-second time, but dropped eight additional points. Sailer ran it conservatively in 17.62 seconds but held on to the lead, winninig his third USPSA Open division title. Racaza would finish second and Eusebio would take third.
Jessie Harrison won five of the last six stages to go on to win another Ladies Open National Championship, with Sloan Sanders the runner-up and Stacey Frezzolini in third place. Justine Williams also took five of the last six stages to take the Ladies Limited division title, with sister Jalise Williams in second place and Candice Juliano in third.
It was an amazing year for the USPSPA Nationals, with more than 1,600 competitors attending all of the different events. A huge thank you to the CMP Marksmanship Park and their staff for hosting all of the events in 2021. To all of the hard-working staff, as well as their families who gave up so much of their time to make these events happen, thank you. Also, a big thank you to all the competitors, ones that were there for their first time or their 20th Nationals.
Check the USPSA website for more information about 2022 events.
2021 USPSA Open Nationals Leaderboard
National Champion: Christian Sailer
2nd Overall: Simon Joseph Echavez Racaza
3rd Overall: KC Eusebio
Ladies National Champion: Jessie Harrison
2021 USPSA Limited Nationals Leaderboard
National Champion: Mason Lane
2nd Overall: Nils Jonasson
3rd Overall: Shane Coley
Ladies National Champion: Justine Williams
Article from the January/February 2022 issue of USPSA's magazine.