The 2022 Dixie Match was held at Gateway Rifle and Pistol Club in Jacksonville, Fla., April 8-10. This annual NRA Regional Precision Pistol Championship continues to be a highlight for many Florida Bullseye shooters and was also attended by civilian and military competitors from 10 states. Despite heavy rain showers on practice day, breezy conditions, sunshine and cooler temperatures prevailed over the three-day match.
Jon Shue (Liberty, N.C.) scored 2648-139X to take "Top Gun" honors, the NRA Regional title and Dixie Match Championship. In second place from the U.S. Army Marksmanship Unit was Carl Clegg (Columbus, Ga.) with 2639-144X. Joshua Kingery, also from the AMU, finished third with 2610-98X. Top shot in the High Master Class (Civilian) was Daniel Kupar (Whitehall, Pa.) with 2605-107X, and High Master (Service) going to the AMU's Walker Buckman with 2589-77X. Top shot in the Master Class was Douglas Roe (The Villages, Fla.) with 2542-68X. Expert Class (Police) went to Chris Liming (Tampa, Fla.) with 2549-67X, and High Expert Class (Civilian) was Shelly Liu (Cary, N.C.) with 2481-60X. The top combined Sharpshooter and Marksman Class competitor was Harrison "Buck" Johnston (Fernandina, Fla.) with 2333-31X. Winning the .22 Caliber Only Aggregate was Lake Yoke (Naples, Fla.) with 2422-44X. Special category awards for High Civilian, High Veteran and Open division went to Jon Shue, and the High Service shooter was Carl Clegg.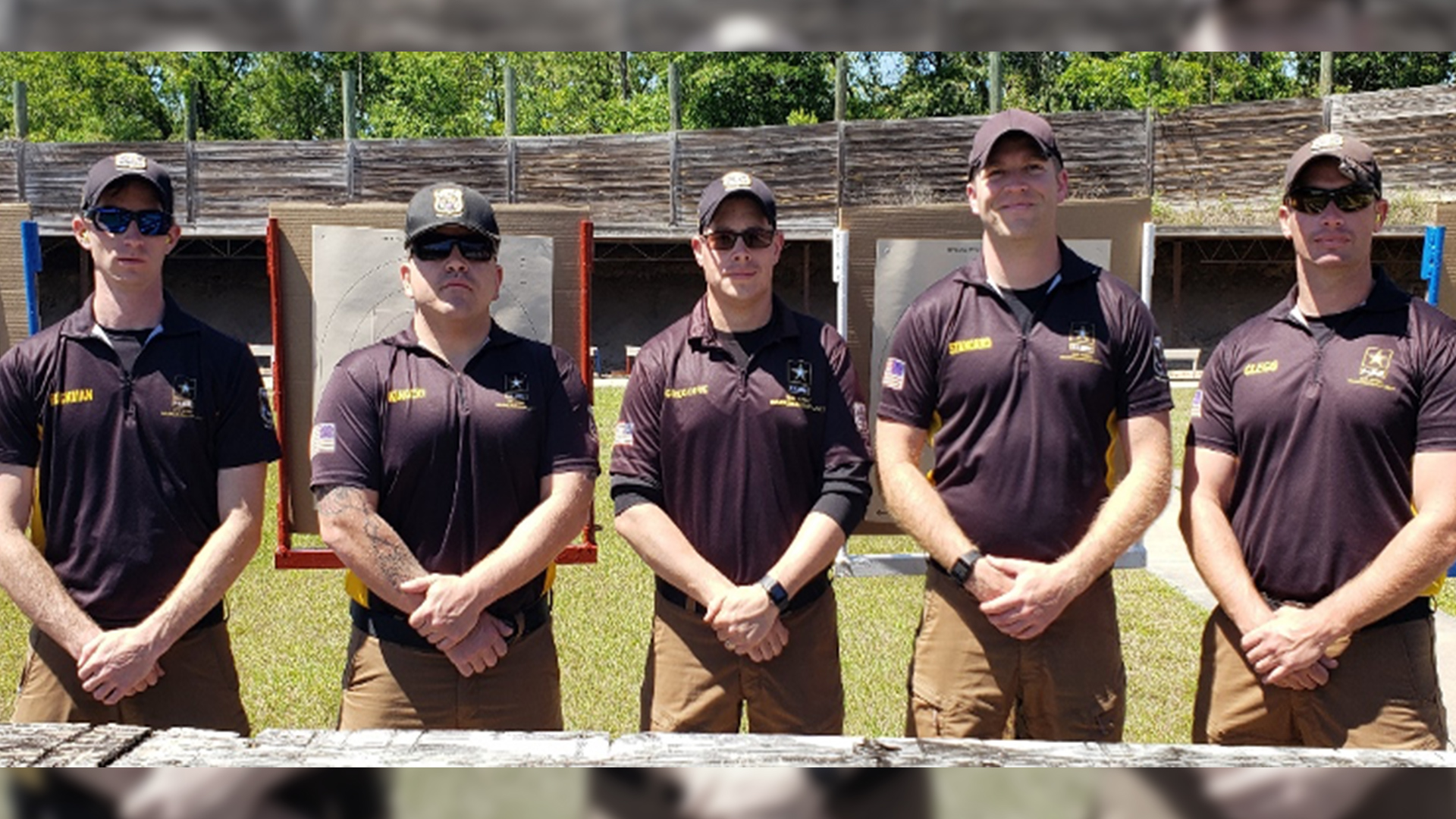 The AMU won the overall four-person team match (combined scores from .22 Rimfire, Center-Fire and .45 team matches) with 3449-113X. Winning the two-person team match was Team Fleming with 1636-42X. As for the .22 Only two-person team match, it was Queen's Lead with 1640-26X. Additionally, the Florida Sport Shooting Association two-person team fired a score of 1526-28X.
Winning the NRA Distinguished Revolver Match was the AMU's Jason Gregoire (Columbus, Ga.) firing 269-6X, followed by Randy Erickson (Jacksonville, Fla.) with 267-4X. In third place was Chris Liming (Tampa, Fla.) with 255-4X. The Civilian Marksmanship Program Service Pistol Excellence-in-Competition Match had 26 competitors and the top spot went to Carl Clegg with 288-11X, followed by Jason Gregoire, 288-8X, and Randy Erickson in third with 282-13X. The CMP's .22 Rimfire Excellence-in-Competition Match had 32 shooters. Topping the leaderboard was Jason Gregoire with 293-14X, followed by Tony Silva (Snowflake, Ariz.) with 276-6X and Tom Davis (Evans, Ga.) with 275-6X.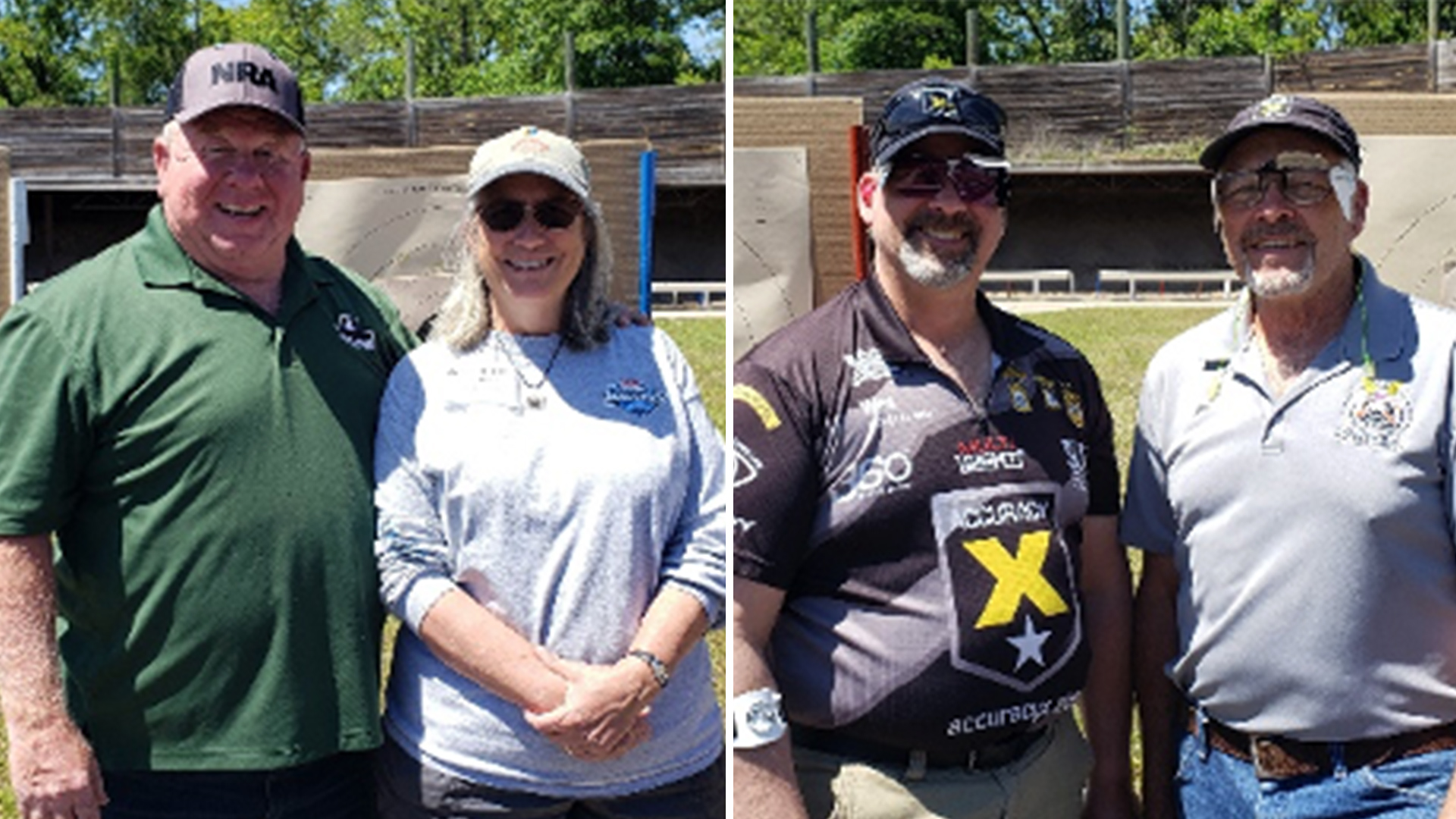 For the fourth consecutive year, air pistol was offered as an additional event. The 20-shot air pistol "fun" match and a "closest to the center shot" competition both had solid participation. The air pistol events were fired in the Bill Craig facility. Proceeds from the match were divided between top scoring competitors and the Florida Sport Shooting Association to assist its junior programs.
The annual Dixie Match remains one of the best attended Bullseye matches in the southeast and continues to attract more shooters. There were several first-time Dixie Match shooters coming to Florida from Pennsylvania, North Carolina and other states. Calling a superb line for all three days was Chief Range Officer Larry Watkins, assisted by Range Officers David Poole, Marion Estes, Dennis Faye, Robert Fanucci and Buck Johnston. Dennis and Buck also helped with the air pistol competition. Randy Erickson assisted as Jury Chairman. Recording and posting all scores were Chief Statistical Officer Sue Carter, assisted by Karen Davis. There were many compliments from competitors regarding the excellent Bullseye facilities at Gateway and the friendly, professional and safety-conscious staff. [The Match Director was the author, Ted Carter—Ed.]
Many thanks to all the competitors for their support, some driving hundreds of miles to attend the match. A special thank you to our many sponsors: Magpul, Swab-its, Hornady, Black Rifle Coffee Company, Pyramyd Air, Ransom International, Mission BBQ, Starline Brass, MidwayUSA, Precision Target Pistol Grips, Florida Sport Shooting Association, Clenzoil, Esca Tech Inc., Pardini USA and Visit Jacksonville for their generous support of our match. Finally, a well-earned thanks to the Dixie Match staff, Gateway range officers, office staff and the range maintenance personnel who made this another great shooting event.
Planning has already started for the 2023 Dixie Match, and we are looking forward to another exciting competition. To view more scores and match photos, please go to this link.