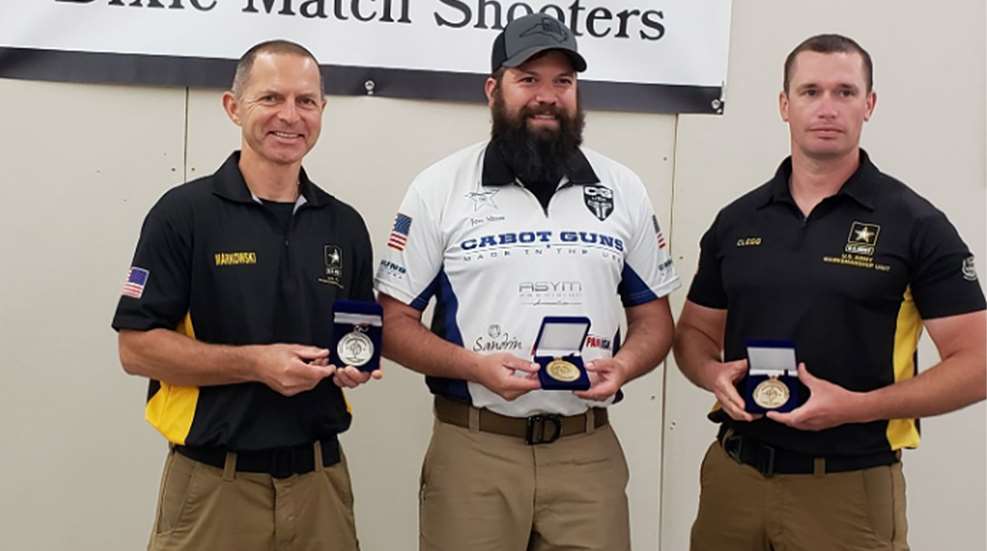 In April, the 2021 Dixie Matches were held at Gateway Rifle and Pistol Club in Jacksonville, Fla. The annual NRA Regional Precision Pistol Championship is already a highlight for many Florida Bullseye shooters, and this year the match attracted military and civilian competitors from 11 states. After COVID forced the cancellation of the 2020 Dixie Matches, 61 shooters were happy to return to Florida for NRA Bullseye pistol competition.
Competing at his first Dixie Match, past NRA National Pistol Champion Jon Shue (Liberty, N.C.) scored 2663-142X to win the NRA Regional championship, and as Top Gun he was also named the Dixie Match Champion. In second place was Greg Markowski from the U.S. Army Marksmanship Unit (AMU) with a score of 2657-114X. In addition, Carl Clegg, also with the AMU, finished third with 2655-151X. (Check out the gallery at the top of this article for photos.)
Leading the High Master Class was the AMU's Joshua Kingery with 2628-115X. Top shots for the Master Class were Mark Prince of the AMU with 2594-94X for service and Gino Celia (Johns Island, S.C.) with 2579-80X for civilian. Taking the Expert Class was Tom Nussbaum (Savannah, Ga.) firing 2522-61X. High Sharpshooter honors went to James Knerr (Pensacola, Fla.) with 2340-29X. Top honors in the Marksman Class went to Todd Demi (Ponte Vedra, Fla.) firing 2284-24X. Winning the .22 Caliber Only Aggregate was Abbie Leverett (Bainbridge, Ga.) with 2550-68X.
Special Category Awards for High Civilian and High Veteran went to 2021 Dixie Match Champion Jon Shue. High Service shooter was Greg Markowski (Columbus, Ga.) and the Metallic champion was Mate Standard (Waverly Hill, Ga.). As for High Senior, this year Hiem Trang (Germantown, Md.) was the victor, while High Woman went to Jill Knerr (Pensacola, Fla.), High Grand Senior to Ed Grove (Pasadena, Md.) and Abbie Leverett was the High Junior.
The AMU won the overall 4-person team match (a combination of scores from the .22, Centerfire and .45 Team Matches) with 3497-164X. Winning the 2-person team match was the All Guard with 1721-67X. Winning the .22 Only team (2-person) was the Maryland State Ladies with a score of 1421-19X. 
Seventeen shooters competed in the NRA Distinguished Revolver Match. The AMU's Jason Gregoire (Columbus, Ga.) was top shot with 283-6X, followed by teammate Greg Markowski with 277-7X and All Guard member Seth Innes (Hollywood, Fla.) in third place with 268-4X.
As for the CMP Service Pistol EIC Match, Jason Gregoire rose above 32 fellow competitors with a score of 292-9X for the victory, followed by Greg Markowski with 290-13X and All Guard member Tim Barber (Cottondale, Fla.) in third with 282-12X. The .22 Rimfire EIC Match had 36 shooters. Winning the match and setting a new range record in the process was Greg Markowski with 298-18X, followed by Jason Gregoire scoring 295-15X and Tim Barber's 285-10X.
For the third year, air pistol was offered as an additional event for the competitors. The 20-shot air pistol "fun match" and a "closest to the center shot" competition both had strong participation. Proceeds from the match were divided between top scoring competitors and the Florida Sport Shooting Association to assist with junior programs.
The annual Dixie Match is one of the best attended Bullseye matches in the southeastern U.S. and continues to attract more shooters. In addition, many first-time shooters attended the match from other states—even from as far as Maryland. Many thanks to all of the competitors for their support.
A special thank you to the match sponsors: Magpul, Swab-its, Hornady, Black Rifle Coffee Company, Pyramyd Air, Capstone Precision Group/SK Ammunition, Ransom International, Mission BBQ, Starline Brass, MidwayUSA, Precision Target Pistol Grips, Florida Sport Shooting Association, Gun Goddess, Otis Technology, Pardini USA, Brian "Gunny" Zins and Visit Jacksonville for their generous support.
Finally, a hearty thanks to the Dixie Match staff, Gateway range officers, office staff and the range maintenance folks who made this another great shooting event. Calling a superb line for all three days was Chief Range Officer John Michalski. Assisting him were Range Officers David Poole, Marion Estes, Robert Fanucci and Buck Johnston. Larry Watkins was the CRO and scoring officer for the air pistol competition. Randy Erickson assisted as jury chairman. Recording and posting all scores were Chief Statistical Officer Sue Carter, assisted by Larry Watkins and Lisa Hensler. There were plenty of compliments from competitors regarding Bullseye pistol facilities at Gateway and the friendly, professional and safety-conscious staff. [The Match Director was the author, Ted Carter—Ed.]
Planning has already started on the 2022 Dixie Match and we are looking forward to another exciting competition. For a complete listing of scores and match photos, please go to: www.grpc-jax.com/disciplines/outdoor_pistol.html.
---
Read more:
2020 NRA State Champions