There is no denying the popularity of the USPSA Carry Optics Division. It has become the most popular division being shot in USPSA, with almost 40 percent of all results submitted this year. It wasn't always like this—the first USPSA Carry Optics Nationals only had 76 competitors in 2016. There were only 72 competitors at the USPSA Optics Nationals in 2017, followed by 85 in 2018. The first big jump in participation was in 2019 at the USPSA "HICAP" Back to Back when it was paired with Limited Division and resulted in 189 competitors at that Nationals. In 2020, 208 competitors in Carry Optics turned out for the "Factory Gun" Nationals with Carry Optics and Production paired together. Last year, that number jumped to 282 competitors in Carry Optics at the Blue Bullets Pistol-Caliber Carbine/Carry Optics Nationals, second only to Open division that was 291 competitors as far as division participation went in 2021.
It was obvious to me that, when planning 2022, Carry Optics needed its own standalone nationals event. SIG Sauer, who has supported the growth of this division not only with their sponsorship but offering a total package solution with their P320MAX with Romeo3MAX optics, was signed on as the title sponsor for the event. The action pistol bays at the CMP Marksmanship Park in Talladega, Ala., would welcome the 427 competitors eager to take on the 19 stages that were laid out for this year's event.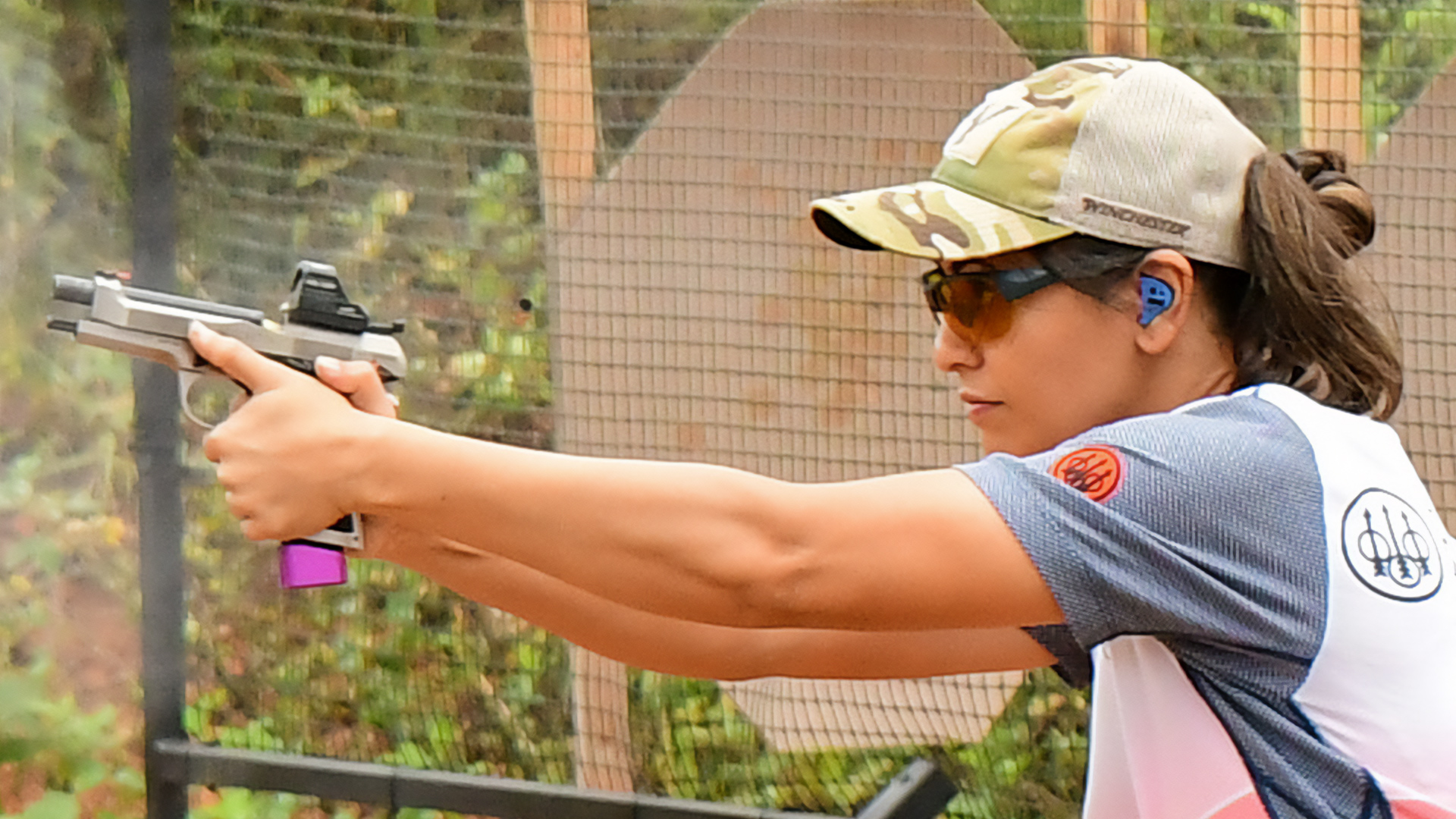 The stages were divided into three zones and required 396 rounds minimum to complete. Each zone had different challenges for the competitors to face over the three days of competition September 9 through September 11. The volunteer staff of Range Officers and support staff shot the match September 7-8. The stages for the match were designed by Co-Match Directors Shannon Smith and myself, along with Drew Coleman, who submitted several stages. There were a few twists on some of the stages where testing the standards type of shooting skills was done a little differently. Some of the stages were designed to be more demanding on shooting positions and shots. This is Nationals, and skills are to be tested.
The Carry Optics Super Squads, one for men and one for ladies, started their match in the third zone on Friday afternoon. This was a change in the matrix which was decided well ahead of the match, originally to try to accommodate live streaming needs. The bays in Zone 3 at Talladega do not have a dedicated power supply, so our thinking was to have those two squads finish the match in zones 1 and 2 in order to be able to capture the action better in the last two zones. However, the area for coverage from the cell providers had changed up the towers, and coverage to live stream wasn't strong enough to be able to do so. The matrix for their squads, however, didn't change and they would be shooting Zone 3, worth 740 match points, first. This meant that they had to really show up day one since the other zones were not worth as many points. Zone 1 with 115 rounds was only worth 575, and Zone 2 with 133 rounds had 665 points available.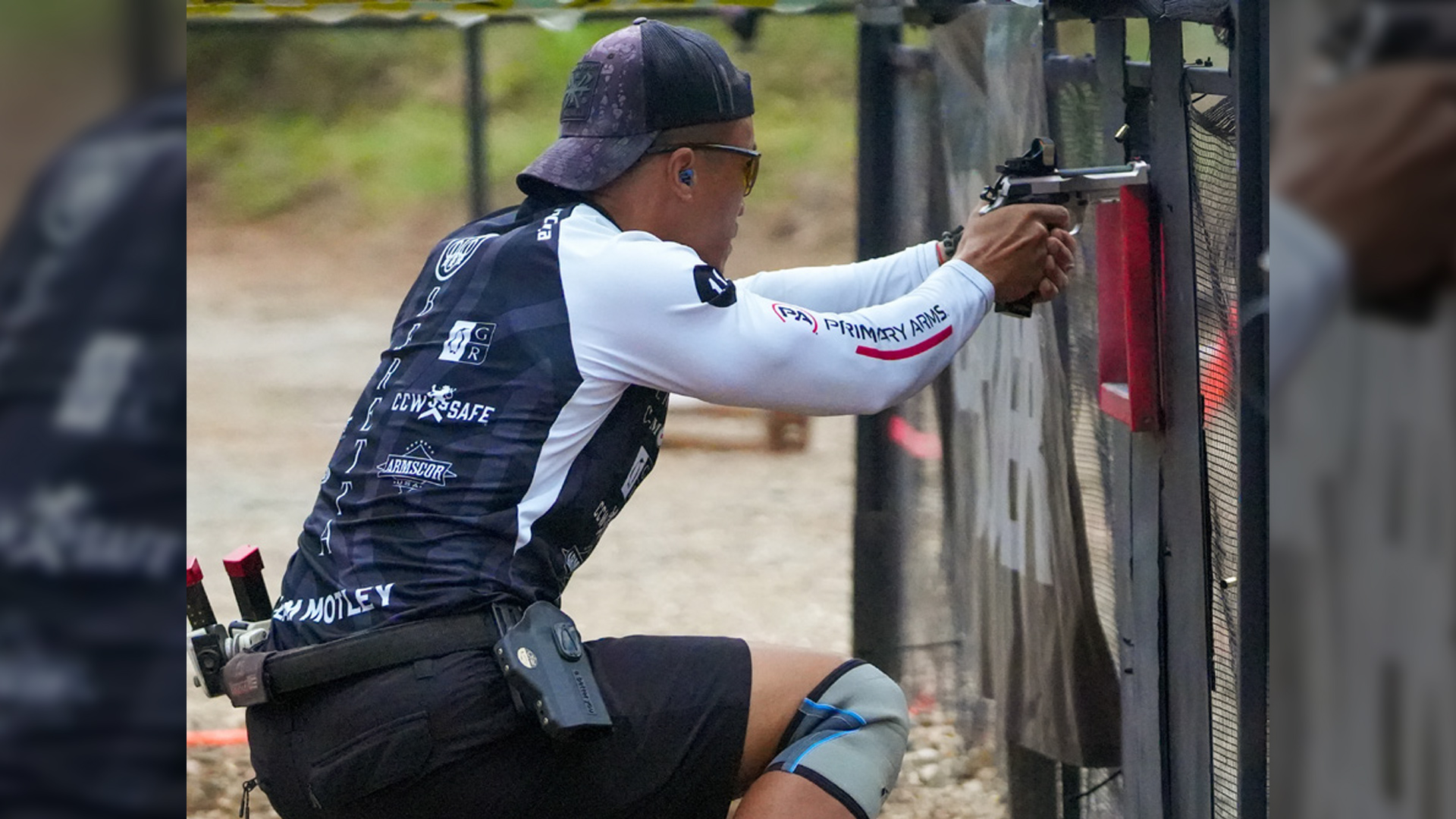 Stage 1 "SIG-cess" was a different way to test strong-hand and weak-hand shooting than what is normally seen in a stand-and-shoot type of standards stage. I had shot a stage at the Western Pennsylvania match that was a two-string, one round per target with a reload into the strong hand, for string 1, and weak hand on string 2, Virginia Count. You had to move from side to side to engage the targets instead of "stand and deliver". I thought it was a unique idea and designed a stage using the same idea, a movement standards Virginia Count stage testing strong and weak hand. This stage was two strings, 12 rounds per string for a total of 24 rounds and 120 points, with a combination of hard cover, no-shoot and open targets. The shooting area was approximately 30 feet side to side, with targets laid out from 10 feet to 25 feet deep on the stage.
Stage 2 "I SIG-lute You" was a Virginia Count speed shoot that only required seven rounds worth 35 points—but when matches are won and lost on less than that, every point counts. What was different here is that with just three targets, one of them required three hits while the other two targets only required two hits to score. The trick was that the most valuable target was a disappearing max trap IPSC target activated by a stomp pad.
Stage 4 "The Sauer Patch" was another 24-round, 120-point stage that competitors would have to face, but it was all steel. The small and large poppers were spread out across the bay, tucked back in behind barrel stacks, some minis behind large poppers, and the shooting area was set up with three different ports as well as open areas for competitors to work their way through, ensuring they knocked them all down. Sure, you could call it a steel stage memory stage I guess. There were two ways to attack this stage, starting on the left and going right, or vice versa. How the steel presented from the positions changed on the way you went. I guess the third way, and one that was sometimes used, was to go right or left, and then walk back, making sure you got everything.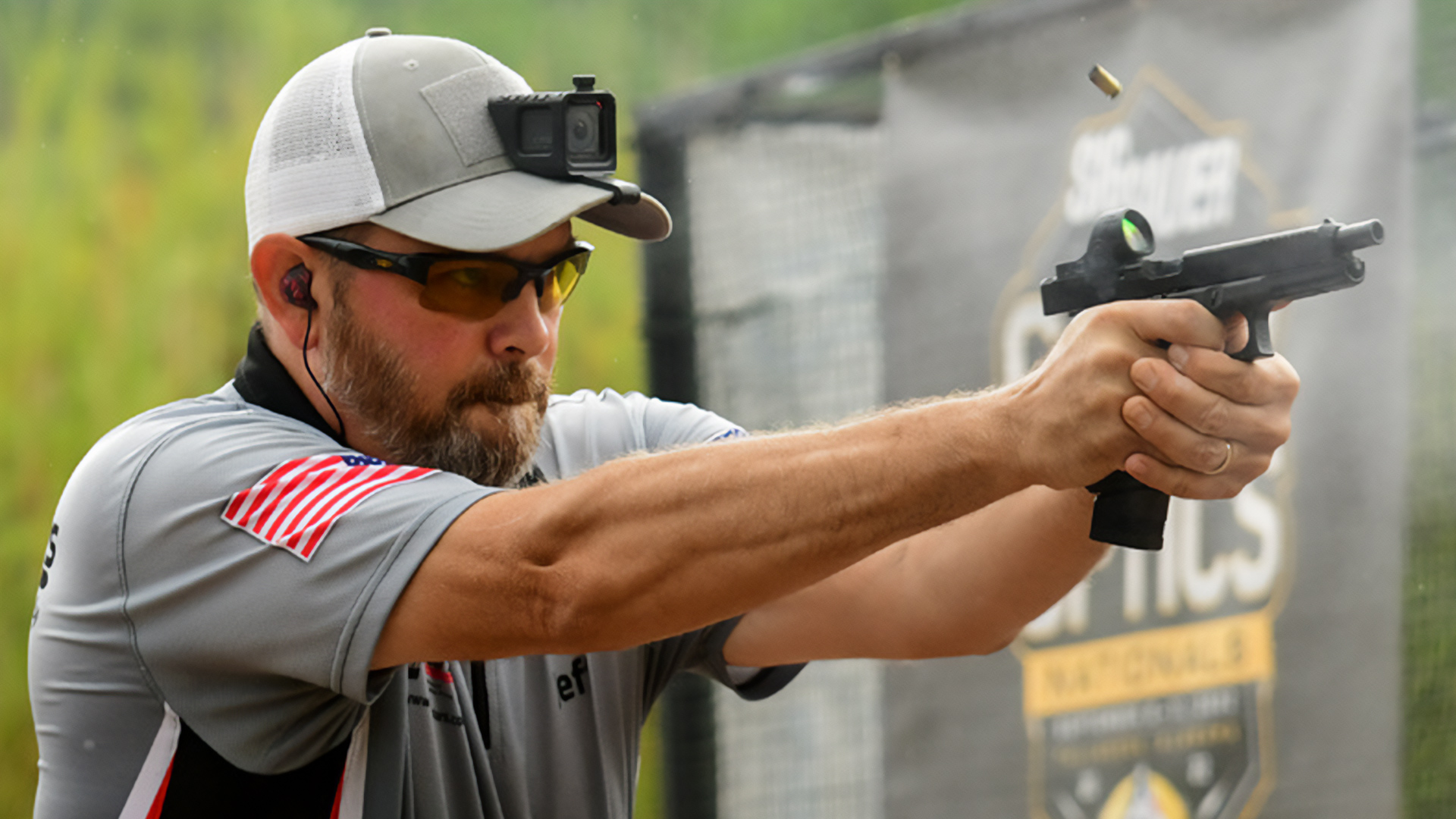 Stage 9 "It's a SIG'ness" was a stage that Drew Coleman designed that ended up taking on a different form and scoring after I shot Area 5. Walt Paegel had a "Fixed Time" course of fire that I thought was great, and again something that was a different way to have that type of stage represented in a match. Six targets from the draw in a side-to-side shooting area divided by vision barriers in 4.5 seconds was the "Fixed Time" to complete the task. I could write an essay on "Fixed Time" stages and scoring (based on the understanding of it by competitors, it is warranted) but let's just say if you see this in a match, read up on the rules before you go. Long story short, it is a certain number of shots per target in a certain amount of time, where extra shots, extra hits, and overtime shots are penalties. Basically, shoot each target the specified number of rounds in the allowed time with no extras, otherwise you will be penalized. What made this stage interesting was, with minor scoring you could take the 4.5 seconds and probably get better shots off resulting in better points than trying to get all 12 shots off, depending on your skill level. It was a math problem to solve.
Stage 10 "SIG'nificant Advantage" was one of only three stages that were 30 or more rounds. This stage took up an entire bay in Zone 2, with a combination of poppers and cardboard that was set up to force hard target transitions and speed bumps for competitors. Hell, I designed it, set it up and still skipped a target when I shot it. There were lots of options on how to get through this stage. Mine wasn't a good one.
Stages 17 and 18 shared a bay and were ones that Shannon Smith designed for the match. Stage 17, "SIG Language," was a variation on a stage that he borrowed from a Florida Open match that he designed. It was a "risk worth reward" type of stage that took advantage of the dots on the handguns. Six IPSC targets were spread out and set up in a way that competitors could eliminate a position and movement by staying back and taking longer shots versus running forward and cutting the distance to engage the targets.
Stage 18, "Do You Even SIG", was a simple eight-round stage—simple by round count, but with four activated targets by four poppers, there was nothing simple here. This was an exercise in timing with a drop out, max trap, bobber and swinger facing the competitors. The sequence was there, left to right, one for one on the steel and the activated target that only required one round, each laid out nicely for you. You couldn't go too slow on the poppers or the timing was off. Miss a popper, get out of order and you were chasing the targets.
Stage 19 "Want Some Sauer on Your SIG" might have been the most hated stage of the match. (That might depend on how you did, or maybe how you did on the all-steel stage, of course.) This 32-round stage had a little bit of everything thrown in here, with hard positions, tight shots, steel and activated targets. There were two low ports that were set up in the shooting area that was a tunnel. It wasn't a Cooper Tunnel either, you had to move through it and get low to shoot the ports. There was the option of staying in the tunnel and taking long shots at the downrange array of two poppers that activated three targets, a drop out, a bobber and a swinger. You could stand up in the center section of tunnel and engage them, or stay low at the end of the tunnel and engage them. The other option was to get out and run down to the shooting area that was 25 feet closer and then shoot that array.
The action was fast, and the shooting required competitors to really bring it with regard to the shooting. You couldn't rush through the stages dropping points and hope to place well in the overalls, in your class or category. The match would need the competitors to stay focused each day of competition in order to perform well.
The ladies squad began on Stage 14 "Here's Your SIG," and the battle was on from there to see if Morgan Leonhardt was going to defend her title from 2021. This was no easy stage to start on, either. It was one of the only two 32-round, 160-point stages, so not performing here would put you in a hole that would be hard to dig out of. This was also a stage that took advantage of the seldom-used, but allowable, visual start. The CED Go is a small LED light set box that is activated by their timer, there is no traditional start signal or buzzer that we are used to. Instead, the very bright blue LED lights will flash as the shooters' start signal, and their time is captured by the Range Officer on the timer.
The stage was a combination of USPSA cardboard targets and four poppers that had to be engaged from somewhat of a V-shaped shooting area. There were lots of different ways that this stage could be shot; some even went right first to the two targets that could only be engaged at the far back right side, then moved forward, taking the steel before heading to the far right position and then running all the way across the course of fire and back into the shooting area on the far left. Many others went left first, then worked their way back to the right, hitting the required position to engage all the targets. Morgan shot 138 of the available 160 points in 21.97, but Justine Williams ran it in 21.04, also shooting 138 points but taking the stage win with the faster time.
The men's Super Squad had several familiar names on it, with a few newcomers who had been tearing up the Carry Optics Division this year. Isaac Lockwood, Brantley Merriam and Lanes Gries would join Racaza, Michel, Lane, Vlieger, Jonasson, Strader and others to see who was going home with the National Champion title this year. This squad started on Stage 13, "1,2,3 SIGs You're Out," a 26-round all-cardboard stage with an unloaded start. This stage was all about positions with a shooting area shaped like a diamond. Competitors were going to have to hit all the corners, and have a low port at the top point of the diamond to end on. There were lots of ways to shoot this one, and Mason Lane ran it in 16.78 seconds, shooting 124 points and taking the stage win over J.J. Racaza's 16.67-second run but with only 122 points.
The 60-point Stage 17 with its "risk versus reward" was one that the men's Super Squad struggled with. Tanner Wright won the stage, shooting 60 of the available points in 7.74 seconds. Racaza was 30th here, running in 7.55 but with four C hits. Lane and Jonasson would also struggle on this one—Jonasson was 28th and Lane was 36th. Max Michel ran it in 7.45 seconds, but with seven Cs and one Delta was 72 percent of Tanner Wright. Michel would come back on Stage 18 with the four poppers and four activated targets, 4.13 seconds with only one C hit gave him the stage win. Justine Williams took the stage win here over Ashley Rheuark with a 4.71-second run and only one C hit.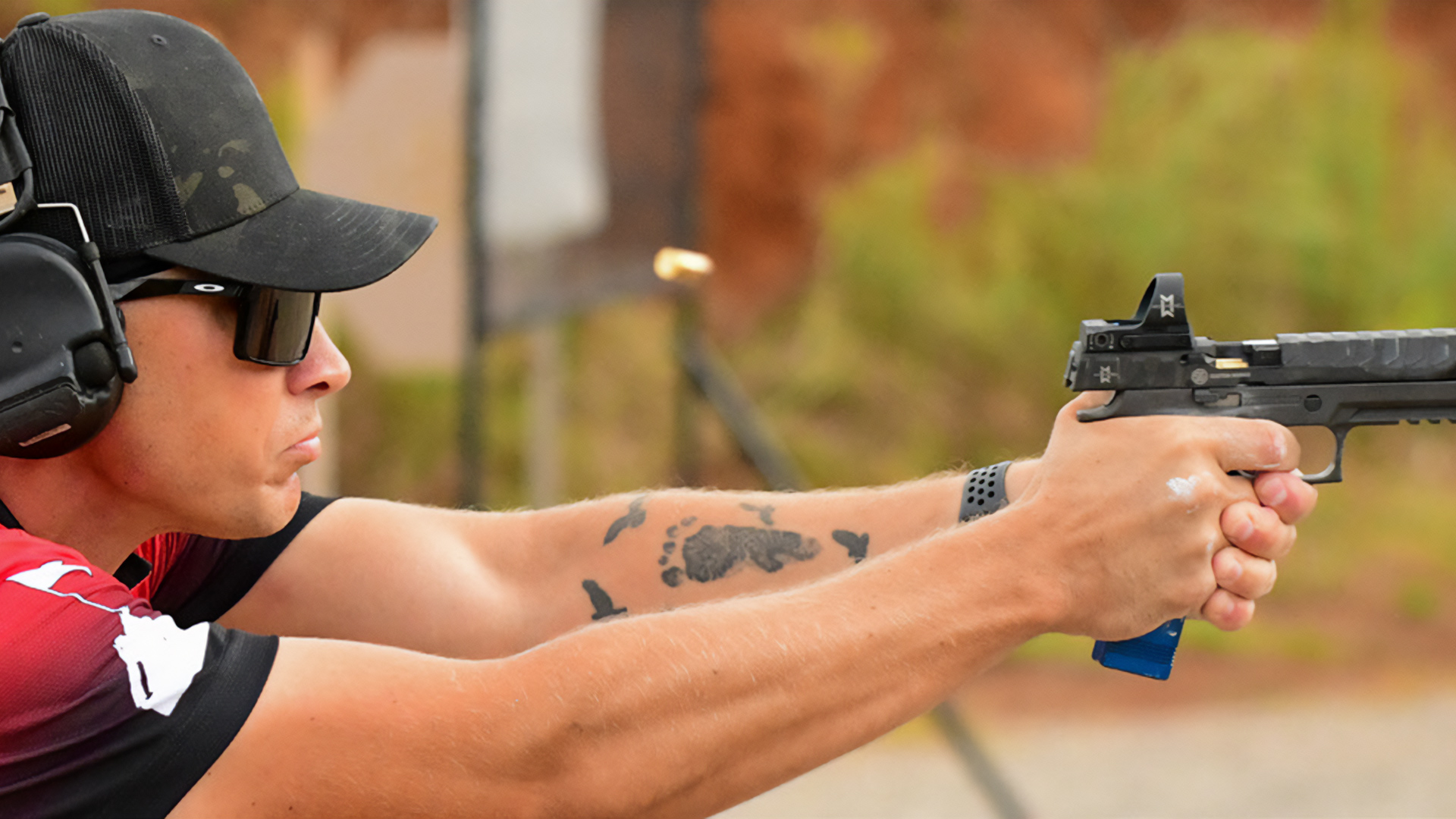 The ladies squad would take on the difficulty of Stage 19 first and see how they would handle the hard positions and difficult shots. From the "hands on marks" start position they were faced with a bank of eight poppers, large and small, only available from the far right side of the shooting area at about 15 yards. A hard charge to the left for two targets that were set up to encourage competitors to take them on the move before entering the tunnel. The first low port in the tunnel was to the right with three targets, the second was to the left, also with three targets. The options were to take the long shots or run down to the end for the final array. Justine took another stage win here on day one, just barely ahead of Leonhardt.
For the men's squad, this was the last stage on day one that had seen some definite surprises for them. Racaza had two stage wins at 14 and 16, where Jonasson only had one second-place finish on the first seven stages of the match they had shot. Michel had two first-place stage wins, a second, and would also take third on Stage 19. Brantley Merriam would take the stage win here with a 19.24 second run with a hit factor of 7.4844, compared to Jonasson's 7.0788 in second.
Day two for the men's squad would start on the Strong Hand, Weak Hand Virginia count stage in Zone 1. There was no room for error today, since the least number of points were on the line in this zone. There was no making up ground if you tanked a stage. Merriam would start day two with another stage win on Stage 1. Jonasson was 10th, and Max Michel struggled here with two misses, dropping almost 50 stage points and cutting the lead he had built up on day one. This would be the last stage for the ladies' squad on day two, and Alecia Russell shot 110 points here in 36.83 combined for both strings for the stage win over Leonhardt in second.
Stage 3 "SIG'O the Times" had an unloaded start with nine USPSA targets and four poppers, one that activated a swinger. All the magazines at the start had to come from the table where the unloaded firearm was placed. So even a 22-round stage with a mix of poppers, hard cover, no-shoot and a swinger meant that almost everyone was going to grab a second mag for a reload, which was the idea behind the stage design. Justine Williams crushed this stage with a 13.20-second run, taking another stage win, but Nils Jonasson wanted to make a statement with his first stage win, shooting 22 Alphas in 12.75 seconds.
The all-steel stage was all about trying to go one for one on the poppers, but you had to hit your spots on this stage to get a view on the field of poppers. Extra shots on a stage like this are the same as misses on cardboard targets. Four or five extra shots, even fast ones, and the time adds up, knocking you down in the stage overalls. Leonhardt ran this in 24.21 seconds over Alecia Russell, grabbing a stage win and the 120 points.
Stage 5 "SIG Happens" and Stage 6 "Your SIG'ness" shared a bay for the two medium courses. Stage 5 with eight IPSC targets was a fast stage with a lower port that would need to be taken almost on the move if you wanted to do well. There was a single target through the port that competitors would need to address after going to their left first for the four targets. Ending uprange for the last three targets, the final one was a hard transition back to the left. For the ladies, Ashley Rheuark took the stage win over Williams, and Isaac Lockwood dropped only one C hit for a stage win.
Brantley Merriam would end the day the same way he started it, with another stage win on Stage 6. Drew Coleman's stage design was a nice 14-rounder with six USPSA cardboard and two poppers, one that activated a bobber. There was a port in the uprange vision barrier with targets angled, creating two shooting positions. The steel for the bobber was available from the port or the left side of the shooting area. There were lots of options on how this was shot—from target engagement order, what position, and even where the bobber was taken from since it was available from the port or the left side after activating.
The final day of competition had 665 points up for grabs, and it was still anyone's match to win or lose. Stage 7 "SIG up & Take Notice" was a 29-round, 145-point stage with some of the longer shots in the match. There were five mini poppers at 30 yards that awaited the men's squad Sunday afternoon. That wasn't the only challenge here, and coming up with a stage plan was the first hurdle. This was a Shannon Smith-designed stage that, once set up, made his intentions clear; no matter what your plan was, there was going to be some risk that had to be taken. There was no "safer" play here. The bay it was in is both very long and very wide, and we took advantage of that when setting this up.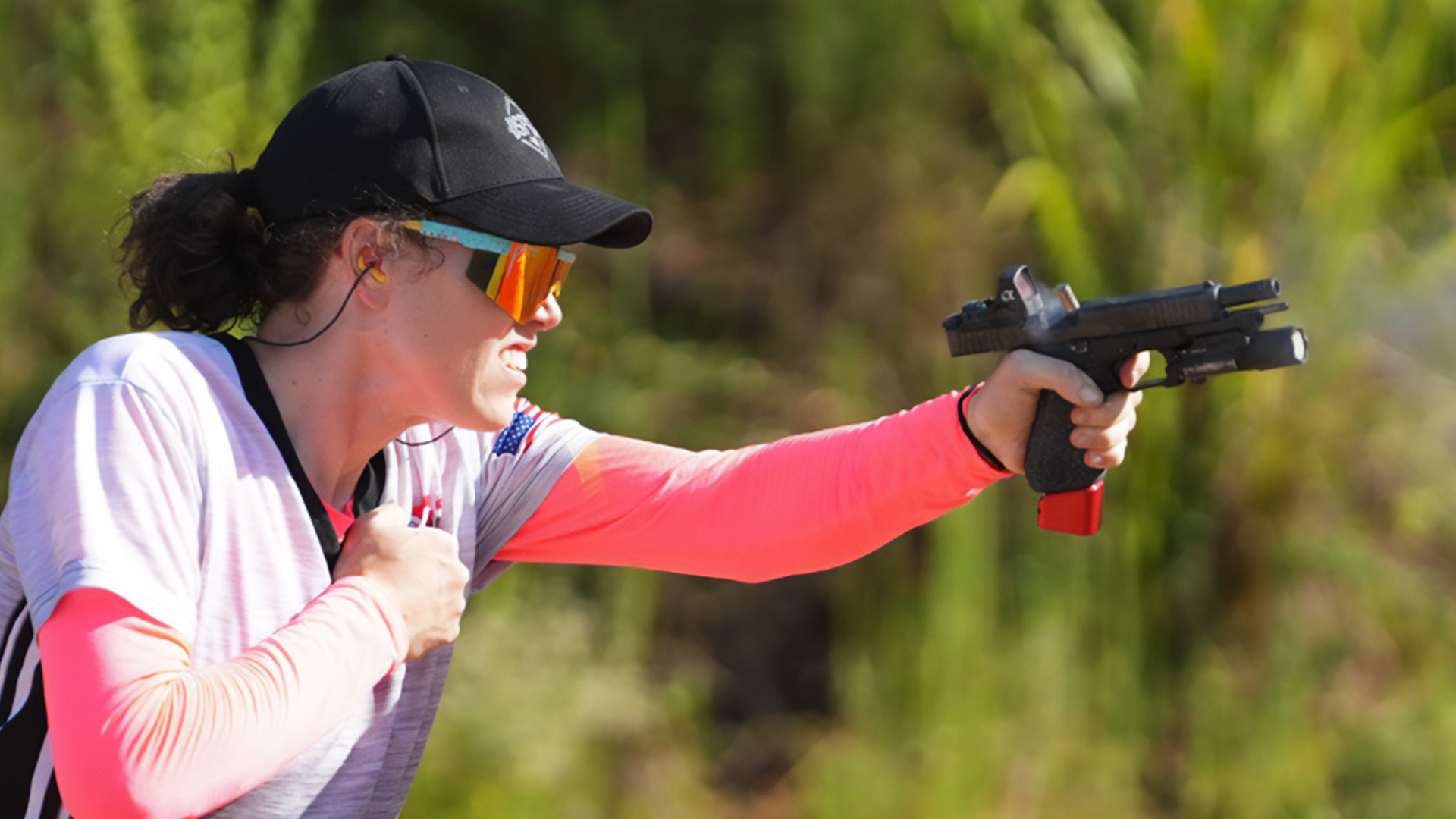 Besides the mini poppers, how you engaged the targets was going to really play out, because through the center section there was a port that had a popper that activated a tip-out target on the far right side. No matter how you ran it, you were going to have to add that back in, either moving back for it or dropping way back to take a longer shot. What looked simple on paper became a much more devious stage. Jonasson was out of the gate early on the final day, grabbing the 145 points available with the stage win over J.J. Racaza. Jalise Williams grabbed this stage win over Rheuark and her sibling, who was fourth on this one.
Stage 8 "SIGGY Stardust" shared the bay with Stage 9 that was the "Fixed Time" stage. Stage 8 was 16 rounds with six USPSA cardboard and four poppers. Set up with a downrange start, competitors would need to move back up range on the left side of the stage and then work to their right, stopping for the two targets in the port before ending with the option to take all the poppers if they didn't take any from the start. Garren Singleton's 8.19-second run with only two C hits took the stage win for the men and Morgan Leonhardt's 7.9188 hit factor grabbed a win over Jalise Williams. Rachel Harper and Justine Williams would both shoot 52 points on the "Fixed Time" stage. Three of the men, Saul Allen, John Vlieger and Henning Wallgren each shot 60 points on this stage.
Stage 10, worth 150 points, was going to be a important stage to determine the outcome of the race for the title this year. The two remaining stages were only worth 270 points combined. A good performance on this big long course was needed, and J.J. Racaza took the stage win with 18.97 seconds over Jonasson's 19.09, who finished third. Justine dropped two D hits, but ran this in 20.78 seconds for another win.
Two stages remained on the final day of competition. While the ladies would battle it out on Stage 12 "I Can SIG Clearly Now" the men were on Stage 11 "SIG on the Dotted Line." A downrange start with an array of paper and poppers were in front them, with a popper activating a swinger that was only available from the right side through a port. They would need to work back uprange, with some hard transitions and tight spots. Dazhi Zhang beat out Racaza on this stage.
Stage 12 was laid out in such a way that had the competitors do some speed change-ups from the close targets to the far 20 yard shots from the first position, then a quick move to the right for a couple of close targets, with a long transition back to the left, and a speed bump on another 20-yard target. Moving forward gave you a bobber that was activated by a popper at 15 yards, with another close target to transition from. The stage was designed to suck you in to going too fast on the distant targets. Sean Griffith's 14.32-second run wasn't the fastest—Racaza did it in 13.61 but he had seven C hits for second; Griffith took the stage win with Jonasson back in 45th. Jalise Williams would take the stage win on 12 over Leonhardt.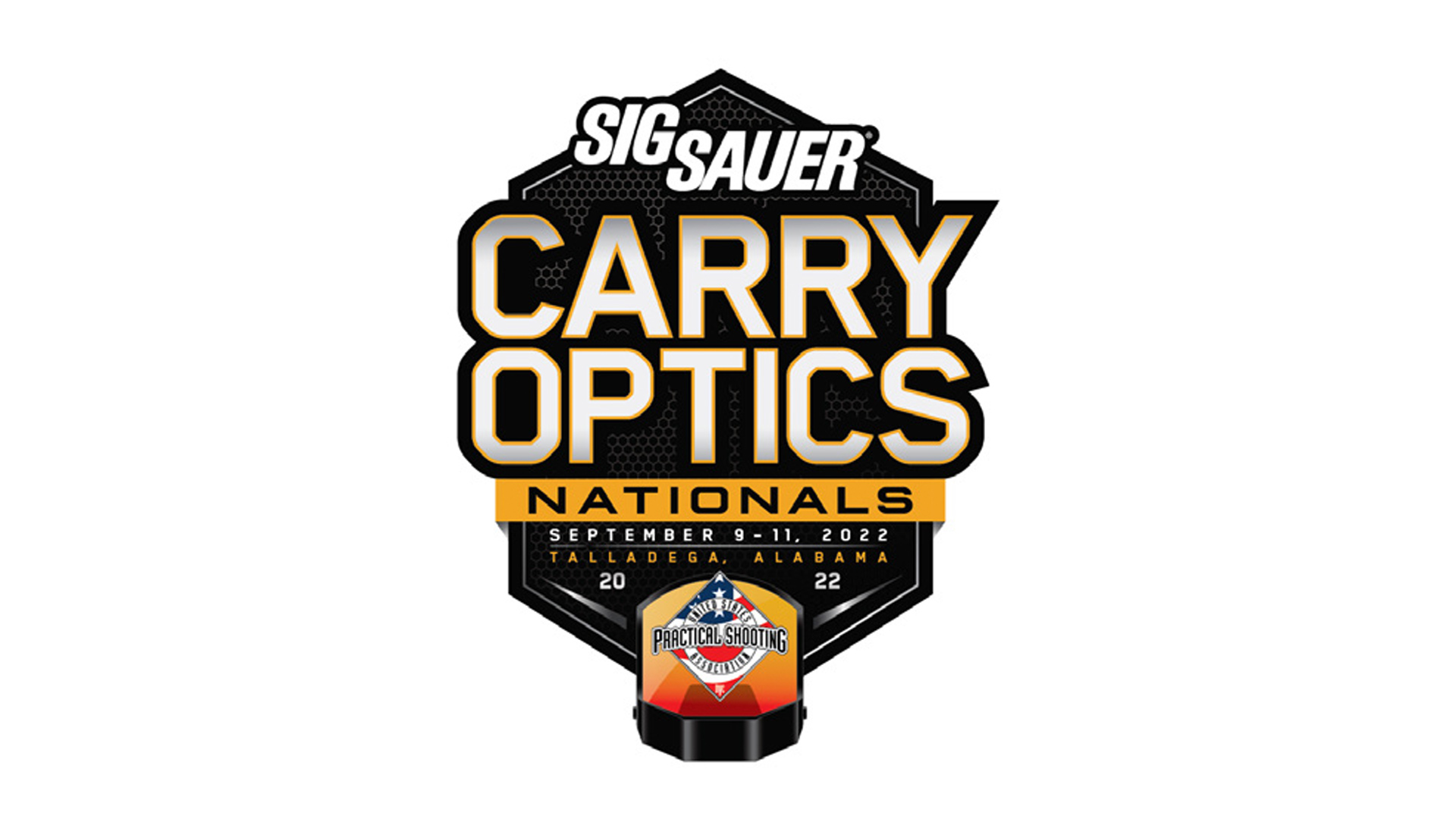 The match finished out with Nils Jonasson taking another USPSA National Champion title for 2022, while Justine Williams would reclaim the Ladies National Championship title. It was a tough match and well-fought by everyone who made it through.
A huge shout-out to the staff of Range Officers and support, the crew that came out to build it and to the CMP Marksmanship Park for being our host range again this year. The range and their staff are absolutely the best to work with. Big thanks from me to Shannon Smith again for all his help building the match with me and the crew that continues to give to make this happen. Thanks to Troy McManus and the RM crew that were there to support us and all the staff that made it possible.
The upcoming 2023 USPSA SIG Sauer Carry Optics Nationals will move to the Cardinal Center in Marengo, Ohio, June 23-25, with staff shooting the match June 21-22. There will be more information on slots and registration coming soon.
Article from the November/December 2022 issue of USPSA's magazine.