The USPSA Carry Optics division has far exceeded everyone's expectations in terms of popularity. At the end of 2018, Carry Optics accounted for slightly more than 10 percent of reported activities, with only 85 people shooting in the division at the Nationals that year. By 2023, more than 700 members signed up for the championship match, which had a maximum capacity of 432 competitors on the regular three-day schedule for this standalone, single-division event.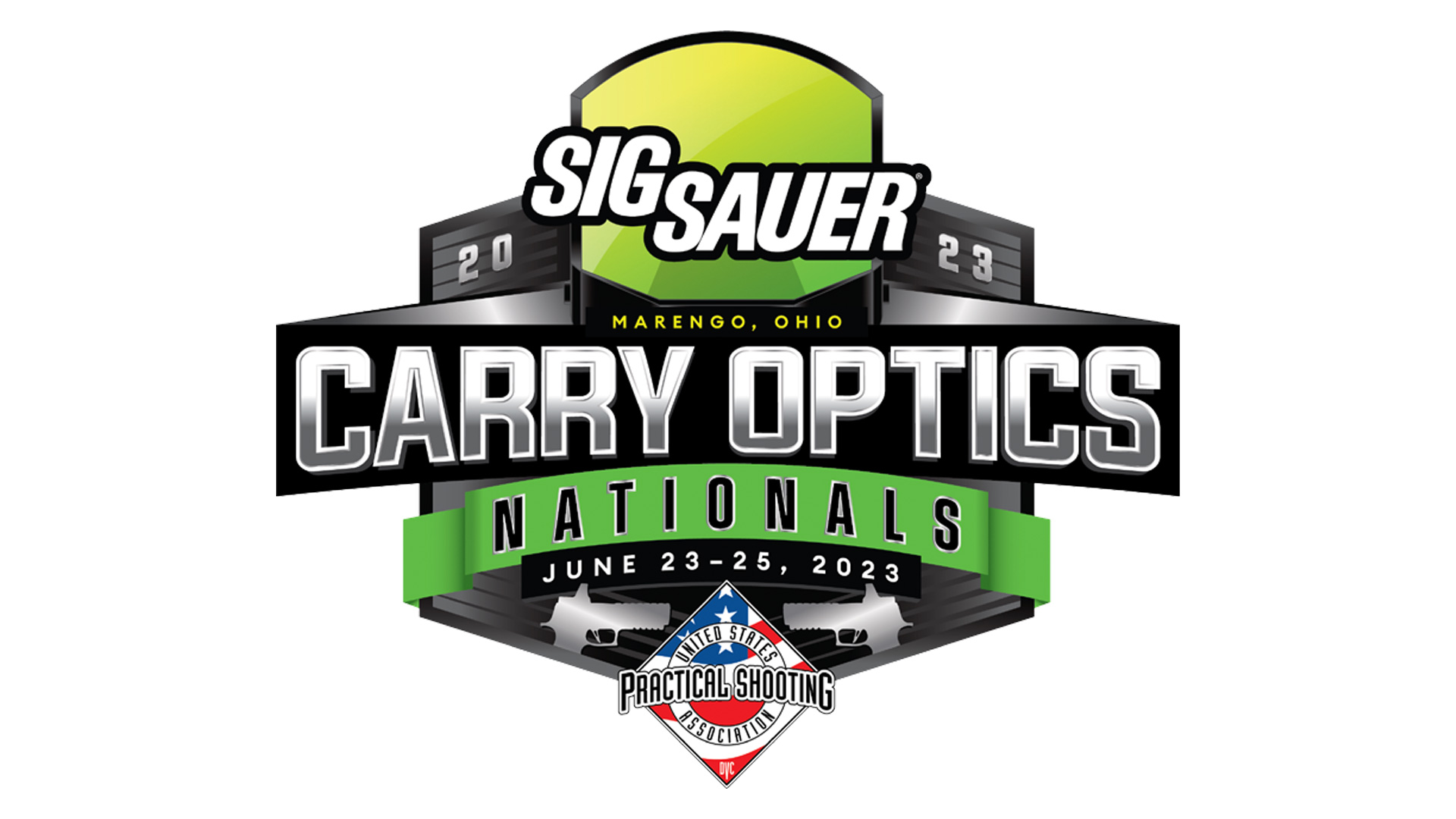 The 2023 USPSA Carry Optics Nationals was held at the Cardinal Shooting Center in Marengo, Ohio, this year. The range has hosted several major events, including the SASP (Scholastic Action Shooting Program) and numerous shotgun tournaments. Located just off Interstate 71, the Cardinal Shooting Center is located about 30 minutes north of Columbus, Ohio. The range is well-known for its trap, skeet and sporting clays venues. Additionally, the property boasts 400 campsites and cabins, as well as multiple entertainment and activity centers.
Since 2016, discussions have been ongoing about hosting large action shooting events here. To accommodate this, the owners expanded the existing facilities by adding nine large bays, bringing the total to 21. In addition, there is a 75-by-100-yard bullseye range and 12 small concrete-walled public range bays. The new Red Feather Outfitters Pro Shop building—complete with offices and an open meeting area—is also on-site. The Cardinal crew, along with the affiliated USPSA and Steel Challenge clubs, have invested significant time and capital to prepare the range for major matches.
The match followed the traditional three-day schedule, with the staff competing in the two days leading up to the regular competition. The bays were segmented into three zones, each comprising six bays (stops), accommodating the 20 stages (plus chronograph) that made up this year's USPSA Carry Optics National Championship. This marked the first time the USPSA held an event at this range. However, a month earlier, the Ohio Section's "Buckeye Blast," which saw 300 competitors, ran its 13 stages plus chronograph here. I was in constant communication with the range and even worked the "Buckeye" match to gain a better understanding of the range and its potential. Stage designs underwent multiple iterations, as did the bay layout, all in an effort to optimize the range for the Nationals.
The zones were designed to have a unique flow, and the stage designs deviated a little from what many USPSA competitors might typically encounter at previous Nationals. Cardinal's 12 existing bays are constructed with wooden sidewalls instead of dirt berms. Only the outermost bays, numbers one and 12, have dirt berms on the sides, while the remaining 10 feature wooden walls with rubber between the wooden sections. This layout posed an interesting challenge for stage design, especially for those accustomed to utilizing all sides of a bay. I am the match director at a local indoor match, so I was well-prepared for these constraints; I openly admit to "borrowing" stage ideas from numerous IPSC matches that face similar restrictions, and frequently use bullet traps with their targets. I had been refining a set of stages, versions of which had been tested at the local indoor match. None of the stages I design or that appear in a matchbook serve as strict blueprints, however; they represent a concept of what the stage is going to test.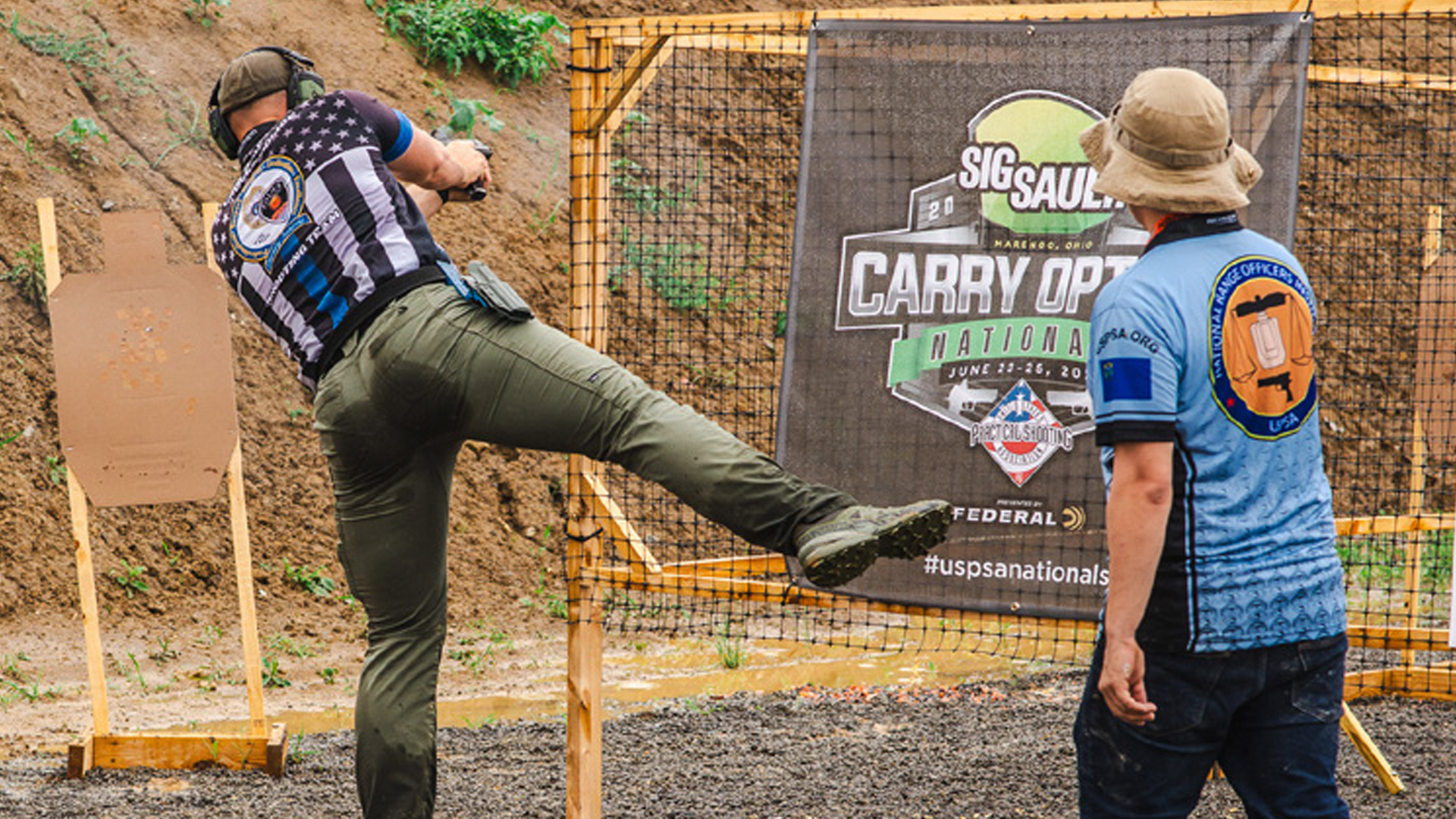 After working the "Buckeye" match, I settled on the final layout and the flow for each zone. I presented the stages to Range Masters Jodi Humann and Troy McManus, DNROI. After several days of consideration and some added suggestions, we finalized the layout, selected the stages, and I submitted the WSBs for approval. The overarching concept for the match was to offer competitors a distinct match type in each zone. Zone one leaned heavily into the IPSC medium- and long-courses of fire with challenging setups, activating sequences, precise shots, and many minipoppers to entice competitors into rushing through the stages. Zone two blended IPSC with traditional USPSA long courses. Zone three combined four long courses of fire with four short- to medium-style stages. In total, competitors would need 448 rounds for all 20 stages. (Side note—the stage names, that not many caught on, were from "The Naked Gun" movies.)
Five-hundred-and-three competitors participated, forming an exceptionally talented field across top shooters and spanning every class and category. The breakdown included 56 Grand Masters, 127 in the Master Class, 107 A Class, 113 Bs, 70 C Class, 3 Ds and 24 Unclassified shooters. Some Unclassified shooters, being top contenders or past National Champions in other divisions, were certain to stir up the results. Two squads consisted of top finishers from the previous year's Carry Optics Nationals, and there were also notable competitors such as Jacob Hetherington, Christian Sailer and Shane Cooley, who didn't participate in the previous year's Nationals. A real battle was anticipated to determine the Carry Optics Nationals Champion.
You can't have a USPSA National Championship without a hint of drama, and this time, the weather was set to be the main protagonist. Competitive shooting is an outdoor sport conducted rain or shine, and this year's Carry Optics Nationals had its fair share of both. While the staff shot the match on Wednesday and Thursday under overcast and chilly conditions, storms threatened to disrupt the start of the regular competition on Friday. Bagged targets were expected to slow down both the match and the shooters. The match featured a considerable amount of hardcover, no-shoots, and many IPSC targets, along with the familiar USPSA cardboard target. Not to be overlooked were the 50 or so poppers—predominantly mini-poppers—and 12 activated targets that were swingers and bobbers.
Zone one kicked off with competitors starting seated and their unloaded firearms staged on the "Make Ready Table" for Stage one. This 20-round stage consisted of nine USPSA targets and two mini-poppers. The seated start was positioned on the middle right side of the bay, and the shooting area was designed in a squared "S" pattern. On the buzzer, competitors had to grab their guns and load them, heading to the far forward right position and then working their way back to the left. The target presentation in the front middle section was a deliberate pace-breaker, slowing competitors down before they headed back uprange. This stage was fragmented, requiring competitors to manage their rounds to avoid a reload and compelling them into hard stops for shooting. John Vlieger took the first stage in the Super Squad with a hit factor of 5.0538, completing it in 18.60 seconds and with only three C hits. Jeremy Story clinched the second spot, followed by Scott Rader; Jacob Heatherington posted a faster time of 17.48 seconds but, similar to Racaza, lost points due to Deltas.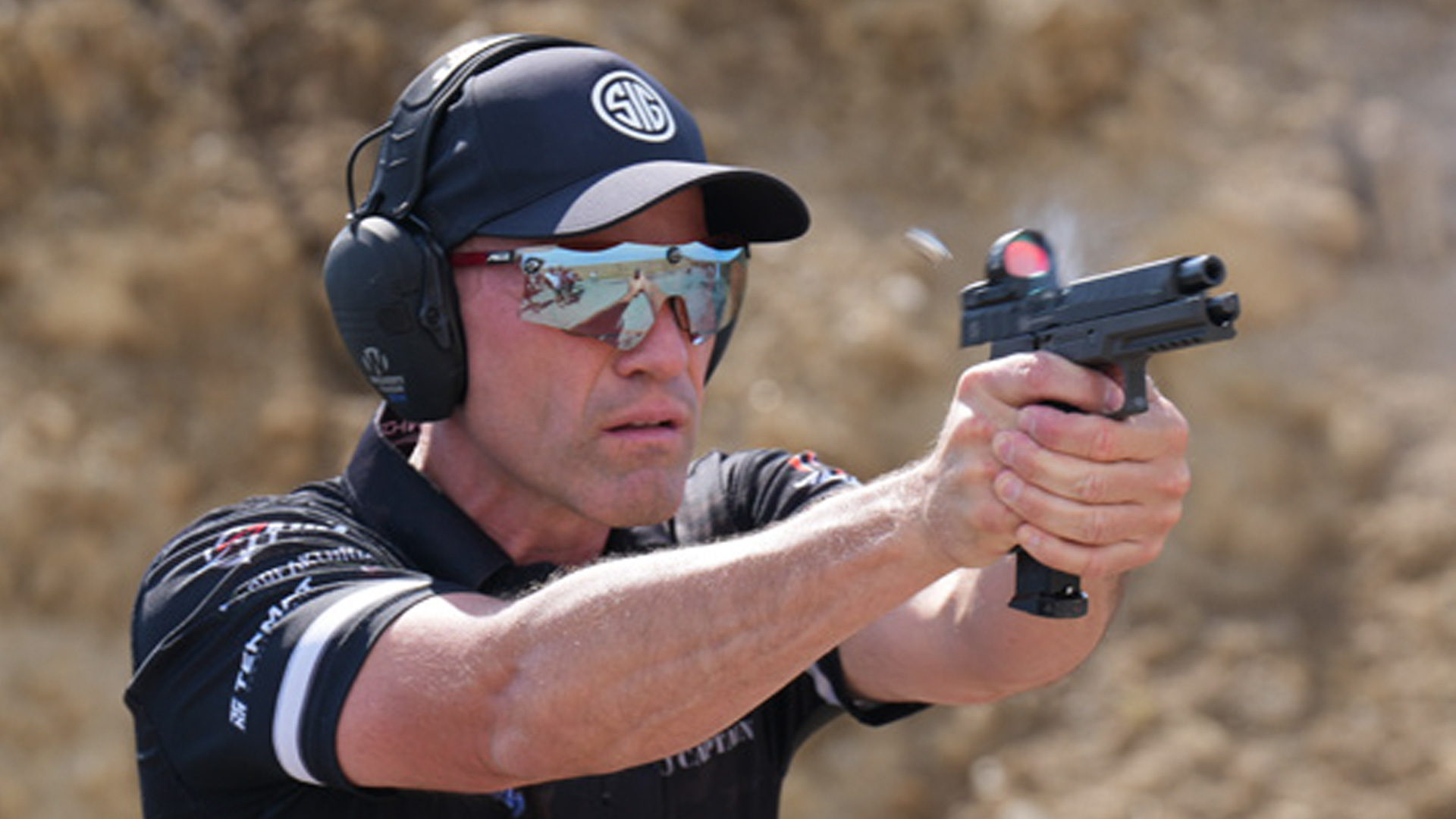 Stage two began with the start position at the center vision barrier. This time, the handgun was loaded and holstered, but any spare magazines were positioned atop the "Make Ready Tables" located at both ends of the shooting area. The fault lines followed a lengthy jagged pattern, demanding competitors to navigate both sides of the shooting area. Owing to the overnight rain and ongoing drizzle, competitors had to splash their way through this stage, which featured 13 IPSC targets and three mini-poppers, for 29 rounds worth 145 points. Local Ohio native and top 10 USPSA Open division shooter, Andrew Hyder, grabbed a Carry Optics gun for the match and ended up clinching this stage win, shooting 133 points in 21.63 seconds. In addition, Jon Bautista narrowly edged out Nils Jonasson and JJ Racaza to secure a second-place stage finish.
Despite the relentless rain and overflowing puddles in many of the shooting areas on Friday, the competitors remained undeterred, fervently battling it out as they advanced through the stages. On Stage three, with the option to begin on either side of the large "U- shaped" shooting area, there were 110 points up for grabs. Featuring nine IPSC targets and four poppers, competitors were presented with numerous engagement options as they navigated the maze of walls and barrels to find the targets. During the walkthrough, those mini-poppers seemed manageable when air-gunning the stage. However, after the buzzer, even the top shooters struggled to go one-for-one on them. Brantley Merriam wasn't tripped up by the small poppers, completing this stage in 13.33 seconds, outpacing Aaron Eddins and Nick Walden. The Super Squad struggled with this stage, with only Nils managing a 10th place finish. Many points were dropped, and notably, Christian Sailer landing a 33rd overall finish with a miss.
Stage four, valued at 120 points, saw the match's first mover—a bobber set activated by one of the four mini-poppers. Starting in the center of the shooting area, straddling the start stick, competitors began with their loaded handguns holstered, having the option to move either right or left at the onset. The majority opted to move right first and work their way left, shooting the central arrays on the move. The hardcover tested their precision, ensuring they remained sharp. Sailer cleared both center sections on the move, clocking a 17.31-second run with only three C hits—earning him his first stage win of the match. Nils and Max Michel followed suit, securing the second and third positions, respectively.
Why incorporate an old classifier stage into the USPSA Carry Optics Nationals? There are several reasons. First, it's a standards stage that tests standard skills. Competing at the USPSA Nationals should include a test of these foundational skills. Another reason is that from the scores submitted for 03-18, the classifier tool suggested a 4.75-percent reduction in the High Hit Factor due to a lack of top scores, so why not use this as a chance to get scores from the top shooters in the division? That's precisely what we did. An additional perk was that each competitor would get two classification scores based on their performance. "High Standards," 03-18, offers a straightforward standards drill for competitors. Positioned at the 15-yard line, each of the three USPSA targets must be engaged with two rounds, followed by a reload and then two rounds per target Strong Hand. String two, from the 10-yard line, mirrors this process, but after the reload, it's the Weak Hand's turn. Jay Beal edged out Mason Lane with a cumulative time of 12.80 seconds for both strings, shooting 112 out of the potential 120 points. For those new to USPSA, this is relatively tame as standards stages go. Just be thankful the bay wasn't 75 yards in deep.
On Stage six, shooters faced two activated targets, a swinger and a bobber, intermixed amongst eight other USPSA targets and four poppers. This side-to-side shooting area stage required 24 rounds, for 120 points, and featured a blend of hardcover and no-shoots, along with some challenging tight shots. The swinger was partially shielded by hardcover steel, while the bobber was "Tux" hardcover—a playful touch to conclude Zone one. Christian Sailer capped off Day one by securing a second stage win, scoring 112 out of a possible 120 points in 16.75 seconds for a hit factor of 6.6866. Not bad for an unclassified shooter in Carry Optics.
Day two would see the rain let up, allowing the bays to dry as sunlight came out for the competitors prepping for another zone and its stages. The Super Squads transitioned into Zone two, tackling six stages in total and making a pit stop to see the fine folks at Chronograph to verify their guns and ammunition. Stage seven was a fun 20-round course featuring two activated targets, four poppers, and six additional IPSC targets. Starting downrange in the shooting area's center, competitors faced the poppers and activated targets directly in front. Behind them was a gap between two wall sections, not only for the Range Officer to sidestep, but also as a potential route for the competitors. On the right were low targets, with another cluster further downrange requiring shots from the far back right corner, then rapidly moving to the left, engaging an open target before wrapping up on a pair of poppers and another target. This fast stage presented various strategies regarding the activated targets, with some competitors coming back to them from the center opening in the wall sections. Jacob Hetherington, who said he liked this stage, unsurprisingly won it, completing it in 12.84 seconds with just two C hits.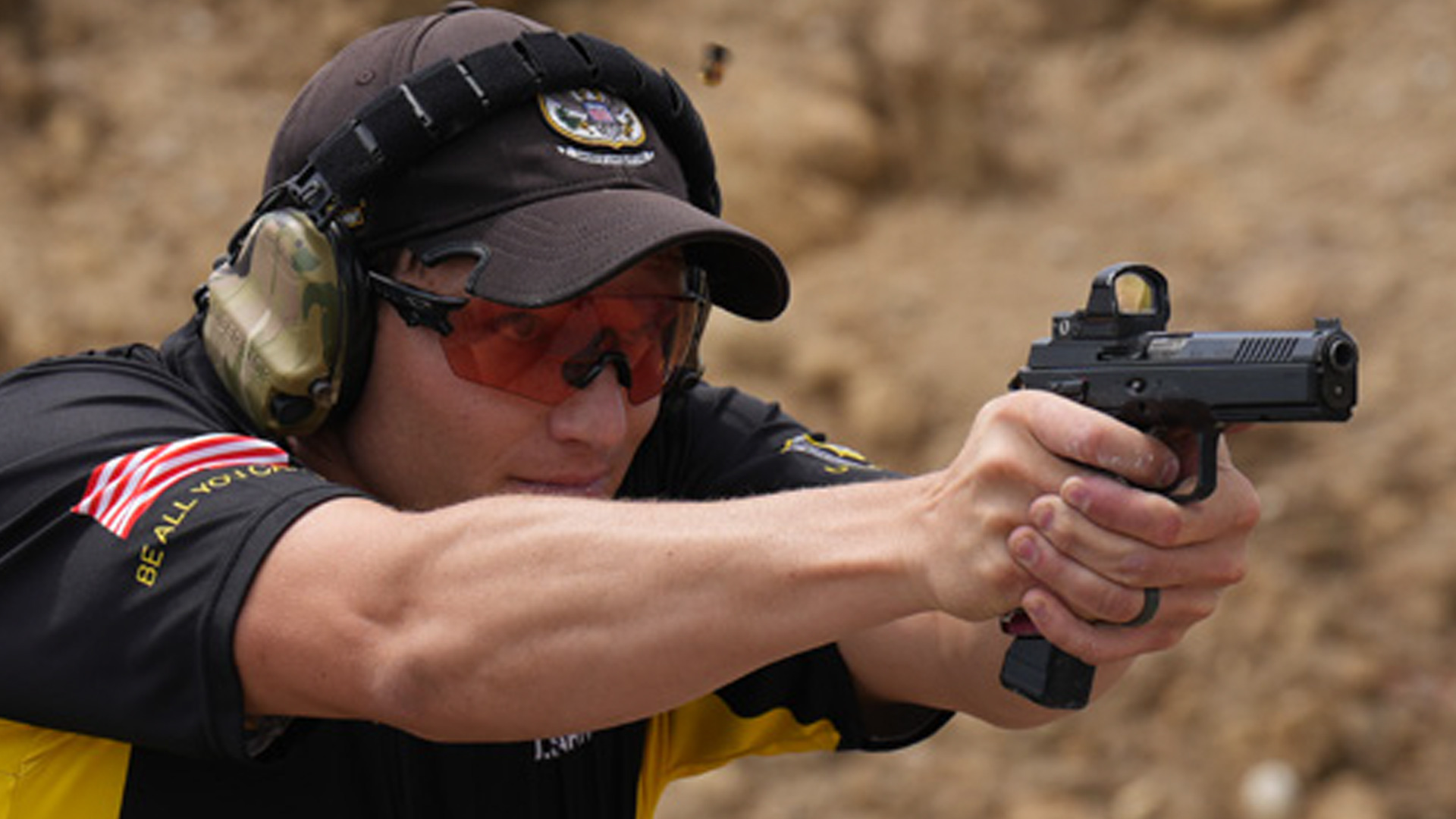 Stage eight, designated as Chrono, was where firearms were weighed, magazines inspected, and ammunition assessed for its power factor. Following a brief interaction with Jay Worden, Paul Hernandez and Marcia Clift, competitors moved to Stage nine, where they once again faced activated targets. This 23-round stage, with nine IPSC targets and five poppers, began at the shooting area's center-left. From here, competitors had manychoices, even allowing them to tackle several poppers and activate the swinger and bobber. Although the bobber was available from this position, the swinger, positioned at the bay's far left, was only available on the left side between hardcover steel and would swing behind a wall. This stage was a test of timing. The bay's right side had two different target engagements, combining cardboard targets with at least one mandatory popper. Several targets were available from each spot. The stage's design was choppy, with hard stops, and the intricate timing of the two activated targets kept competitors on high alert. It wasn't just the men's Super Squad trading off stage wins; after the first day, the ladies were in tight competition. Justine Williams snatched a stage victory with a swift 17-second run, outperforming Morgan Leonhardt's 18.74 seconds. Meanwhile, the Bill Drill King, Isaac Lockwood—bearing a striking resemblance to a young "Randy the Macho Man"—clinched a win in just 14.88 seconds, despite seven Cs, overshadowing Sailer's 15.49 seconds.
The squads then moved to Zone two-b, the new dirt berm bays, which offered more of a USPSA long-course style of stages. Stage 10 was one of only two 32-round stages in the match. It was designed with challenging leans, distant shots and a mix of up-close targets. Additionally, there was a single activated swinger accompanied by 14 more USPSA targets and two poppers. The starting position was straddling a stick located center-right on the rear fault line. To the right lay a port with two low targets, as well as a hard lean revealing a double stack of targets. Within the port, competitors had the choice to aim for the distant popper and activate the swinger. A lone target was to the far left side, necessitating further movement from the rear fault line before advancing downrange. This presented numerous targeting options, with two separate openings, each with their own required targets and strategies for taking the popper, swinger, and another set of targets to the left. Ammunition management and deciding when to reload became crucial. Many chose to reload after targeting the far-left from the rear fault line as they proceeded downrange, while others preferred to reload after the first opening to the right. The stage ended with a hard left lean for the remaining poppers and cardboard. Max Michel didn't have the fastest time, but he clinched his first stage win with 152 points shot in 18.72 seconds. Bryan Jones completed this stage with 32 As in 20.08 seconds, securing a commendable second place.
Upon setup, Stage 11 underwent some modifications from its original diagram. As is often the case, once the bay's setup begins, adjustments are necessary for different reasons. Sometimes the preplanned setup doesn't quite fit, or there are shoot-through issues to address. On other occasions, a design that was drafted six months prior suddenly appears more engaging or challenging when viewed in the present context with multiple individuals contributing new perspectives. For this stage, the shooting area underwent some alterations: a port was added to the left, and target placements in the stage's center were shuffled, resulting in additional shooting positions. Stage diagrams are typically conceptual rather than strict blueprints. This stage offered 120 points with nine IPSC targets and six poppers, one of which activated a swinger. Justine Williams triumphed over Sheila Brey, while Brantley Merriam outperformed Hetherington, in 14.89 seconds.
When designing stages, I enjoy mixing in short and medium courses within the same bay. Such stages present unique challenges to competitors. Generally fast-paced and fun, these stages leave little room for errors. Stage 12 was a modified version of an IPSC stage that I "borrowed" after seeing it online. By shortening the shooting area and adjusting the start position, it was adapted to fit a double bay. The stage contained seven IPSC targets, blending open and hardcover targets. Beginning at the front right forward fault line, competitors first engaged three targets, then shifted backward to engage two more while on the move, finally pivoting left for the last two. The most effective strategy involved retreating initially, ensuring a swift transition into the central array on the move. Tom Castro clinched the win for Stage 12 with a 4.92-second run, with Greg Jordan trailing at 5.23 seconds. Max Michel shot all As in 5.83 seconds, snagging him a fourth place finish.
Sharing the bay with Stage 12 was Stage 13, a 13-round course worth 65 points, six USPSA targets and a single popper that activated a swinger. While competitors had the liberty of starting from anywhere within the shooting area, most gravitated towards the back left corner for the first targets. However, strategies diverged regarding the latter part of the stage, with roughly three distinct options to complete it. After taking the first two targets, competitors shifted to the right, past a wall that unveiled the far-right array, which they could engage while moving downrange. One target, visible from the downrange right corner, was also accessible from the far left. The front far left had the popper and swinger, with another target visible from both positions. Some timing on the activated target would allow you to pick up this one, or mix it on the right side. Jacob Hetherington's 7.01-seconds was quick, but a D-hit cost him the win, giving the stage win to Max Michel who completed it in 7.33 seconds, ending the second shooting day.
After two days of competition, the excitement was set to intensify. JJ Racaza's squib on day two may have knocked him out of contention for the win, but his performance on the subsequent eight stages which made up Zone three could certainly influence the overall outcome of the match. There were 875 points available, including some of the match's most challenging stages.
Zone three kicked off with stages 14 and 15 in a double bay. Stage 14 consisted of 12 rounds, with four USPSA targets and four poppers. This 60-point stage also featured an activated bobber. Its rapid sequence, especially the timing of the bobber, was designed to challenge competitors. Hetherington clinched the stage victory with a 6.33-second run, including two Cs. Both Sailer and Garran Singleton completed the stage in 6.72 seconds, each scoring 10 As and two Cs, earning them a shared second place.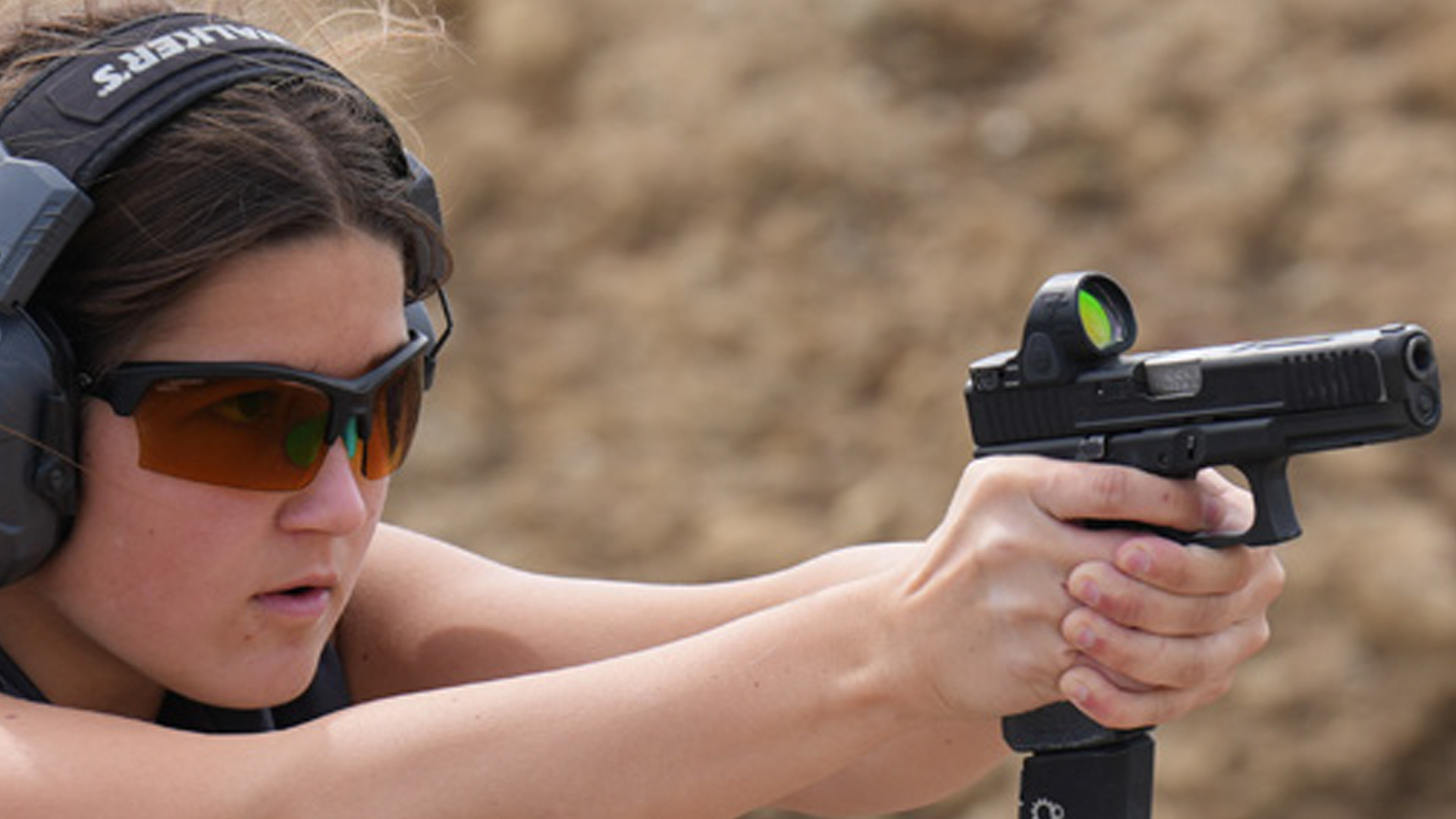 Stage 15 deviated from the matchbook, albeit somewhat intentionally. Originally, when I designed the stage, it was intended as a two-string standards type, with both strong- and weak-hand shooting on the move. While selecting stages for this match, I kept it but decided against having a two-string stage in a double bay, as it disrupts the flow of the match. Once constructed, it turned into a Fixed Time stage. Competing in Fixed Time stages like this are always a gamble: "Can I get the shots off, and can I get the hits?", with minor scoring in Carry Optics just adding to this math problem. On this stage, competitors could try to lay up and go for 40 points without going over the four-second par time; however, many went full send, going for getting all the shots off and the possible 60 points, pushing the time limits. With six IPSC targets, a blend of hardcover and open targets, it had tight shots from the rectangular shooting area. Out of 500 competitors, 114 scored above 40 points, with Sailer securing another stage victory with 56 out of 60 points.
Modifications were also made to Stage 16 once construction began. Initially, the design included an activated bobber triggered by a stomp pad. However, after examining the props, reviewing the layout, and considering the weather forecast, the decision was made to eliminate both the stomp pad and activated target. This change allowed more options and more shooting on the move. It featured 11 USPSA targets and four poppers, totaling 26 rounds. Sailer, shooting his CZ Shadow like his open gun, snagged another stage win, edging out Mason Lane.
Stages 17 and 18, set in a shared bay, were the final double stages for the match. Contrary to the matchbook, these stages were intentionally designed as a bait-and-switch. Competitors at Nationals should remember that it's a test of shooting skill, not merely prop management. The stages are built to challenge shooting skills, whether moving or group shooting at 25 yards. Stage 17 emphasized group shooting. While not exactly at 25 yards, it was close. There were four IPSC targets, with a maximum of four hits per target, Virginia Count. The stage was straightforward: fire four rounds at any two targets, reload, and then engage the remaining two with four rounds each, using only the strong hand. Surprisingly, this threw some people for a loop, mostly on social media, especially among those not present. While many top shooters found themselves further down the scoresheet, John Vlieger with 72 out of a possible 80 points in 11.05 seconds won the stage. Jedidiah Morgan was a close second with 70 points, and Hunter Constantine took third place with 66 points.
Stage 18 was a straight-up hoser speed shoot, four targets to the right and four to the left of the vision barrier, with a mandatory reload between the arrays. This setup was intentional. On one side of the bay, competitors had to shoot from 20-plus yards away, eight rounds, reload, and then eight rounds. On the opposite side, they faced up-close targets and hosing, again shooting eight rounds with a reload and then eight rounds. Who could shift gears and perform? As it turned out, the closer the targets, the better some of the top competitors could do. Max Michel clinched a stage win, with Nils in second place and Brantley Merriam trailing in third.
Only three stages remained to determine this year's Carry Optics National Champion. Among the women, Justine Williams led, closely followed by Morgan Leonhardt. For the men, the outcome hinged on the final three stages, with Sailer having a marginal advantage thanks to faster stage times. These final stages, which carried a total of 465 points, were all long courses of fire. There were plenty of ways to get sucked into going too fast and not respecting the challenges on how these targets on the upcoming stages were being presented.
Stage 19, a 32-round stage, was all IPSC targets, with no poppers in sight. While a few hardcover targets and one or two no-shoots were present, most of the targets were wide open. This setup provided competitors with many options, such as deciding between on-the-move shots or blending short to long-range shots. Hetherington stood out once more, taking another stage win against Sailer and Mason Lane. Although Lane clocked a swift 19.31 seconds, his 11 Cs allowed Jacob, who finished in 19.45 seconds with only eight Cs, to take the stage.
Stage 20 drew considerable attention, as there was much chatter about its challenges before most competitors even attempted it. Shannon Smith and I devoted a lot of time fine-tuning this stage, going for two distinct shooting strategies. Competitors had to decide between using all three shooting areas for closer shots but covering more ground, or skipping one shooting area to save running but face much more distant targets. The choices seemed evenly split. Trace Decker and John Vlieger, placed first and second respectively, began in the central shooting area before opting for distant shots, such as the 33-yard mini-popper and stacked IPSC targets. Meanwhile, JJ Racaza's strategy differed, using all three shooting areas. Trace was 19.72 seconds, John 20.15 seconds. JJ Racaza was third here, starting in the center box, then heading uprange, just taking the required shots from there and sprinting to the downrange position, cutting the distance on the far targets in half. His time was 19.89. Sailer was in sixth place here and Nils was fifth. Sailer was on a different squad than Nils, but tracking the points had him slightly ahead. The two would finish the match on different stages.
Stage 21 was a 31-round stage with 15 IPSC targets and one popper that activated a bobber. The popper and bobber were available from two different spots. The start was downrange and would require a long retreat while engaging targets up the left side of the bay. There was a sweet spot that allowed you to post up and take several targets if you didn't want to try engaging while moving uprange. Once you cleared the left side, you had to work your way back up the right side heading downrange. Nils ran this in 21.83 seconds, Sailer's time was 19.84 seconds. JJ was swinging for the fences with a 19.16-second run and Hetherington was in the mix at 19.95 seconds. Nils dropped 10 Cs and a D on this one, dropping him to 60th on the stage. Sailer's run took the stage win over Racaza and Jacob, which pushed him to take the title of 2023 USPSA National Champion in Carry Optics. Morgan Leonhardt also grabbed the stage win here, but Justine Williams' performance over the three days was consistent for a repeat as the USPSA Ladies National Champion.
Despite unpredictable weather, the competition maintained top-tier quality. Kudos to the dedicated team of Range Officers, Range Masters and support staff for their outstanding effort. Immense gratitude goes out to our title sponsor, SIG Sauer, our presenting sponsor, Federal, and all our supportive sponsors. A big thanks to the Cardinal Shooting Center, the club contact and match director for the Cardinal Practical Shooters, Dan Click, for all of his help with the range and being a liaison for USPSA. I'm eternally grateful to the setup crew of John Serafin, Steve Wright, Jan Wright, Dan Click, Shannon Smith, Jodi Humman, Jordon Binion and Troy McManus who endured long hours and my occasional eccentricities, and to Range Master Dan Bernard, Kyle Stephens and Jodi for keeping things sane during the competition. A big shout-out to Rick Brotzel and his family for all of their amazing support. Thank you to Donna Webb, managing director, and the awesome folks at Southern BBQ, the Stats crew of Steve Wright, Mike Howell, JB Creech and Trent Cherin who made sure the scores were getting done, and for the entire Range Officer crew. Almost all of them shot the match, then worked it the next three days—you folks are what makes this happen.
USPSA wants to thank all the competitors who made the journey to this year's Carry Optics Nationals, whether it was your first or your 50th, thank you for being a member of this great organization and for your attendance.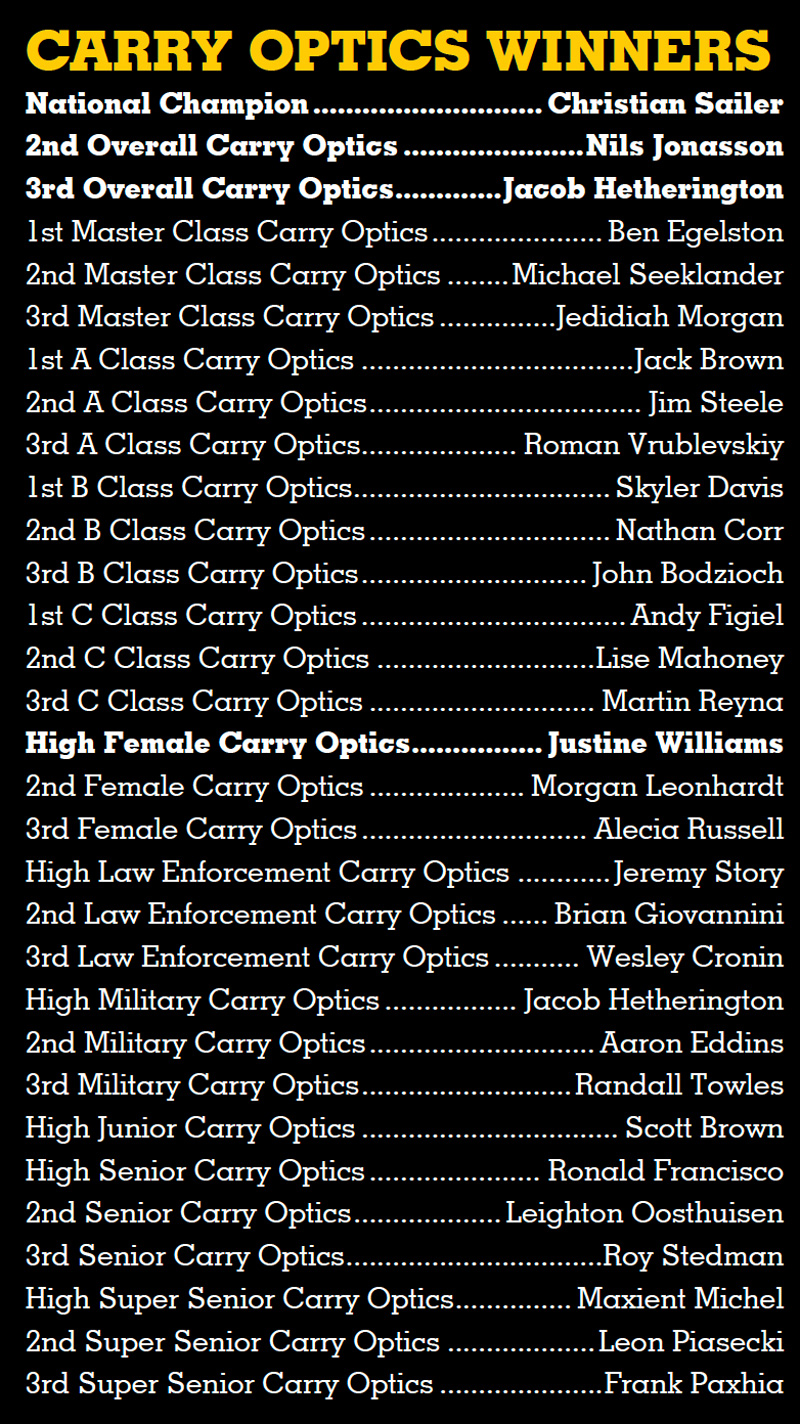 Article from the September/October 2023 issue of USPSA's magazine.