We are in the midst of an electronic hearing protection renaissance, and there are more affordable options than ever for consumers looking to make a 21st century upgrade. Available for a few years now, Caldwell's E-Max Shadows earbuds remain a great value for shooters seeking electronic ear protection with Bluetooth connectivity and a charging case for less than $150.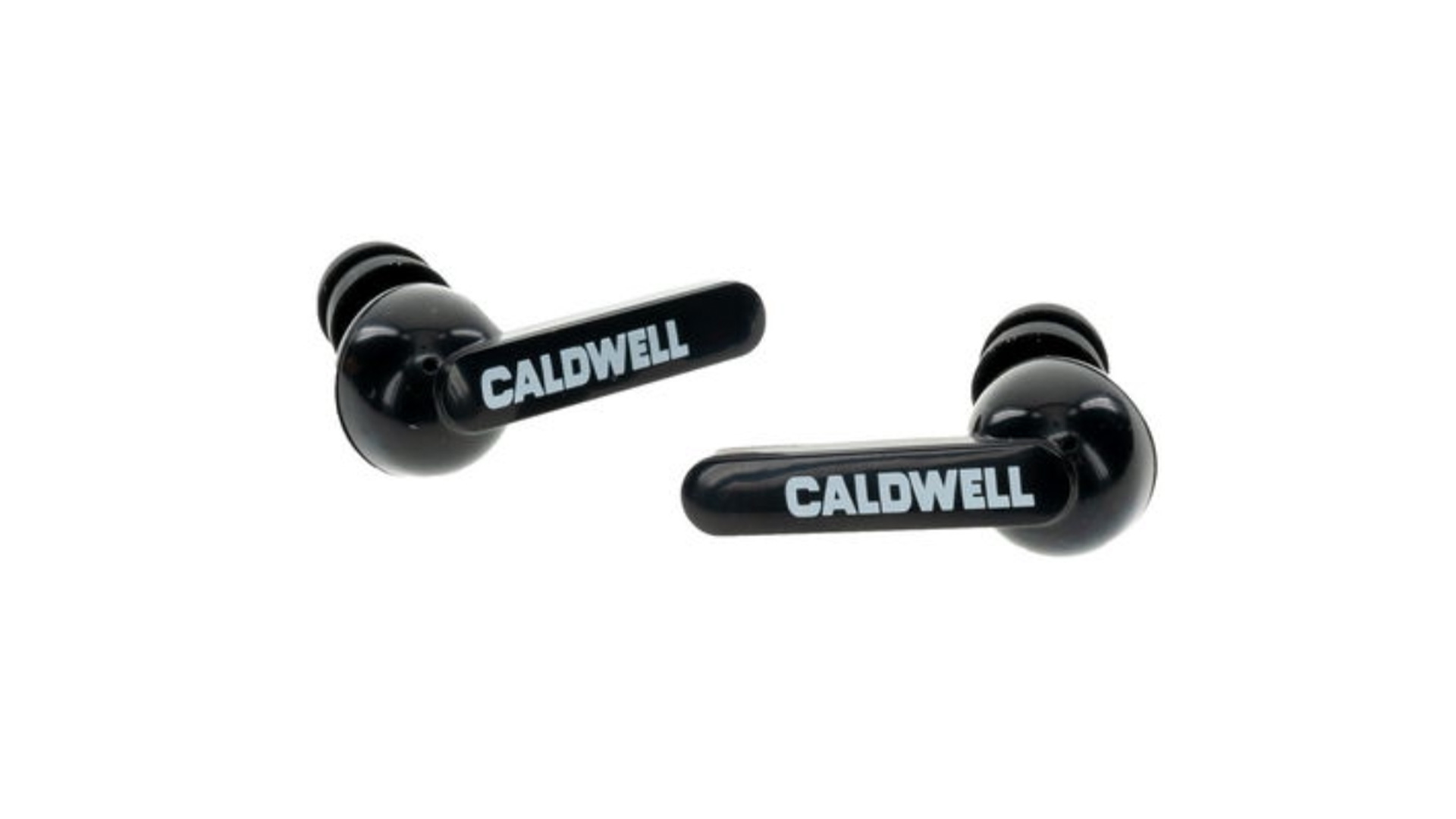 After unboxing the Caldwell E-Max Shadows, you will find that the earbuds themselves have interchangeable tips, internal microphones, LED indicators and touch panel controls. For convenience, there is the aforementioned plastic charging case and USB-micro power cable (no power adapter included), along with a larger zippered case that holds everything, without taking up too much extra space in your range bag. When they are inserted in the charging case, the earbud LED indicators will glow red while charging, turning green when they are fully charged. Additionally, the charging case has its own exterior LEDs to indicate the battery level of the case itself.
As for obtaining a solid ear fit, there are foam tips and rubber tips in multiple sizes included in the box. One tip for a better fit is to compress the foam before inserting the earbud into the ear, and then hold it in place for a few seconds and allow the foam to expand in your ear canal. By inserting in this manner, you should minimize the need to adjust them in your ear.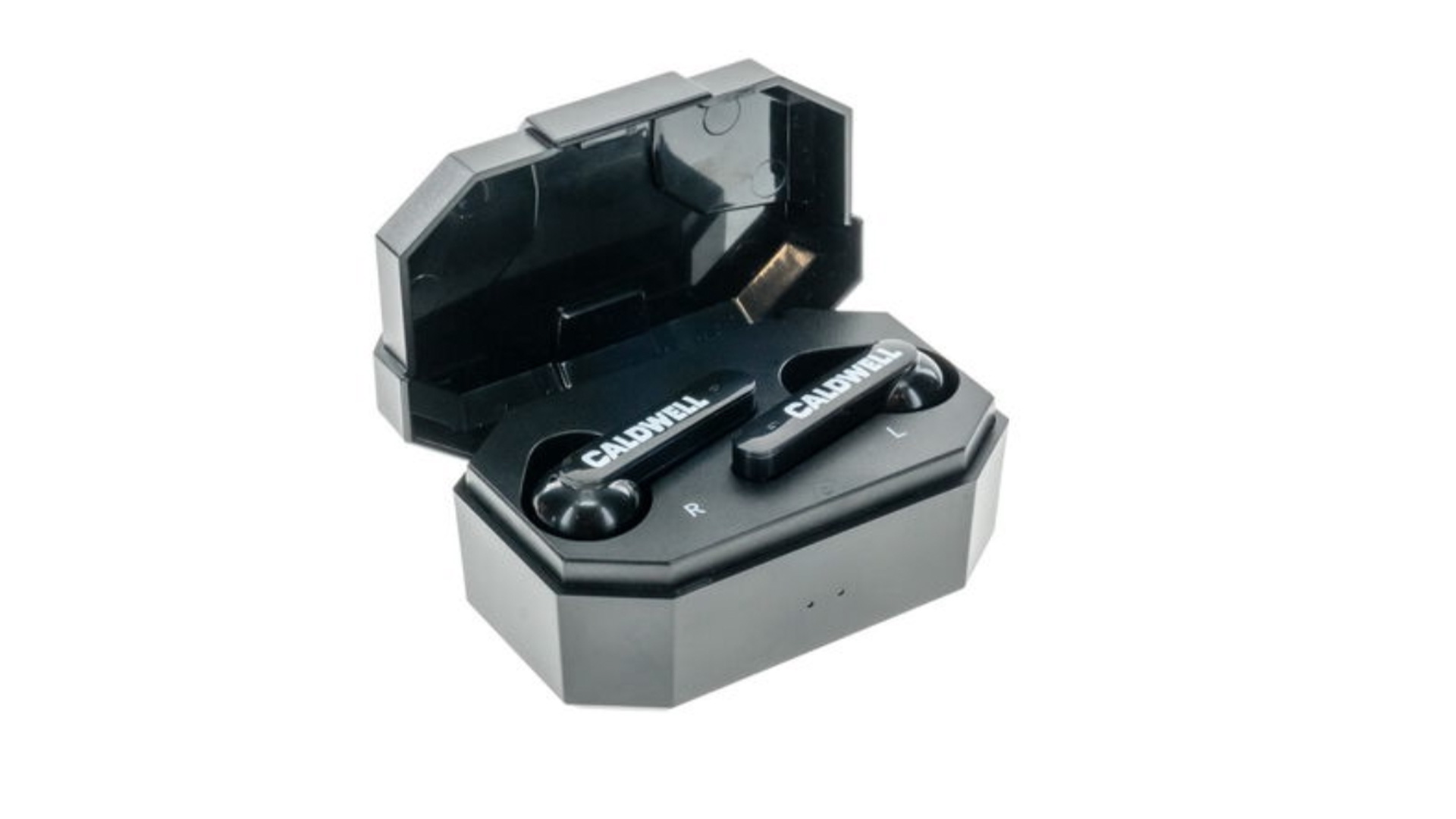 Operating controls are via the touch panels located on both earbuds. By using different touch combinations, you can play music, answer calls, set the ambient mode and control the volume. For the latter, you slide your finger up or down on either earbud to adjust the level. I found the E-Max's touch control system to be intuitive, but sometimes a bit finicky, especially after heavy use.
To connect the E-Max Shadows to your smartphone or other device with Bluetooth to listen to audio, simply take them out of the case and they will be ready to connect. The earbuds will power on automatically when removed from the charging case. They will appear on your device as "SHADOWS" for paring. Connecting the earbuds with my iPhone 13 Pro was painless.
Sound quality is more than adequate. Caldwell also crammed tiny microphones into each earbud to provide directional clarity. Also, the ambient sound amplification is adjustable.
The Noise Reduction Rating for the E-Max Shadows is 23 decibels. For maximum hearing protection, the foam ear tips must be used. The earbuds are equipped from the factory with foam tips, and as previously mentioned, there are extra foam ear tips in different sizes as well.
Battery life, according to Caldwell, is five hours per charge. For me, the battery life was closer to three hours, however, I was streaming audio, which puts additional strain on the battery.
After spending the better part of a year with the Caldwell E-Max Shadows in my range bag, these earbuds remain a best buy for those seeking compact hearing protection with wireless connectivity.
MSRP for the Caldwell E-Max Shadows is $129.99. Also available are the newer and sleeker E-Max Shadows Pro electronic earbuds. Sporting a more compact footprint, the price jumps to $169.99 for the uprated Pro model.
Visit to caldwellshooting.com to learn more about Caldwell's E-Max Shadows hearing protection.