Out with the old, in with the new. At least that's how I felt the first time I popped in Tetra's latest electronic earplugs. The company's AlphaShield line (starts at $699) are entry-level, universal-fit earplugs that borrow some of the latest tech from hearing aids to help shooters preserve their hearing on the firing line—all while maintaining vocal frequencies and allowing for conversation.
In a crowded earpro marketplace, the ace up Tetra's sleeve is the free hearing test available on its website.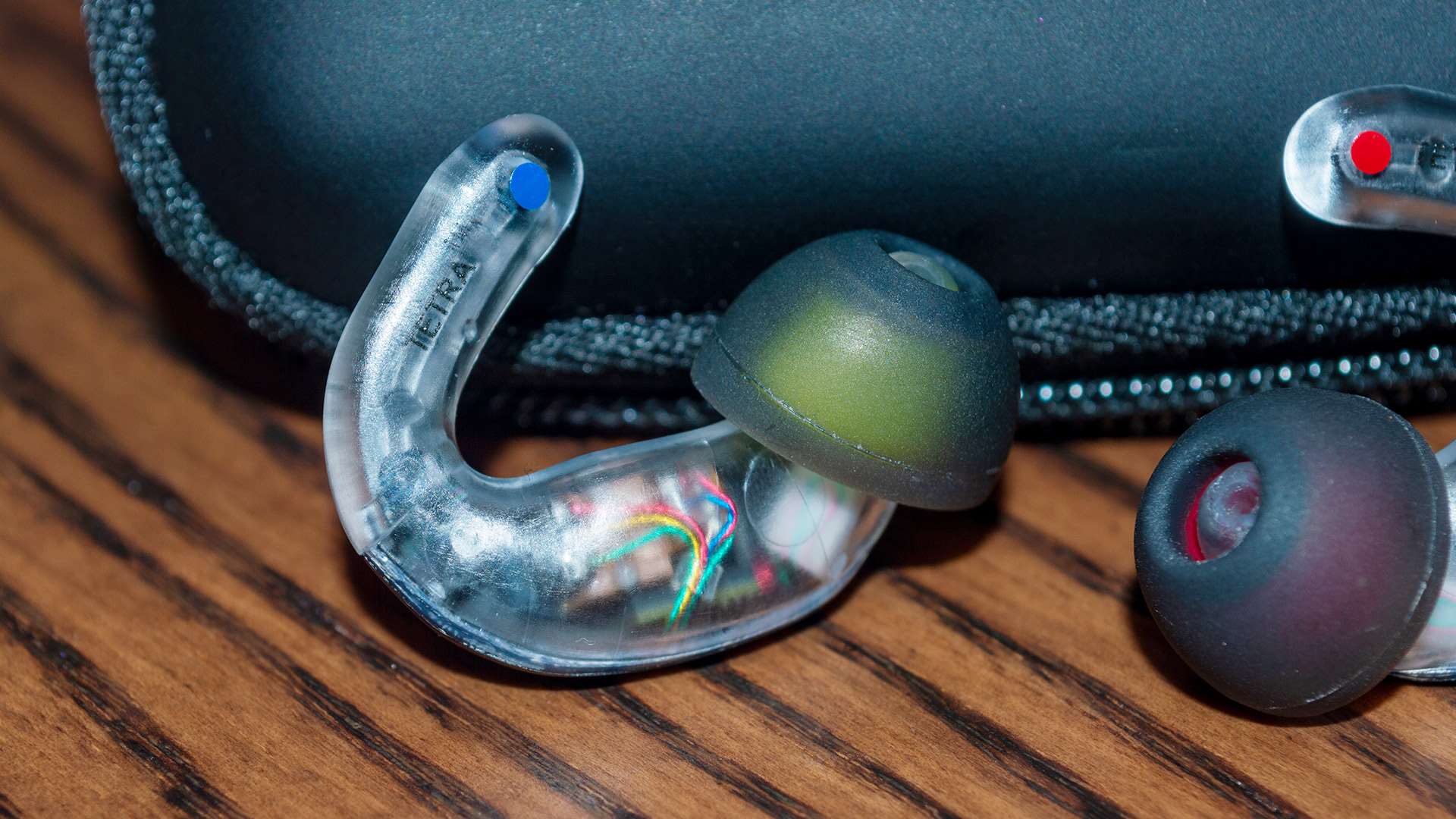 Earpro Made Easy
To take Tetra's online hearing test, you'll need a computer and a set of headphones (noise-canceling ones that cover the whole ear works best). Left and right ears are assessed individually. After a quick volume level calibration, the test commences with a series of tones at different frequencies rising in loudness. After the test is complete, the data is displayed. Send it to Tetra, and the company will program your earplugs for your specific hearing profile. The whole process takes less than five minutes.
Tetra can customize the programming for any of its offerings, according to your test results. The AlphaShields supplied to me had a 12-channel digital signal processor (DSP) in conjunction with microphones and other circuitry to block out (or allow in) sound at different frequencies.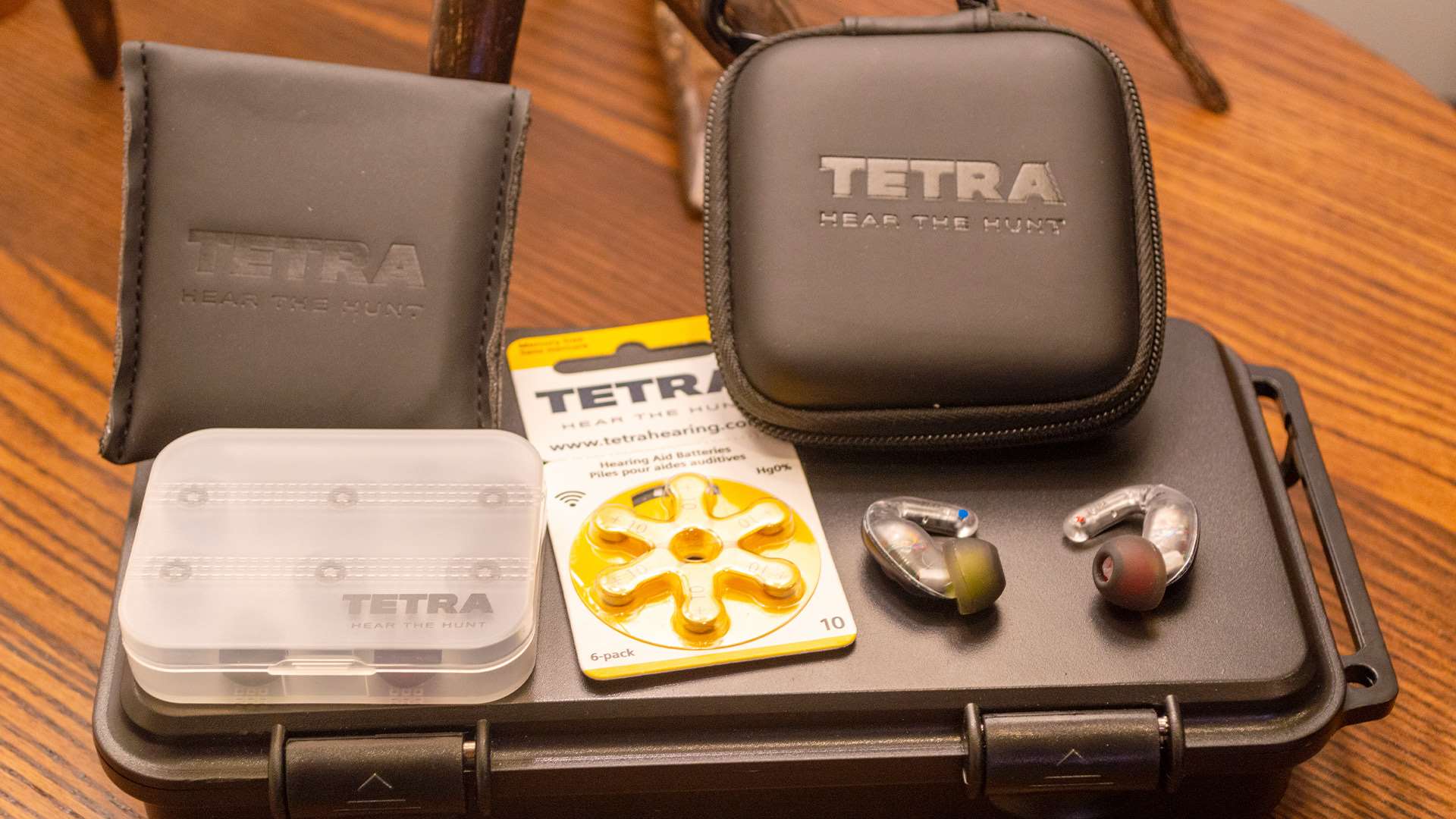 AlphaShields come packaged in a hard case. Inside the case are the earplugs themselves and a dedicated soft tote, along with 12 ear tips inside their own small plastic box (and its own small bag), one package of 10A hearing-aid batteries and a small cleaning brush.
Since inserting the batteries can be a bit tricky, a safe, well-lit area is your best friend. The AlphaShields have small doors that open with a fingernail tab. The doors flex to accept the batteries, and are marked for the correct polarity. If at any point you feel resistance inserting a battery, you're doing it wrong.
It's critical to completely seal the ear canal for proper sound attenuation with AlphaShield earplugs. For a comfortable and snug placement, Tetra included three pairs of heat-activated memory foam tips (small, medium and large), along with three pairs of silicone tips. The medium-sized silicone tips fit my ears perfectly and are also color-coded for easy identification. Pro tip: your ear canals may be different shapes, so find the best size tip to fit each ear individually.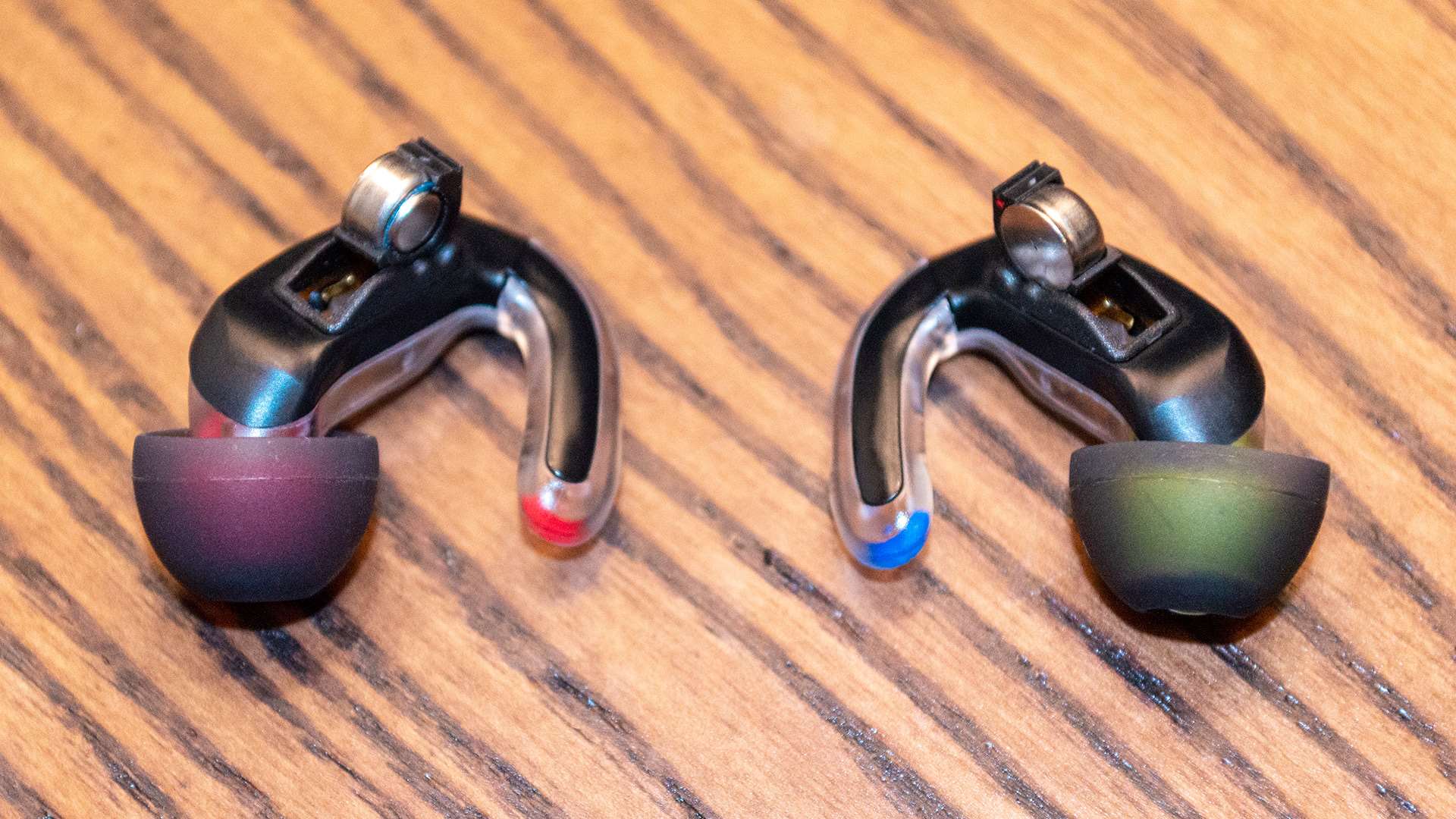 Three volume levels—normal, boost and magnum— are adjusted via a small side button. The volume is indicated by beeps, one for normal, two for boost, etc. And, since each device has independent volume control, you can optimize the settings for your particular situation. In addition, there's an audible low-battery indicator, with three double beeps every eight minutes.
One thing to note is if you are too forceful putting the earplugs in, or if your ear canal is dirty, it can cause an unpleasant whistle during insertion. So, keep your ears clean, know that a soft touch goes a long way, and use the included cleaning brush often to keep the AlphaShields free of debris.
Clear Comms
My first opportunity to try out the AlphaShields was on the sporting-clays course in the middle of the dog days of summer. At a packed range on a hot summer day in humid Northern Virginia, what could go wrong with popping in some brand-new electronic earplugs? Well, the answer is nothing. The AlphaShields worked flawlessly. It took a few minutes for my brain to wrap around the contrast of the on-board mics that enhanced people's voices and the muffled sound of gunshots. However, it didn't take long for me to appreciate the technology. I stuck with the normal volume setting, which was more than adequate for normal conversation. And, with the temperature about 98 degrees, I was perspiring more than normal, but the moisture didn't affect anything with the earplugs.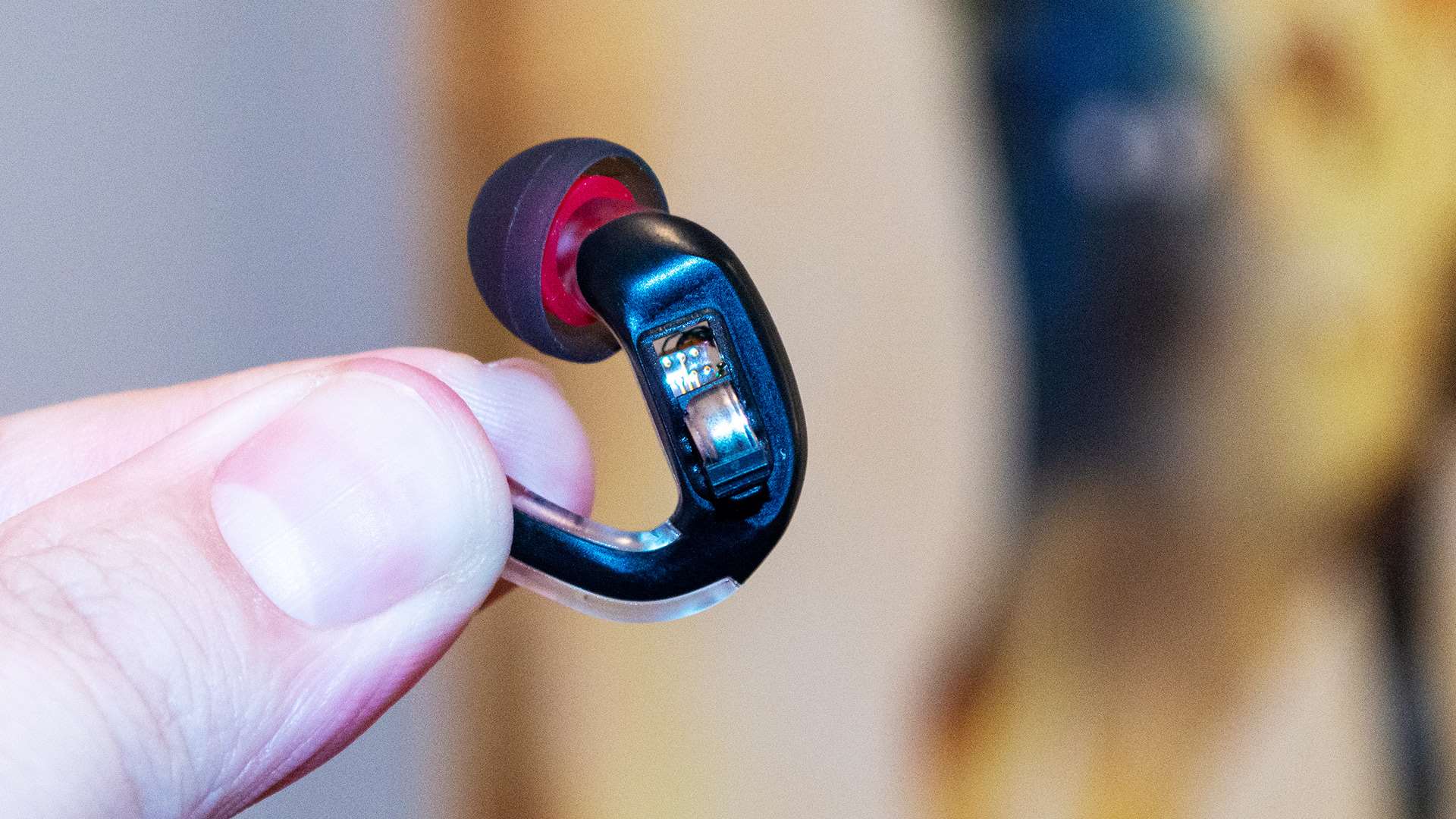 My next shooting excursion, this time with precision long-range rifles in the mountains of West Virginia, once again proved the value of the AlphaShields. Dialogue between shooter and spotter can be vital in precision rifle, and the enhanced audio signal can transform elevation and wind calls that are usually barked or yelled into a more relaxed form of communication. Going deeper, the AlphaShields' algorithm (Tetra calls it "ClearComm") accentuates human speech while decreasing noises and distractions outside of the frequency range of human voices. This is ideal for talking with shooting partners and hearing speech on the range.
Bottom Line
I found the AlphaShields to be extremely effective. The electronic earplugs quickly became my top choice for hearing protection at the range, because they work as advertised— blocking out all unwanted sound, like loud gunshots, while still allowing me to hear my neighbors on the firing line speaking. What's more is they're comfortable for all-day use, easy to fit to the ear, and customized to my personal hearing profile, thanks to the online test.
As for battery life, Tetra says, "With daily use, the battery should last 7 to 10 days." For me, after using the AlphaShields intermittently about two to three times a week, they continued to work for about 30 days without a battery swap.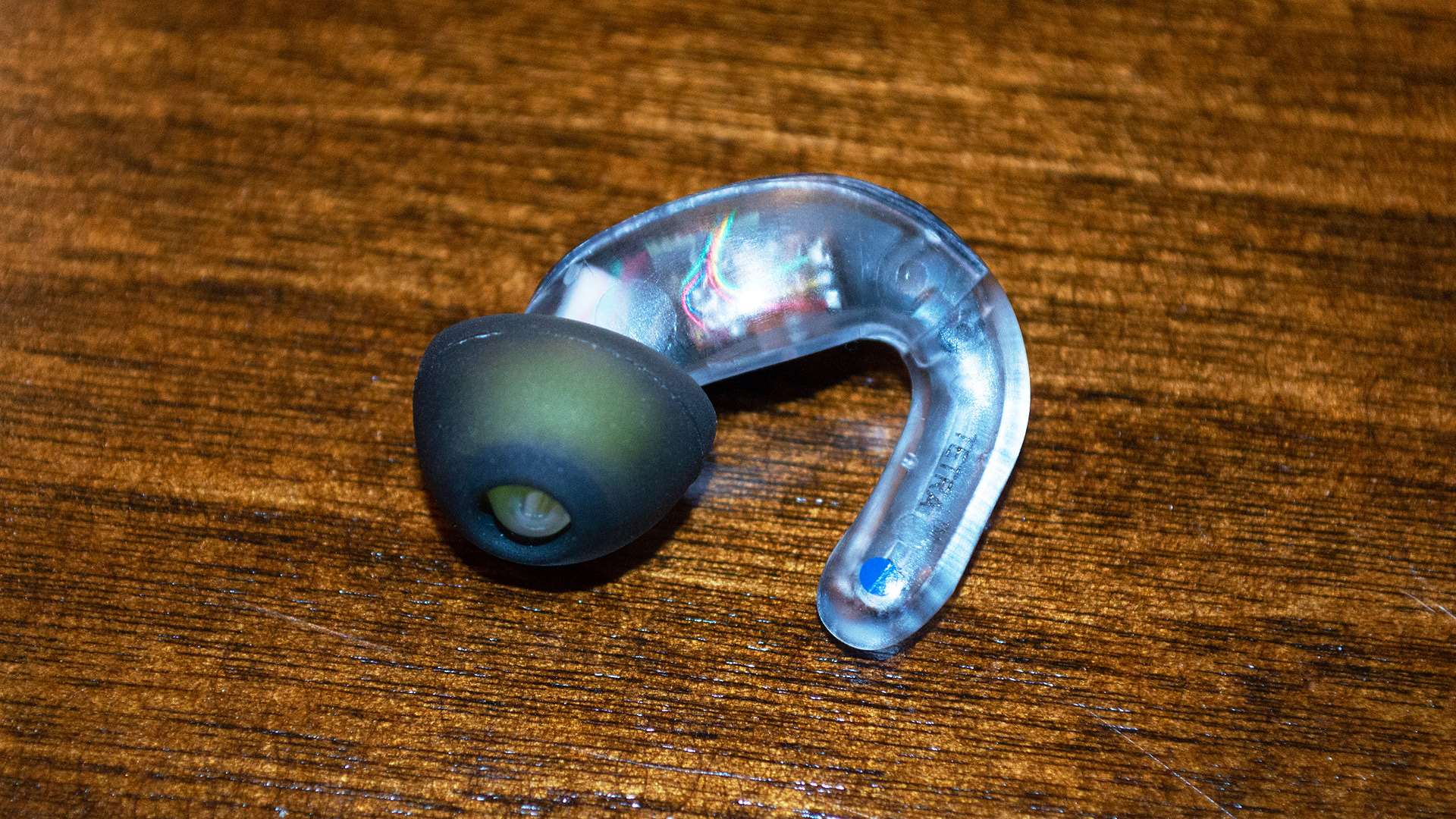 Here are two pieces of advice for prospective buyers. First, the garbage-in, garbage-out principle applies here. Meaning, if you don't take Tetra's online hearing test properly (e.g., using cheap earbuds or even AirPods), any errors in the results will be reflected in your earplugs' programming, and you won't be able to hear your friend talking next to you because the algorithm has the incorrect frequencies. If you're going to spend $699 (or more) on a set of nice electronic earplugs, make sure they will work correctly.
Second, while Tetra offers higher-tier earplugs that boast DSPs with additional channels (more signal processing power), more channels doesn't necessarily make for a better experience. Although more channels can provide a more accurate fit to your hearing profile, having too many channels (think 20 or more) could also result in muddy and murky sound. I found that the entry-level AlphaShields with a 12-channel DSP were fully sufficient for my needs. So, do your homework and if you have questions, the folks at Tetra can help.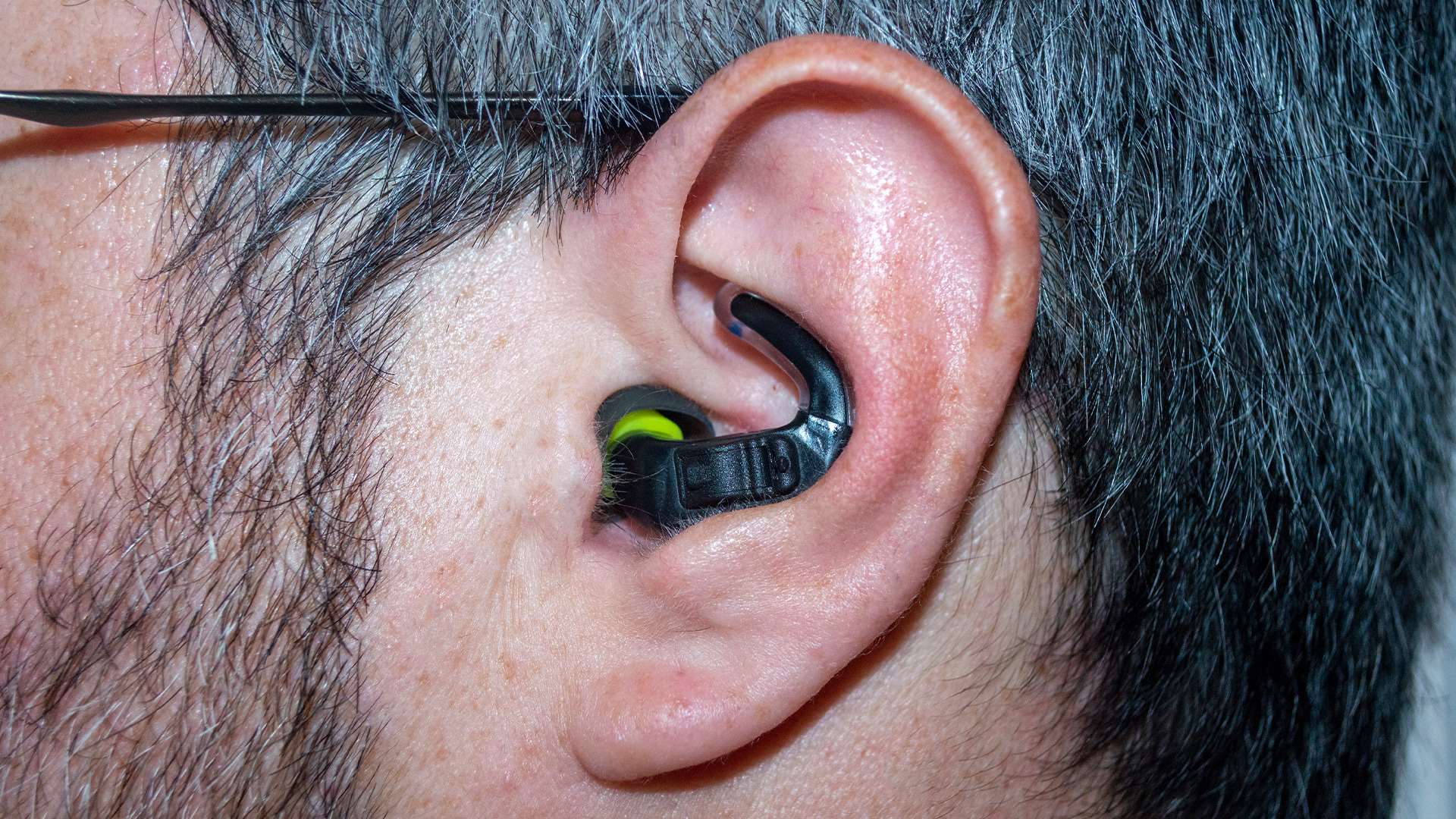 In addition to the AlphaShield line, there are custom-fit models available, as well as more advanced ones with multi-channel noise reduction. Best of all, Tetra offers a 30-day money back guarantee. Learn more at tetrahearing.com.
What's a DSP?
A digital signal processor significantly increases the overall value of hearing protection. At a minimum, it consists of a DSP chip (the "brain" where calculations and algorithms are performed), memory and programming. Unlike passive protection, a good DSP will suppress noise without blocking speech signals. DSPs are used everywhere audio is involved, from speech processing to voice recognition. Even your smartphone has a DSP for speech compression and transmission. With Tetra's AlphaShields, DSP sound suppression and enhancement concepts are what protect the users from hearing damage.
All About NRR
Essentially, the higher the NRR rating, the more sound reduction you get from your hearing protection. You can figure out how many decibels the hearing protection will cancel out by subtracting seven from the NRR rating (such as NRR 21 or NRR 32) and dividing by two. For example, typical foam earplugs, with NRR 32 would reduce noise by 12½ decibels. Tetra's AlphaShields have NRR 20, which makes sense, since these are electronic earplugs with a powerful DSP, and the noise reduction rating formula is of little importance.
---
See more:
How To Correctly Insert Foam Earplugs