First-person shooter video games are often compared to actual range time, but are we approaching an age when shooting can be compared to a video game? If you had a chance to peer through the Meprolight Foresight you might be inclined to agree. The newest optic from the famed Israeli manufacturer is abundant with electronic capabilities and makes you feel like you are navigating different levels in preparation for that boss battle.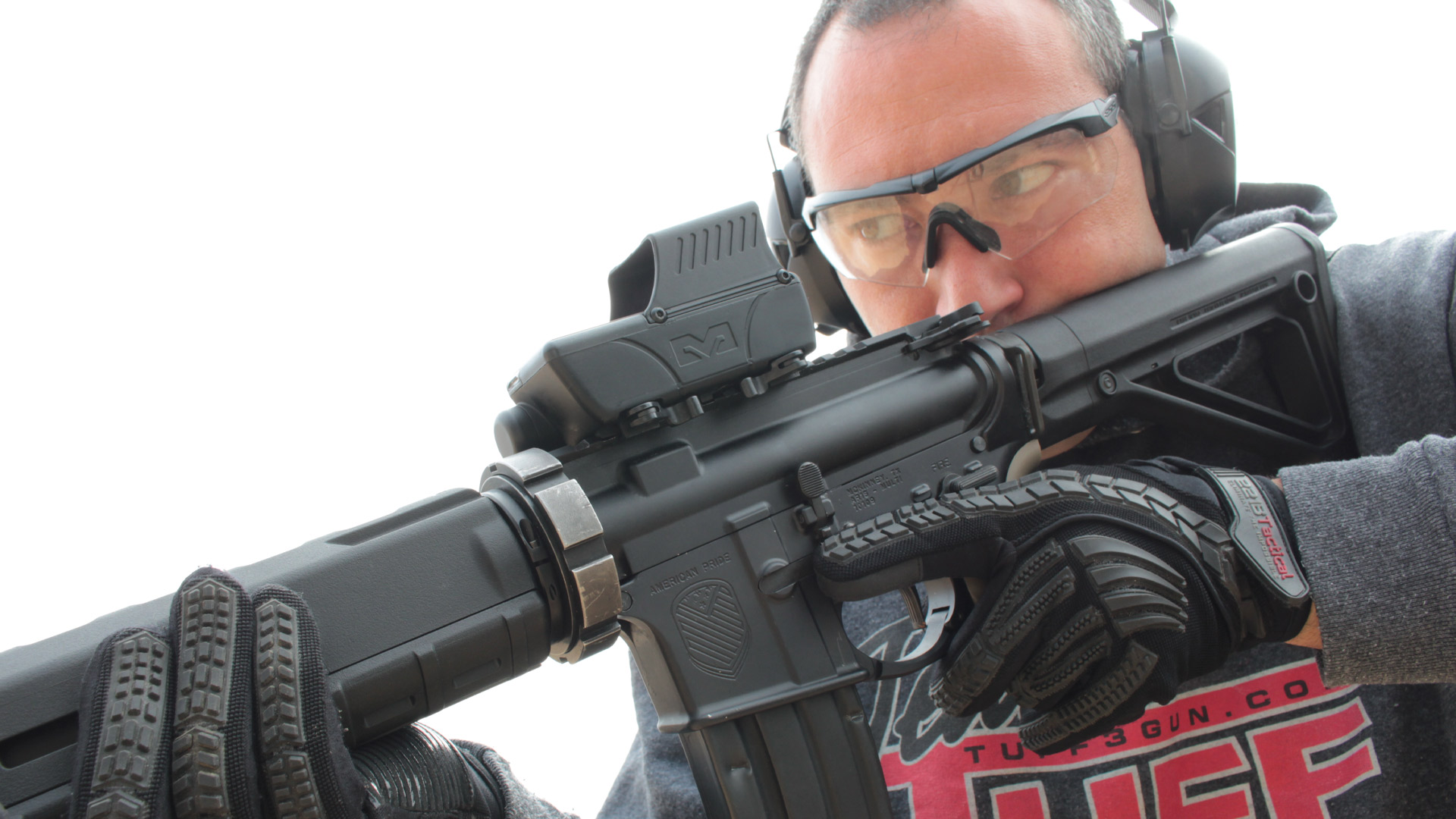 Meprolight refers to its new brainchild as an "augmented red-dot sight," which means that it operates like any other but there is a plethora of information displayed through the glass as well. Features like a "Roll Meter" are displayed with a compass to help you not only ensure that your gun is free of any cant, but that you are also pointing it in the appropriate direction. The Foresight receives this programming from Bluetooth connectivity with your smartphone, so upgrades are as simple as updating the app and pairing it to the sight itself. The entire device is powered by an onboard battery that is charged with a standard USB-C cable connected to any five-volt power supply. That means that just about any smartphone adapter can be used to juice it up, as well as connecting it right to your PC or even a power bank.
My evaluation of the device started in my home. After unpacking it, I powered it up (it came fully charged) and walked from room to room observing the auto-dimming feature self-adjust as I went from very bright conditions to pitch-black ones. Needless to say, I was impressed with its performance as it was fast and intuitive. For match shooting, there are several times when the stage starts in the shade and ends in complete sunshine. This feature is handy as it keeps the reticle and other information easily viewable.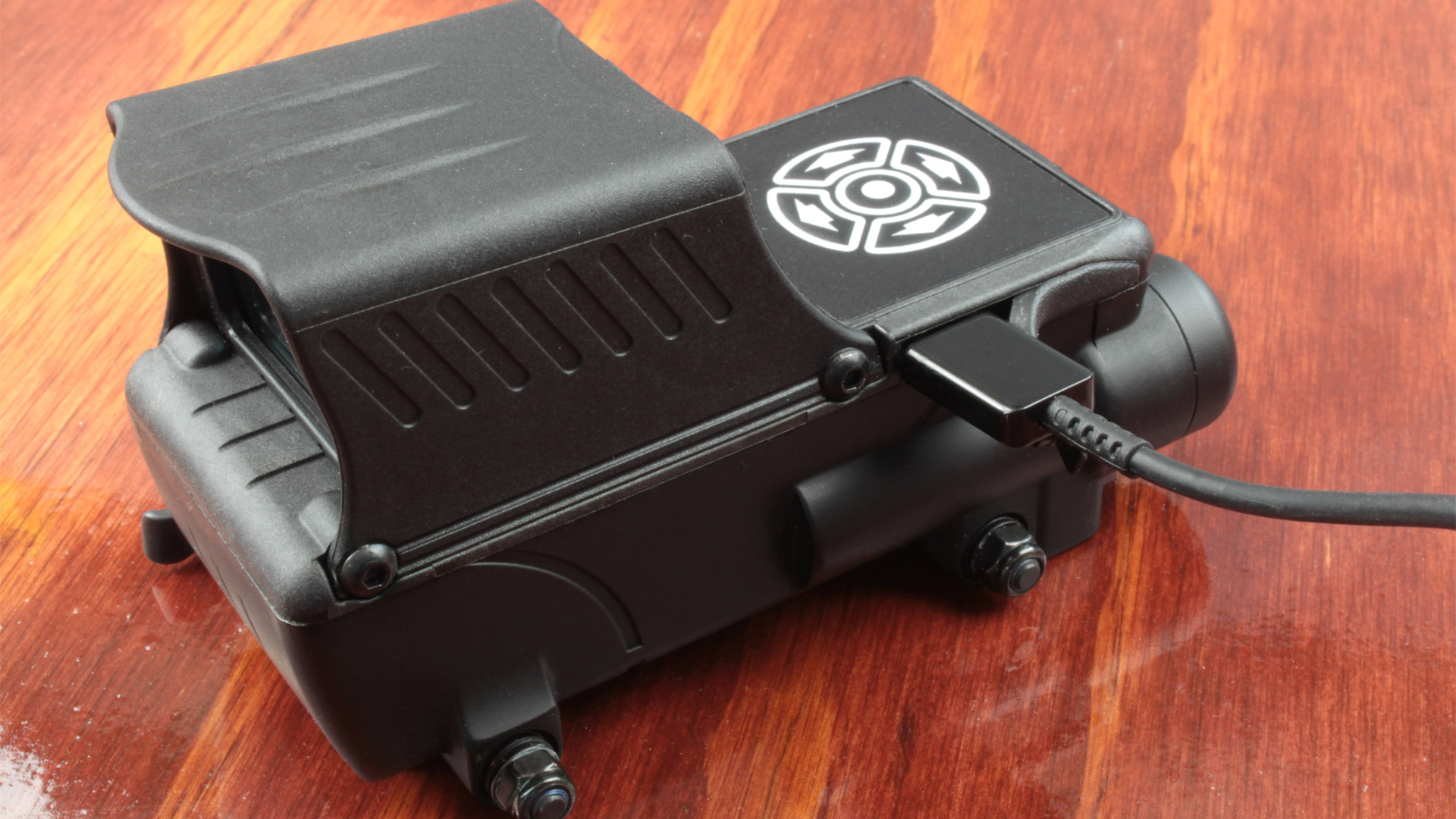 Next, I selected a custom-built AR-15 rifle that utilized the Frontier Tactical Warlock System to mount the new optic to. The Warlock system enables a tool-less barrel swap, allowing me to use the same rifle to fire two types of ammunition without having to swap entire upper receivers or move an optic. I went this route because the Foresight allows users to create multiple profiles, each with their unique settings and zero. I planned to make one profile for 5.56mm/.223 Rem. and one for subsonic .300 Blackout. These rounds have a very different trajectory and point of impact, so it would make for a great test. Multi-caliber optics and multi-caliber firearms have a symbiotic relationship as they bring out the true value in one another.
The Foresight comes with a built-in QD mount so installation only took a matter of seconds. I thought this was a great idea because not only does it make it simple to go from platform to platform, but it also allows you to leave the gun secured in a safe while the sight sits on your desk to recharge.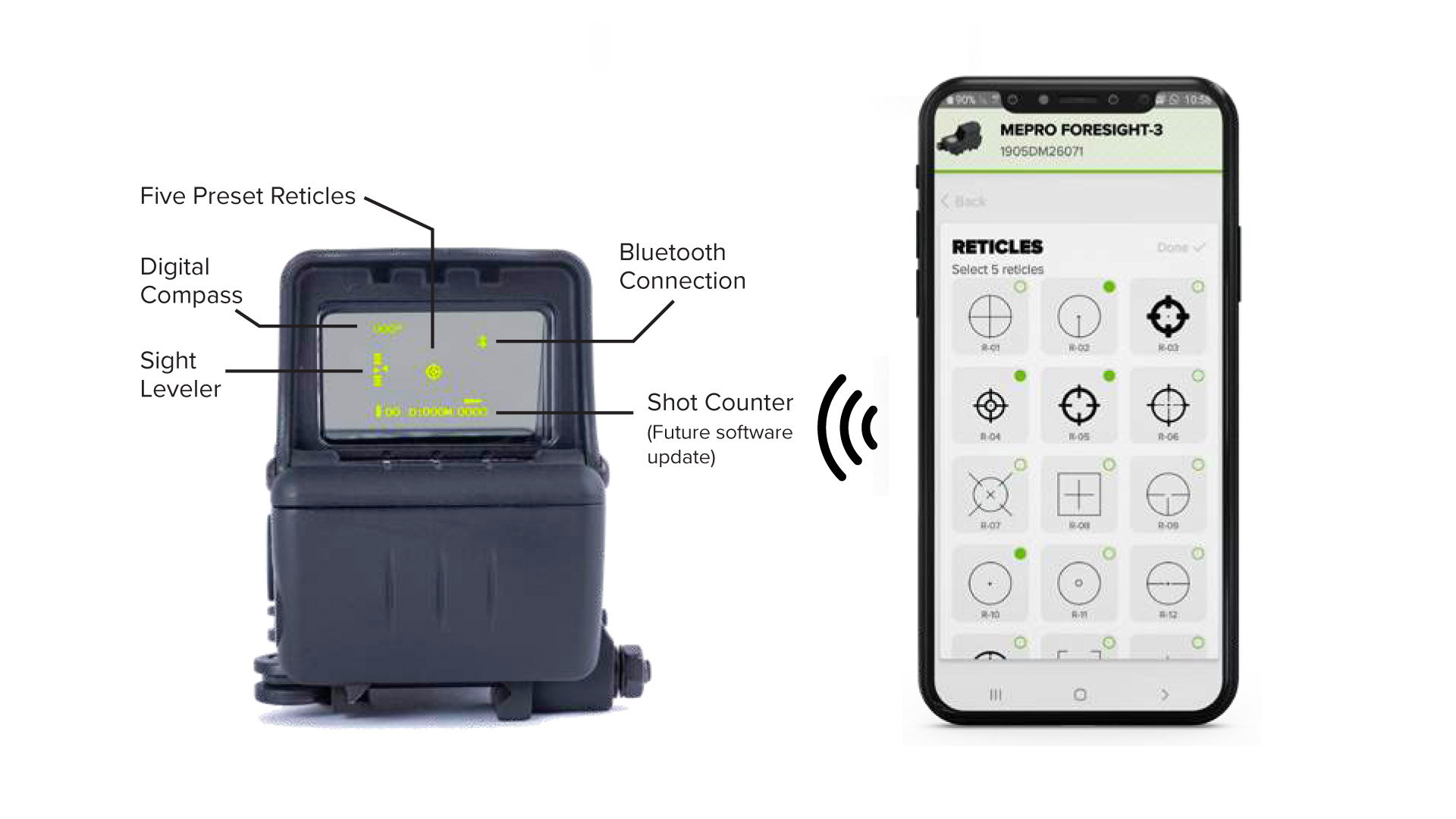 Before leaving for the range, I made up a profile for each cartridge by using the Meprolight app on my smartphone. This process involved naming them and picking an avatar to help quickly recognize which firearm goes with each profile. After this step, I was able to select five different reticles for each profile from a bank of 20 different options. The five I decided on for each given profile could be changed at any time. I realized that this was done to reduce digital clutter with the onboard sight controls. That was all that was needed to make the package range ready, so I quickly headed out.
After unpacking, I realized that I was shooting from a shaded area at a target in full sun. This is the exact situation that Meprolight software engineers had in mind when they included the option to override the automatic brightness setting, and I did so by holding the brightness adjustment button for three seconds, and then I was able to take over and tweak it just how I wanted. After ensuring the firearm was safe, I proceeded 50 yards downrange to set up two paper targets to get zeroed. I started with my 5.56mm/.223 Rem. profile and fired a group of Wolf Gold .223 Rem. into the berm to get a rough idea where I was. Surprisingly, it wasn't too far off. I put a group on paper and figured I needed to move approximately five MOA right and about two MOA up. To undergo this process I was directed to the app where you just dial it in and allow it to sync. After doing so I was square in the center of the paper. The process can also be completed entirely through the sight by navigating to the zeroing menu, but I found running the app to be easier. After dumping a few magazines I swapped on the .300 Blackout barrel and selected that profile. I zeroed it in the same fashion and again sent a number of rounds downrange for "science." The true test came later on when I fired off six rounds, alternating barrels and profiles that produced two perfectly zeroed groups.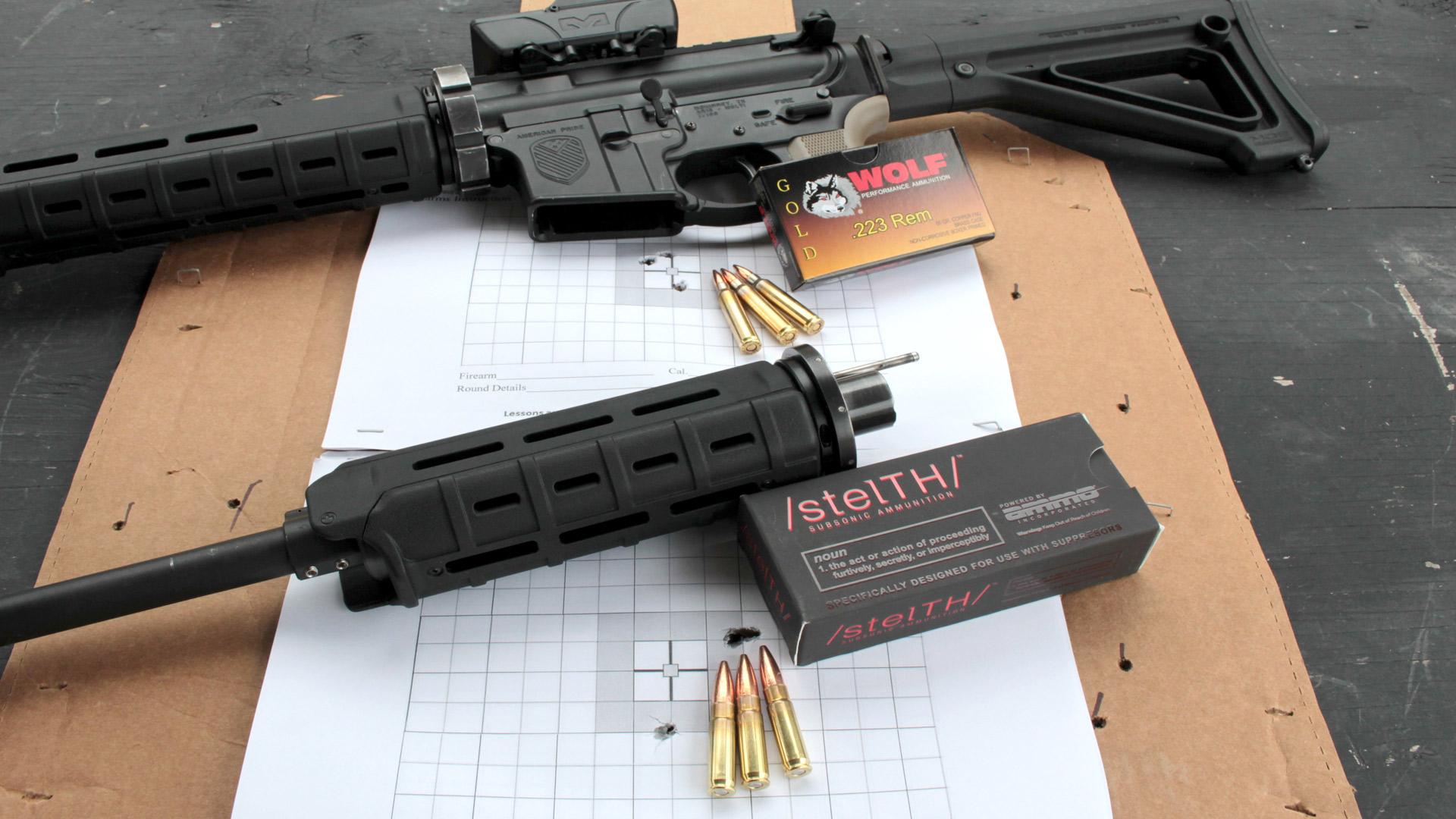 My four-hour range day only depleted about eight percent of the battery. If I wanted to I could have run it in low-power mode, which would have cut consumption by limiting what is displayed to just the reticle and turning off the sensors and Bluetooth. For more information regarding the battery, I reached out to Meprolight and discussed it with Technical Product Manager, Jonathan Glazer.
He explained, "Battery life is 50 hours at full power with continuous use. However, recharge time is only about two hours. It is to be thought of along the lines as a smartphone. You remove it from the weapon and recharge it after a session. If it is in low-power mode, you can double or triple the battery life." Further examination revealed the five-hour auto shut off also turns back on once motion is detected. Thus, it's important to understand that those 50 hours of continuous use do not include time sitting in a safe or a tree stand.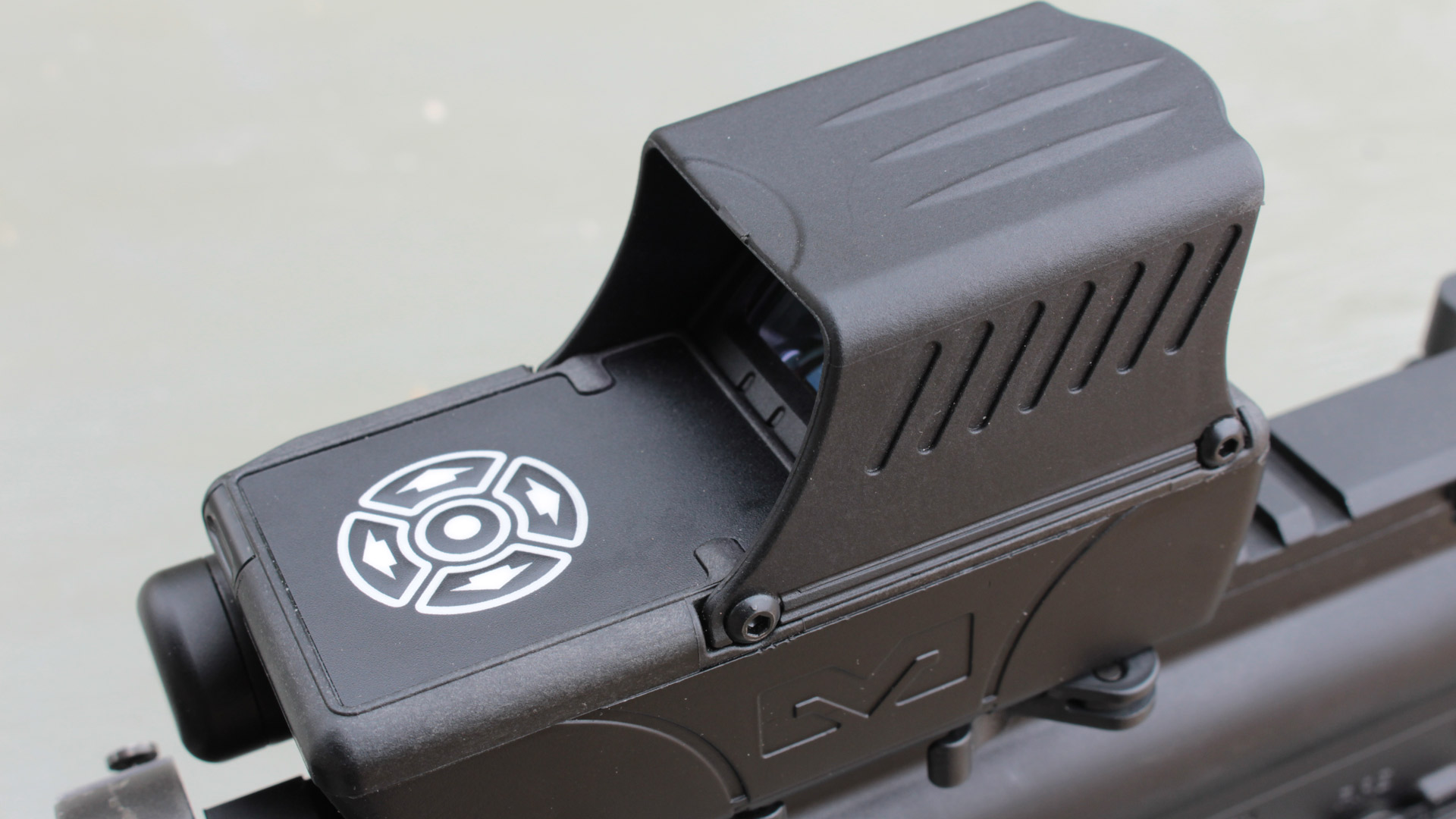 Overall, I thoroughly enjoyed my step into the future. While the most obvious features were useful, I think the Bluetooth connectivity is the real star of the show. Having this feature allows them to constantly improve and add features such as new reticles. In the future, they can add capabilities like user-adjustable auto-shutdown times and there are plans for an update that will include a shot counter. All that would be missing at that point is a health bar.
For more information, visit meprolight.com.