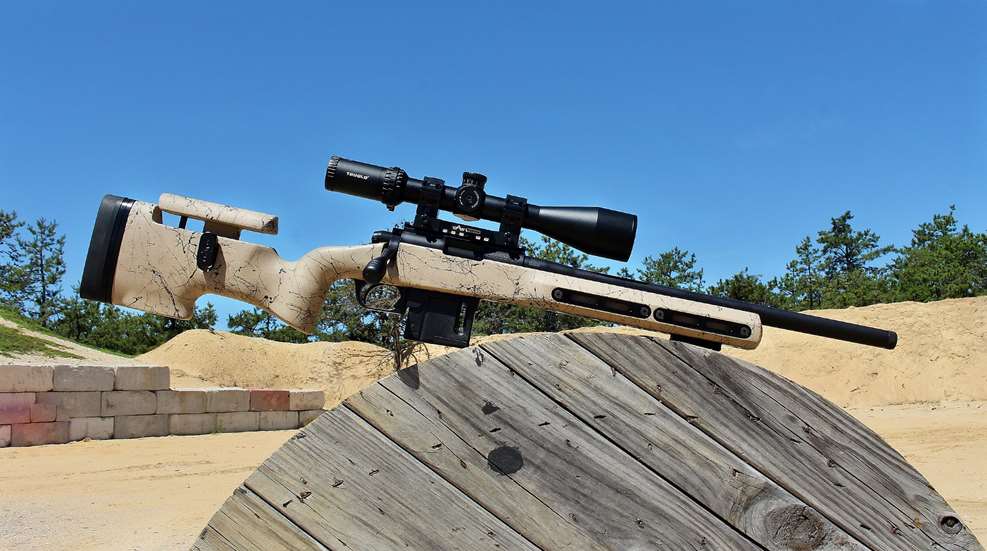 Of all the cartridges that occupy the shooting sports, none are more intriguing than the .22 Long Rifle. On one hand, it's commonly regarded as an informal cartridge that you might purchase in bulk to shoot cans at short distances. On the other hand, it is the same cartridge that is used to determine the victor of numerous world championships. Ultimately, it comes down to how much quality the manufacturer wants to press into the ammunition and the rifle that fires it.
Vudoo Gun Works believes that the diminutive rimfire cartridge deserves its best efforts and demonstrated that in its original V-22 rifle. This precision rifle quickly caught the eye of competitors looking for a means to practice their positional shooting at a reduced range. As such, its demand extended beyond shooters working with conventional 90-degree bolt throws—garnering a cry from the three-lug fellowship, who enjoy a reduced 60-degree motion. For these shooters, Vudoo Gun Works delivered a V-22 variant dubbed the Three 60, and I was fortunate enough to get my hands on one for evaluation and testing.
Before we get into the Three 60, let's review what makes the V-22 so hot in the first place. Above all, most owners will exclaim its accuracy. This is primarily the byproduct of the V-22's controlled-feed action, which uses a pair of extractors to gently place the cartridge into the chamber without the use of feed ramps. This makes sure that the bullet and case aren't deformed along the way. Although push feeds aren't anything new, the V-22 takes it a step forward by releasing the cartridge before the bolt is completely closed. This allows the bullet to perfectly align with the bore axis and adjust for any amount of fouling that might be present before pressing the trigger. This serves Vudoo's signature Ravage chamber, which is a tad short enough to place the bullet right at the lands. It works with high-end .22 LR fodder best, but will chamber and fire nearly anything you feed it. Lastly, it uses big-boy bottom metal (short-action Remington 700) to allow it to accept standard stocks and triggers, also sporting an AICS magazine footprint. The Three 60 retains all of these features and performs at the same level as the 90-degree V-22 action, but instead is built with a three-lug configuration for that reduced bolt throw.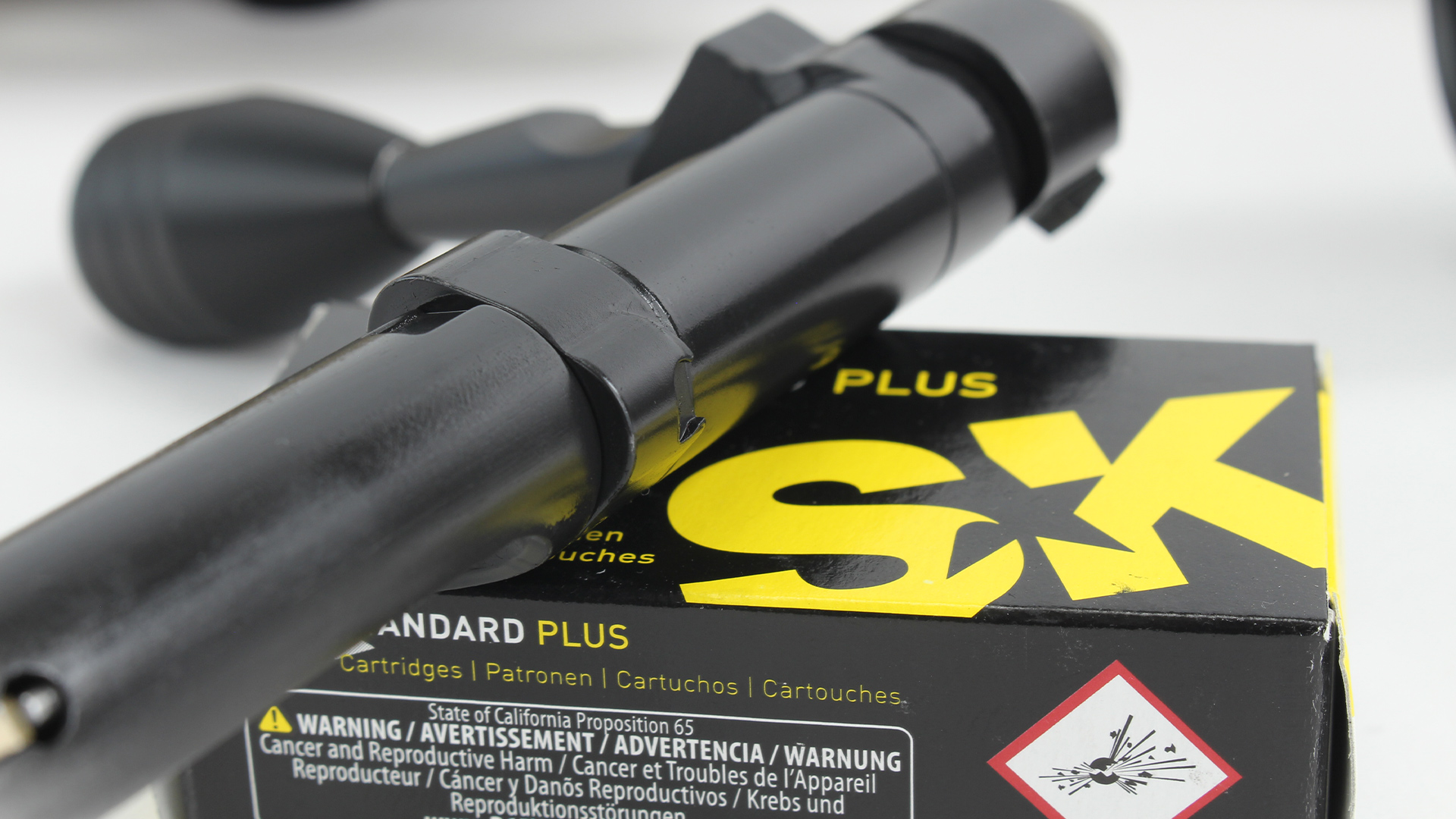 Like the original V-22, the Three 60 is a production gun with enough options available it can easily be considered custom. My sample was built into a Greyboe Ridgeback stock. I enjoyed the sheer mass of this option, as once balanced it will stay put despite what the breeze is doing. The weblike texturing was attractive and supportive without being overly aggressive, which is appropriate for the nearly non-existent recoil. This stock also has an adjustable cheek riser, which is essential to perfect a cheek weld with a given optic; the same goes for the adjustable length-of-pull via its spacer system. An intelligent feature that caught my eye was the embedded bubble level located on the tang. Not only will this help eliminate cant, but it's also placed in a spot that won't allow you to forget to check. This stock is cut with an oversized barrel channel that effortlessly floated the 20-inch Kukri option with which this gun was built.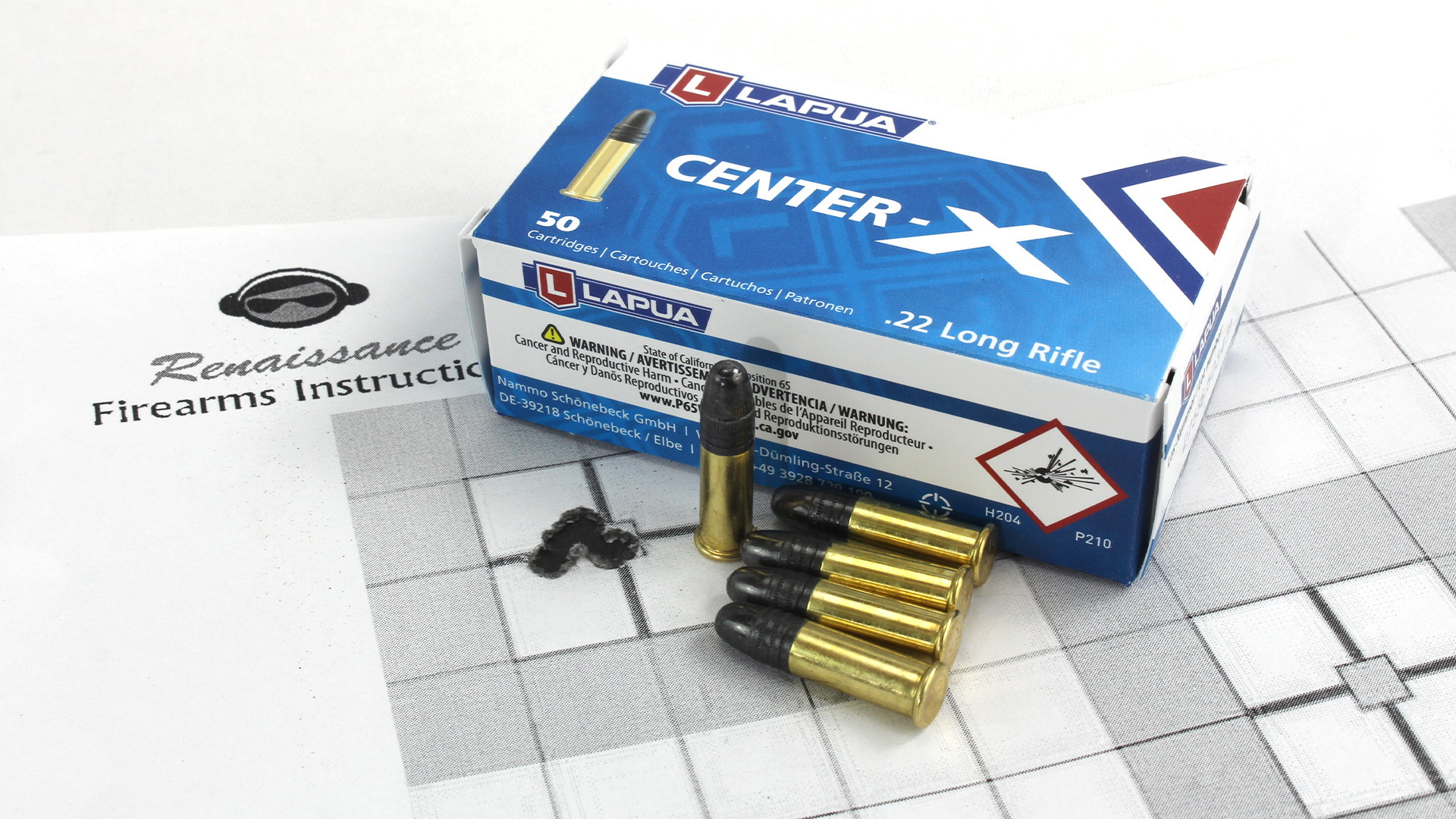 When you build your Three 60, Vudoo gives you the option of adding some slope to the included base. Builders can pick 0-, 20-, 30-, 40- or 60-MOA, based on what they are trying to accomplish. As I was going to be using an EAW Black-Line scope mount, I went with a modest 30-MOA rail. The EAW mount allows me to add an additional 70 MOA of elevation adjustment just by swapping out the included spacers. This mount makes it far easier to achieve a 50-yard zero without sacrificing the necessary adjustment to reach 300 yards (yes, the .22 LR can reach that far and further). I also decided on 30 MOA in this instance, giving me a total MOA boost of 60. I figured this would get me close, and I could swap as needed after my first live-fire session. Next, I installed a Truglo Eminus 6-24X optic, which I think is in the same class as the other gear going into this test, despite its low price point. After locking down the hardware, I rounded up ammunition from Lapua and SK, along with an Armageddon Gear Game Changer bag. It was go time.
We started by zeroing out the optic with the Lapua Center-X ammunition at 50 yards. As predicted, we were close but had to use the 12th MOA mark in the top half of the reticle to get rounds into the bullseye. If I swapped the 30-MOA spacer out with the 10-MOA spacer, I could center things properly, but I'd rather keep it the way it is, because this rifle is destined for really long distances at some point. The initial shots provided a deep appreciation for the included Timney trigger, which broke at a measured two pounds, two ounces, without so much as a hint of creep or overtravel.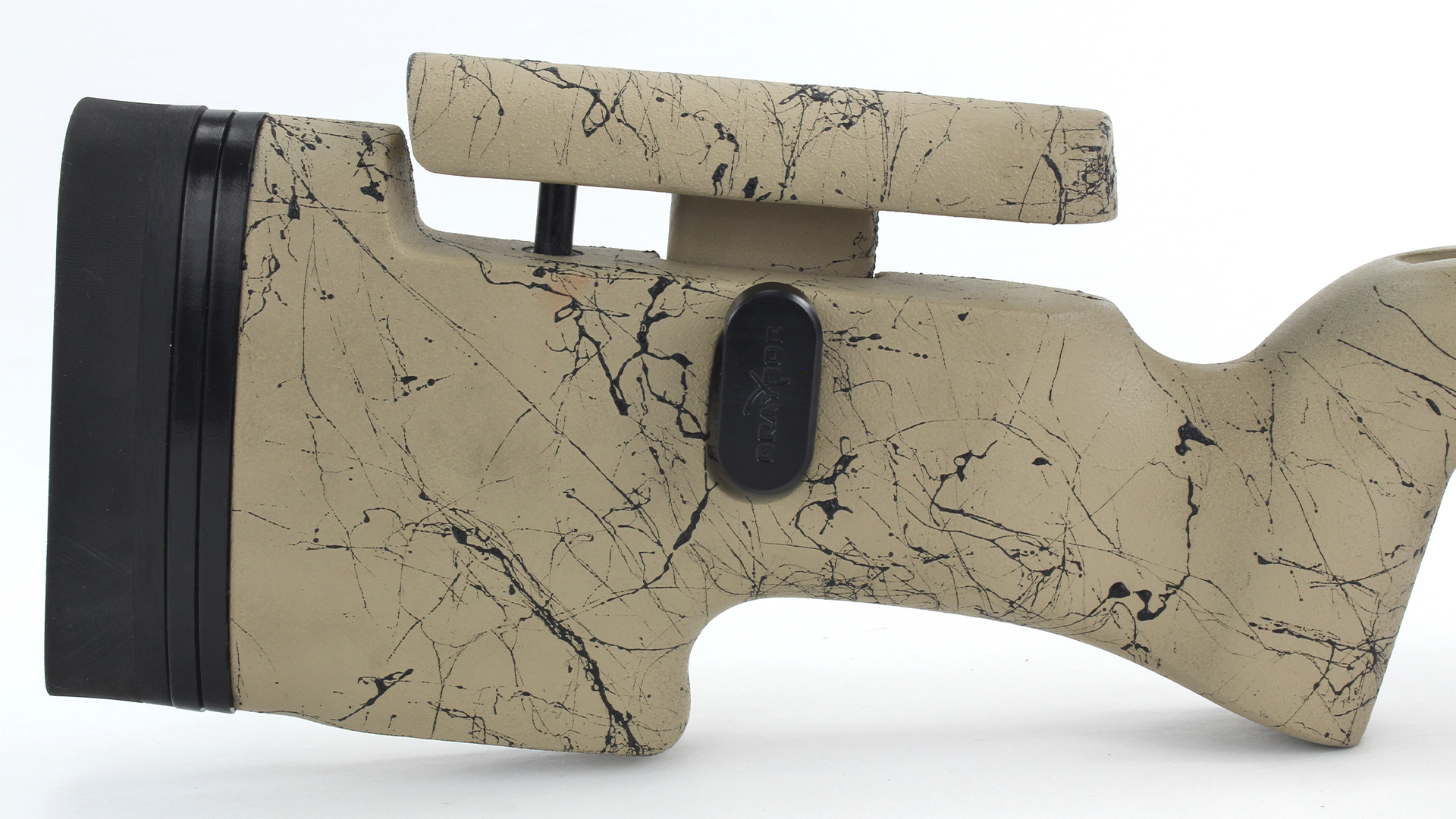 After breaking things in, my wife, Barbara, and I challenged each other to see who could shoot the best group of five. Admittedly, she took it home with a group measuring a paltry 0.263-inch, despite a mild breeze and aggressive heckling. The tabulation of our five-group average came in at 0.391-inch, boldly displaying the result of Vudoo's attention to detail. Next, we repeated the test with SK's Standard plus ammunition, to which things opened up a bit. Nonetheless, we were still able to muster a best group of 0.822-inch, but our average was 1.14 inches. Clearly, the Three 60 likes what it likes, but luckily, even during ammo crunches, high-end .22 LR options are plentiful.
I ended the test by playing with some improvised shooting positions, which allowed me to get a feel of this action's (for lack of a better word) smoothness. Some say the three-lug bolt design is a little tougher to run, but in my experience that was not the case. As a natural lefty, I was able to run this right-hand action by flicking the bolt up with the back of my hand and running it through its entire motion with just my trigger-hand ring finger. I did have the option of getting it with a left-handed action, but being the selfish person I am, I wanted a gun that I could easily share with my friends and the students of Renaissance Firearms Instruction, my training company.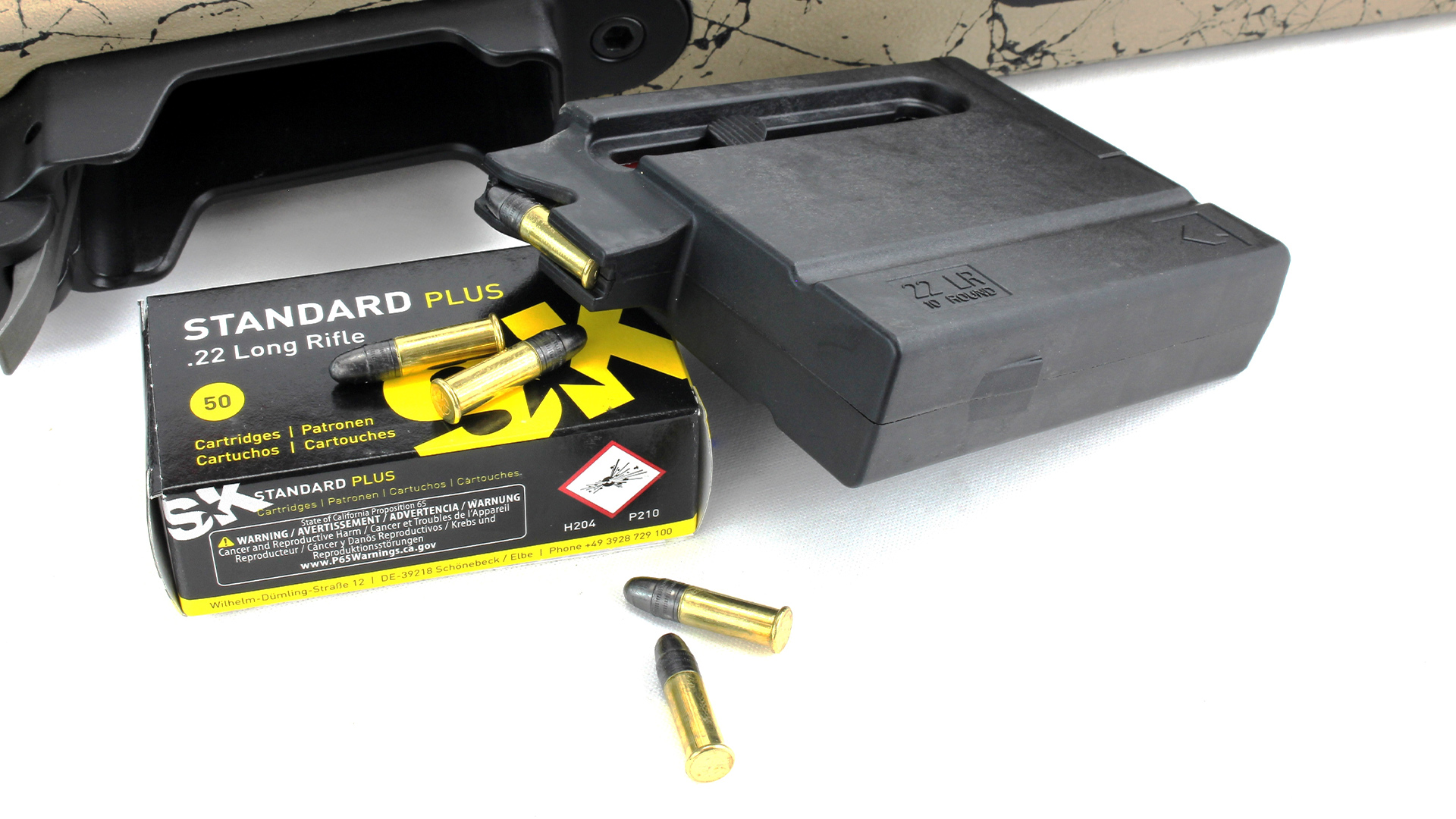 After knocking around steel as far out as 200 yards, I decided that it was time to call it a day. The consensus was that this Three 60 is one remarkable rifle. Straight out of the box for $2,795, it has all the features that competitors and finicky plinkers want, but it is also built to accept common aftermarket parts allowing for tinkerers to have their joy, too. The bottom line—if you are looking for a zero-compromise rifle with an incredibly smooth and short bolt throw, look no further than the Vudoo Gun Works V-22 Three 60 rimfire. To build yours, visit vudoogunworks.com.
Note: The August 2022 issue of the digital magazine has a version of this article with the incorrect MSRP. The correct MSRP for the Vudoo V-22 Three 60 is $2,795—Ed.