WARNING: All technical data in this publication, especially for handloading, reflect the limited experience of individuals using specific tools, products, equipment and components under specific conditions and circumstances not necessarily reported in the article and over which the National Rifle Association (NRA) has no control. The data has not otherwise been tested or verified by the NRA. The NRA, its agents, officers and employees accept no responsibility for the results obtained by persons using such data and disclaim all liability for any consequential injuries or damages.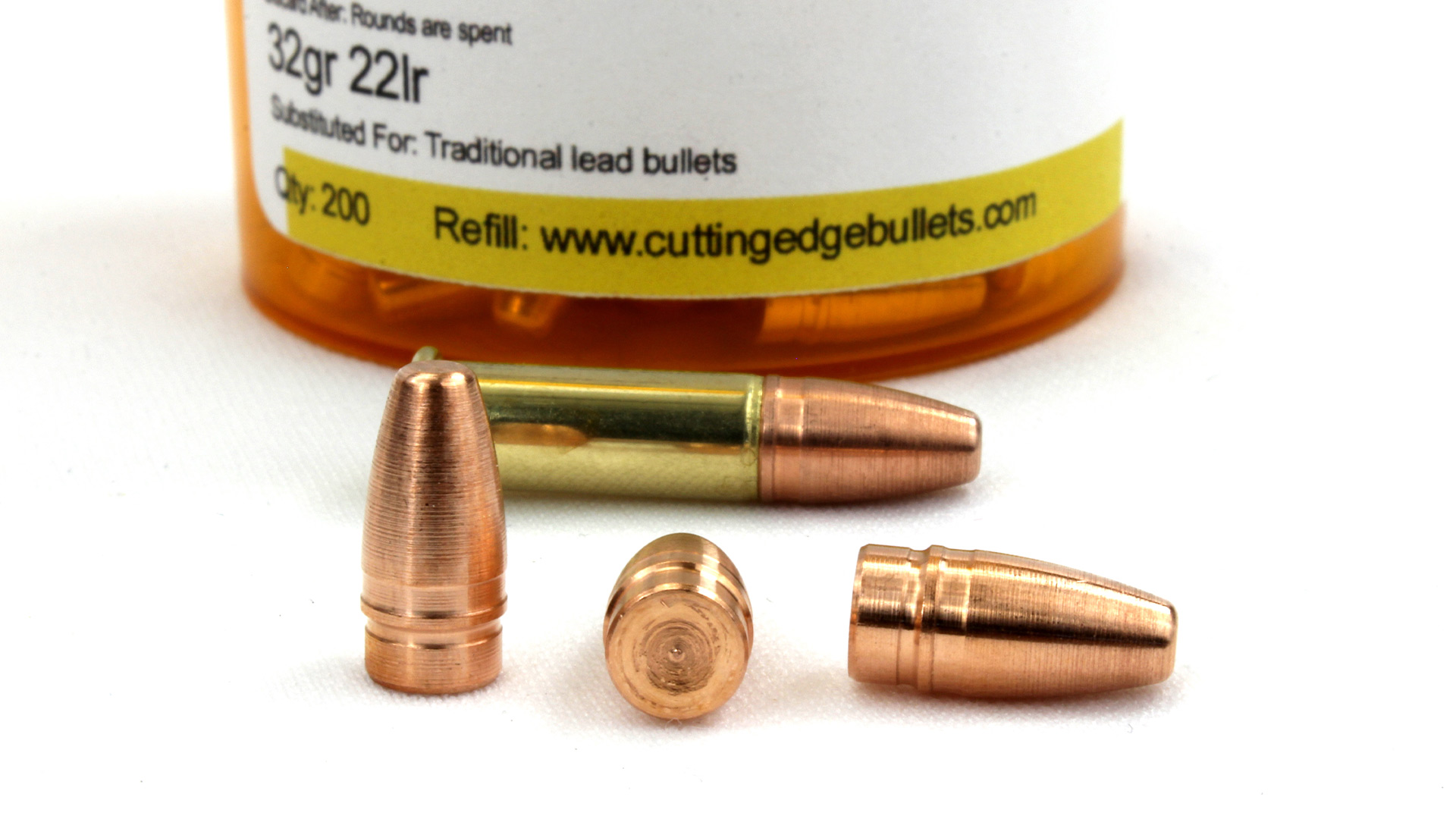 For the accuracy obsessed, "reloading" is a quick-and-dirty practice of refilling fired brass to save money, while "handloading" is the process of custom tuning a cartridge to have the best accuracy and downrange performance possible (sometimes involving fired brass, coincidently). Many of us have tweaked center-fire cartridges to obtain sub-MOA performance, but what about rimfire cartridges? Cutting Edge Bullets asked the same question, and thanks to its CuRx bundles, shooters can now customize their own .22 Long Rifle ammunition.

The new do-it-yourself bundles include primed (unfired) .22 LR cases and an equal amount of the company's monolith copper .22 LR projectile. These come in 32-, 42- and 50-grain weights. Your barrel's twist rate will determine what will best stabilize, and Cutting Edge recommends its 32-grain for standard 1:16-inch twist barrels, 42-grain for 1:10-inch twist barrels and 50-grain for 1:7-inch twist barrels. The most common barrels are cut in 1:16-inch twist, such as my Savage Mark II FV. However, I also have a Christensen Arms Ranger 22 that's cut with a 1:12-inch twist. Although it is faster, all signs were pointing at the 32-grainers for my testing. Aside from the components, Cutting Edge also sells the required dies and shell holders to assemble your ammunition. These can be installed in any standard press and operate just the same as dies for center-fire calibers.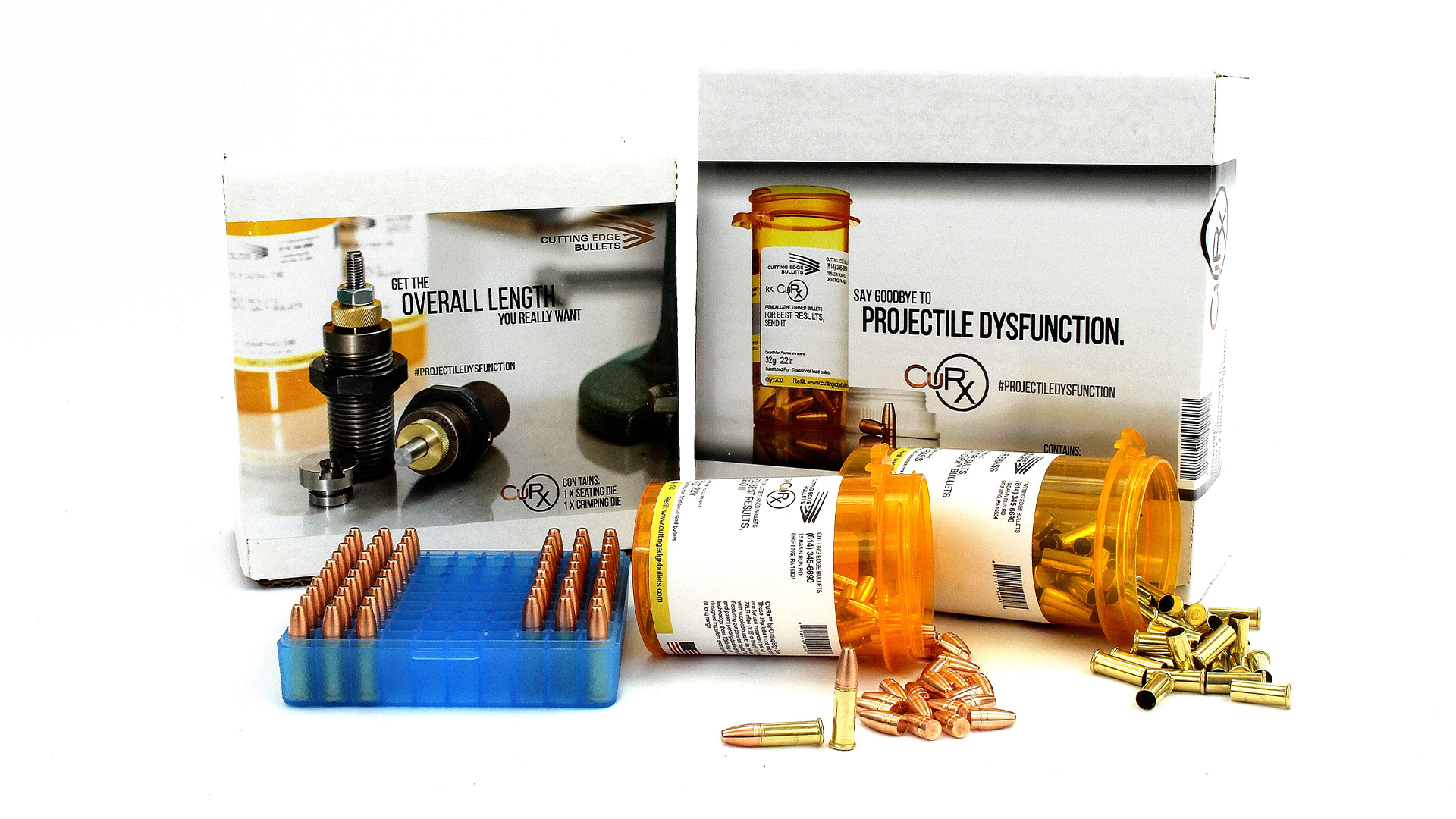 Testing and Load Development
Once I had everything in hand, I sat down to review my testing procedure. Since this .22 LR kit is the first of its kind, what I'm really evaluating here is the process. The question that kept eating away at me wasn't, "What do I use to shoot these the best?" Instead, it was, "Could they be more accurate than existing factory .22 LR?" Therefore, I altered my typical test protocol of using one rifle and one powder, instead opting for the two aforementioned rifles, along with a few different powders to push the 32-grain bullets through them. My goal wasn't to see which rifle shot better, or which specific powder worked well; instead, a glimpse of what the beginning of accuracy can look like while handloading .22 LR.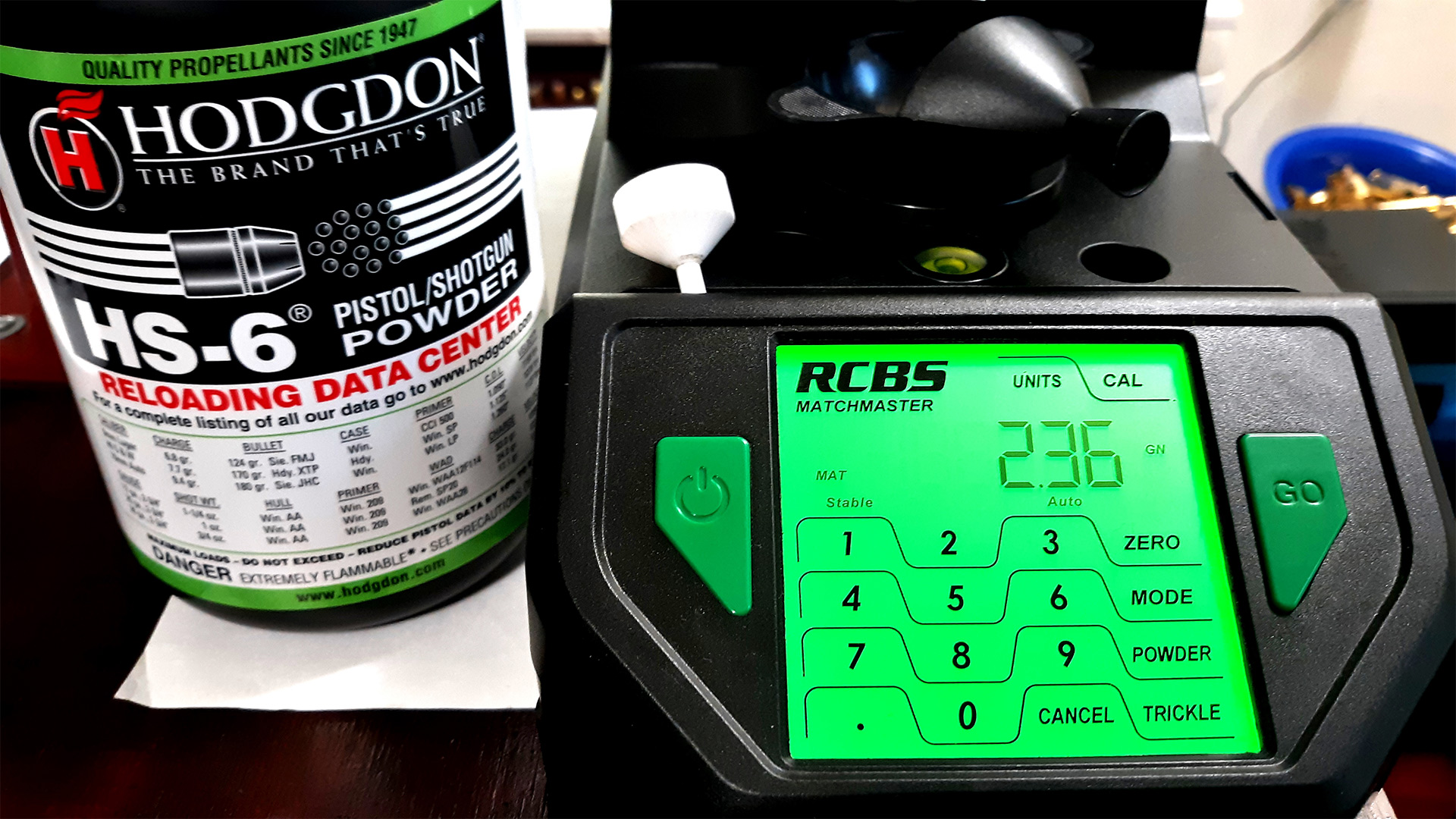 Why I didn't go through the entire spectrum of every powder through each rifle? Well, it's because Cutting Edge Bullets lists more than 20 different powders that can get the job done.
On loading day, I read the instructions and watched the video prior to getting underway. It's a fairly straightforward process. After weighing and pouring your powder, seat the bullet and then crimp it. To speed things up, you can skip the press and simply seat the bullets by hand using the seating die and any hard surface. Since your typical case capacity is less than three grains, you need a scale with a small resolution, such as the RCBS MatchMaster, which can measure to hundredths of a grain.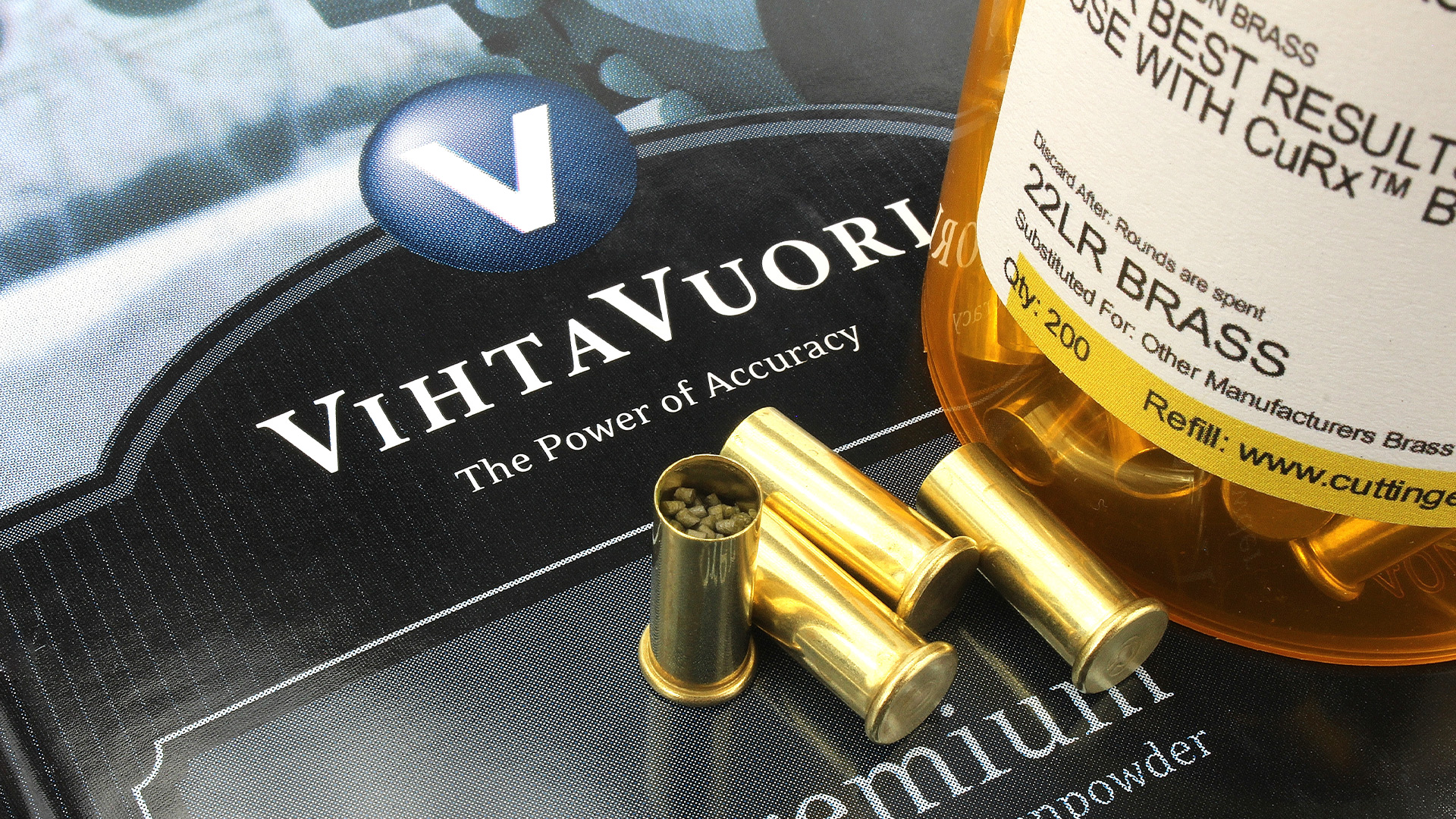 For my first loading session, I used VihtaVuori N340 and Hodgdon HS-6. The N340 was a small, fluffy extruded rod that flowed through my tiny funnel easily, dropping right on the money every time. As for the HS-6, it was a cross between ball-and-flake-style powder, requiring a little tapping, but it also metered exceptionally well. After loading both, I placed my loads into an adorable MTM flip-top box and hit the road.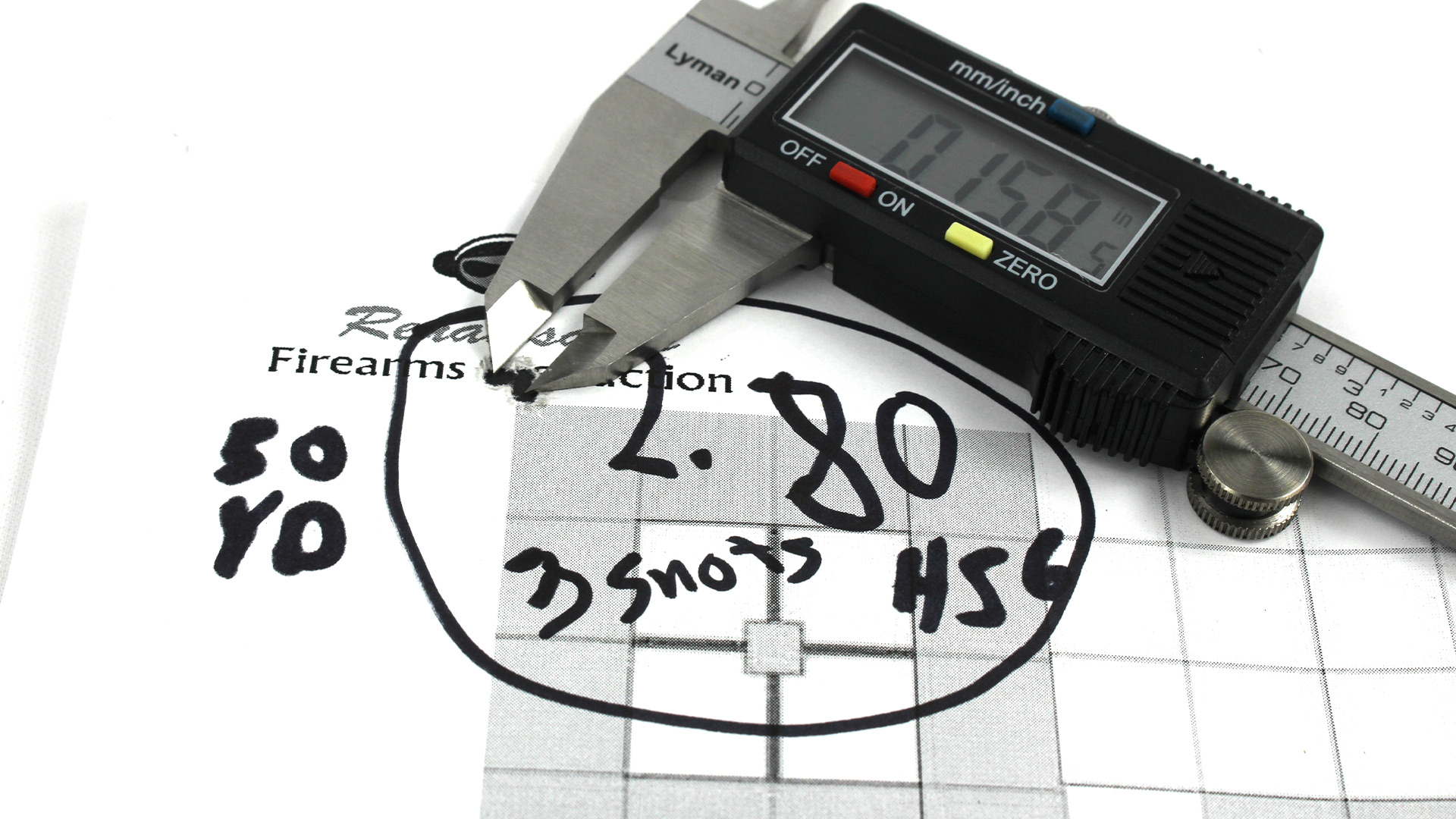 My initial testing was going to be from 50 yards with the Christensen Arms Ranger 22. After pulling the trigger on round number one, my first impression was, "Man, these are hot!" Many of these rounds exceeded 1,600 f.p.s. velocity. I was also surprised to see how much the round changed in a 0.04-grain step. The N340 yielded MOA or near-MOA groups at 2.00 and 2.04 grains, but was erratic at anything higher. The HS-6 has similar results, but its magic weight was 2.80 grains. A magic charge weight indeed, as my three-shot group measured only 0.158 inch, or less than 1/3 MOA.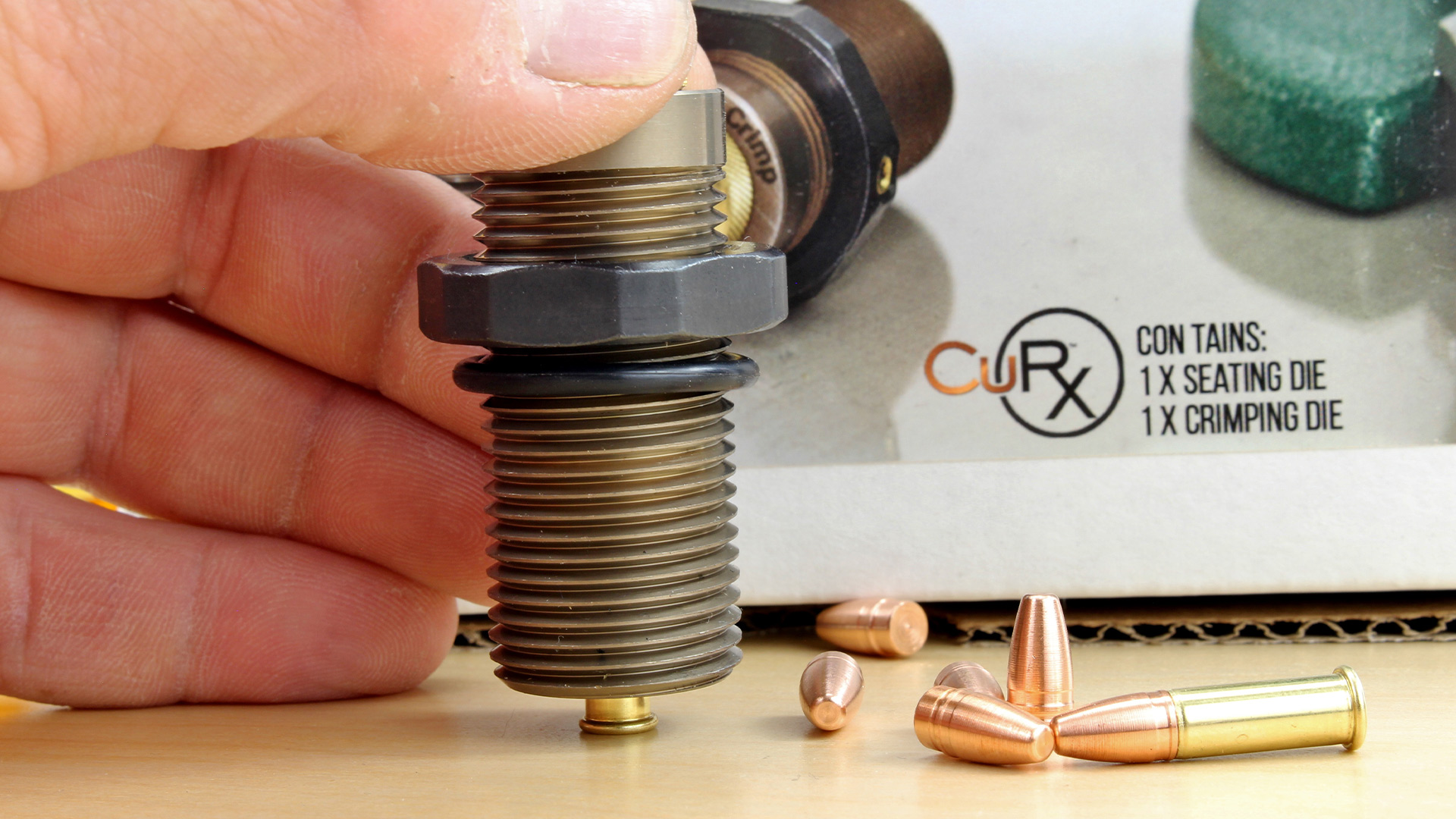 Excited by the results, I headed home to make more of this charge weight to see its performance at 100 yards. Well, instead of cranking off 20 rounds quickly and running back out the door, I came home to a guessing game. Instead of leaving the crimping die set-up in the Hornady Lock-N-Load bushing, I removed it to use the bushing in another die. So instead of returning to the range to see how that last round performed at 100 yards, I was returning to the range to see just how important repeating the same crimp was. So to avoid another trip, I loaded three different crimp amounts of the successful 2.8-grain powder charge of Hodgdon HS-8 and returned to the range to see what I've made. It turns out that the folks at Cutting Edge Bullets know their stuff, because the rounds all performed differently, and I was only able to get about 1.5 MOA from the closest crimp to the original.
Satisfied and disgusted at the same time, I decided to try another powder on the list with a different rifle. I figured I was close enough on the HS-6 load with the Ranger that I could always chase crimp another time. In the meantime, I was going to see how that Alliant Unique powder performed in the Savage. The notes on the powder table found at the Cutting Edge Bullets website imply that testing was stopped short with this powder, and nothing is better than blazing a new reloading trail. I kept the crimp used in the last round, and loaded the cases with powder steps until they compressed slightly, which was above 2.46 grains. Back at the range, I went to the 100-yard line to conduct the same tests. With 2.36 grains of Unique, I hit a node that left me with a sub-MOA five-shot group. This was satisfying, because I knew that playing with crimp left me the possibility of getting these down even smaller than the HS-6 load.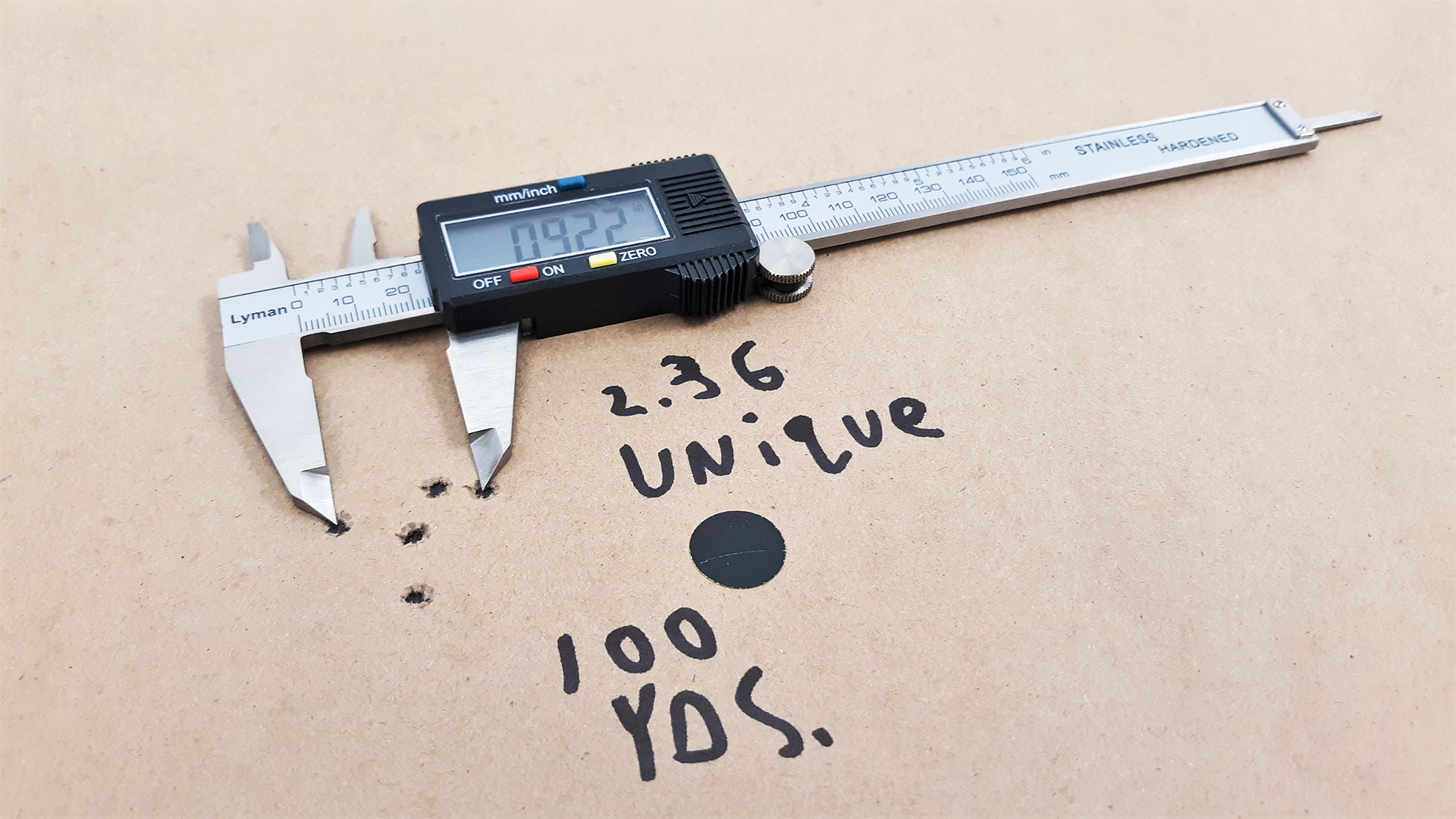 Conclusion
Cutting Edge ruined .22 LR shooting for me. I used to shoot this cartridge casually, only adjusting target sizes to get the hit rate that I desired. Now, I can't do that anymore with the knowledge that my guns are capable of far better accuracy than with factory-made ammunition. This set-up is ideal for tinkerers, as well as competitors who want to up their game for Precision Rifle Series and National Rifle League .22 LR matches (precision rimfire) and other rimfire long-range games. Now, I have to add a page in my reloading records book for .22 LR and when my "plinkers" start shooting outside of MOA, I'll get all bent out of shape.
For more information, visit www.cuttingedgebullets.com.
---
Read more:
The High-BC .22 LR Bullet: Are We There Yet?