The .22 Long Rifle is an old round with antiquated characteristics that are difficult to reconcile with modern-day guns. Regardless, it remains America's favorite bulk ammunition. One of the worst aspects of .22 LR is that it operates almost entirely in the transonic zone. This velocity block is where bullets slow down to below the speed of sound and begin to lose stability and accuracy.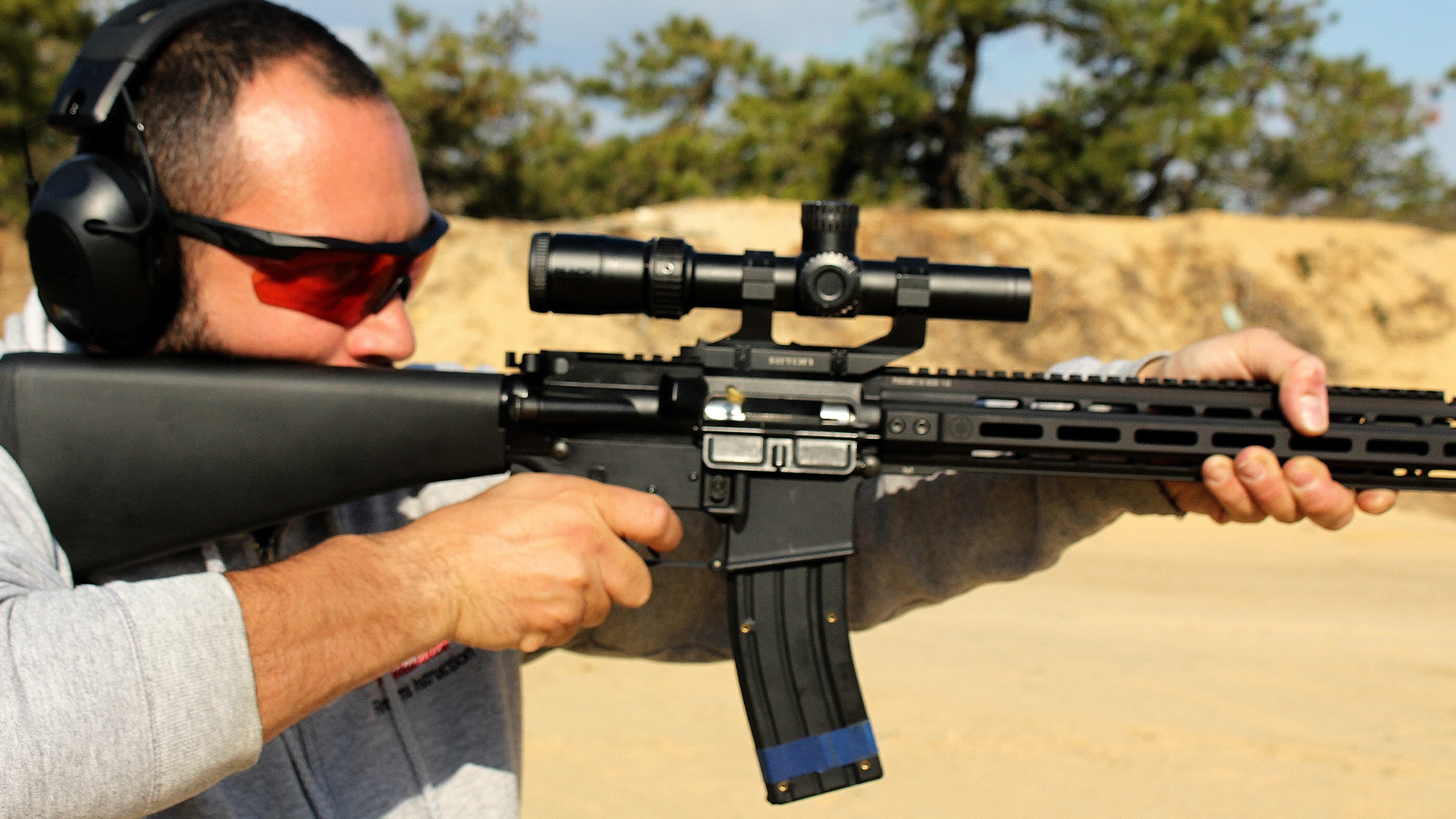 Rimfire ammunition manufacturers have always had to make a choice: either keep things slow so that they never break the sound barrier or hop velocity up so that this happens well beyond the intended target distance. Each option has its flaws, as knocking speed down hinders function in semi-automatics and hitting the gas usually spoils accuracy. SK Ammunition has been making this cartridge for longer than most of us have been shooting it. The company is best known for making specific rounds that are tailored to specific disciplines. In early 2021, it took a different approach, creating one round to serve a multitude of shooters. With that idea in mind, SK High Velocity Match ammunition was born.
My testing protocol was straightforward—run the SK High Velocity Match rimfire ammunition through three completely different guns. I chose a semi-automatic pistol, a precision bolt-action rifle and a semi-automatic .22 LR conversion kit. I figured these would span the most common applications of the .22 LR round. Each gun was cleaned before the test, and 10 fouling rounds were fired before recording any data. Complementing the test firearms was a Caldwell G2 chronograph to gather velocities and standard deviations while I punched groups at appropriate distances for each firearm. Aside from that, I used a Caldwell BR Rest and a simple sand sock for stability.
Bolt-action rifle
Testing commenced with the Christensen Arms Ranger 22. This rifle is built with an 18- inch barrel that is cut with a 1:12-inch twist and a Bentz match chamber. Ours had been upgraded to a TriggerTech Diamond trigger, which has been adjusted down to break at just six ounces. With a set-up like that, a 100-yard test distance made the most sense.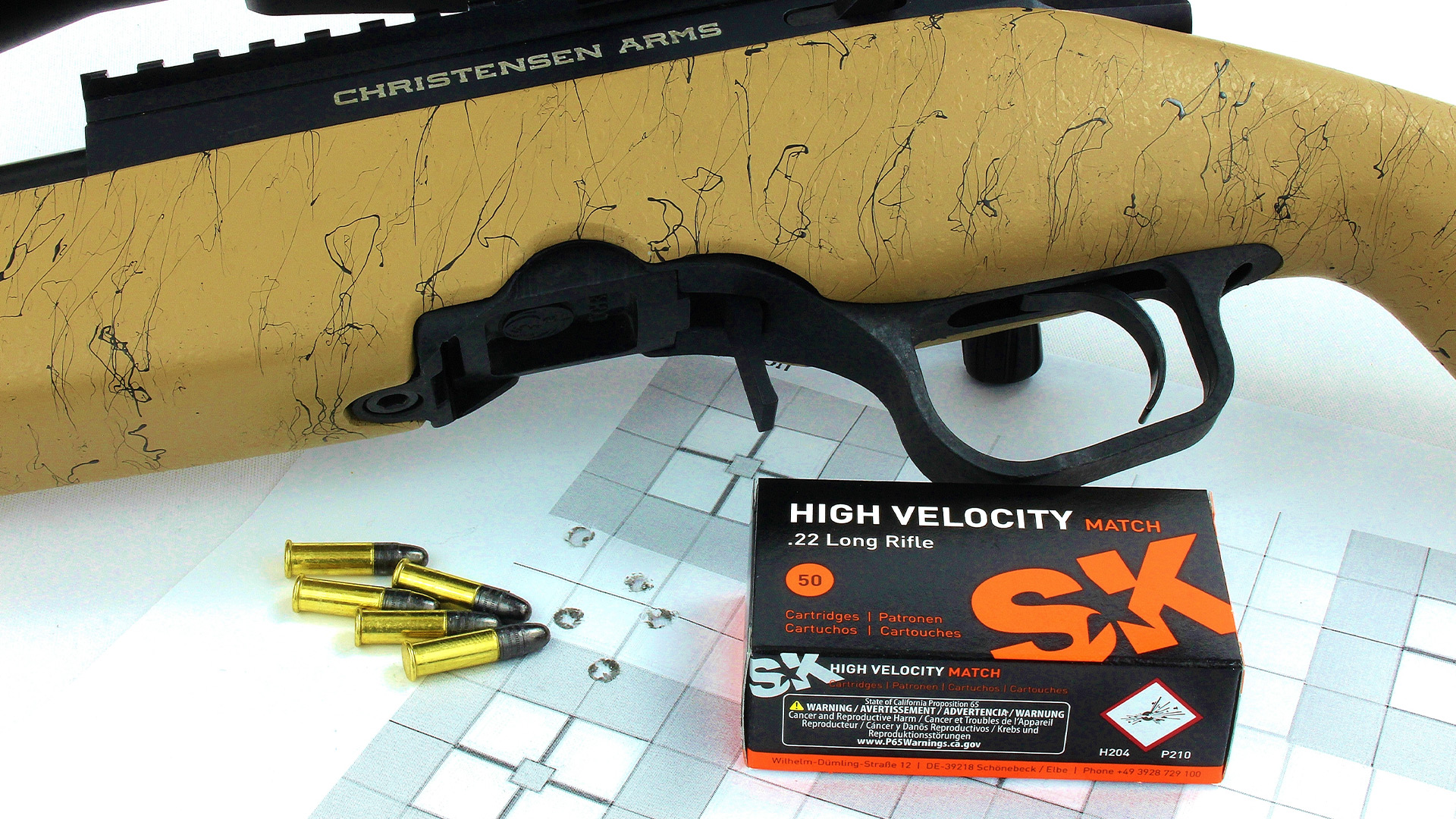 After firing five groups of five shots, the average group size was 1.57 inches with the best group coming in at 1.31 inches. With a steady tailwind throughout the firing sequence, I was happy with the results. Average velocity was 1,212 f.p.s. with a standard deviation of 18.4. I was hoping to see more speed, but I wasn't using a 20-inch barrel, and it was a chilly 45-degree day. Nonetheless, there was less than 1 MOA in vertical displacement—the consistency was spot on and the SK High Velocity was good at beating the wind, too.
.22 LR conversion
Next, I gave one of the trickiest apparatuses known to man a go: the .22 LR conversion. Whether it's a handgun conversion slide or a drop-in rifle kit, nearly everyone that has one of these knows that they have a "personality" and prefer one type of ammunition to another with regards to function. For this test, I used a CMMG .22 LR AR conversion kit. This kit replaces the bolt-carrier group of any 5.56 mm AR-15 and allows you to fire .22 LR down the same barrel.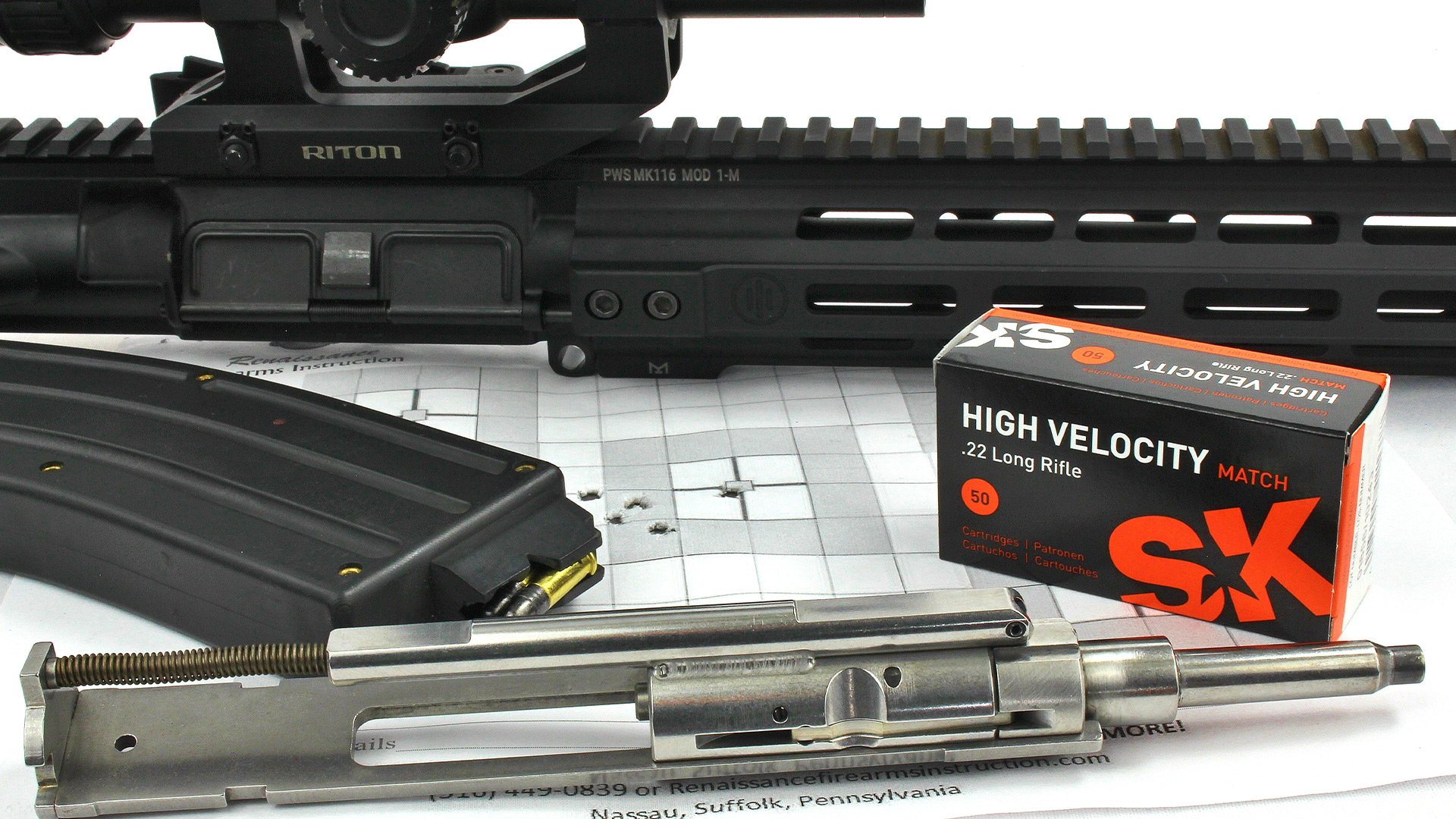 Out of all the conversions that I run, this is one of the most trouble-free, so I can't demonize it for the sake of review, but it didn't reliably cycle any of the subsonic SK rounds that we tried to feed it. It runs bulk-pack .22 LR well, but that is never built to be the manufacturer's most precise offering. Well, as advertised, it ran without a hiccup, and each case forcefully ejected to the 3 o'clock position, just as a properly gassed AR-15 would. The 40-grain bullet stabilized well in the 16-inch 1:8-inch twist barrel of our Primary Weapons MK 116 MOD 1-M upper and printed groups as small as 1.14 inches on our 50-yard target, yielding a five-group aggregate of 1.36 inches.
By now, the wind has increased and changed direction, coming from my 3 o'clock at 10 m.p.h. but we only experienced about 2 MOA of displacement, which is admirable. We did see a bit of velocity loss through the shortened barrel and a touch of "push" lost through the open gas system, but we still managed an average of 1,113 f.p.s. with an SD of 34.7. This turned out to be a best-case scenario for this particular firearm because it just skirts the sound barrier, giving it enough force to run the action but not enough speed to have to deal with going through the transonic band of velocities.
Pistol
Expecting a windy afternoon, I saved the pistol test for last. I selected my trustworthy Ruger 22/45 because I am familiar with how well this gun performs. Building a round that is accurate and reliable is a task with any caliber, let alone .22 LR. However, to do it across a variety of barrels spanning four and 18 inches in length would be impressive. Once again, I fired five five-shot groups, this time at a distance of 15 yards. All groups hovered around an inch, with my best one landing at 0.95 inch and all five averaging an impressive 1.26 inches.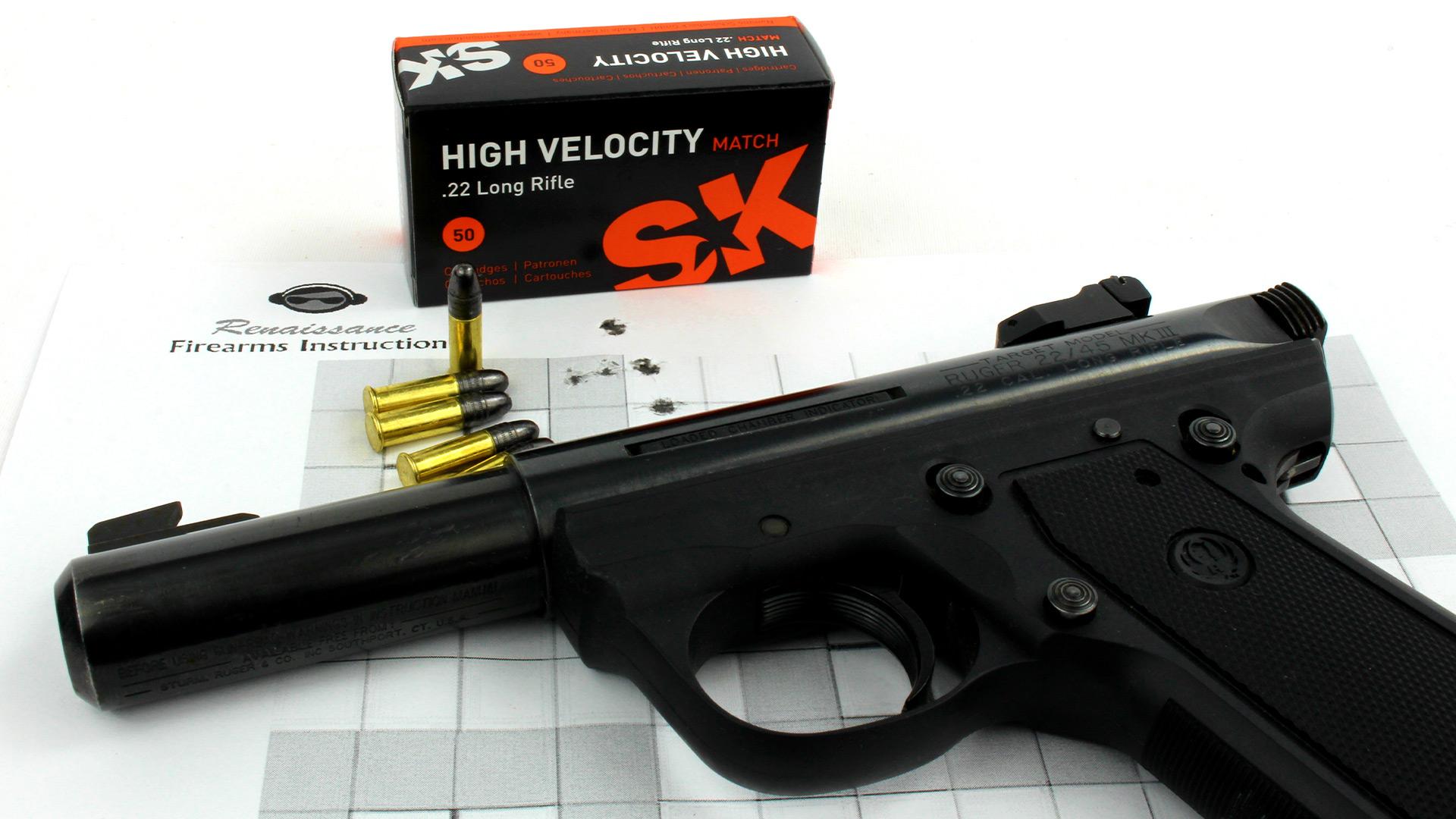 Above all, there was not a single malfunction in regards to feeding, firing or ejection. Velocities took a sharp drop, but this was expected with only four inches of barrel length. We managed an average velocity of 922 f.p.s. and an SD of 18.4, but in the grand scheme of things, this doesn't mean much in the world of rimfire pistol shooting. What matters is that these rounds cycle and print tiny groups, and in that regard, the SK High Velocity Match ammunition delivered in spades.
Final thoughts
Overall, I was happy with what SK brought to the table. To be accurate and reliable through this broad spectrum of firearms is a task indeed, and the company certainly rose to the occasion. It's nice to know that I only need to keep one round in my range bag to practice for NRL22, Steel Challenge and 3-Gun, which sometimes all happen on the same day. My only criticism is that I would have liked to see a little more speed out of the 18-inch barrel. This is understandable, as breaking the 1,300 f.p.s. barrier is hard to do accurately and safely, because cases can start to rupture. Whatever that secret sauce on SK ammunition is, I wouldn't change it for the world.
For more information, visit sk-ammunition.com.
---
Read more:
Review: Taurus TX22 Competition