If you are a regular at Precision Rifle Series (PRS) matches, you will notice Armageddon Gear pieces on nearly every rifle you see. From suppressor covers, slings, cases and other tactical gear—to the company's versatile Fat Bag (a great solution for body support during long-range rifle competition)—Armageddon Gear offers a variety of products designed to take punishment and still produce great results—both in the field and on the range.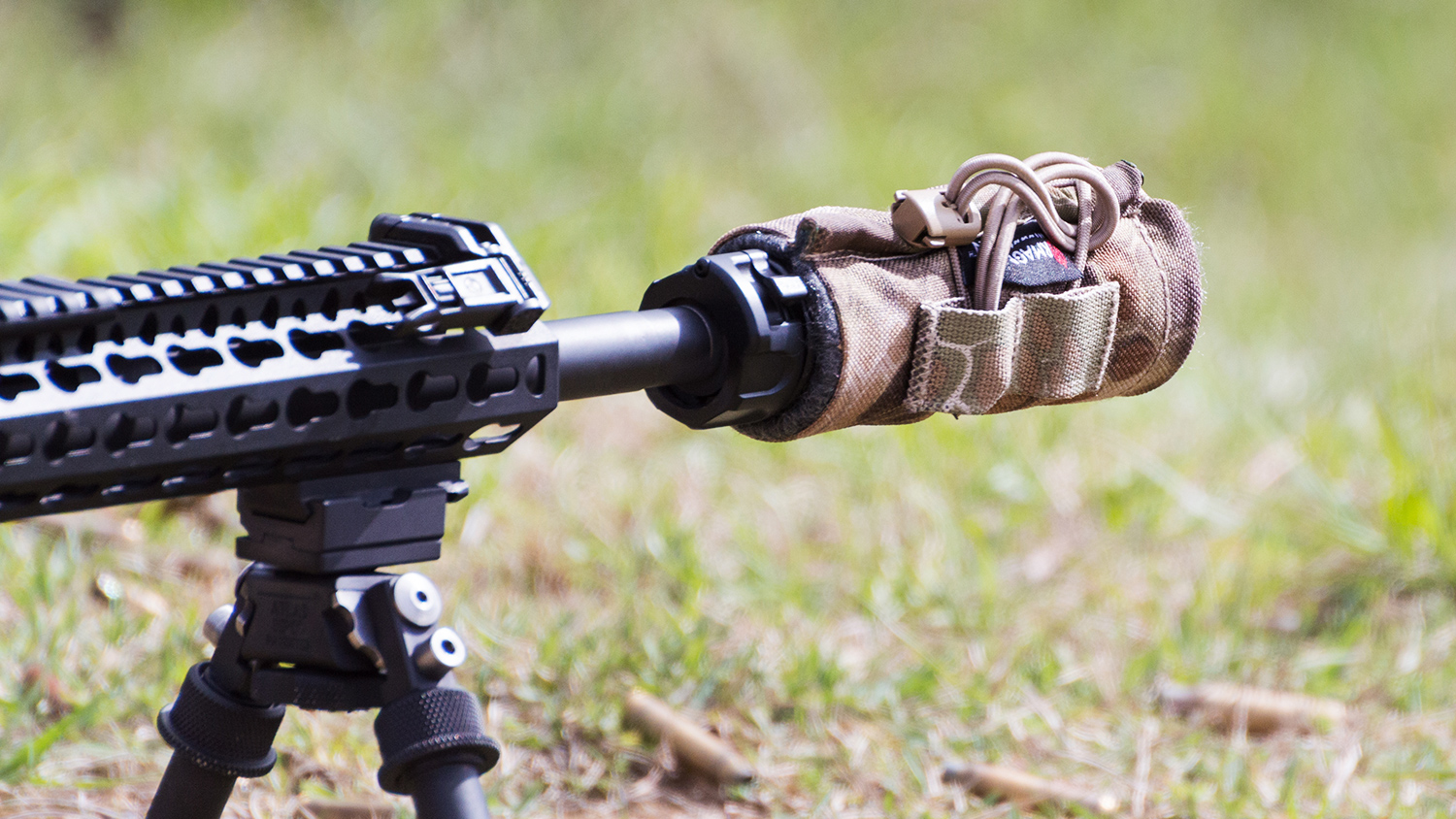 Since the company started, every rifle adopted by the Department of Defense has been issued with Armageddon Gear accessories. Every sniper in the U.S. Marine Corps, as well as the Army, has been issued their gear. The company prides themselves on the manufacture of their products—using American materials and workmanship of the highest quality. Armageddon Gear has carved a niche in the precision long-range community with their offerings for this style of shooting.

Origins

Armageddon Gear was founded by Tom Fuller, a 21-year U.S. Army veteran. To be exact, he is the former Sergeant Major for the U.S. Army Marksmanship Unit (AMU). As the 22nd senior enlisted adviser for the AMU, for two years Fuller put an emphasis on training that undoubtedly contributed to the success of the team—including two Olympic Gold medal winners in 2008.

"My time with the AMU was an indescribable honor. True human greatness is achieved when you are part of something bigger than yourself," described Fuller.

As a civilian, Fuller started out in the industry with Bushnell as their military sales manager. Eventually, he learned that there was a hole in the market for 'Made in America' gear. He discovered an opportunity in government purchasing for small projects, and that was the genesis of Armageddon Gear.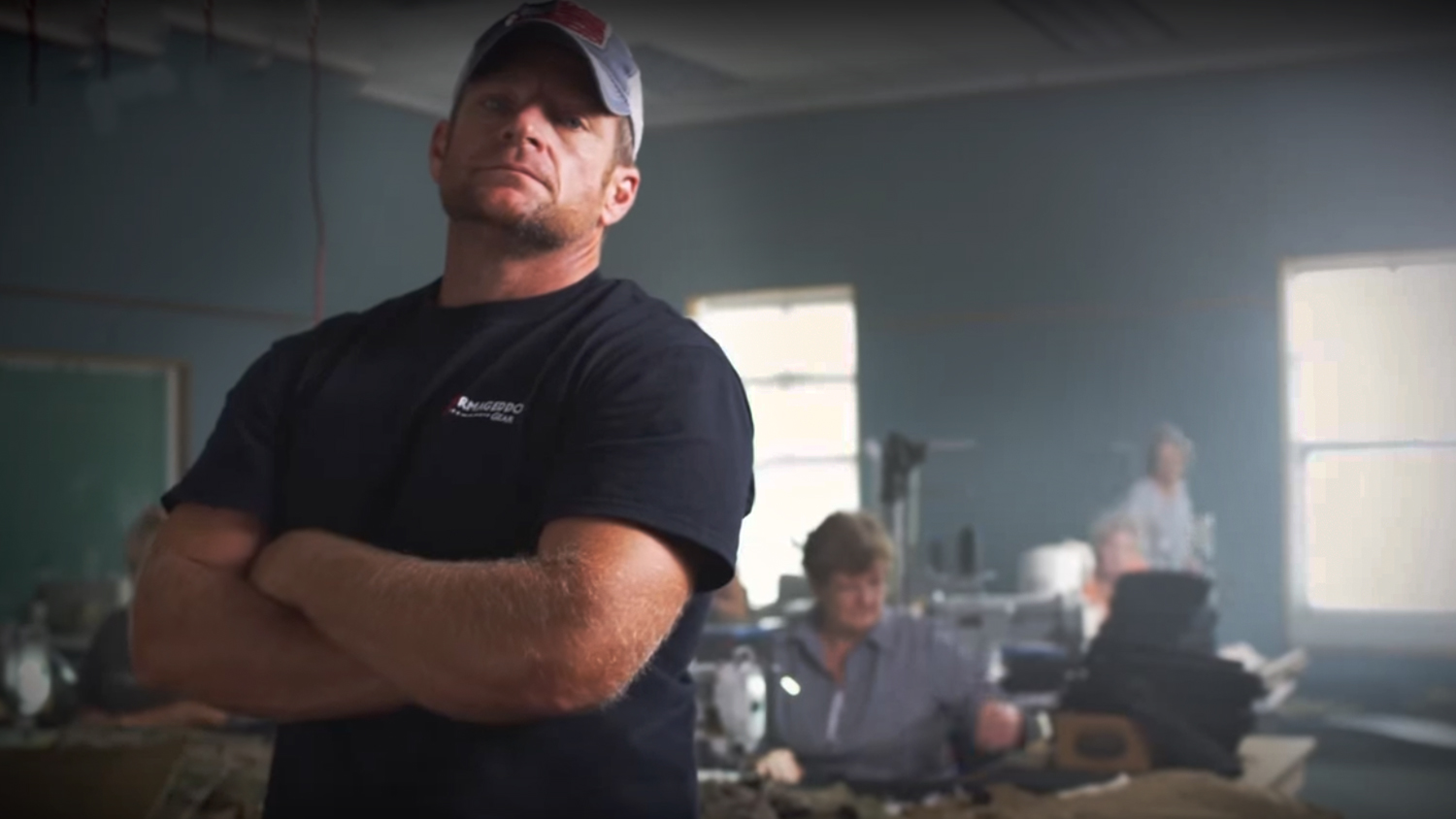 "Back when Armageddon Gear got started I was shooting competitively, and I was making slings with a throwback design that the Rangers made with the company sewing machine in the barracks. A good friend of mine, Kyle Lynch, remembered the design and had made some himself. I partnered with Lynch for other designs, too. People saw these slings and wanted them for their own projects," commented Fuller. And, slings were just the beginning. 

Fuller told me that things started to expand after that. Former business associates from his Bushnell days began to contract with him again—surely noticing the high quality of Armageddon Gear's 'Made in America' products.

"Things began growing fast, so I drove to Tennessee to buy two sewing machines, and then production truly began. I learned how to sew a few things myself, and as the company expanded I hired a few professional sewers," said Fuller. "Having knowledgeable staff that understood how to sew was key to the business in the beginning," he added.
Fuller will be the first to tell you he didn't do it alone, though. In addition to hiring experienced sewing talent, he brought on board someone who deserves as much of the spotlight as himself—pro shooter Melissa Gilliand, Armageddon Gear's vice president of operations. About Gilliand and her contributions to the company, Fuller pointed out, "Melissa gets a ton of credit for helping me to grow this business. Without her, we wouldn't be where we are at now." Gilliand was on the cover of the May 2016 issue of Shooting Sports USA.

Armageddon Gear is a small company located in a rural area that is mostly focused on agriculture—the tight-knit community of Marion County, GA—population 8,640. Back when cotton was king, there was a sewing operation in every Marion County town, that is until the manufacturing businesses moved overseas. Armageddon Gear found many of these former employees, and are also training new ones to take the baton. The company is doing a bang-up job, check out some of the products below and see what I mean.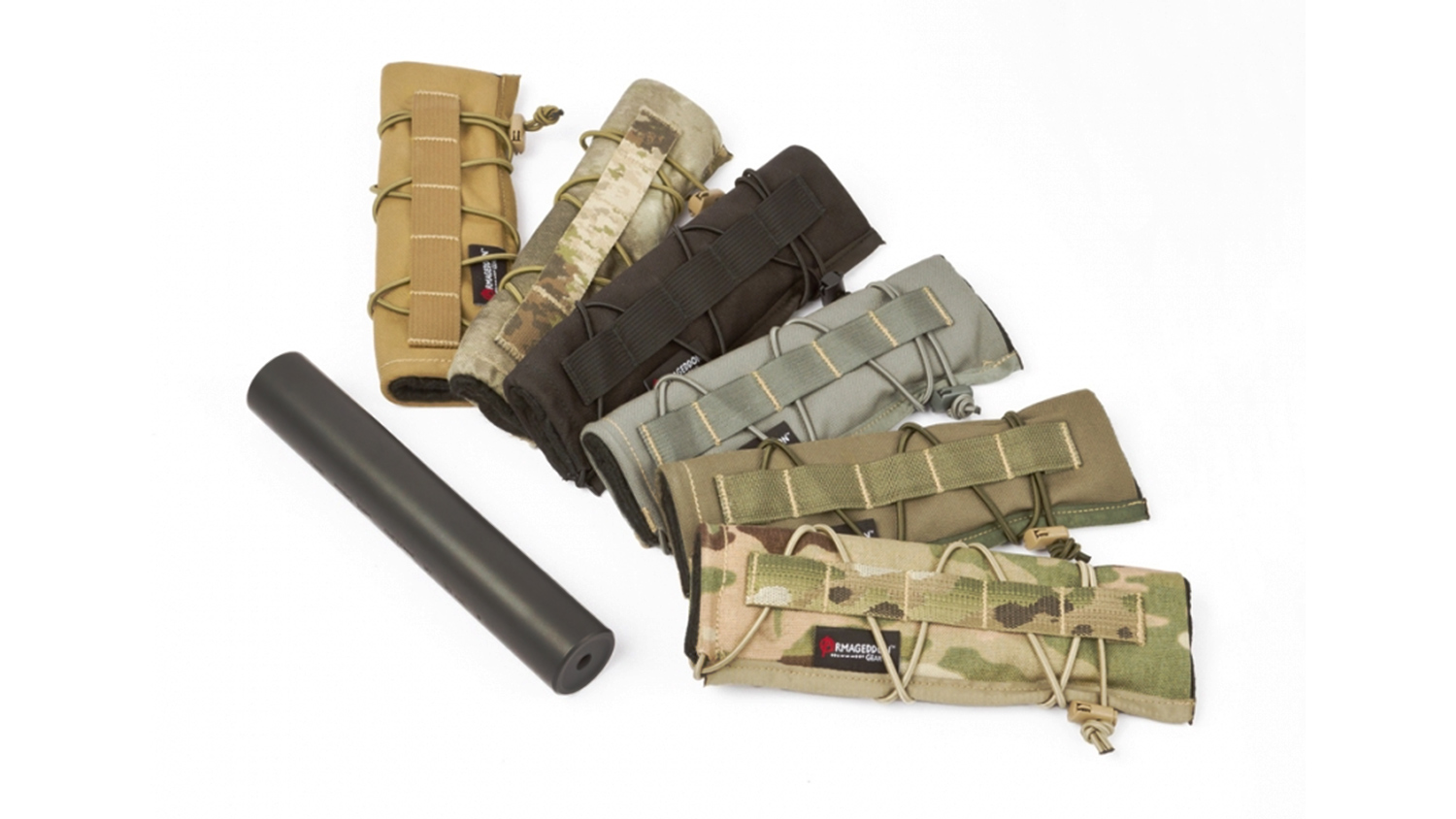 Suppressor Covers ($70)—During competition, especially precision long-range rifle shooting, every additional aid used within the rules can be the difference between a top 20 or top 200 finish. The Armageddon Gear Suppressor Cover is designed to mitigate mirage when using a suppressed rifle during slow to moderate firing. It's lightweight and can be removed in seconds. This cover has no contact areas between the nylon shell and a scorching hot suppressor. An adjustable shock cord allows for a custom fit that will stay in place even during movement. Additionally, the cover is available in six different colors, and Armageddon Gear also builds custom-sized versions per customer request.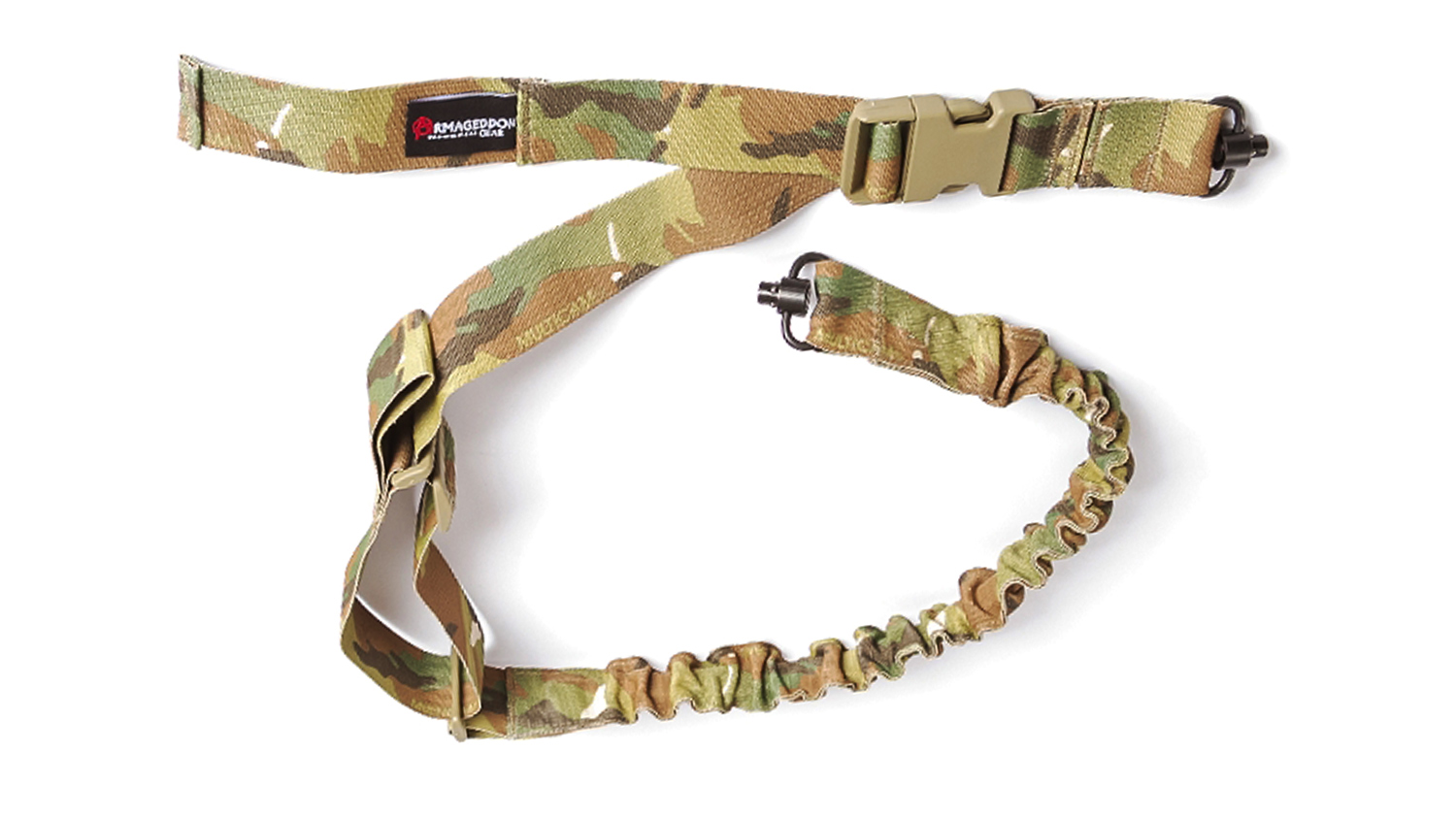 Precision Rifle Sling ($70)—One of the company's original products, this sling, like all other Armageddon Gear products, is hand made in the U.S. by some of the best domestic sewing talent that have not yet been lured overseas. The sling's simple design masks its utility—to use it as simple as adjusting the always-open arm cuff to your contours, drive your support arm into the support loop, assume your firing position and adjust as necessary. Bungee cord and wide webbing make it easy to adjust while shooting in odd positions, such as from a barricade. You can easily adjust your support while keeping your sights on target, thanks to the convenient adjustment end of the sling. The Precision Rifle Sling is available in multiple colors and with several attachment options. Every SIG Sauer MPX is delivered with a customized version of Armageddon Gear's sling.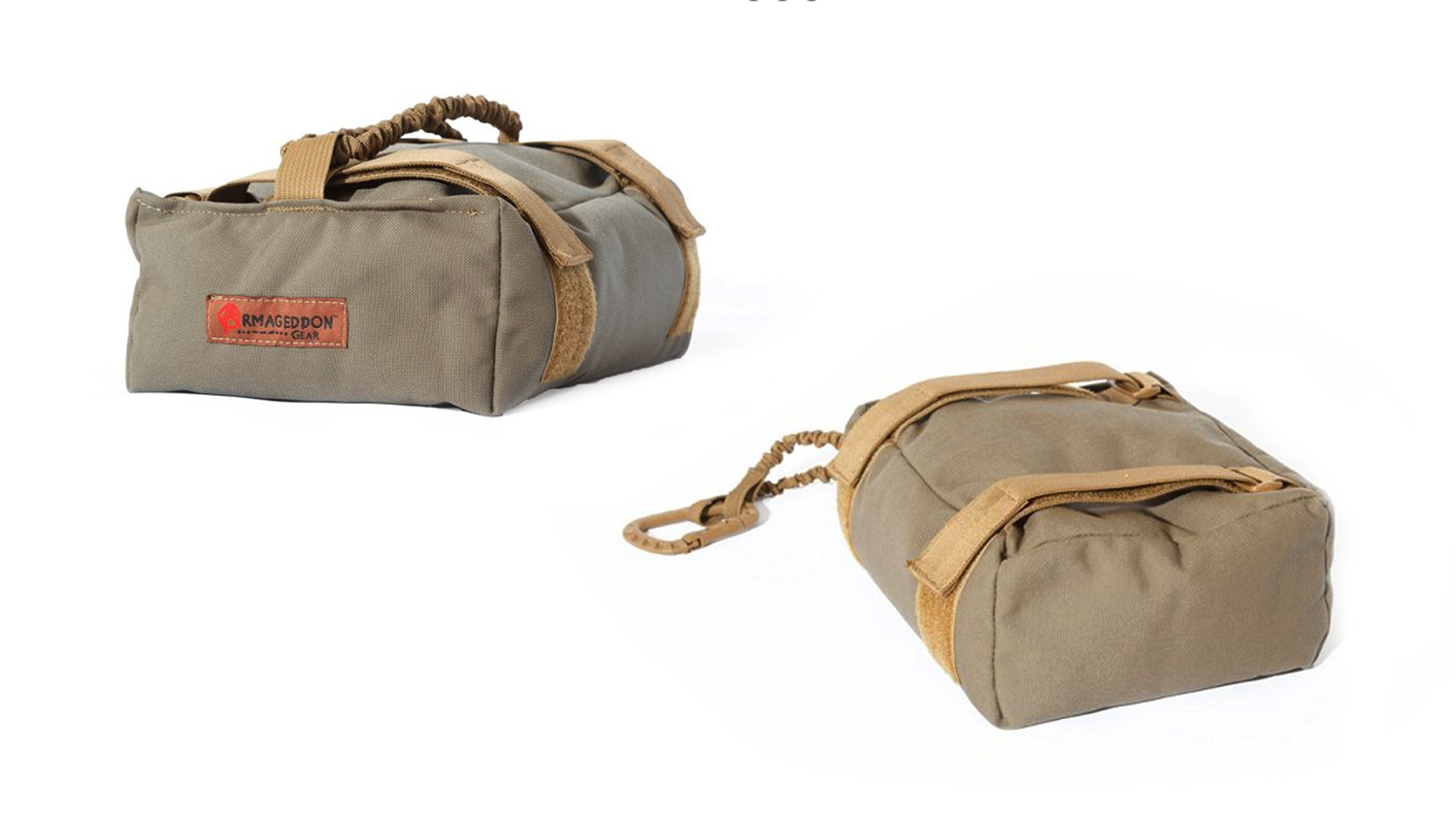 Fat Bags ($50-$60)—The need for body support when shooting precision long-range is paramount. Armageddon Gear's Fat Bags are a lightweight solution, using airweight beads in a Cordura nylon outer shell. Multiple options allow for easy and quick attachment to belt loops, or your equipment, without the need to remove the tether. Two elastic straps fasten with Velcro and can be detached on one end. These bags are easy to manipulate into shooting position. Fat Bags are available in medium 9" x 10" and large 9" x 11" sizes, with the large size tapered from 4"-7" thick.

Origin of the "Meat Wagon"

"When I started Armageddon Gear, there was a shuttered Chevrolet dealership that I drove by each day, and what would become the Meat Wagon was sitting on that lot. It definitely grabbed my attention," Fuller mused when I asked him about the origins of the Armageddon Gear "Meat Wagon". For the uninitiated, the Meat Wagon is a 1967 Kaiser Jeep ambulance, re-purposed as the company's unofficial mascot. They take it to matches and use it as part of their booth at events.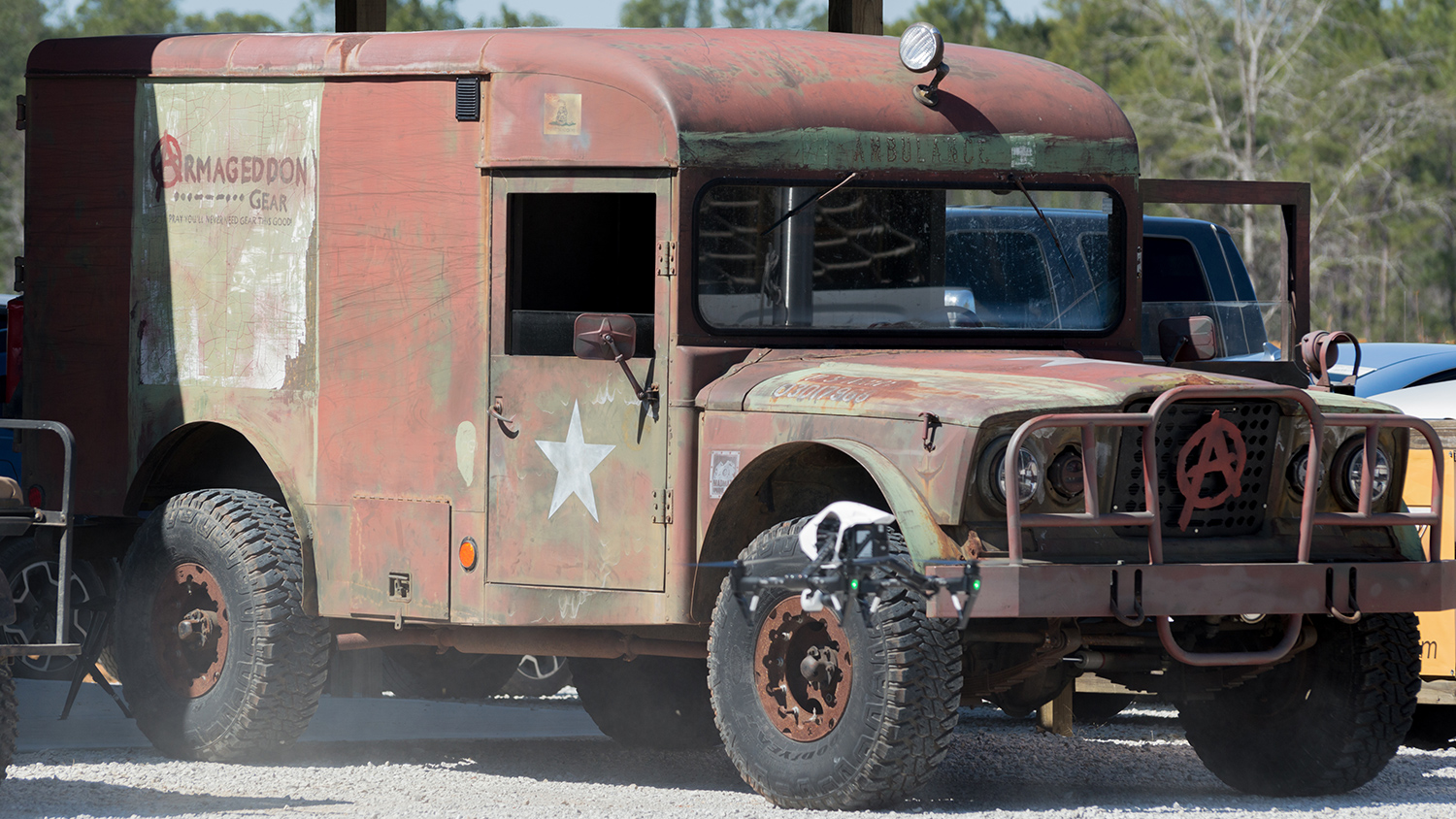 Fuller remarked, "That old dealership had a bunch of old cars and the Meat Wagon was sitting on four flats. It hadn't run in 20 years. I thought that it was a cool vehicle. I was able to purchase it cheap, and some friends and I used my tractor to push it up on a trailer to get it running. We had the motor turning over within 10 minutes of fiddling with it. Since then, we have totally refurbished it, including the motor. People love it."

Look out for Armageddon Gear expanding in the future. The company operates like the small company that it is, but they think big. "I would like to see us expand with more tactical offerings in the future," said Fuller. But, he plans to continue taking his staff out shooting every week.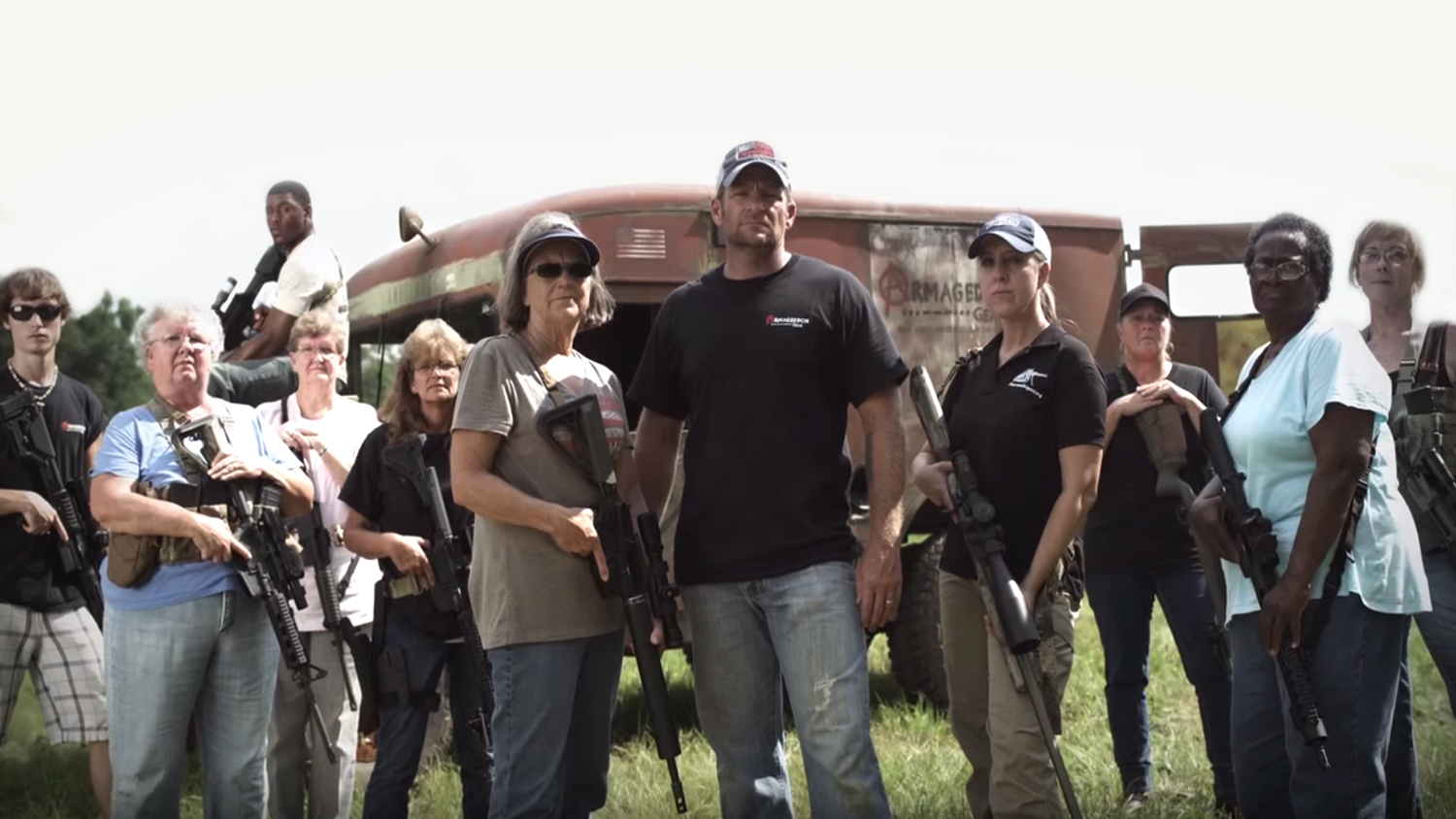 "We are like a family, we keep things fun and rewarding. I'm committed to that. I want to continue to have fun, while providing high quality products for the long-range community," Fuller concluded.

Learn more at www.armageddongear.com.