by
Chris Christian, Field Editor
posted on October 18, 2017
Support NRA Shooting Sports USA
DONATE
STI's 2011, double stack versions of John Browning's original 1911 design have become dominant players in USPSA events. In fact, at the 2016 USPSA National Championship they were the most popular choice in Open, Limited, Limited 10, as well as one of the top two choices in Single Stack.

Their new 2011 DVC Steel Pistol, available in 9 mm and .38 Super (MSRP: $3,999), should extend that to the Steel Challenge Open Division.

The Gun

Built on the DVC Open gun platform it features the same steel frame, hard-chromed internal parts, Dawson Tool-less take-down system, DVC scalloped black grip panels, DVC mag well, ambidextrous thumb safeties, extended left-side magazine release, left-side Go Pedal rest, and a full beavertail grip safety with a pronounced speed bump. A frame mount with a 6 MOA C-More sight is standard. Empty weight is 42 ounces. The trigger pull measured 2.5 pounds on my digital trigger gauge, with only a hint of take up and a crisp break.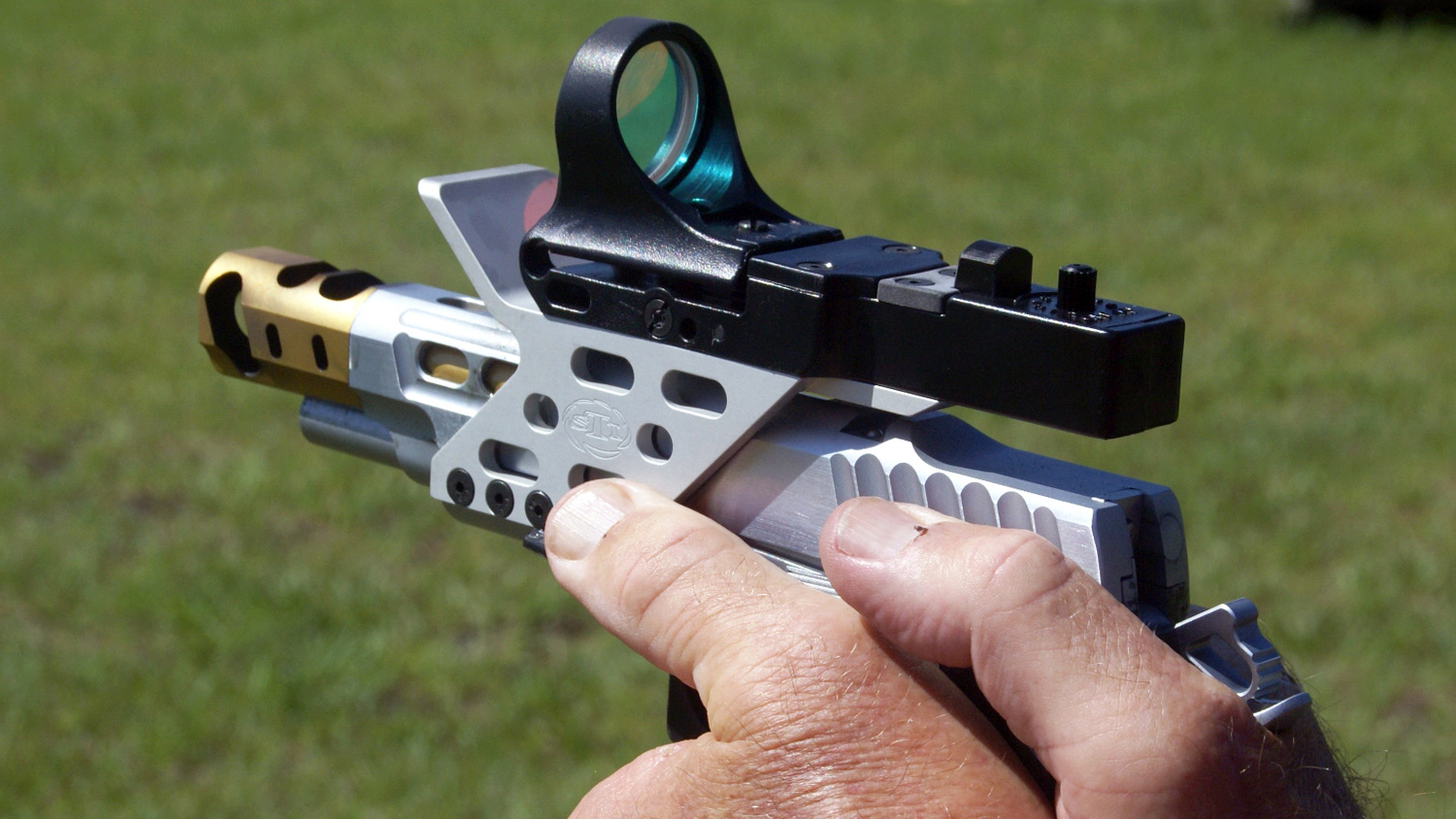 Like all of STI's Tritium Nitride-finished barrels these are built from a 416 stainless steel rifle grade billet-forging, button-rifled and air-gauged. The fully-ramped DVC Steel 9 mm and .38 Super barrels are a 1:16 right hand twist. The difference between the Open guns is that the Steel versions feature a 4.5-inch barrel and a new compensator that is designed to run with standard pressure "off-the-shelf" ammo.

The DVC Steel ships in a zippered soft case with a 140 mm and a 170 mm magazine (holding 20 and 26 rounds respectively). I chose to test the 9 mm version.

On the Range

Since the gun is tuned to run with Minor Power Factor (125 PF) loads, I assembled a selection of factory loads that included: SIG's 115-grain Elite Performance, Speer Blazer Brass 115-grain, and Federal's American Eagle loads in 124-grain FMJ-RN and 147-grain FMJ-FN. These will all make 129-139 PF. I also included my 124-grain Bayou "Mouse Puff" handload that clocks about 920 fps (114 PF). This is what I shoot in steel Carry Optics since Steel Challenge has no Power Factor requirements.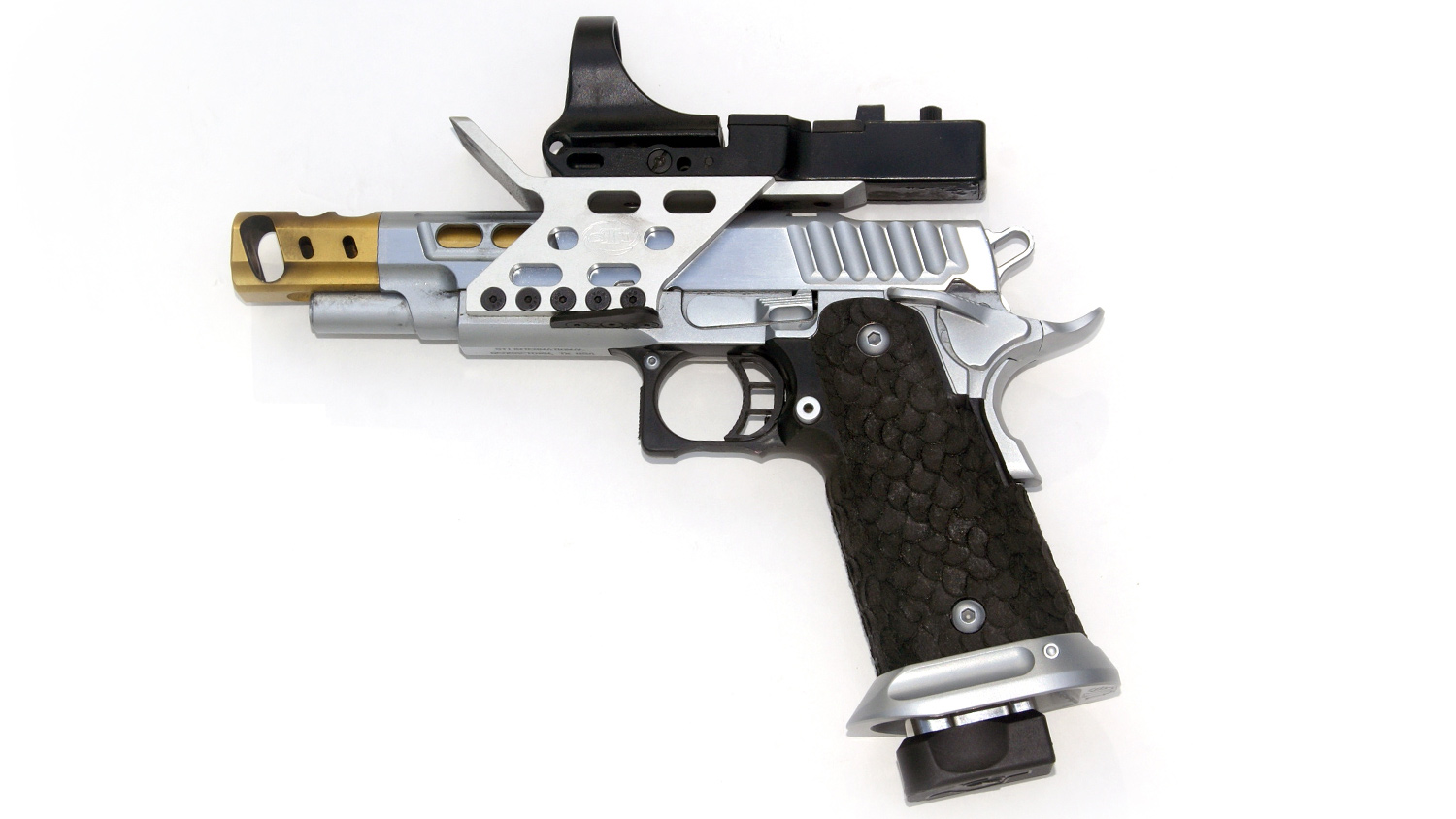 The initial "get acquainted" period on my backyard range was just that. Although I spent a great deal of time with the 1911 platform during my 10-year military career (with countless rounds fired as a Navy Pistol Team shooter), I don't currently own one and it's been years since I shot one.

I started by zeroing the C-More sight from the bench using the Blazer Brass load. That was time consuming because the C-More doesn't have click adjustments. It's trial and error. You loosen the adjustment locking screws, move the adjustment screw with a screw driver, tighten the screws, shoot a group, and see how close you got. Repeat until you get it on target.

It took a while, but I was becoming impressed with the gun. The grips provided a very comfortable hold, the forward "Go Pedal" locked the gun into my hand, and the trigger was exquisite. Bench rest accuracy testing came next, and the accompanying chart will show the DVC is no slouch!

After that I set up a few targets and ran some transition drills to get used to the gun. It wasn't extensive because the best way to test a gun on steel is to shoot steel. My gun club has a cadre of serious Steel Challenge shooters (Master and A Class) that hold a practice session every Thursday. They set up one or two stages and spend the morning running it with all their competition guns.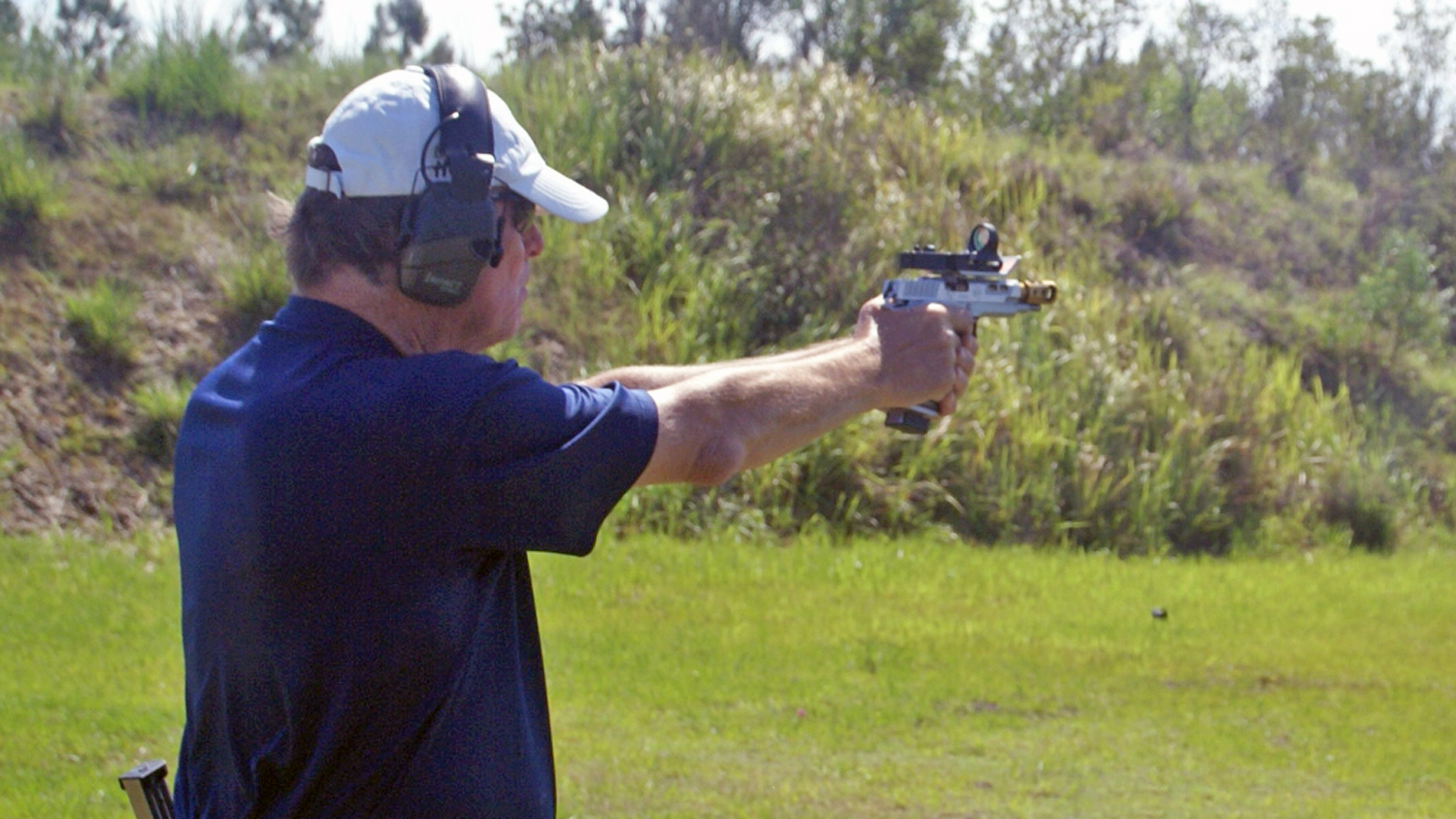 The day I arrived they had set up the misnamed "Speed Option." It's challenging. The Stop Plate is 18x24 at 35 yards, but the score killers are the 12-inch plates at 15 and 20 yards. The swing arc is over 90 degrees and regardless of how one shoots the first four plates before the Stop Plate there is at least one reverse transition. You can't smoothly run the plates left to right or vice versa. You have to reverse your swing at least once.

It's not my favorite stage and I would be comfortable with runs in the low 3.00 second range with my .22LR optically-sighted pistol, or rifle. It was a good test for the DVC 9 mm Steel. I also brought along my S&W M&P C.O.R.E. Carry Optics gun with my "Mouse Puff" load to compare times. I didn't have a suitable holster for the DVC so I shot both guns from the rimfire low ready start position. I began with the DVC, Blazer Brass ammo (130 PF) and my PACT timer on delay setting.

At the BEEP the DVC locked onto the far right target, the trigger seemed to break on its own— Bang/Ting—and then swung smoothly through the remaining targets like it was radar-guided. The dot stayed as "flat" as my rimfire pistol and there were no misses. Just Bang/Ting. My jaw dropped when the timer told me it had taken 3.11 seconds. Four more runs followed. There were no misses. Times ran between 3.04 and 3.21 seconds. I'd be happy with that score using a rimfire rifle or pistol. To do it with a new centerfire gun and 130 PF factory 9 mm ammo was quite surprising!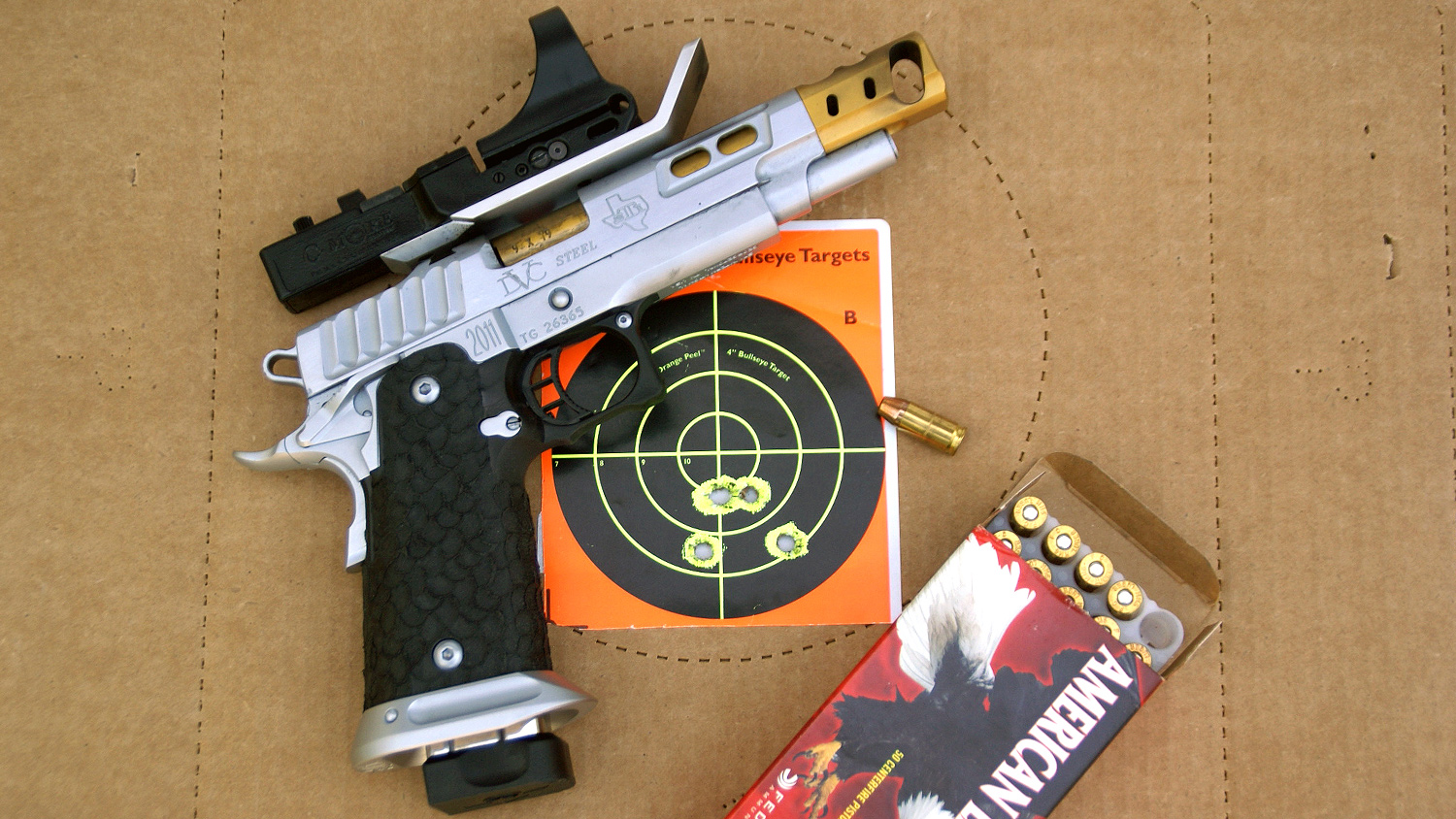 I then made the same five runs with the M&P. I had assumed that, given my time with this gun as opposed to the 2011, it would be no contest between the two. I was right, but not for the reasons I had envisioned. Times with the M&P averaged 0.5-seconds slower, and there were a couple of misses.

To say I was suitably impressed with the DVC Steel 9 mm would be a serious understatement!

Like kids at Christmas, the other shooters (several of whom own STI Open class guns) took it to the firing line. Their feelings echoed mine. And, something else was learned.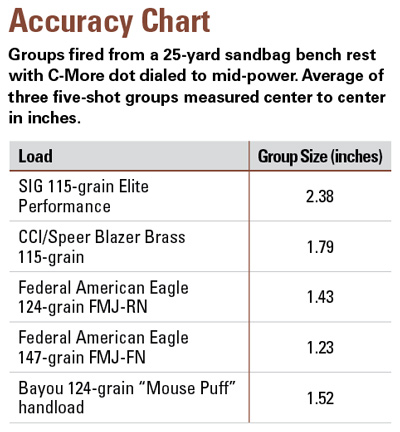 During my "get acquainted" range session the only malfunctions that occurred were when two of my 114-PF "Mouse Puff" loads failed to eject. At the club, several shooters had their own 113-115 PF loads and had similar ejection failures. This gun is tuned to run 125-Minor PF loads. Changing to a lighter recoil spring might let sub-Minor loads run, although given how well it performed with the 130-PF Blazer I might wonder why that change is needed.

On the other hand, STI tells me that installing a 9- or 10-pound recoil spring will let the gun run 9 mm Major. If the same bullet weight is used in Minor and Major loads the point of impact shift should be insignificant. That would let the DVC Steel run in USPSA Open Class Major and shift quickly back to Steel Challenge light loads with nothing more than a recoil spring change.

Given that the DVC Steel is also available in .38 Super (which shifts between Major and Minor PF with published load data as opposed to going beyond published data to make 9 mm Major) that makes it a serious tool for serious shooters.