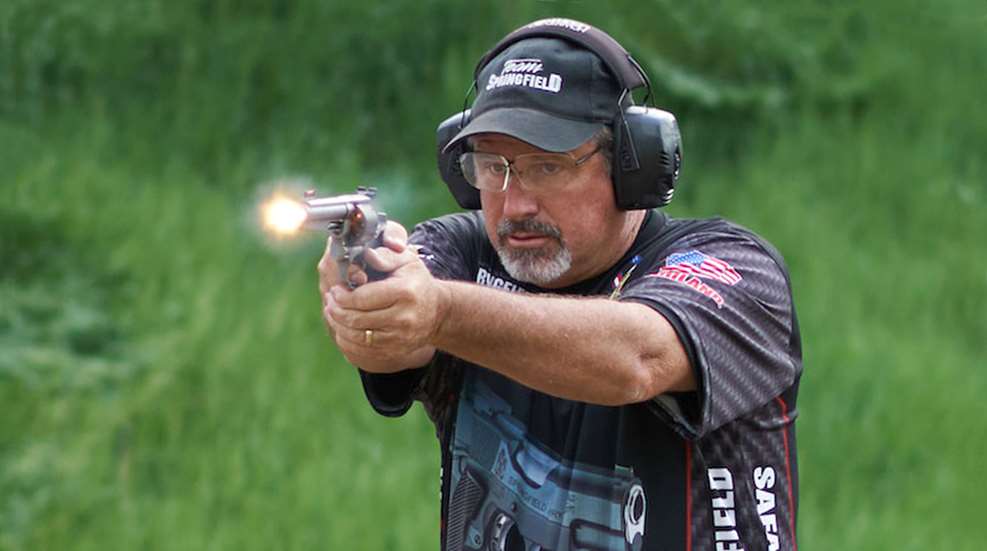 Above: Rob Leatham competing at last year's USPSA Revolver National Championship, where he was the overall winner. Michael Poggie, the 2017 USPSA Revolver champion received major kudos from Rob for his performance this year.

No doubt about it, Rob Leatham still has it when it comes to action shooting. Hot off his 2017 NRA Bianchi Cup Production Championship victory, the longtime captain of Team Springfield won High Senior at the 2017 USPSA Revolver National Championships, held at PASA Park in Barry, IL, this past May. The match immediately followed the USPSA Single Stack Championships, where Leatham also claimed High Senior and ninth place overall. The USPSA Revolver Championship match had 80 competitors who, along with Leatham, tackled a challenging 266-round count 12-stage course of fire.

Last year, Leatham took the top overall position at the championship. In 2017, he offered his congratulations to Michael Poggie.

"Congratulations to Michael, the new USPSA Revolver National Champion. My only regret from the match is that I didn't give him a bigger challenge. He pretty much just whipped us, up one side and down the other! Competing with the revolver super squad is like nothing else in shooting though. The attitude and general demeanor are more light-hearted and fun than most events, but do not confuse that with a lack of intensity. That the real revolver shooters have paid me back this year by beating me hard only strengthens my desire to come back stronger next year."

In addition to winning High Senior, Leatham was presented with the Classic Nationals aggregate award. This prestigious award is given to the person with the most cumulative match points from both the USPSA Revolver and USPSA Single Stack Championship events. Leatham has won this trophy every year since its inception in 2013―where it originated as the Leatham/Miculek Aggregate Award.

Leatham's wife Kippi (an accomplished competitive shooter herself) received the results call from Rob.

"When I heard from Rob on Sunday night, he was not very happy. Finishing ninth and seventh overall at these two events is definitely not what he's used to. These are the matches he looks forward to every year, the events he holds near and dear to his heart. His finishes might have been disappointing for him, but he really shouldn't feel that way. He has had an amazing career. He's no spring chicken, yet he's still finishing in the top 10―that's just incredible! I know he's not extremely satisfied with the "Senior" titles, but one day he will be. If and when he decides to retire, I hope he'll be able to fully appreciate his accomplishments, especially the ones in his forties and fifties."

While it may come as a surprise for some to see Leatham competing at national championships with a revolver, wheel guns aren't new to him.

"It should come as no surprise that I love shooting revolvers. I grew up with them and revolvers were the first two guns I personally owned. My Dad didn't really like semi-autos when I was a kid (as wheel guns were both his and mom's favorite), but he sure grew to like them over the years. As with all of my shooting endeavors, I owe it all to my parents and the support and exposure they afforded me growing up."

Watch Rob Leatham share his tips on gun grip at the 2017 SHOT Show with Joseph Kurtenbach, managing editor of American Rifleman in this video.