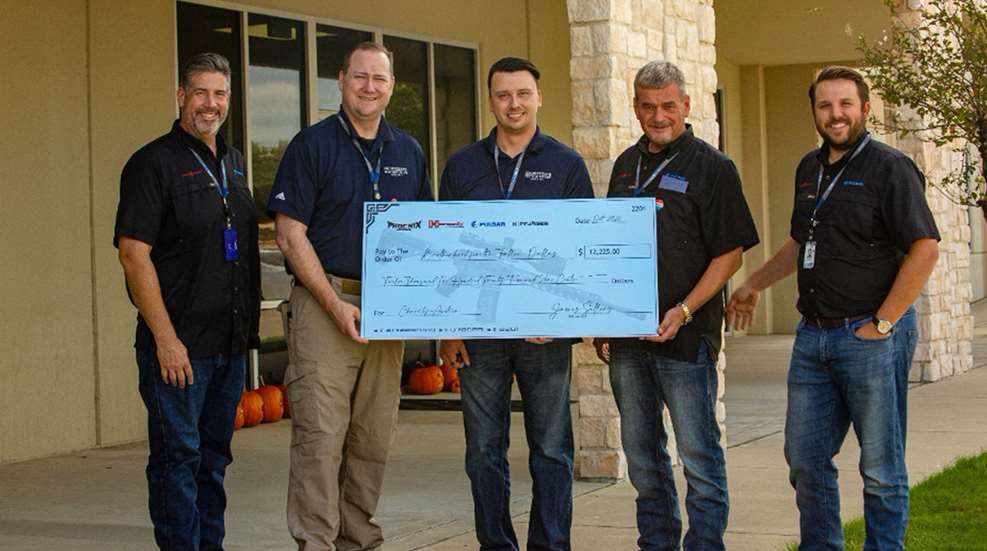 Sellmark Corp. donated some high quality products to last month's GunBroker charity auction for the Dallas Chapter of Brotherhood for the Fallen (BFTF). Donations included a one-of-a-kind Phoenix AR-15, Thin-Blue-Line Kopfjäger Reaper carbon-fiber grip kit, Pulsar Thermion XG50 thermal riflescope and Hornady ammunition. The auction brought in a whopping $12,225, with the proceeds heading to BFTF.
A non-profit, 501(c)(3) organization, Brotherhood tor the Fallen was established in July 2016 after five Dallas police officers died in the line of duty. The mission: "To provide emotional and financial support for the families of fallen police officers." Comprised of volunteers including active law enforcement officers, BFTF sends representatives to approximately 45 funerals across the U.S. each year to comfort widows, children and co-workers of the deceased. The group initially provided $250 to stricken families, and as BFTF has grown, donations have increased substantially to $1,500. Since 2016, BFTF has expanded to eight chapters across the country.
The death of a loved one is devastating to any family. BFTF ensures that family members are not alone and that they have joined an even larger family—the law enforcement community. Due to claims delays, families often cannot receive insurance money for many months. BFTF will step in and fill the gap by helping to pay bills, such as for mortgages and groceries. Since the advent of COVID-19 and associated restrictions, BFTF representatives have been unable to attend many funerals this year, but funds were still provided to families in need. The vital work of BFTF continues today. 
From a Sellmark Corp. statement:
"[We] wholeheartedly supports the BFTF mission. Each year, police officers work under increasingly difficult conditions incited by anti-police rhetoric. Police work is complex, challenging and dangerous. The brave men and women who comprise the 'thin blue line' that separates order from chaos deserve our respect and gratitude. Every officer knows any given day at work might be their last, but they can continue to serve faithfully and with peace of mind because organizations like BFTF and Sellmark Corp. are there to 'Back the Blue.'"
Learn more about Sellmark.
---
See more:
Taking The Mystery Out Of Astigmatism