Industry Day at the Range is the best part of SHOT Show for writers, where we get the first half of the day to ourselves with manufacturers, and to actually test their products. It's always fun to shoot up someone else's ammo, and a free meal ticket for lunch from one of a half-dozen food trucks (thank you North Star Arms and Profense) is the icing on the cake. Still, it is a working day after all, the task being to present readers with what's new, so here is one writer's take on the most interesting products found at SHOT Show 2022's Industry Day at the Range.
Long range, simplified
Huskemaw Optics is a company focused on long-range shooting. The long-range game, both in competition and in hunting, has become increasingly complex, and few shooters seem aware how heavily they depend on their digital assistants. Huskemaw Optics is out to simplify long-range shooting—no batteries needed.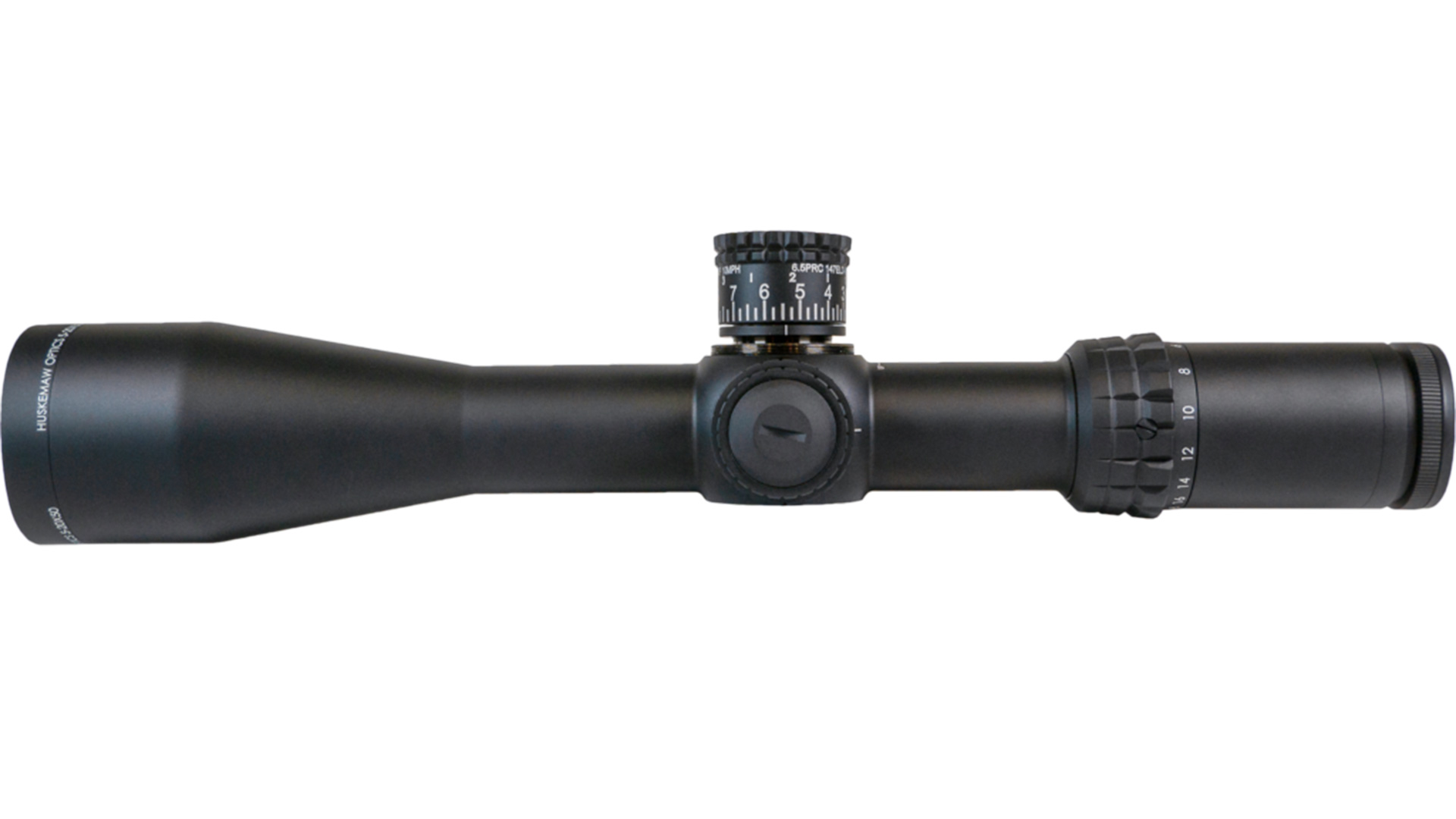 The company simplifies by customizing its scopes' elevation turrets to a specific load, and by marking the turret in yards, rather than in numbers of clicks that must be computed from measured or estimated distance. For extended long range shooting, the elevation turret pops up to reveal a second turret with yardage marks going out to 1,200 or so yards.
Several features working in concert provide what the company calls the "Husekmaw Long-Range Advantage." The elevation turret is calibrated in yards—that is, the turret markings display distance, not numbers of clicks—from actual bullet drop data the shooter collects in the field. Send Huskemaw your rifle and caliber, load data, bullet BC, altitude and temperature when data was collected, and altitude and temperature of your expected hunt environment; the company then customizes an elevation turret based on your specifics. Then, windage marks on the custom elevation turret (windage enabled turret) correspond to MOA hash marks on the reticle's horizontal stadia, each one representing a 10-m.p.h. full value wind (wind from 9 or 3 o'clock); the turret indicates which hash mark to use for holding into the wind. For a more detailed explanation, visit the Huskemaw Optics website.
Hitting a steel target at long range with an unfamiliar rig is always gratifying, which I did shooting a 6.5 PRC bolt gun mounted with a Huskemaw 5-20x50 Tactical Hunter scope. Unfortunately, there was no wind, so I couldn't evaluate the Windage Enabled Turret feature, but the scope is impressive nonetheless. The Tactical Hunter features a 34 mm tube, and all Huskemaw scopes utilize the same German F2 Schott glass found in much more expensive brand scopes (MSRP is $2,299). The heavy duplex reticle is uncluttered and a bubble level is visible at the bottom to preclude canting the rifle. Shooters can make adjustments, including to parallax, without breaking a cheek weld.
While that's more than suitable for the .22 LR long range enthusiast, Huskemaw's 4-16x42 Blue Diamond appears able to do the same job, sans bubble level, with a 30 mm tube for a grand less (MSRP $1,299). 
Federal's .30 Super Carry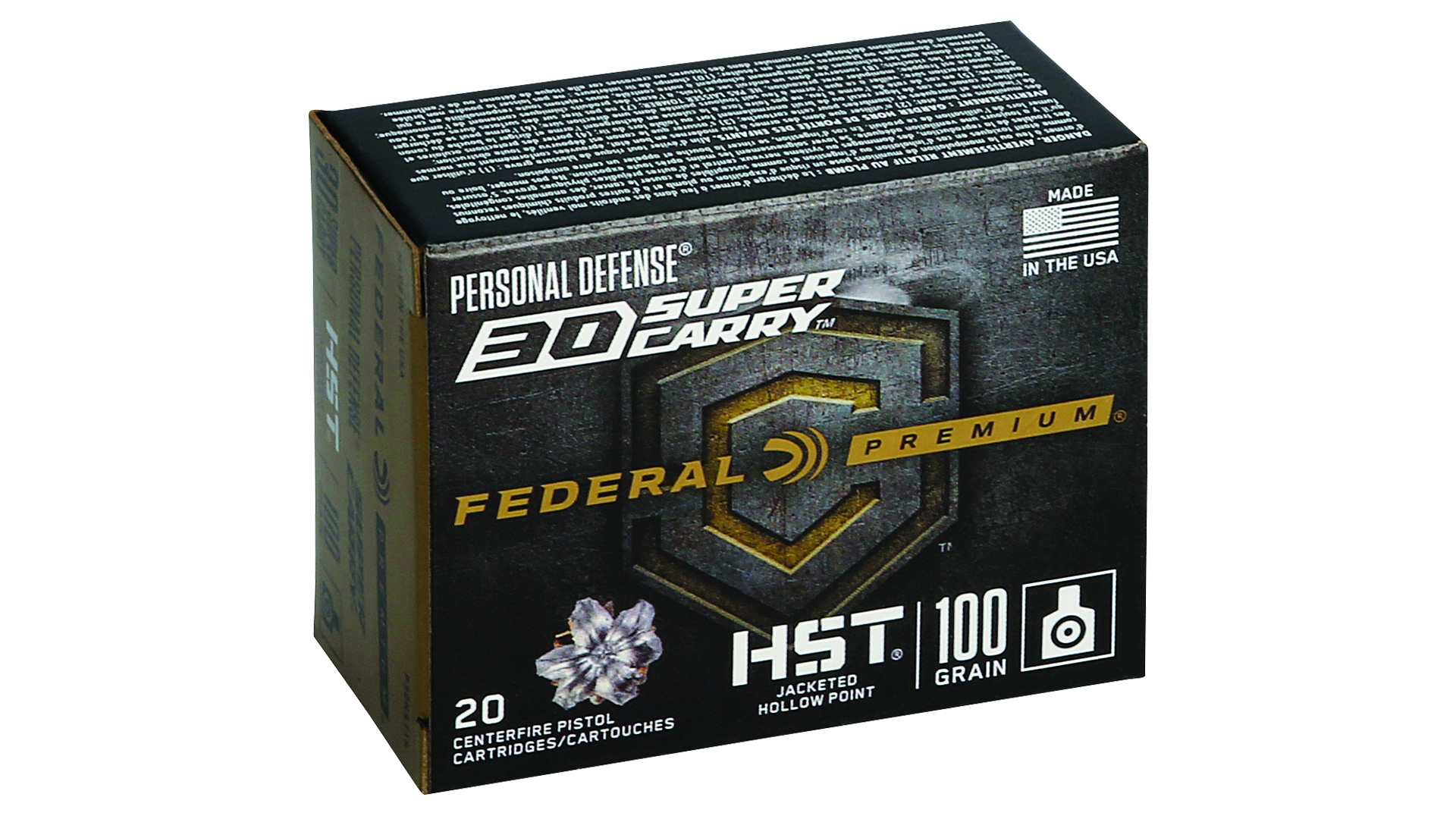 Political, social and pandemic events of the past three years prompted an unprecedented run on everything self-defense, especially handguns. The newest major development in self-defense handgunnery is a new cartridge from Federal, the .30 Super Carry. The point of the .30 Super Carry is to replicate 9 mm Parabellum ballistic performance in a smaller cartridge, and it appears to do so:


The 327 Federal Magnum is included as a logical comparison which most knowledgeable handgunners would consider. However, unlike the 327 Federal Magnum above, which is rimmed for use in revolvers, the .30 Super Carry is rimless and so will readily feed through semiautomatic pistols, by far the more popular of self-defense handgun platforms. Case diameter of the .30 Super Carry is less than that of the 9 mm (0.3380 inch, measured at the base with a caliper in the former, and 0.3909 inch in the latter), which permits increasing magazine capacity two rounds.
Three self-defense loadings are already available, including a 115-grain Gold Dot bullet. At Range Day, I fired a magazine of .30 Super Carry in a Smith & Wesson M&P 30 Shield EZ, then immediately fired a magazine of ammunition in a 9 mm Shield. Differences in recoil of the two cartridges in identical guns was indistinguishable to me; bright sunlight made muzzle flash impossible to judge. Federal says the 100-grain hollow point bullet penetration and expansion is equal that of the 124-grain HST 9 mm cartridge; if so, and the .30 Super Carry is effectively a 9 mm Parabellum in a smaller package, then Federal's new cartridge can add two rounds or shrink the size of your carry arm.
Fits-in-a-purse AR-15
After attending SHOT Show the past couple of decades, I've seen inventors apply a lot of creativity to America's favorite firearms platform. The AR-15 has been enlarged and shrunk and improved with pistons and rollers and adjustable gas systems. It's been turned into a (clumsy) handgun that skirts the regulation of short barreled rifles (SBRs). The AR-15 has more aftermarket options than anyone can count, and has been positively girdled with Picatinny rails, upon which we can hang everything but an espresso maker (though that might come in SHOT Show 2023).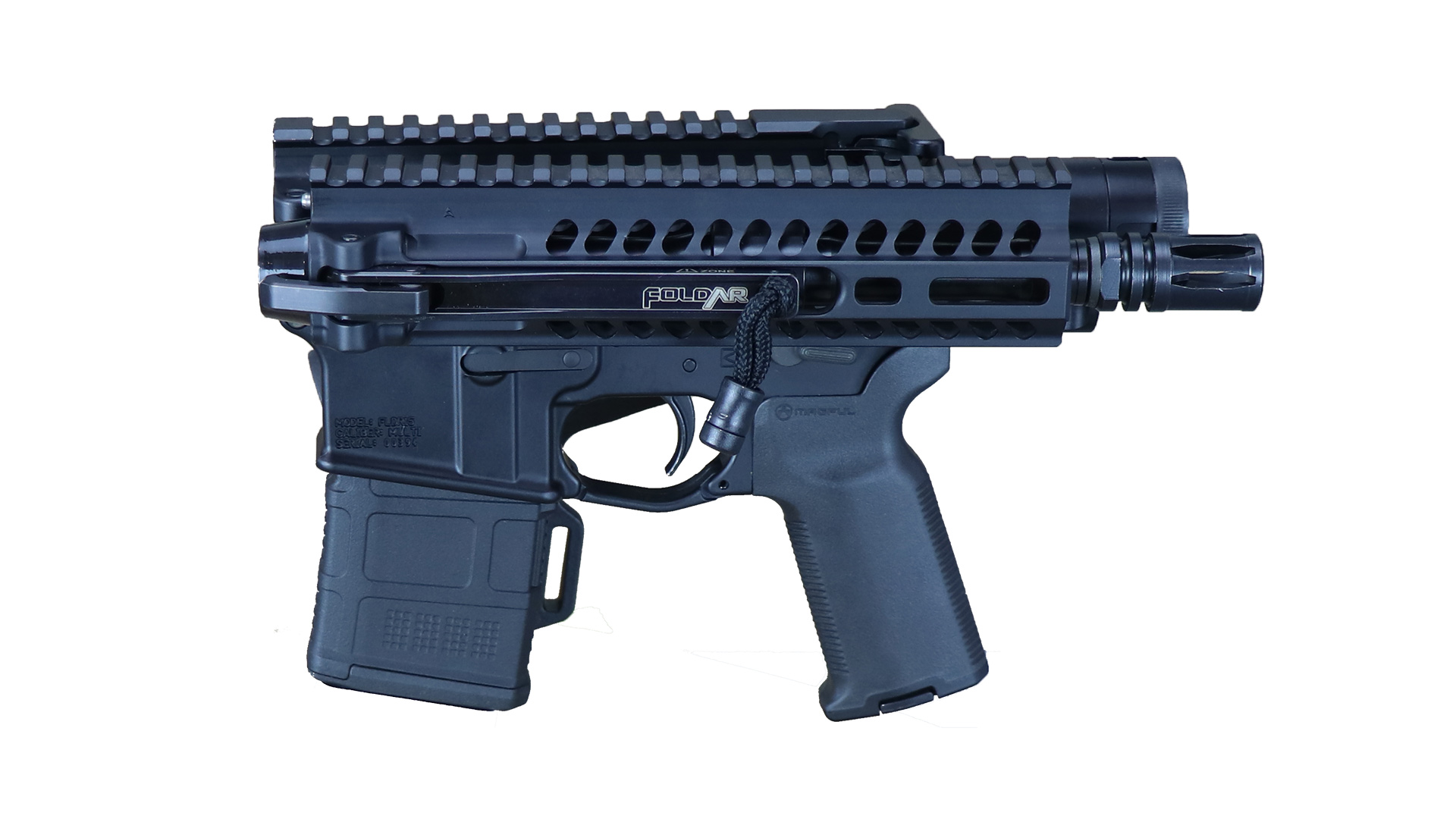 After being "AR Fifteened out" for several years, I found at Range Day a most interesting development, an AR-15 that collapses like a tri-fold wallet. While a folding buttstock is ho-hum, FoldAR's folding barrel is an attention-getter, and the pistol version especially so, as it quite literally can fit in a purse. The rifle is no slouch, either, compacting down to easily fit in a backpack or briefcase. In both permutations, pulling a lever on the barrel separates it from the receiver at the barrel extension to hinge to the side. Going from "folded" to "shooting" takes about five seconds. The barrel extension has a taper-fit to the receiver; the gas tube at the receiver is flared to accept its tapered mate on the barrel. Both gas block and the bolt carrier group (BCG) are adjustable for gas regulation. Beyond the cool factor, the FoldAR's military application for special ops and paratroopers, and as survival arm, is apparent.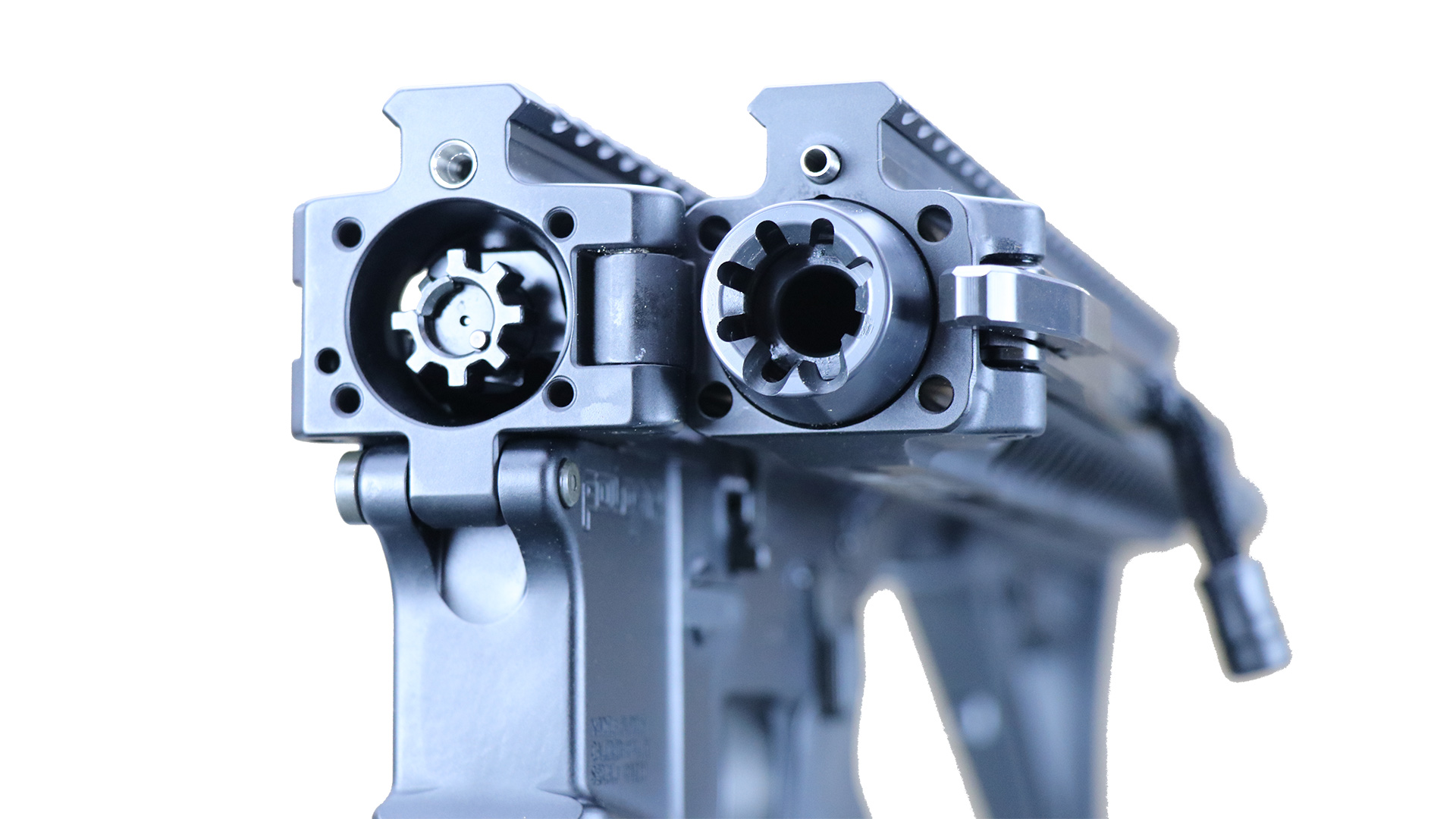 Two questions I immediately had were, "How reliable is the return-to-zero after repeated folding?" and "How much gas leakage is there at the joint?" The answers were, "One sixteenth inch at 100 yards" and "Negligible." After firing the rifle, which was no different than any other similar-size AR-15, the next question was, "Can I get one to test and evaluate for an article?" Happily, that answer was affirmative, so I hope to have more for you later. In the meantime, check out the great animated graphic at the FoldAR website.
Retro revolver at $320
Diamondback America, known best for its quality AR-15s, has gone retro with an unusual .22-caliber revolver that borrows features from several others. The Sidekick, a name taken from the H&R Model 929, looks like a single-action revolver in the lines of Colt's venerable SAA, but is actually both single- and double-action. The nine-shot .22 Long Rifle cylinder swings out and dumps empties with an ejector like a Smith & Wesson and, like a Ruger Single Six, a second cylinder accepts .22 Magnum cartridges. Cylinder swap is easily accomplished via a front plunger and spring arrangement à la the High Standard Sentinel revolver. Cylinder chamber faces have a recess where the frame-mounted firing pin strikes so that dry firing won't damage pin or cylinder. Barrel length is 4.5 inches and revolver weight is right at 32 ounces.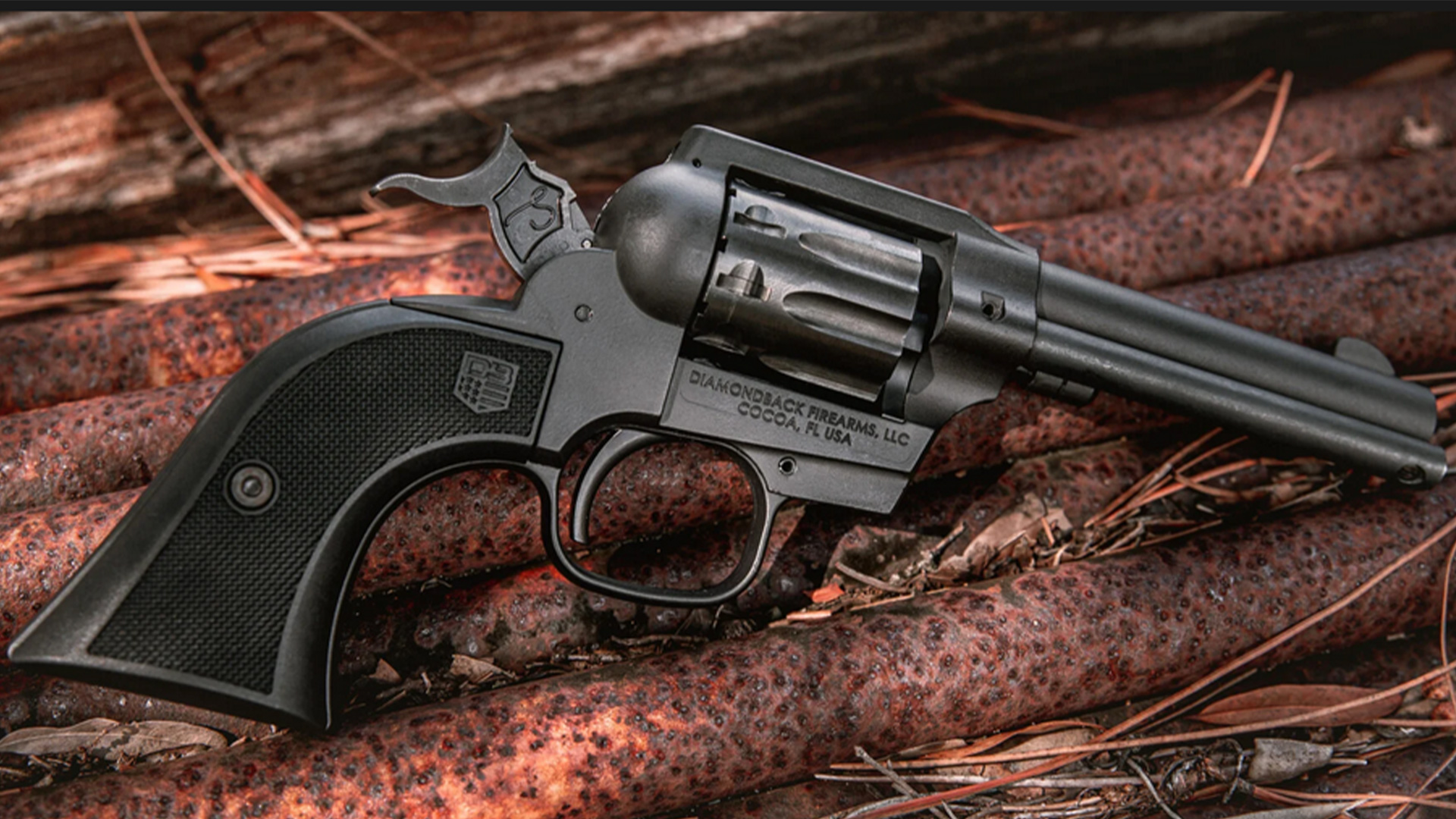 Shooting the Sidekick single-action, the trigger pull appears to weigh about five easy pounds with a crisp let-off. Double action pull is considerably harder, necessitated by compressing the strong hammer spring needed for reliably igniting .22-Magnum rimfire cartridges, and perhaps exaggerated by the skinny SAA-style trigger.
Diamondback America achieved some cost savings (MSRP is $320) in making the frame of zinc with a Cerakote finish and in grooving the top strap to serve as a rear sight. If you don't like the polymer grips, wood ones are available, plus Ruger Wrangler grips will fit, as well. No one else makes a DA/SA .22 LR/.22 WMR revolver in this price range; if you're in the market for an interesting double-duty plinker, the Sidekick is worth a look.
Rubber walls
No, not padded walls, but rubber walls to catch bullets. Lots of them. Rubox from Cracow, Poland, got considerable attention at range day with their rubber building blocks designed to stop everything from 9 mm up to .50 BMG. The hollow rubber blocks are about 12x18x24 inches and weigh about 45 pounds empty; when filled with a pebble-like granular material to absorb the bullets (common sand does not work—I asked), weight is around 187 pounds. Bullets penetrate the rubber wall and are caught by the granular material. Rubox claims the blocks can absorb 3,000 bullets from each side before needing to be emptied, sieved and re-used. They can also absorb bullets at angles from 90 degrees (straight-on) to 15 degrees, so stacking them together can create a safe and customizable structure.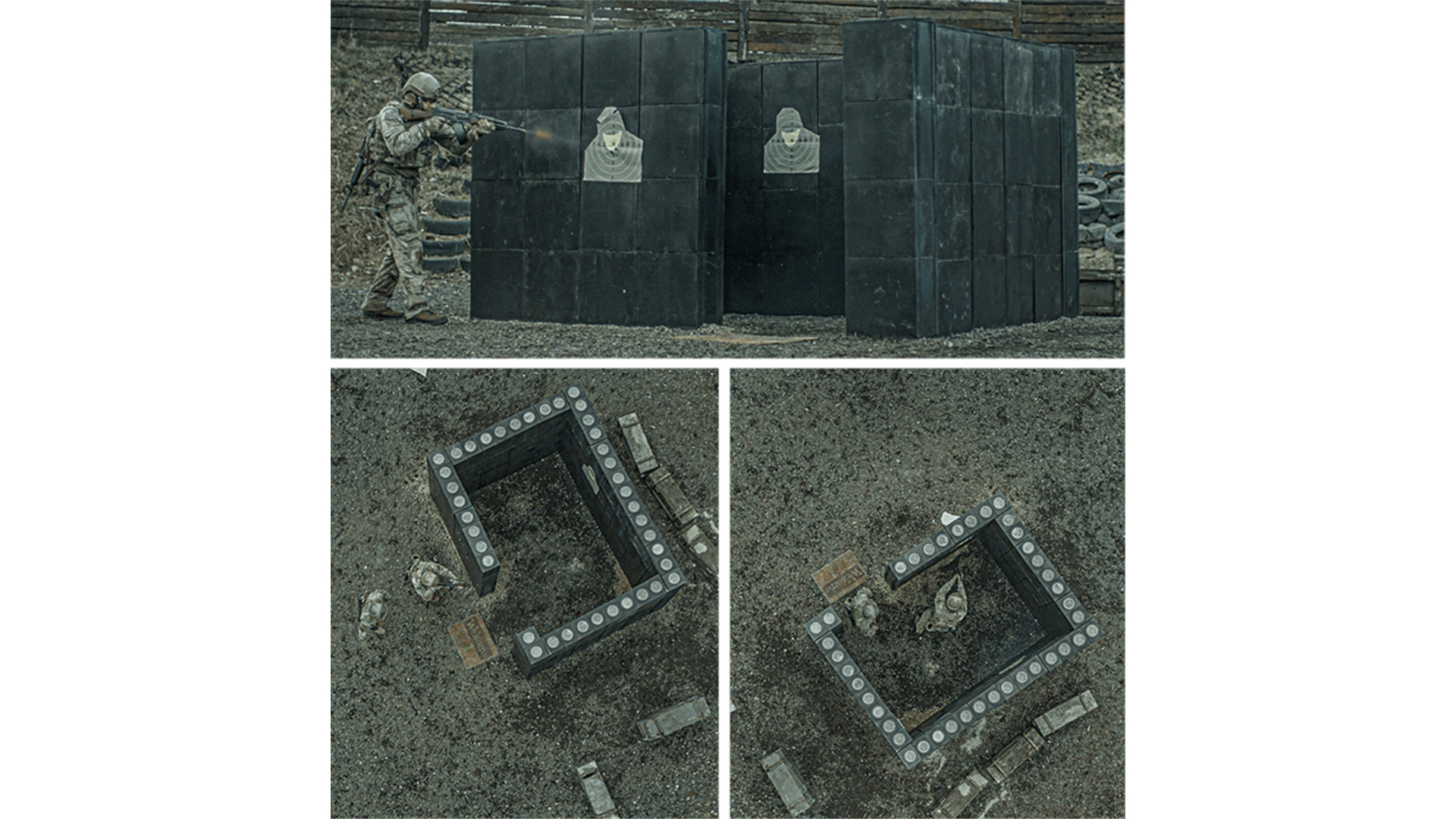 Military, law enforcement and commercial applications are obvious; home use might be for a basement shooting range or a single block for a firearm unloading safety station. And perhaps the Rubox blocks will eventually morph into something Joe Average Shooter can use to make a portable range.
Stay up-to-date on the latest from SHOT Show 2022 this week by subscribing to the free Insider newsletter.
---
Read more:
SIG Sauer Announces Commercial Version of U.S. Army NGSW MCX-SPEAR, 277 SIG FURY Ammo