The CMP has released dates for the 2016 Garand-Springfield-Military (GSM) Master Instructor Courses. GSM Rifle Master Instructors are trained to teach and organize GSM Rifle or Rimfire Sporter Clinics.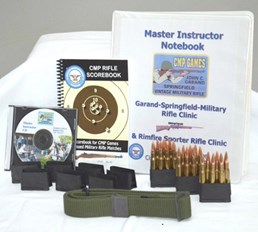 The two-day certification program equips and declares Master Instructors—each qualified to teach specific marksmanship instructional topics.

Dates for the 2016 GSM Master Instructor courses include:

February 27-28, 2016 – Camp Perry, OH
March 5-6, 2016 – Anniston, AL
April 6-7, 2016  – Oklahoma City, OK 
July 22, 2016 – Camp Perry, OH, National Matches
September 14-15, 2016 – Jericho, VT (tentative) 
October 7-8, 2016 – Phoenix, AZ, Western Games 
December 6, 2016 – Talladega, AL

Classes are limited to 30 students per class to ensure that all attendees have sufficient practical opportunities to work with workshop leaders and to practice what is taught. Students must meet certain qualifications in order to be attend the class.

For more information on the GSM Master Instructor Course, please visit thecmp.org/training-tech/gsm-rifle-master-clinics.