River Bend Gun Club in Dawson County hosted the 2018 Georgia State Smallbore Prone Championship on September 22-23. In addition to being a Conventional Prone (sling) championship, the match also featured the inaugural F-Class Smallbore championship, where competitors shoot on a front rest or bipod. Shooters traveled from several states to compete: fourteen competitors shooting sling and six shooting F-Class. Among the sling shooters were six juniors, who were a welcome addition as they represent the future of our sport.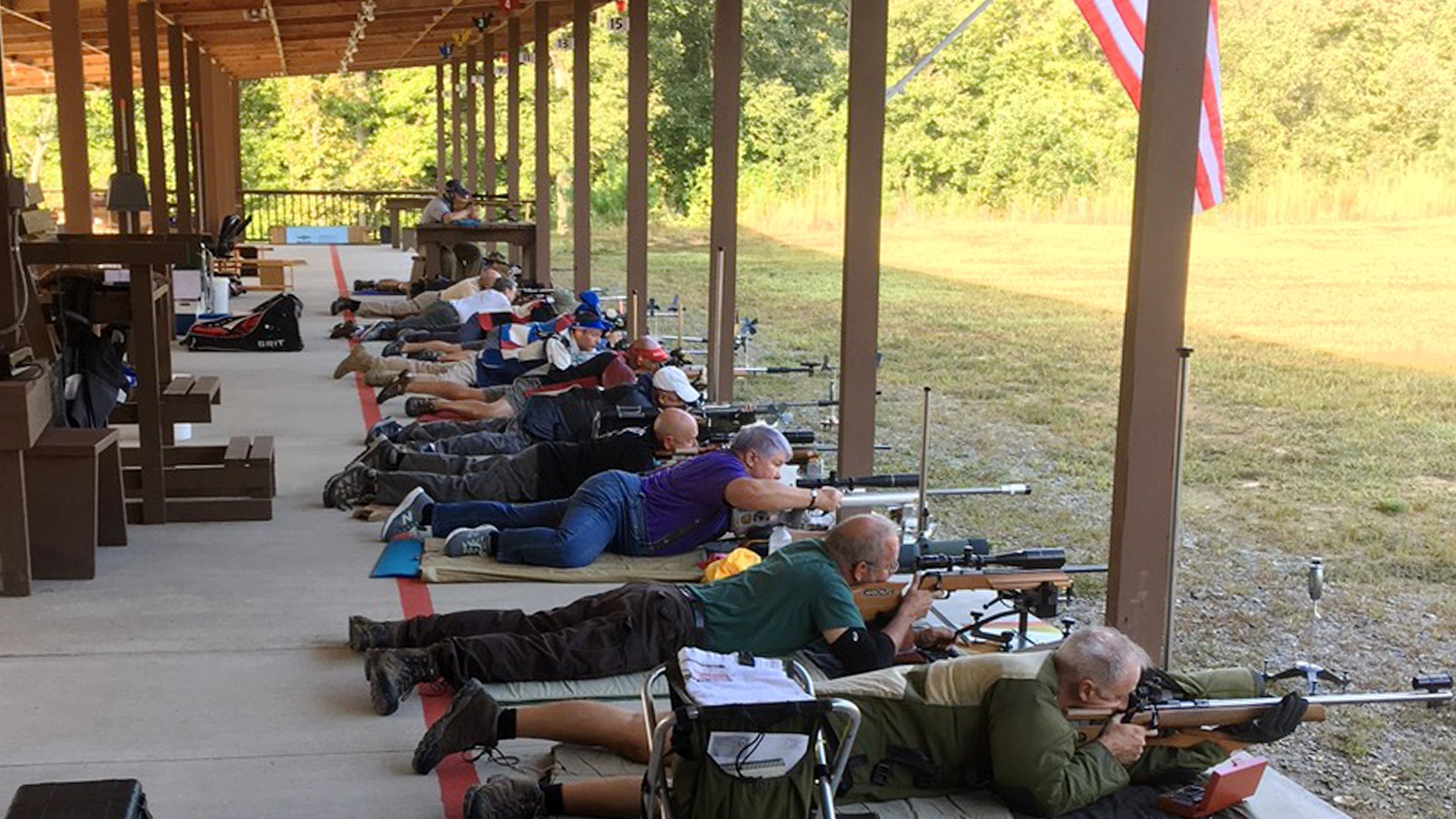 The weather was beautiful, with temperatures in the 70s and 80s, no rain, and typical River Bend wind that frequently changed both direction and intensity. The match followed its customary format: 160 record shots each day, with sling shooters shooting with metallic ("iron") sights the first day and "any sights" (irons or scope) the second day. The F-Class competitors, who shoot on the very challenging International targets, shot with scopes both days. A perfect score for the 2-day match would be 3200-320X.

NRA Postal Match
The NRA sponsors a postal match contested by state teams, which are chosen at state championships. Each state mails the postal match results to NRA. Each state's team consists of the four state-resident competitors who fire the highest scores in the iron sight Dewar match (20 shots at 50 yards and 20 shots at 100 yards). The 2018 Georgia state team included Larry Sollars (400-33x), Anusha Pakkam (400-28X), Steve Hardin (399-36X) and Robert Davis (399-28X). Georgia won the 2013 state postal match, and hopes are high to repeat the feat this year.

Juniors
Thirteen-year-old Jacob Day scored 3142-159X, good for third place among the juniors. He shoots with a level of precision, focus, and patience that would be the envy of most adults. Jacob was accompanied by his grandfather/coach, Mr. Jack Writer. Among Mr. Writer's many accomplishments: national collegiate shooting champion at West Virginia University, a member of the U.S. Army Marksmanship Unit—winning countless medals in international competition including silver at the 1968 Olympics and gold at the 1972 Olympics. In Jacob's case, the apple did not fall far from the tree.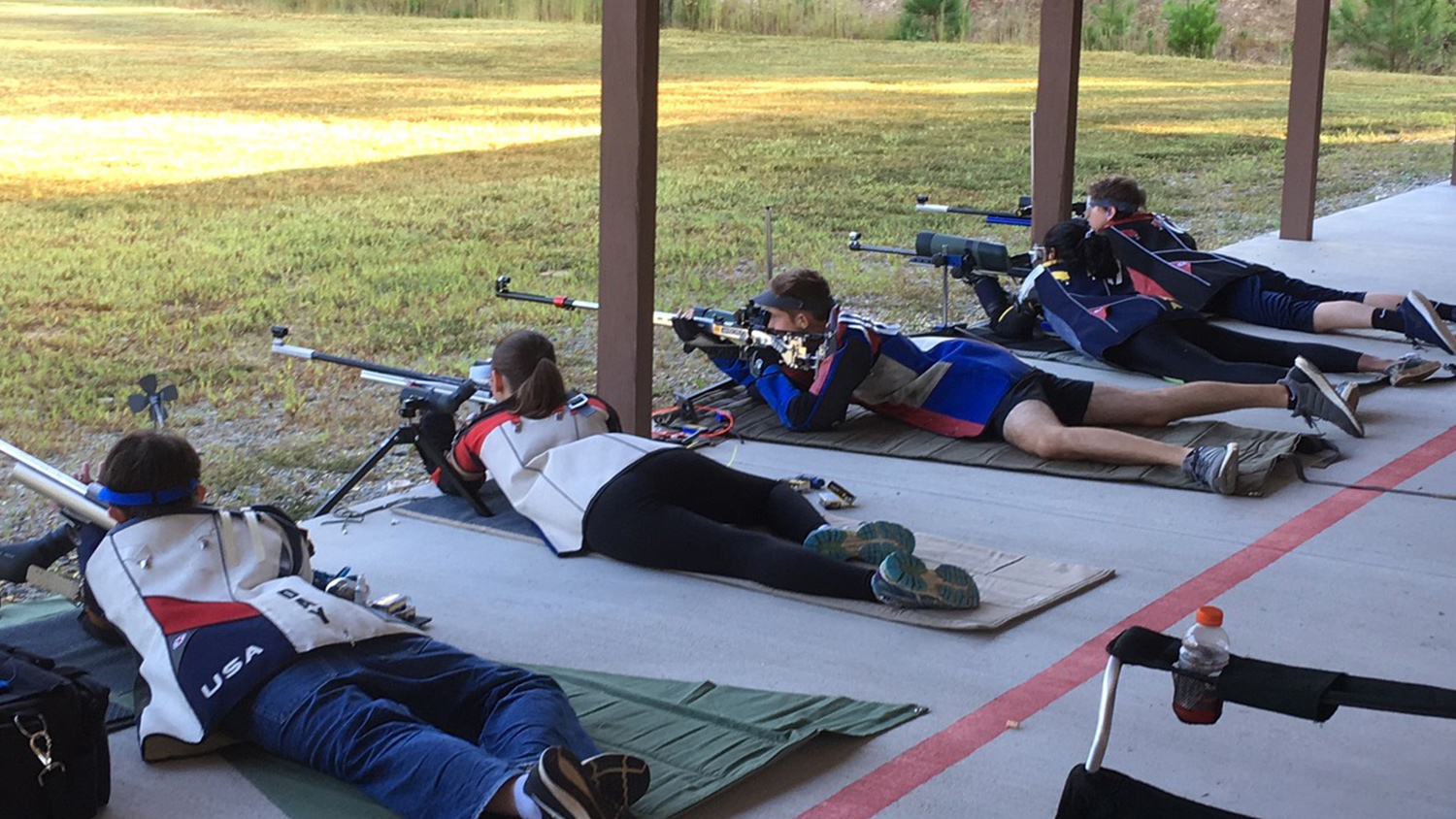 In addition to making the state team with her excellent showing in the Dewar match, Anusha Pakkam placed second among the juniors with a score of 3177-189X, shooting with iron sights both days. This was Anusha's second match at River Bend and we hope she'll become a regular participant at our matches—she will help keep the adults on their toes.

Sawyer Williams placed first among the juniors with an exceptional 3186-216X, also shooting with iron sights both days. In his first-ever Conventional Prone Match, Sawyer shot a score that qualifies him for an NRA Master classification, the highest classification in smallbore. Making Master at your first tournament is almost unheard of—congratulations to Sawyer on this accomplishment!

Conventional Prone
The sling shooters battled it out all weekend, with Tennessean Mike Carter firing a 3194-246X to place third. River Bend's own Larry Sollars came in second with a 3195-264X, though I am going to place an unofficial asterisk next to his score. The one and only shot of the 320-shot match on which Larry did not score a 10 came on the second day when an insect bit him as he was breaking his shot, causing him to throw the shot into the 5-ring. But for that freakish occurrence, Larry would have shot a perfect score. He was, however, the highest-scoring Georgia resident, and thus the 2018 Georgia State Conventional Prone Champion.

First-place honors went to Tennessean Howard Pitts, who fired a 3200-253X—a perfect score on points, known in the smallbore world as a "3200." In addition to being a superb gunsmith, Howard is one of the premier smallbore shooters in the country, and he now joins a select group of shooters who have attained the 3200 milestone.

F-Class
Louisiana's Alden "Meaux" Marrero left his sling at home and shot F-Class this year, placing third in F-Class with a score of 3146-182X. River Bend's multi-discipline rimfire expert Simon Bailey fired an excellent aggregate score of 3155-186X, despite having a finicky extractor that impeded his reloading sequence. Simon was the highest-scoring Georgia resident and thus the 2018 (and very first) Georgia State F-Class Smallbore Champion.

Richard Bordelon, another Louisiana competitor, finished first in F-Class with a 3165-217X. Richard has shot F-Class at River Bend several times and, as he always does, showed that he is a very hard man to beat.

Many thanks to Tommy Steadman and Paula Holliday for running the Statistical Office, Jim Holliday, Sairaj Pakkam and Tommy Steadman for scoring targets, and Dennis Lindenbaum for calling the match. River Bend's next smallbore match—and the last one of 2018—will be an NRA-approved Metric 1200 this November 17. Registration opens at 9:00 a.m. and first shots at 10:00 a.m. For more info, please email Dave Rabin at [email protected]